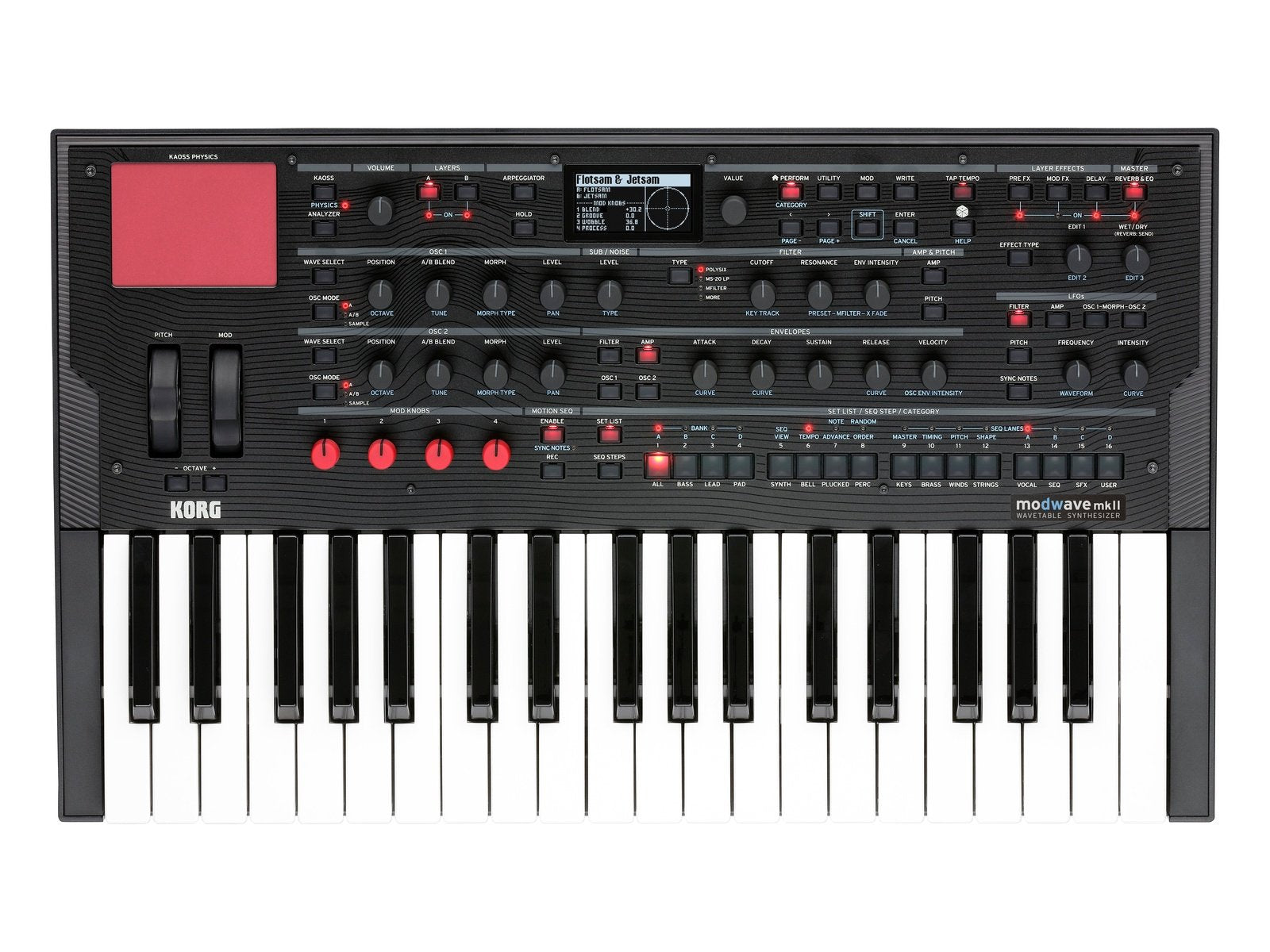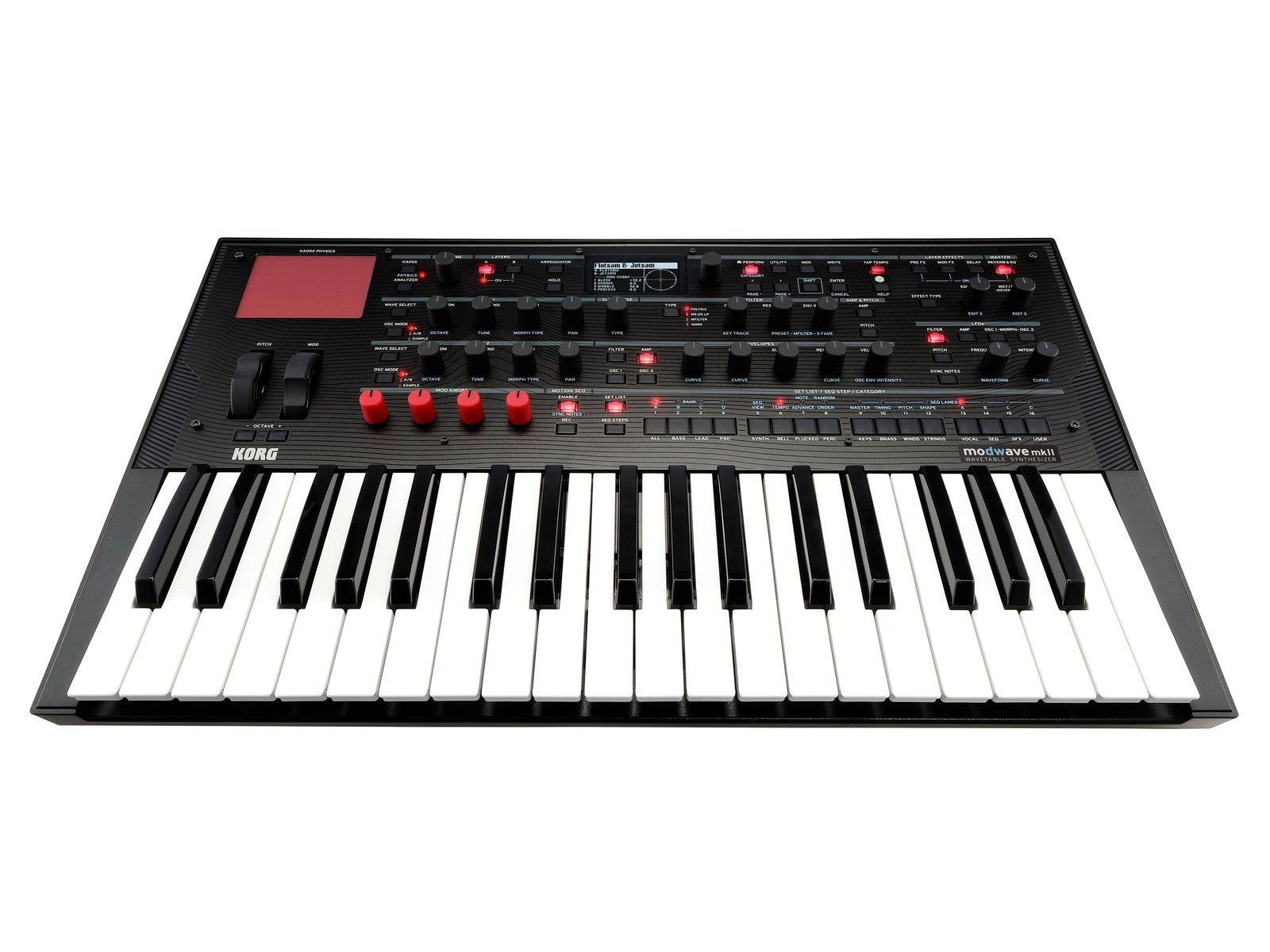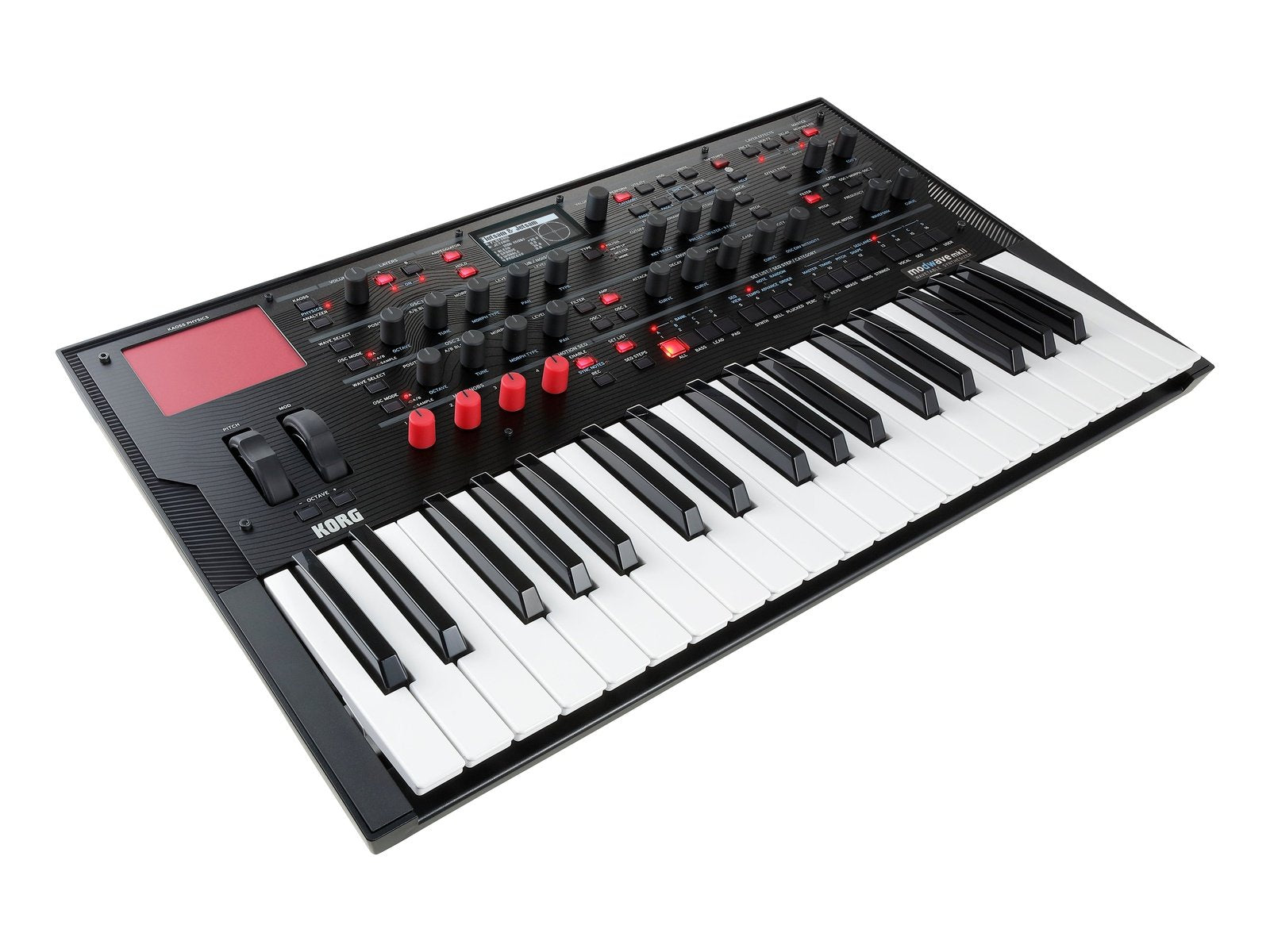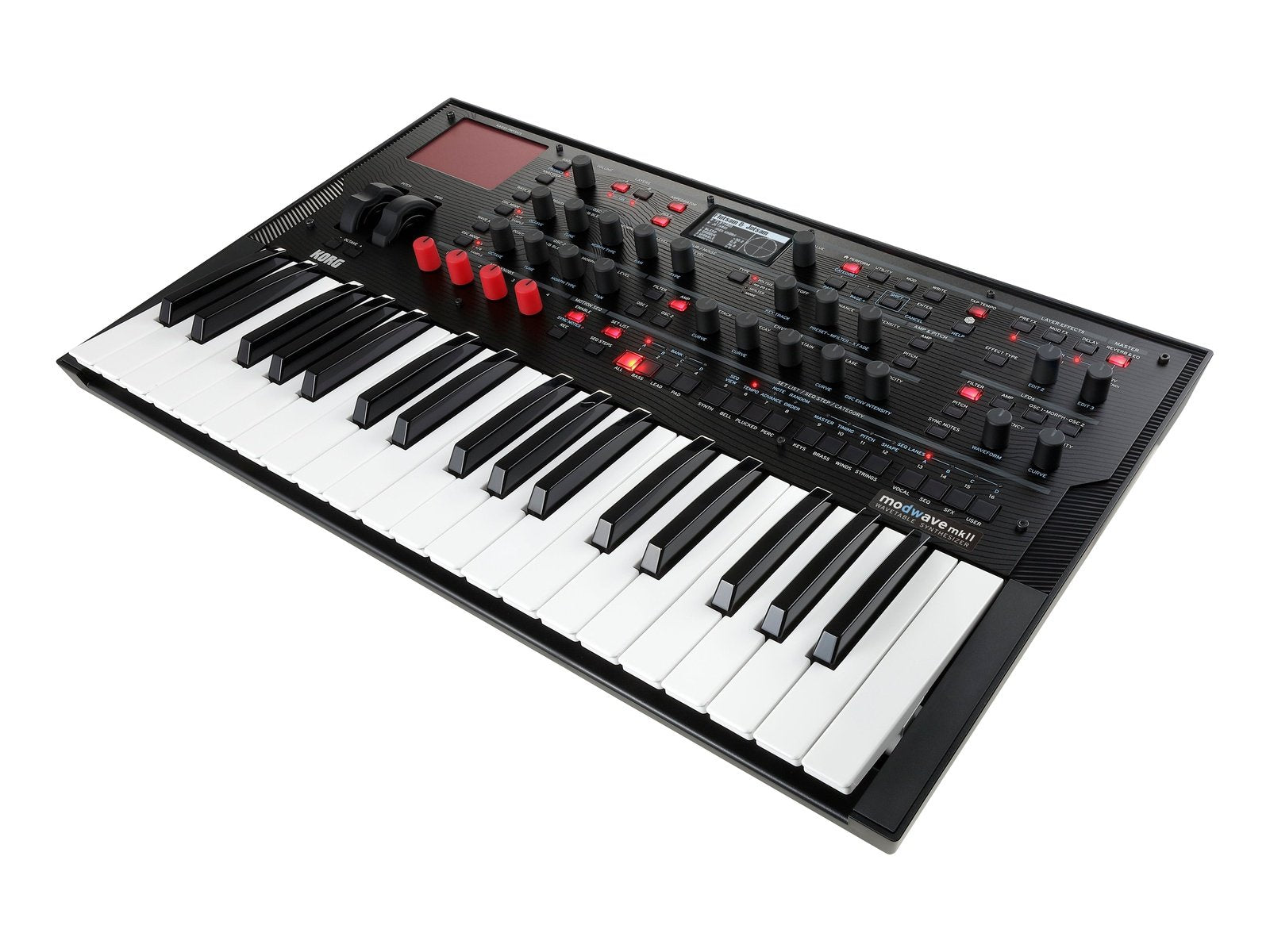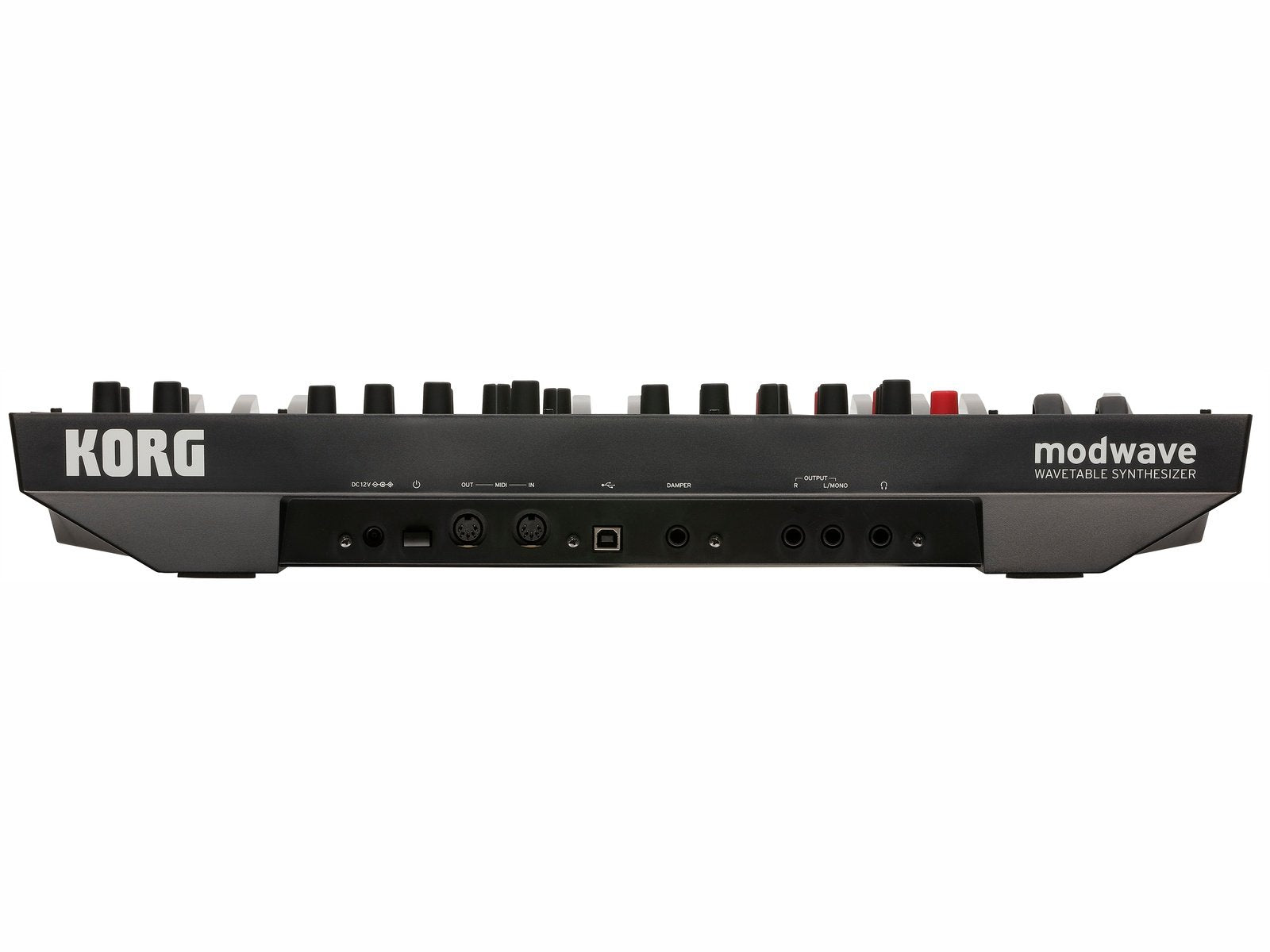 Modwave mkII
Modwave is a synthesis powerhouse with distinctive wavetable timbres, Kaoss Physics, and Motion Sequencing 2.0. The new Modwave mkII provides an astonishing 60 voices of polyphony almost double that of the original Modwave. All LFOs have been updated with options for free running, delayed start, and retriggering, and a pre/post switch for reverb sends has been added, alongside new modulation sources, and more.
Extend your warranty for free when buying direct from Korg UK.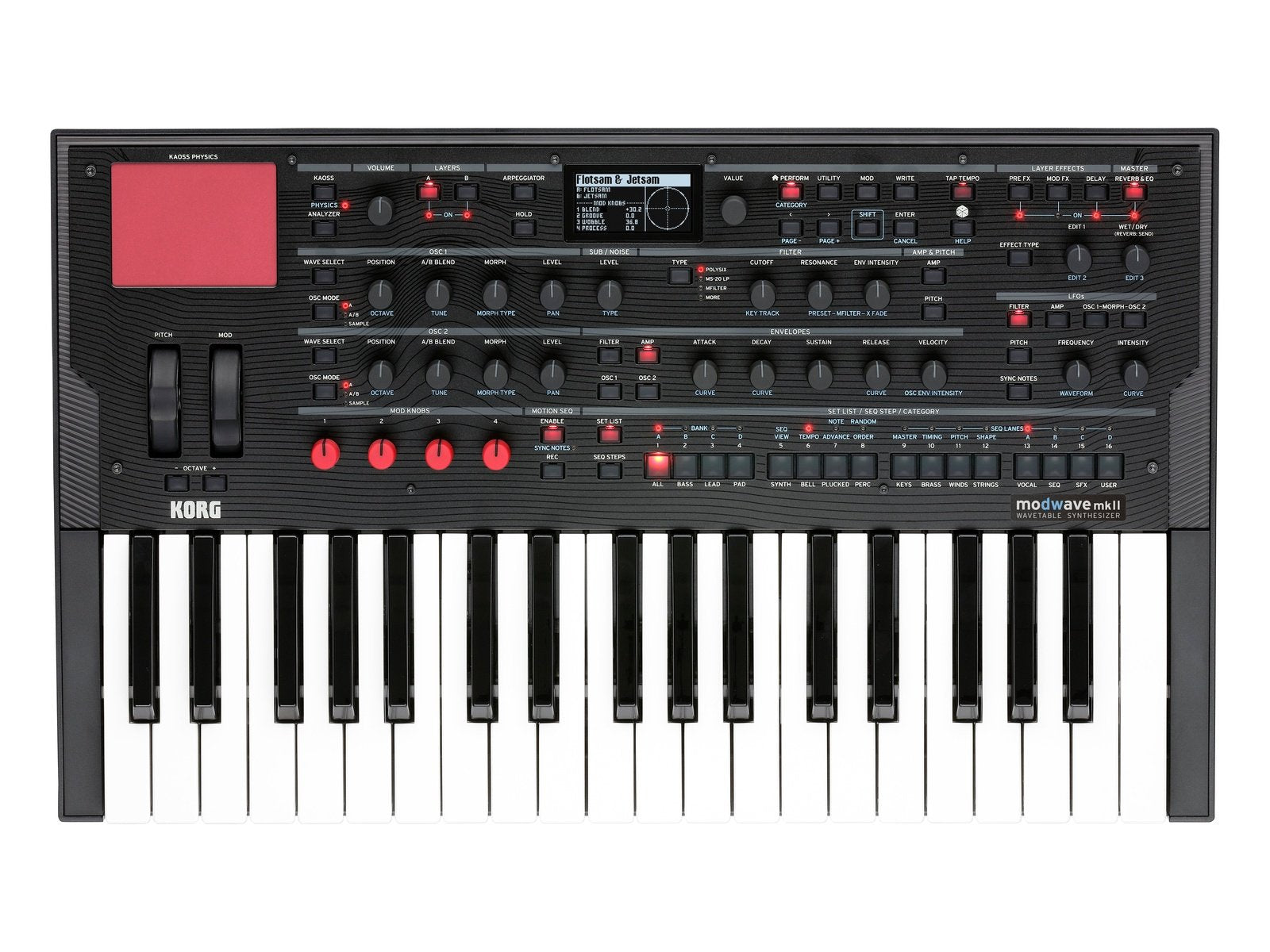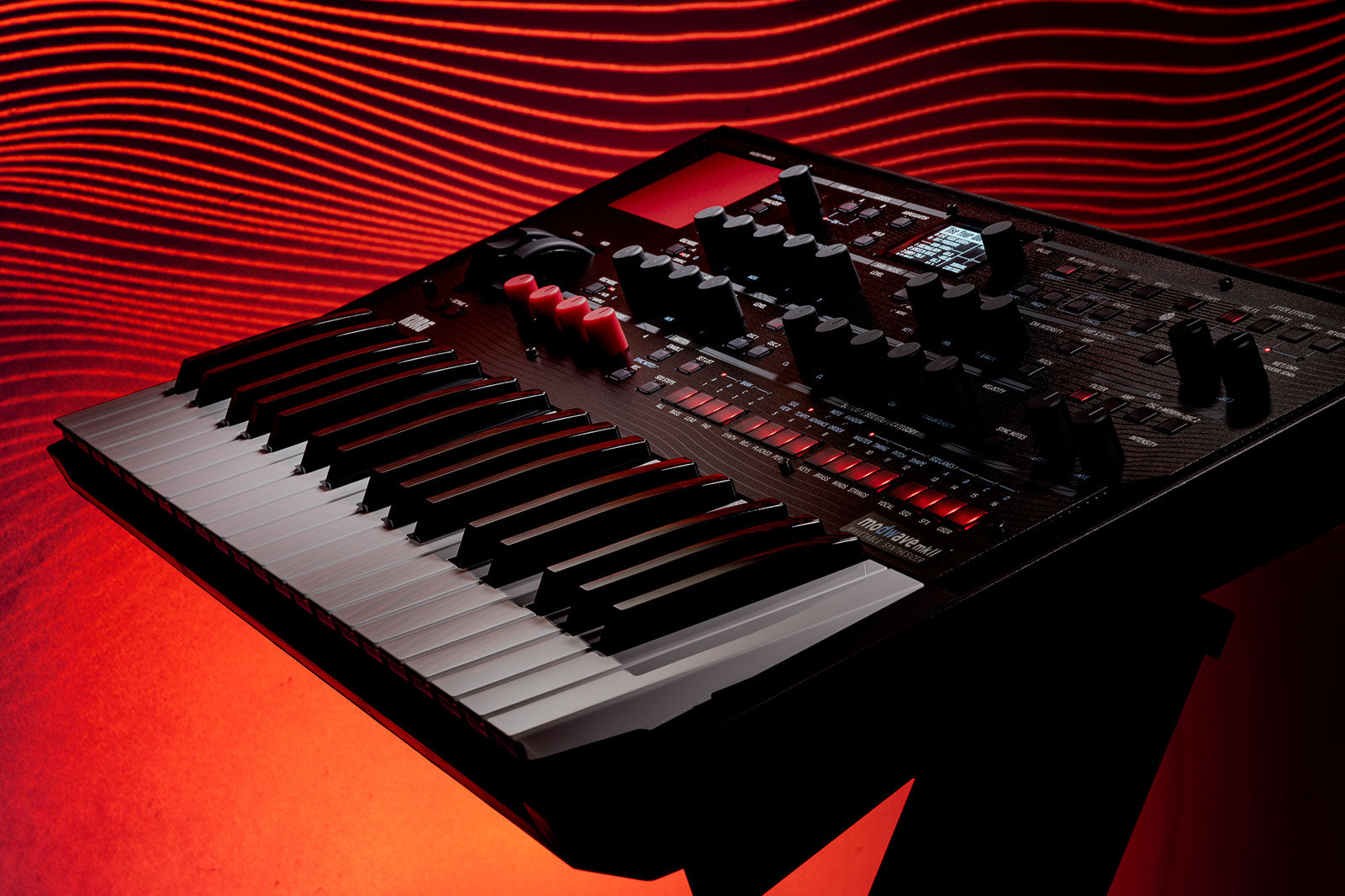 Modern monster synth
In 1985, we introduced the DW-8000 – a synth which combined digital wavetables with rich analogue filters to give users sounds which were impossible to create with analogue oscillators. 
Modwave builds on the DW legacy, transforming it into a modern monster synth, featuring incredibly deep wavetable oscillators, gorgeous filters, wildly flexible modulation, unmatched polyphony, comprehensive pattern sequencing, and immediately satisfying hands-on control to deliver unique, powerful, and easily customizable sounds and phrases.
Over 200 factory wavetables each contain up to 64 waveforms. 30+ Modifiers can be used to change their basic character, and 13 Morph Types to process them in real-time. Using the unique, realtime A/B Blend, it's possible to create new hybrids from any two wavetables.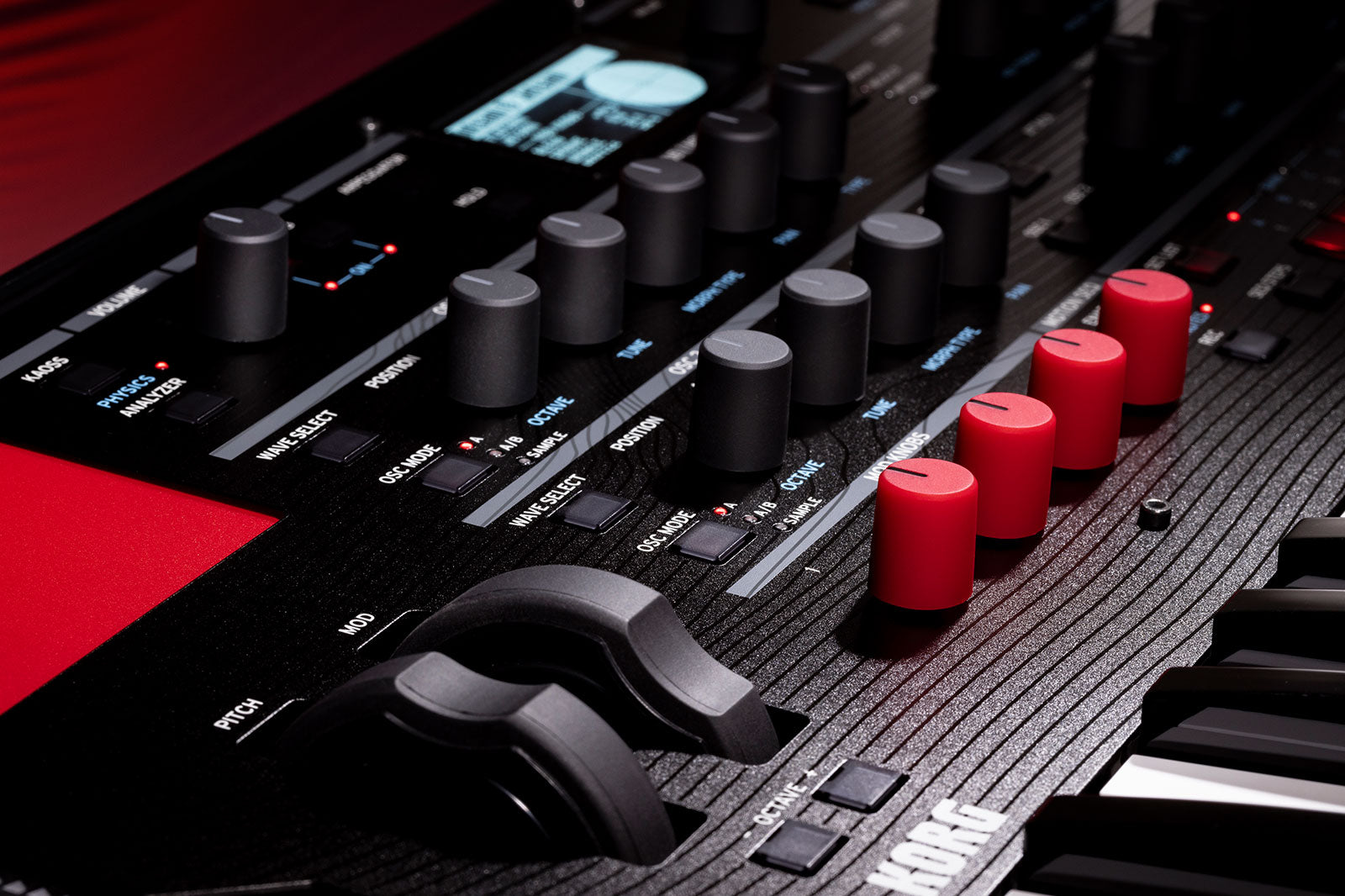 Expanded possibilities
Modwave can be expanded by importing new wavetables using the free Editor/Librarian software. There are many free and commercial wavetable libraries in the standard Serum format, or you can create your own using the free, cross-platform WaveEdit software (available in a custom version for the Modwave). Wavetables can be layered with samples from the built-in, multi-gigabyte PCM library, or import your own 4 GB of samples using our Sample Builder software.
Each Program has two full-featured wavetable oscillators, plus a sub oscillator/noise generator and any of a dozen stereo filter types, including the aggressive MS-20, sweet Polysix, and the newly enhanced Multi Filter. Animate almost any parameter using the massively flexible modulation system, with four triggerable envelopes, five LFOs, dual mod processors and two key-track generators–plus multi-lane Motion Sequencing and Kaoss Physics.
Even with all that synthesis power, playing up to four simultaneous wavetables per voice in a single Program, the Modwave mkII achieves 60-voice polyphony, incredible for a wavetable synth. Layer two Programs together for double the possibilities.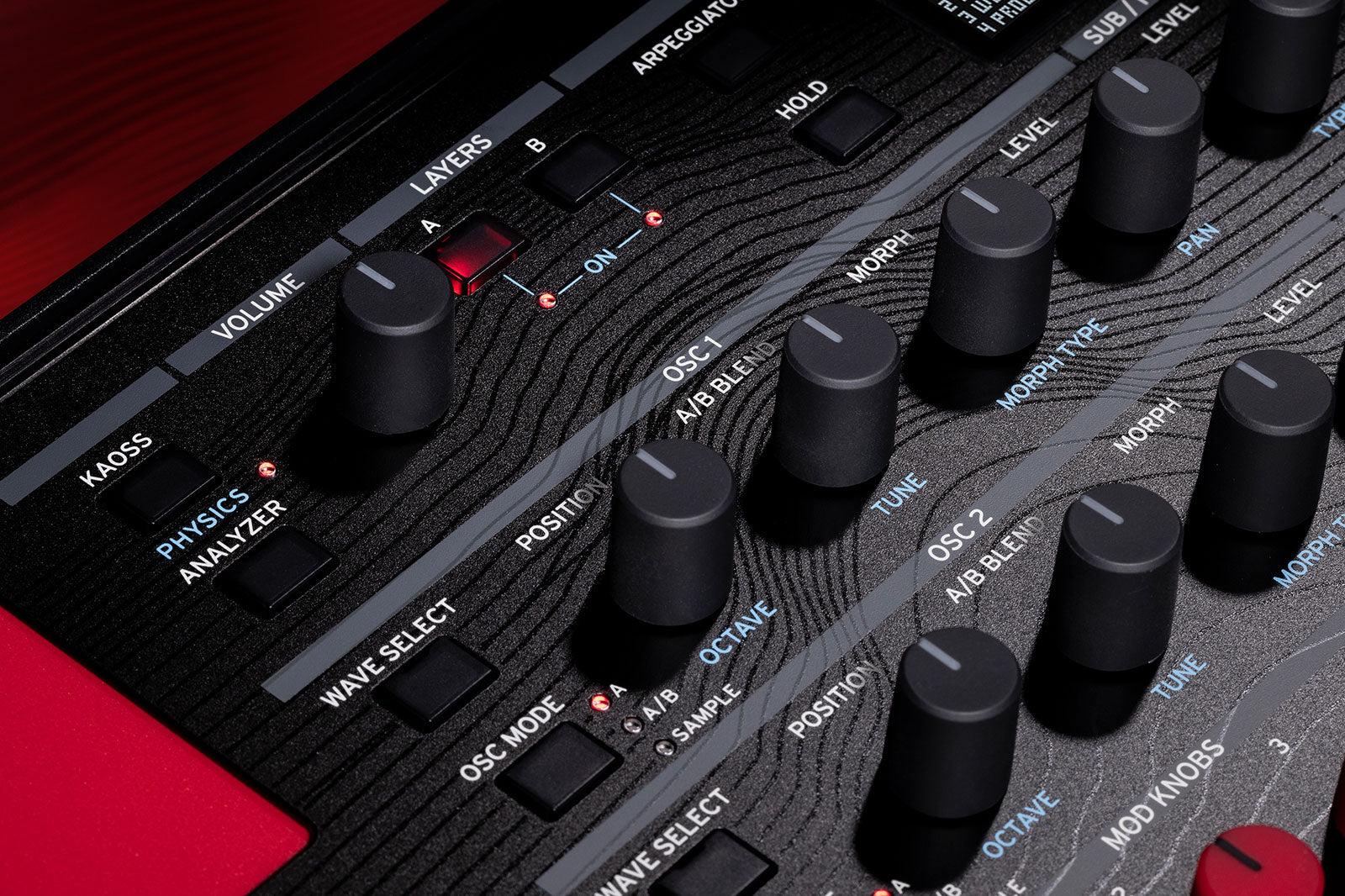 KAOSS in motion
Modwave introduced two unique new tools for creating dynamic motion: Kaoss Physics and Motion Sequencing 2.0. KaossPhysics combines an x/y Kaoss pad with modulatable game physics to create a responsive, interactive controller that is extraordinarily powerful. 
Motion Sequencing 2.0 brings the organic, continuously evolving patterns of the Wavestate Wave Sequencing 2.0 into the world of motion sequencing, including multiple lanes and real-time recording to help you create complex and evolving phrases that other step sequencers cannot.
Modwave's evolved wavetable synthesis delivers its own brand of completely unique sounds and a knob-per-function layout that makes customizing those sounds fast and easy. There are hundreds of preset sounds empowered by this new architecture, organised by front-panel category buttons, and all instantly customizable via the four Mod Knobs. Modwave'sdistinctive wavetable timbres start with aggressive basses & leads, and lush ambient pads which will add a new dimension to your tracks. But that is just the beginning.
Those who want to dig deeper will find an endless source of discovery; with the Modwave's unique synth architecture, you'll be finding new things for a long, long time. Save as many of your sounds as you like; there's room for thousands more. You can also load your own samples, import wavetables in standard formats, and create your own wavetables using the free WaveEditsoftware.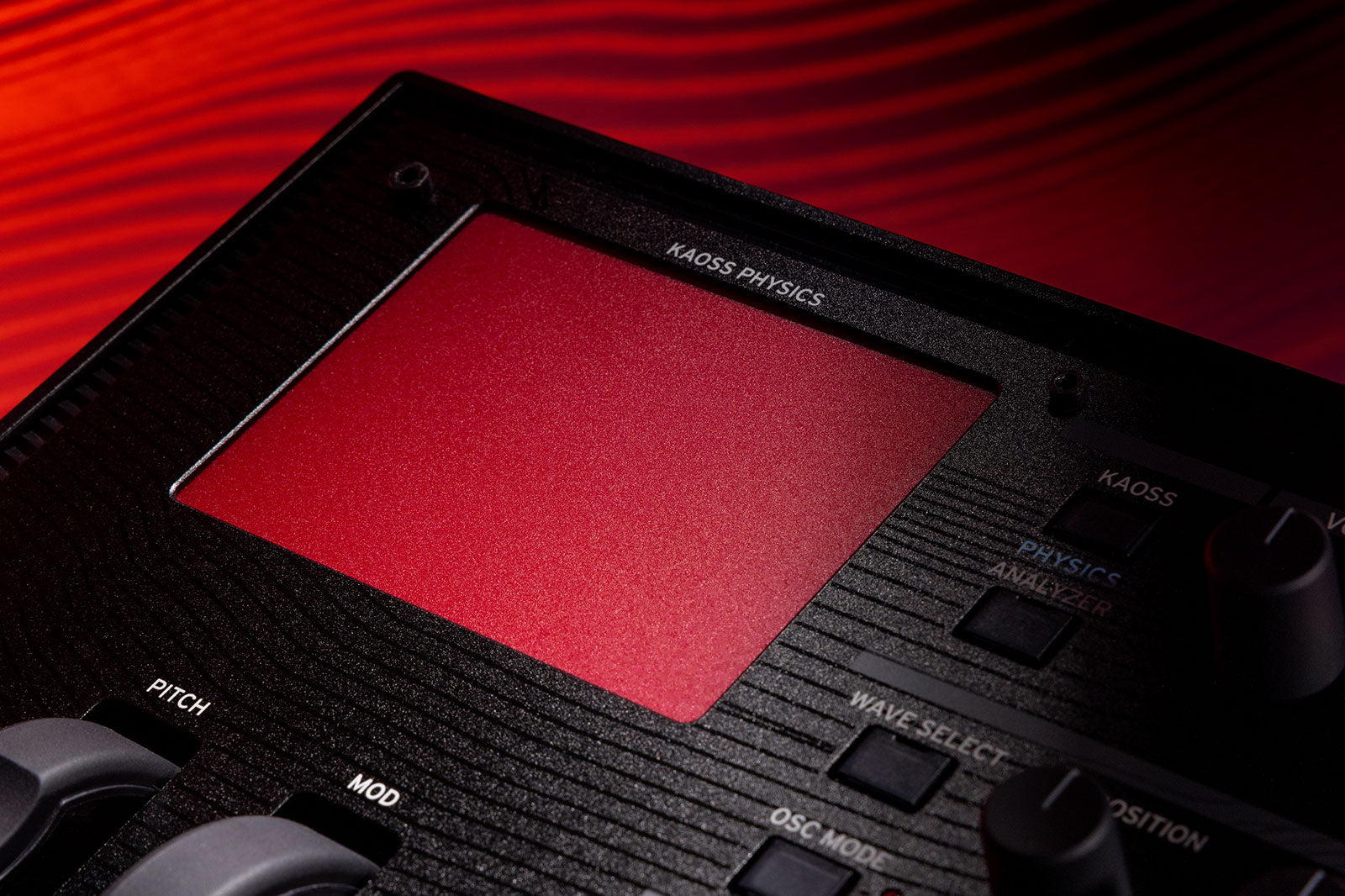 KAOSS Physics
Kaoss Physics models a ball rolling on a surface and bouncing off walls. The surface can tilt in any direction, and a bump with variable height/depth and location attracts or repels the ball. Adjustable friction slows the ball's travel, and adjustable time controls the speed of the entire model. All of these characteristics are modulatable, so you can change them in real-time!
Start the ball by flicking a finger on the x/y pad, or launch the ball automatically using another modulation source. You can even directly control the ball by holding your finger on the pad. The position of the ball produces eight modulation signals, which can be used to control any modulation destination: the X and Y locations, the distance from the centre, the angle relative to the X axis, and separate signals for +/- X and +/- Y.
Walls can slow down the ball, as if they were padded, or accelerate the ball, like bumpers in a pinball machine. The walls can also be removed entirely, so that the surface wraps around to the opposite edges like a vintage arcade game.
The modelled environment can create specific modulation effects. For instance, use a centered bump with negative height so that the modulation values always eventually return to 0. Or, position a bump with positive height on a side or a corner, to push modulation values away from that zone.
The result is an interactive controller that amplifies your physical gestures, transforming them into complex musical results.
Motion Sequencing 2.0
Motion Sequencing 2.0 is evolved from the Wavestate's Wave Sequencing 2.0. Timing, Pitch, Shape, and four sets of Step Sequence values are separated into "Lanes," each with their own loop start and loop end, adding a deeper, more customizable level of phrase and modulation recording.
Every time the sequence moves forward, the individual Lanes are combined to create the output. For instance, a step sequence value may be matched with a different duration, pitch, and shape every time that it plays. You can modulate each Lane's loop points separately for every note, using velocity, LFOs, envelopes, Mod Knobs, or other controllers. Each note in a chord can be playing something different!
Lanes can also randomize the step order every time they play. Finally, individual steps can be randomly skipped, with a modulatable probability from 0 to 100%. The result is organic, ever-changing sounds that respond to your control. The dual onboard arpeggiators can interact with Motion Sequences for even more possibilities.
Wavetables
Wavetables are sets of single-cycle digital waveforms, arranged in a specific order. The wavetable's "position" determines which waveform is played. Moving the position with an envelope, LFO, or other modulation source creates subtle or dramatic changes in timbre. Some wavetable systems switch abruptly from one waveform to another; others crossfade smoothly between them. Modwave can do either one.
Modifers
Use over 30 Modifiers to alter the character of any wavetable at load time. For instance, isolate the odd or even harmonics, add weight through anti-aliased quantization or saturation, or revisit the gritty character of old-school wavetable synths with the Vintage 8 & 12 options.
Morph
The 13 Morph Types let you stretch, squeeze, reflect, and otherwise alter the wavetables in real-time, changing their timbre and—when modulated—creating additional motion in the sound. Sync creates classic swept-sync timbres, using only a single oscillator. Three special Morph Types—FM, AM, and Ring Mod—modulate Osc 2 with Osc 1, and the last two even apply to samples.
A/B Blend
Using the unique A/B mode, oscillators can blend any two wavetables with phase-synchronous precision—different from simply layering voices—opening up a dimension of intermediate waveforms. Add body to otherwise "thin" waveforms, for instance, or a touch of sizzle to a mellow timbre. Even fade between two different "modifier" versions of the same wavetable. A/B Blend can be modulated in real-time, of course.
Filters for days
Add vintage character to your sounds with the aggressive MS-20 Lowpass or Highpass filters, or the strong, sweet Polysix Lowpass - all newly enhanced with gain controls to make it easier to dial in the resonance timbre. Shape and refine with a full collection of resonant 2-pole and 4-pole Lowpass, Highpass, Bandpass, and Band Reject filters. 
Or, step outside the box with Korg's unique Multi Filter, which creates modulatable blends of multiple modes simultaneously - now with presets on a front panel knob, for easier exploration of its many possibilities.
An arsenal of effects
Modwave's superb effects deliver production-ready sounds. Each Layer has three dedicated effects, plus a send to the Performance's master reverb, followed by a master parametric EQ. Along with standards such as compressors, EQs, choruses, flangers, phasers, and stereo delays, you'll find distinctive processors such as the Wave Shaper, Talking Modulator, Reverse Delay, Multiband Mod Delay, and Overb (from the OASYS and Kronos), plus modeled effects including VOX guitar amps, VOX wah, multi-head tape echo, and a collection of classic guitar pedals.
Control and modulation galore
Oscillators, filter, envelopes, LFOs, and effects are all at your fingertips with dedicated front-panel controls. Four programmable Mod Knobs are customized to bring out the most in every sound. Use the knobs in realtime performance, and also save the results as new sounds. The Hold button lets you sustain notes or chords indefinitely, while you explore the front-panel controls or play other gear.
Add in Kaoss Physics and the Pitch Bend and Modulation Wheels, and you'll always have multiple dimensions of realtimeexpression.
Want to dig deeper? Almost all front-panel knobs, and most on-screen parameters, can be modulated. You can even modulate settings for individual Motion Sequence Steps! Mod Processors let you transform modulation signals using quantization, smoothing, curvature, and more.
System

Keyboard: 37 keys (velocity and release-velocity sensitive) 
Maximum Polyphony: 60 stereo voices
Sound generating system: Modwave synthesis engine

Modulation

Controllers: Mod Wheel, Pitch Wheel, Kaoss Physics, 4x Mod Knobs
Other Sources: 4x Envelopes, 5x LFOs, 2x Mod Processors, 2x Key Track, Seq Lanes A-D, Step Pulse, Tempo, Program/Performance Note Count, Program/Performance Voice Count, Poly Legato, Velocity, Exponential Velocity, Release Velocity, Gate, Gate+Damper, Note-On Trigger, Note-On Trigger+Damper, Note Number, Aftertouch and Poly Aftertouch (external MIDI only), MIDI CCs +/-, MIDI CCs +

Destinations: Most parameters can be modulated, including parameters of individual Motion Sequence Steps. Depending on Motion Sequence length, there can be more than 1,000 potential modulation targets per Program.

Effects

Pre FX: Decimator, Graphic EQ, Guitar Amp, Modern Compressor, Parametric EQ, Red Compressor, Ring Modulator, Tremolo, Wave Shaper

Mod FX: Black Chorus/Flanger, Black Phase, CX-3 Vibrato Chorus, EP Chorus, Harmonic Chorus, Modern Chorus, Modern Phaser, Orange Phase, Polysix Ensemble, Small Phase, Talking Modulator, Vintage Chorus, Vintage Flanger, Vintage/Custom Wah, Vox Wah

Delay: L/C/R Delay, Multiband Mod Delay, Reverse Delay, Stereo/Cross Delay, Tape Echo

Master Reverb: Early Reflections, Overb

Master EQ: 4-band parametric EQ

General

Inputs/outputs: Headphone (6.3 mm stereo phone jack), OUTPUT L/MONO and R (impedance-balanced 6.3 mm TRS phone jacks), DAMPER (6.3 mm phone jack, half-damper not supported), MIDI IN and OUT connectors, USB B port

Power supply: AC adapter (DC12V, 2500mA)

Power consumption: 5 W

Dimensions (W × D × H): 565 × 338 × 92 mm/22.24" × 13.31" × 3.62"

Weight: 2.9 kg/6.93 lbs.

* All products names and specification names are trademarks or registered trademarks of their respective owners. 

* Appearance and specifications of products are subject to change without notice.
All new products are sold with a 2-year manufacturer warranty which is upgraded to 3 years when bought direct from Korg UK.

Certified Refurbished products also come with a one year warranty. 
We offer a 30-day returns period on all products purchased directly from Korg UK.