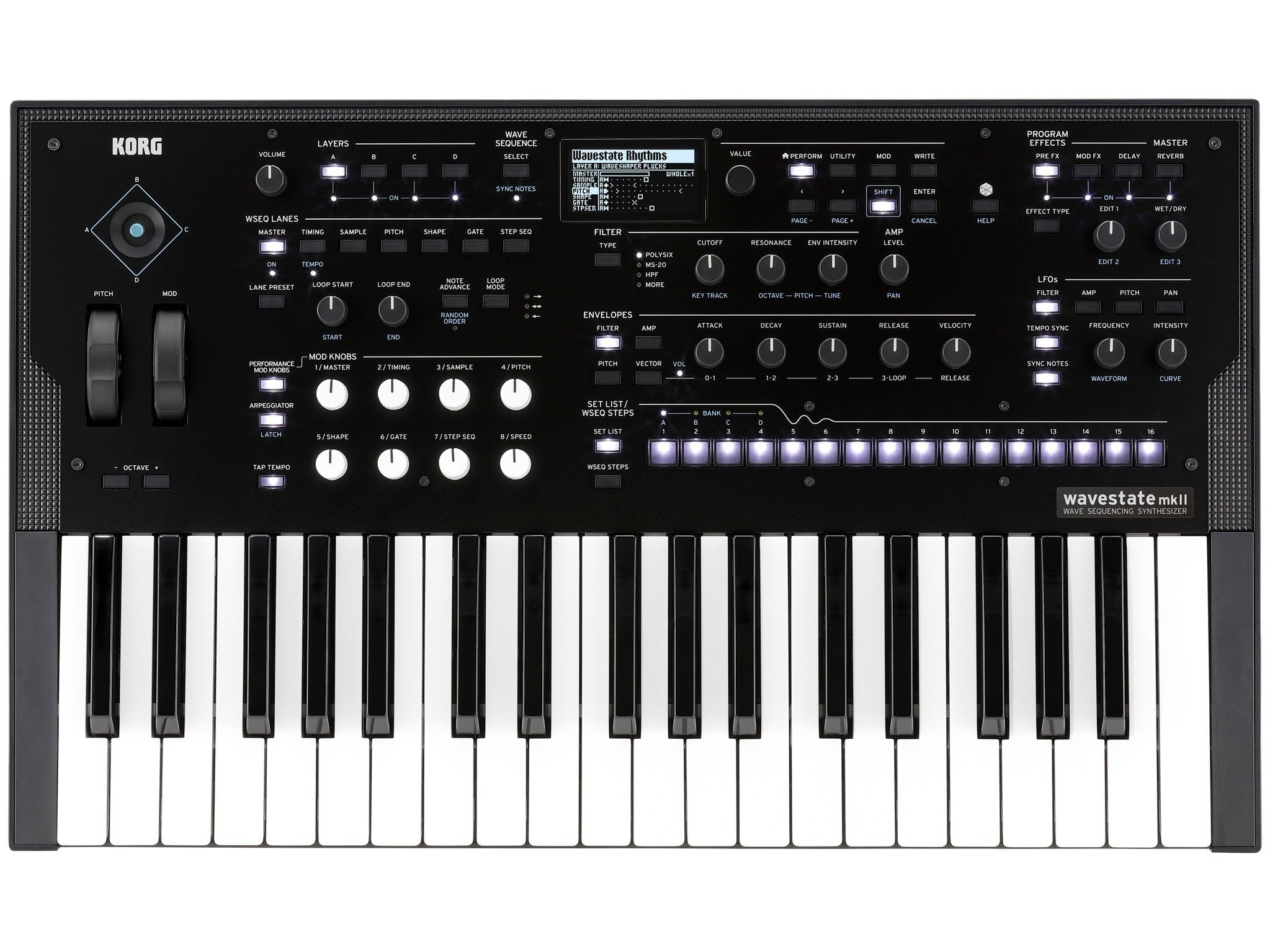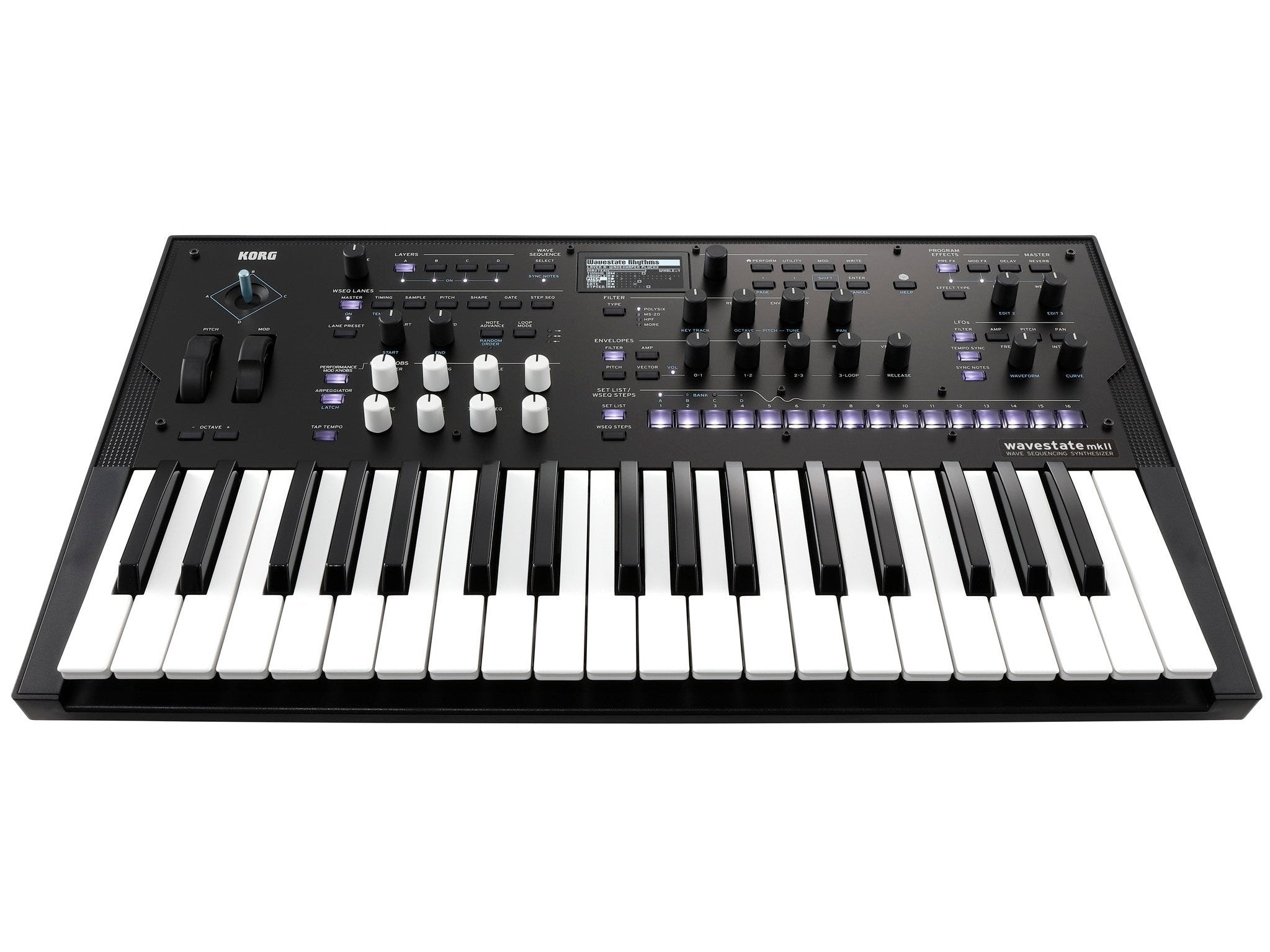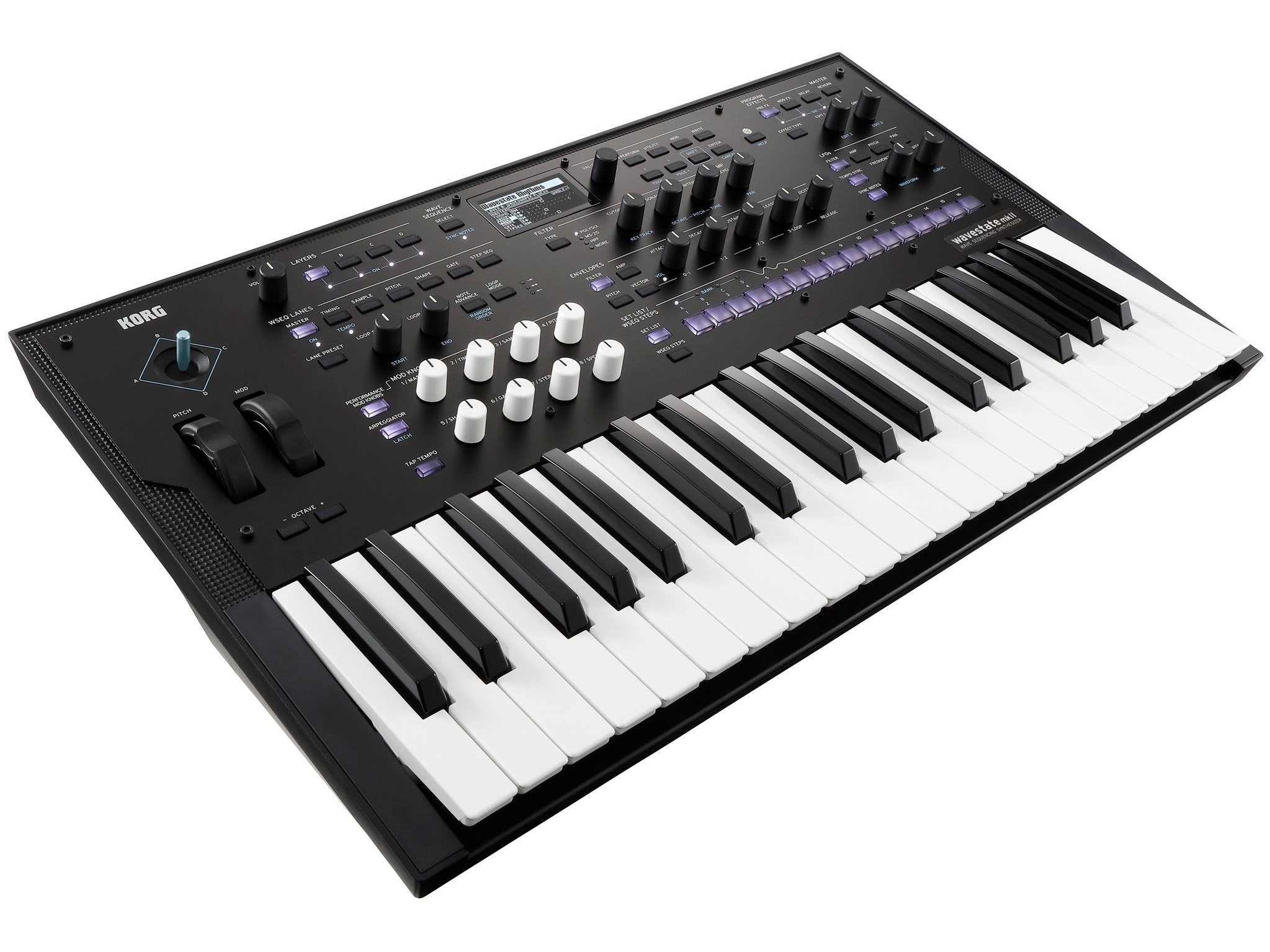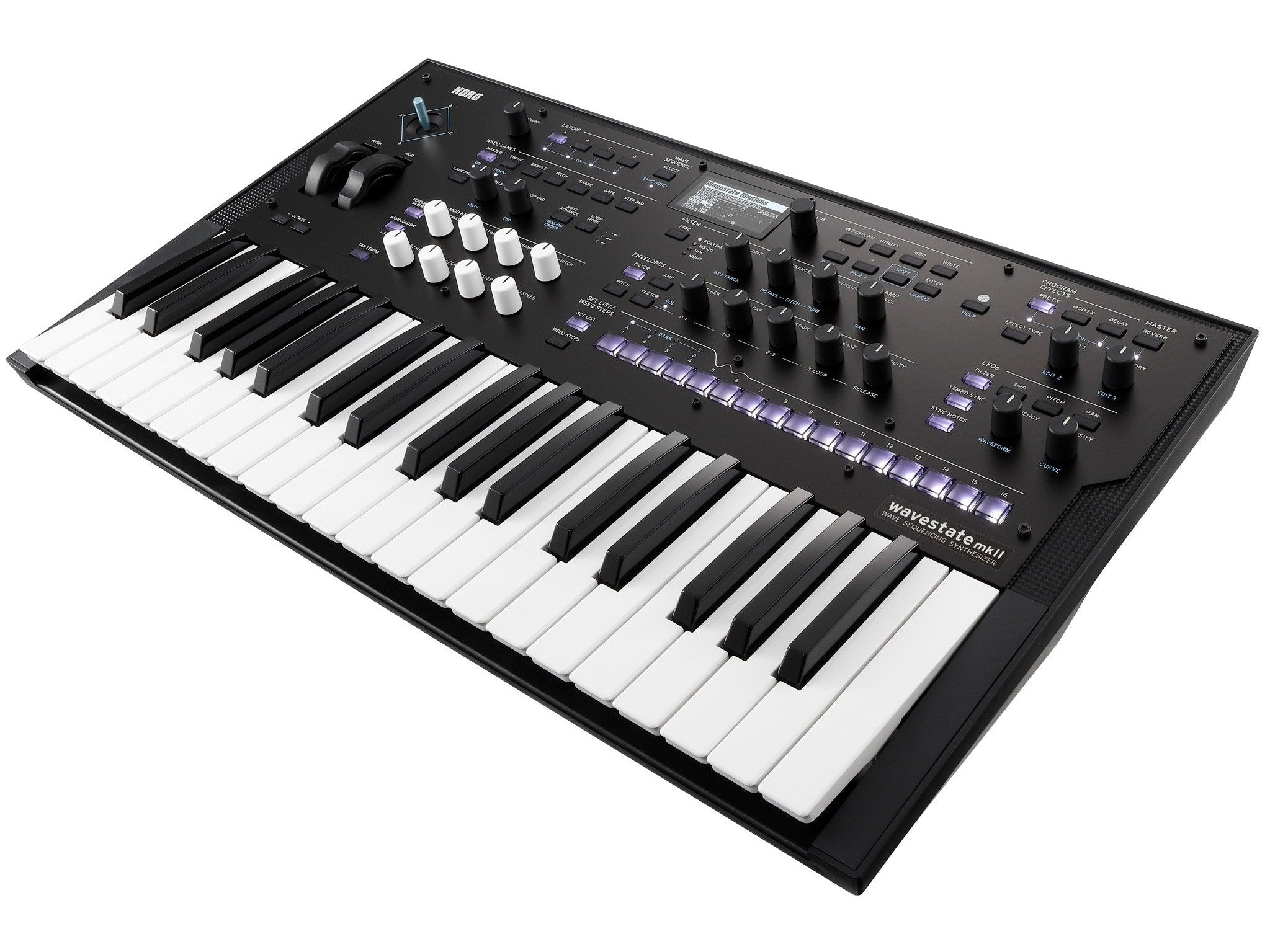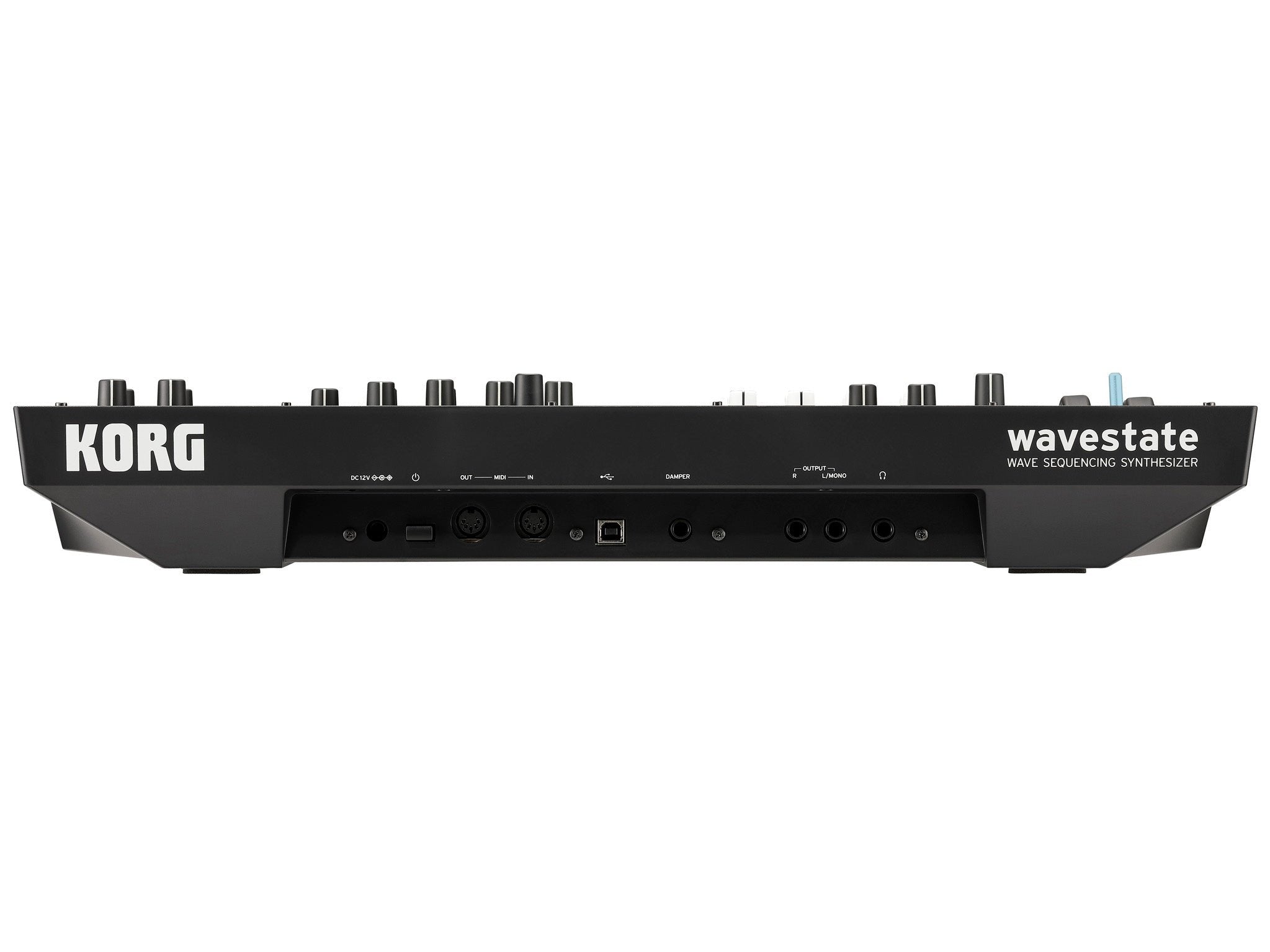 Wavestate mkII
Korg's legendary Wavestation introduced the world to wave sequencing, and the 37-key Wavestate builds on that legacy with a reimagined, compact synth designed from the ground up to satisfy today's demanding musicians and producers. Wavestate mkII expands the original with 96 stereo voices alongside four layers with gigabytes of samples, vector synthesis, modelled filters, and extensive hands-on control.
Extend your warranty for free when buying direct from Korg UK.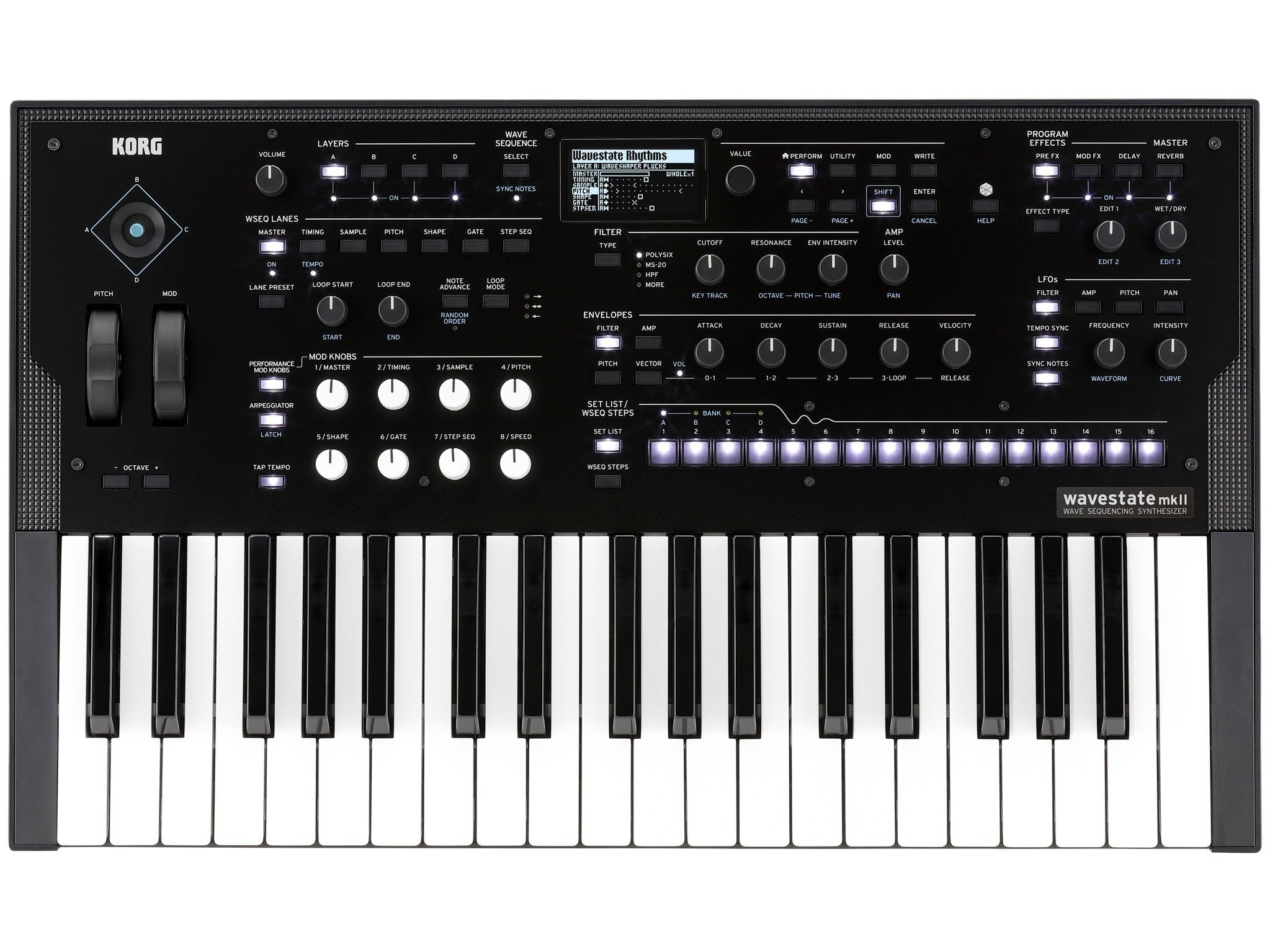 Legendary synthesis, radically re-imagined.
The legendary Wavestation introduced the world to Wave Sequencing, transforming raw samples into sounds that no one had ever heard before. In 2020, the Wavestate brought Wave Sequencing to the next level. Featuring the radically re-imagined Wave Sequencing 2.0, Wavestate delivers astonishing, ever-changing sounds with extensive hands-on control. Far from a nostalgic reissue, Wavestate was designed from the ground up for a new generation of musicians, producers, and composers.
Now we present the Wavestate MKII, with improved polyphony (96 stereo voices) and a fresh look. Updated sounds and software keep it fresh while the compact form-factor, with 37 full-size keys, still transports easily and fits neatly into any stage, studio, or desktop setup.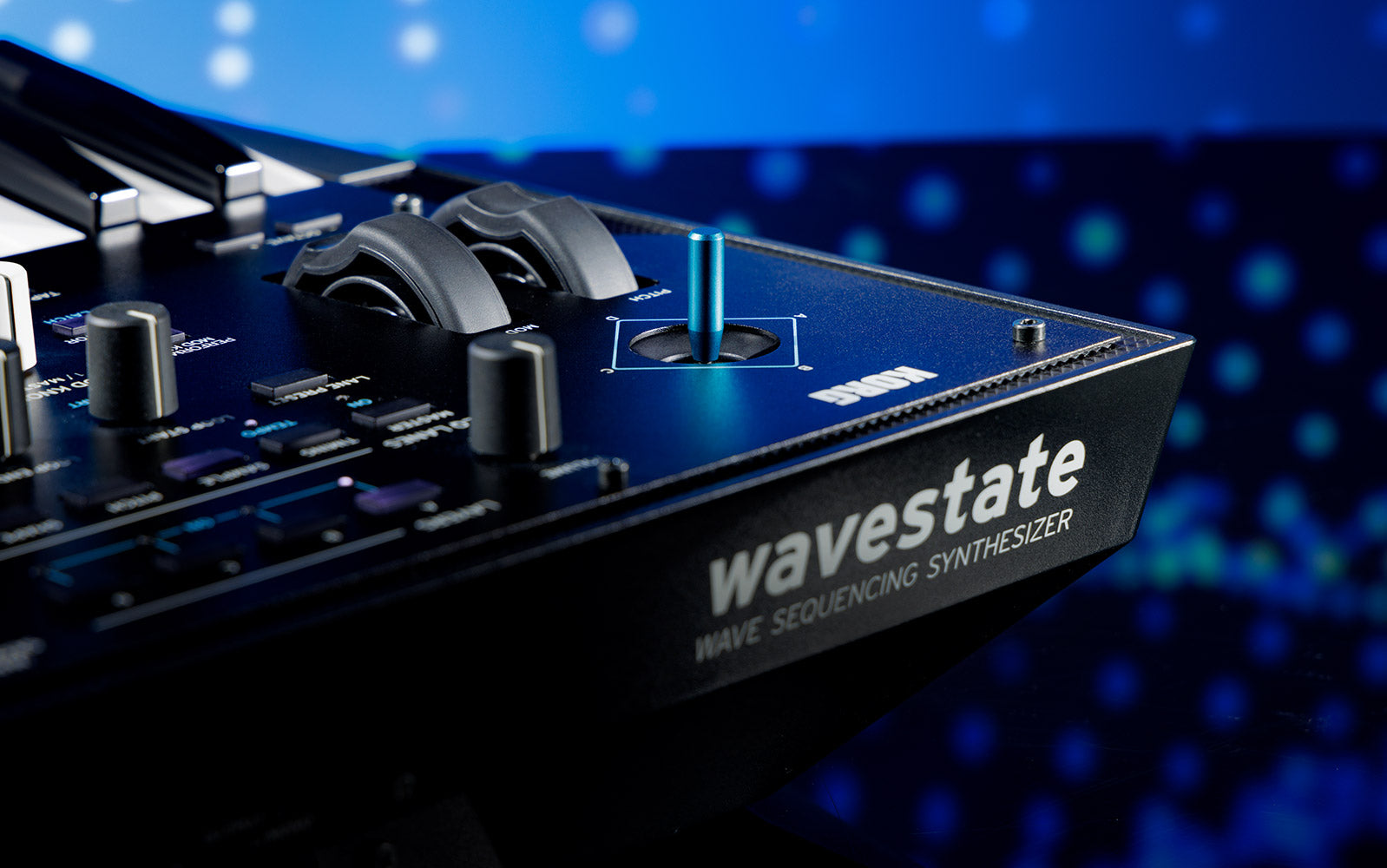 Easily expressive. Exceptionally deep.
Bursting with knobs and controllers, the Wavestate invites you to explore. All of the basics–filter, envelopes, LFOs, effects–are at your fingertips with dedicated front-panel controls. Eight programmable Mod Knobs are customized to bring out the most in every sound, often taking them in entirely new directions. Use the knobs in realtime performance, and also save the results as new sounds. Add in the Pitch Bend and Modulation Wheels and the unique Vector Joystick, and you'll always have multiple dimensions of realtime expression.

Want to dig deeper? Almost all front-panel knobs, and most on-screen parameters, can be modulated. You can even modulate settings for individual Wave Sequence steps! Mod Processors let you transform modulation signals using quantization, smoothing, curvature, and more.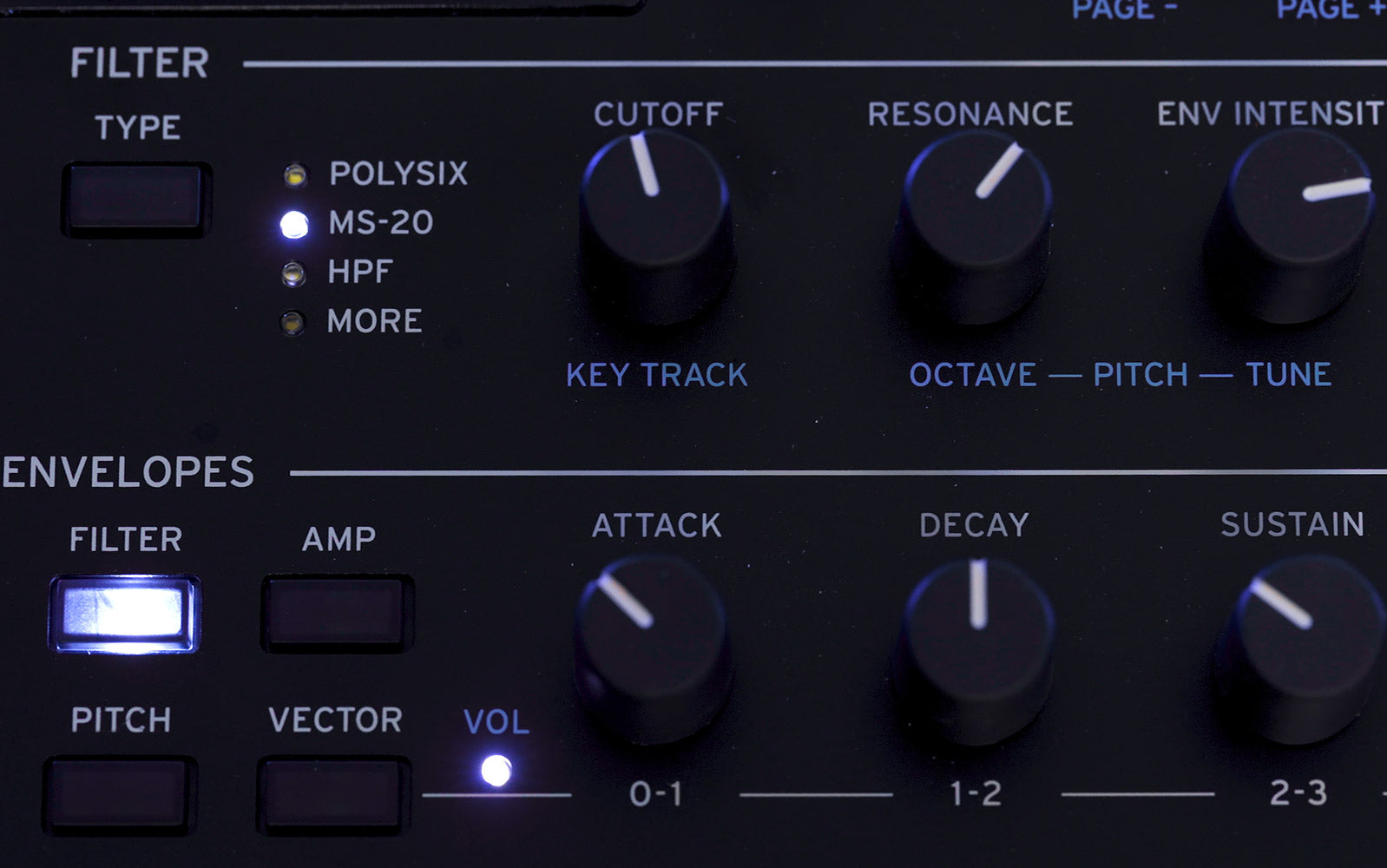 Choose your filter.
Add vintage character to your sounds with the aggressive MS-20 Lowpass or Highpass filters, or the strong, sweet Polysix Lowpass. Shape and refine with a full collection of resonant 2-pole and 4-pole Lowpass, Highpass, Bandpass, and Band Reject filters. Or, step outside the box with Korg's unique Multi Filter, which creates modulatable blends of multiple modes simultaneously.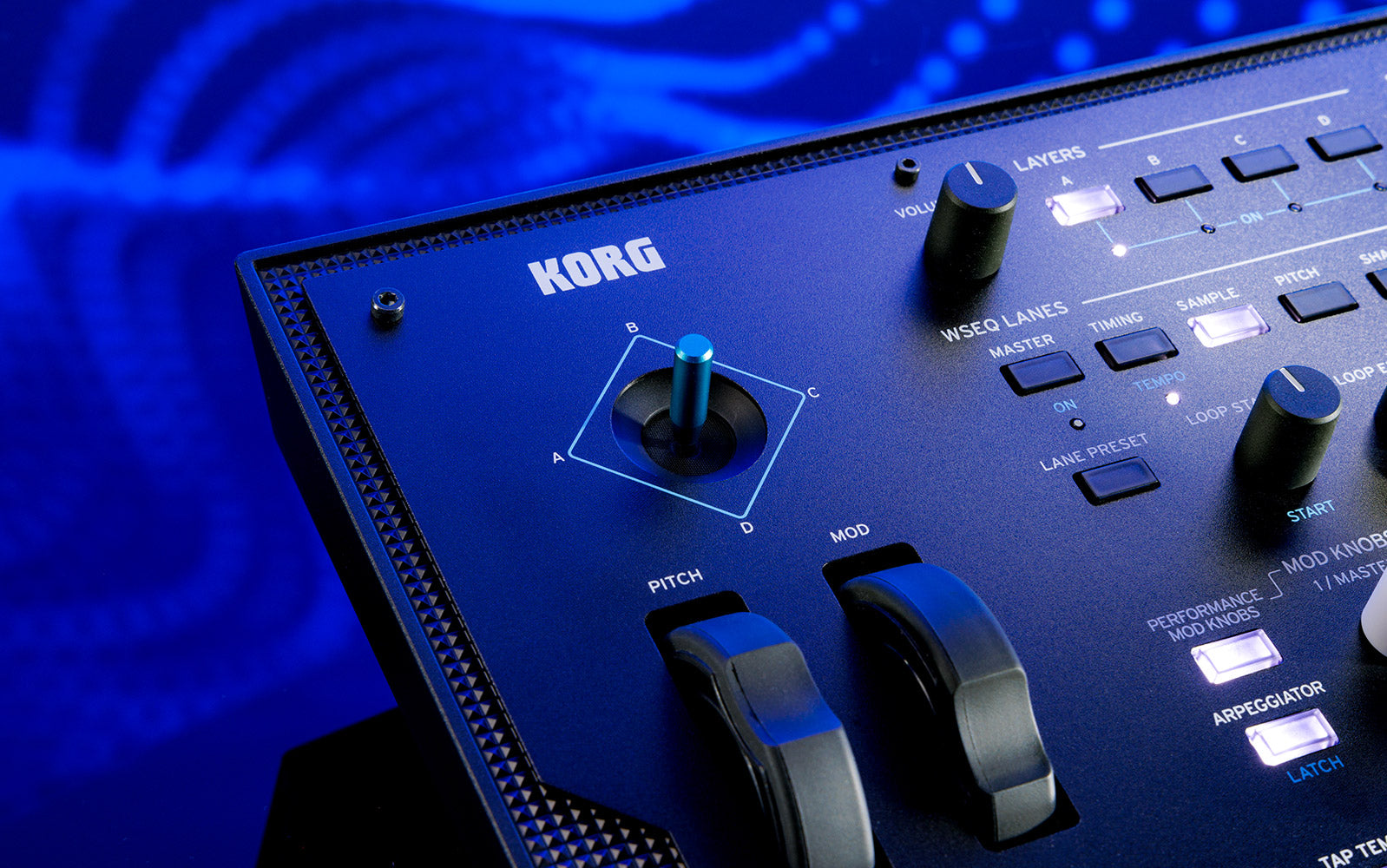 An arsenal of effects.
The Wavestate's superb effects deliver production-ready sounds. Each layer has three dedicated effects; additionally, the Performance has a master reverb and parametric EQ. Along with standards such as compressors, EQs, choruses, flangers, phasers, and stereo delays, you'll find distinctive processors such as the Wave Shaper, Talking Modulator, Reverse Delay, Multiband Mod Delay, and Overb (from the OASYS), plus modelled effects including Vox guitar amps, Vox wah, multi-head tape echo, and a collection of classic guitar pedals.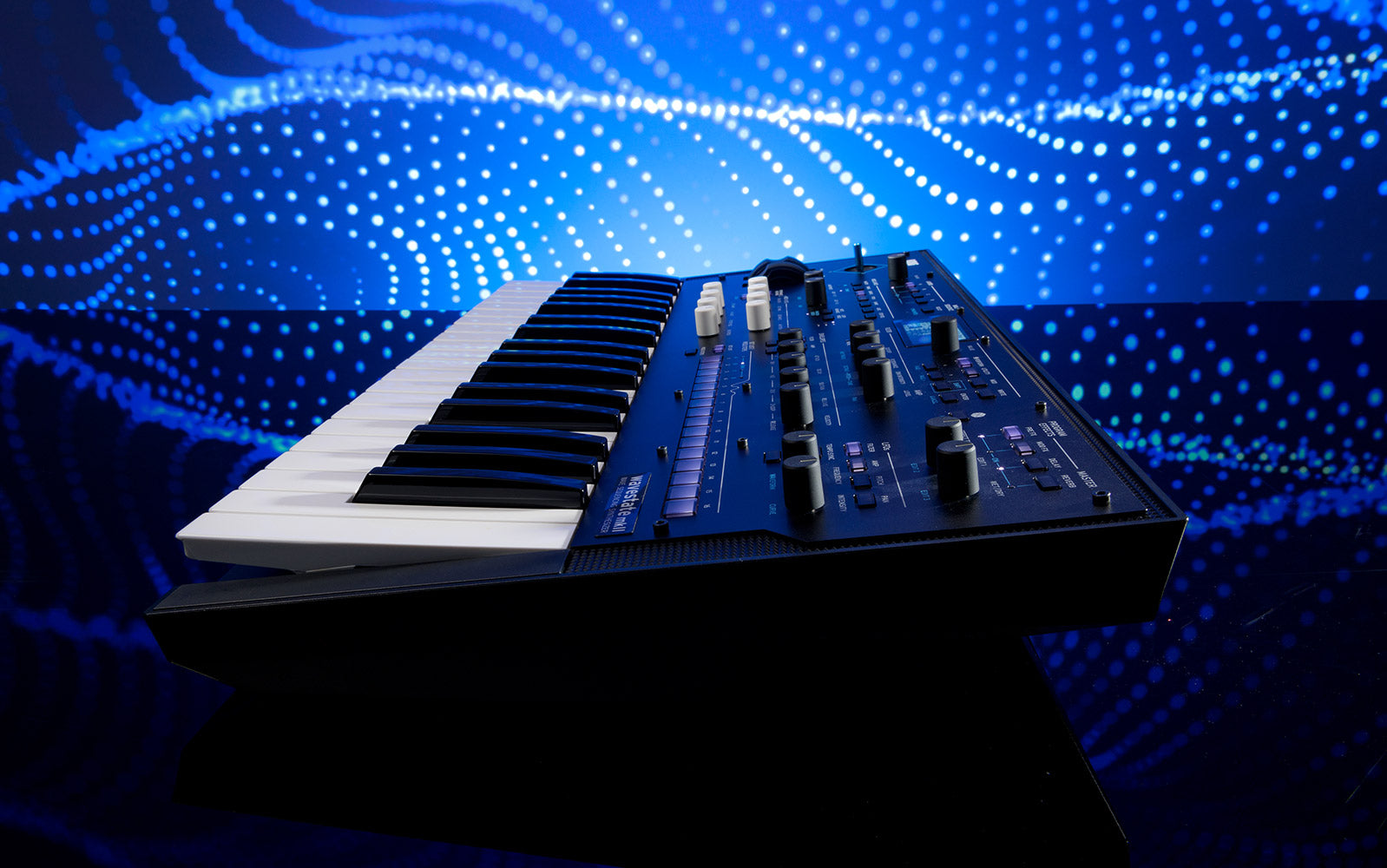 Multiply by four.
With all of that synthesis power, you might think the Wavestate would play only one sound at a time. Not a chance. For even more rich and complex results, layer up to four Programs together in a Performance–each with their own effects and arpeggiator. The Vector Envelope and Joystick mix the individual voices of the four Layers, and can also modulate any other parameters.
Gigabytes of samples. 96 stereo voices.
Totaling in the gigabytes, the Wavestate's sample library is more than a thousand times larger than that of the original Wavestation. That's a lot of great-sounding raw material for Wave Sequences. There's a bank of samples from Plugin Guru, brand-new samples from Korg, and a selection from the Nautilus, Kronos and Krome libraries. Of course, Korg also provides all of the Wavestation's samples (including all options), plus a huge library of Wavestation Wave Sequences. Play up to 96 stereo voices with pristine clarity, using Korg's proprietary anti-aliasing sample playback technology.
4GB of User Samples.
Express yourself in your own unique voice. Import up to 4 GB of your own Multisamples into the Wavestate via the free Sample Builder application for Mac and Windows. Many third-party libraries are available, too! Use your new samples in Wave Sequences or as single Multisamples, just like the factory Multisamples.
Set Lists and Smooth Sound Transitions.
Set Lists offer effortless organisation of your Wavestate Performances, and deliver instant access at the gig or in rehearsal. Smooth Sound Transitions allow previously-played voices and effects to continue to ring out naturally, even once a new sound has been selected.
Plays well with others.
Balanced stereo outputs connect to any recording or monitoring system, and a stereo headphone output is provided for private playing or onstage cueing. Din-style MIDI jacks ensure connection to other MIDI-equipped instruments and audio gear. The Wavestate supports class-compliant USB MIDI connections to Windows and Mac computers, and the Wavestate Editor/Librarian and Sample Builder programs are available as free downloads from Korg.
Editor/Librarian.
The Editor/Librarian acts as a second front panel for the Wavestate. Realtime display of modulated parameter values and Wave Sequences gives you instant feedback on your creations. Copy and paste sounds, envelopes, LFOs, filter settings, and more. Dive deep into Effects with access to all internal parameters and create your own Effects Presets.
(Click here to download the Editor/Librarian)
Free bundle of music software.
The Wavestate comes with a diverse variety of music software from Izotope including "Ozone Elements" which lets you not only create songs but also master them using AI, "Skoove" which will help you improve your keyboard playing skills, as well as software synths from Korg and other brands.

In other words, the moment you get your hands on this synthesizer you'll have a variety of tools to help you take your music to the next level.
Keyboard
37 keys (velocity and release-velocity sensitive)
Sounds
261 Performances
799 Programs
1,042 Wave Sequences
Storage for tens of thousands of user Performances
Structure
Performance
4 Layers, Reverb, EQ; all edits are stored in the Performance, DAW-style (saving as separate Programs, Wave Sequences etc. is supported but not required)
Layer
Program, Arpeggiator, Key and Velocity Zones
Program
Wave Sequence, Filter, Amp, Pre FX, Mod FX, Delay
Filters
2-pole LPF, 2-pole HPF, 2-pole BPF, 2-pole Band Reject, 4-pole LPF, 4-pole HPF, 4-pole BPF, 4-pole Band Reject, Multi Filter, MS-20 LPF, MS-20 HPF, Polysix
Modulation
Controllers
Mod Wheel, Pitch Wheel, Vector Joystick X/Y, 8x Program/Performance Mod Knobs
Other Sources
3x Envelopes, Vector Envelope, 3x LFOs, 2x Mod Processors, 2x Key Track, Step Sequencer Lane, Step Pulse, Tempo, Program/Performance Note Count, Program/Performance Voice Count, Poly Legato, Velocity, Exponential Velocity, Release Velocity, Gate/Gate+Damper, Note-On Trigger/Note-On Trigger+Damper, Note Number, Aftertouch/Poly Aftertouch (external MIDI only), MIDI CCs +/-, MIDI CCs +
Destinations
Most parameters can be modulated, including parameters of individual Wave Sequence Steps. Depending on Wave Sequence length, there can be more than 1,000 potential modulation targets per Program.
Effects
Pre FX
Decimator, Graphic EQ, Guitar Amp, Modern Compressor, Parametric EQ, Red Compressor, Ring Modulator, Tremolo, Wave Shaper
Mod FX
Black Chorus/Flanger, Black Phase, CX-3 Vibrato Chorus, EP Chorus, Harmonic Chorus, Modern Chorus, Modern Phaser, Orange Phase, Polysix Ensemble, Small Phase, Talking Modulator, Vintage Chorus, Vintage Flanger, Vintage/Custom Wah, Vox Wah
Delay
L/C/R Delay, Multiband Mod Delay, Reverse Delay, Stereo/Cross Delay, Tape Echo
Reverb
Early Reflections, Overb
Performance EQ
4-band parametric EQ
Connections
Headphone (6.3 mm stereo phone jack)
OUTPUT L/MONO and R (impedance-balanced 6.3 mm TRS phone jacks)
DAMPER (6.3 mm phone jack)
MIDI IN and OUT connectors
USB B port
Power
Power supply
AC adapter (DC12V, 2500mA)
Power consumption
5 W
All new products are sold with a 2-year manufacturer warranty which is upgraded to 3 years when bought direct from Korg UK.

Certified Refurbished products also come with a one year warranty. 
We offer a 30-day returns period on all products purchased directly from Korg UK.