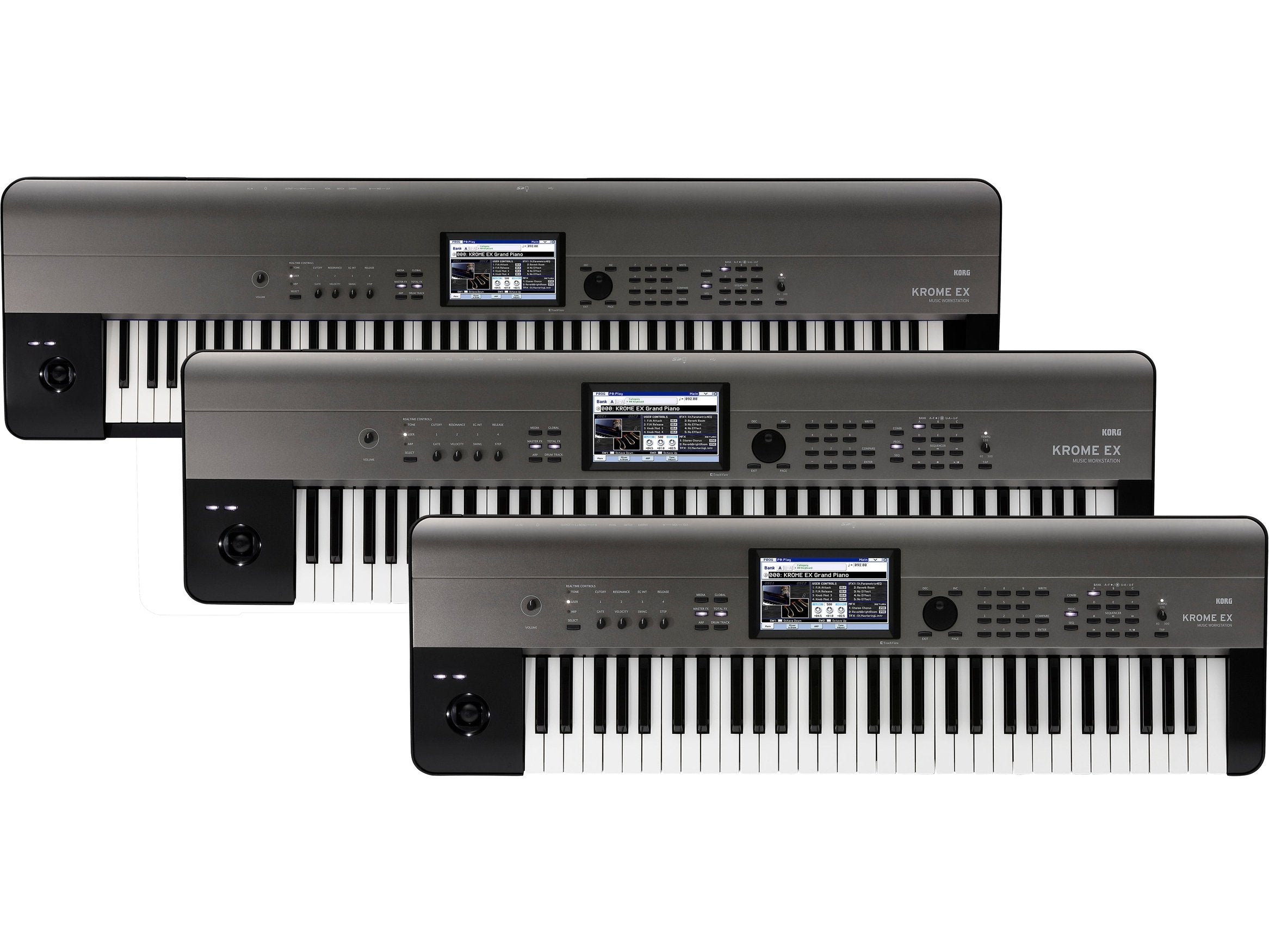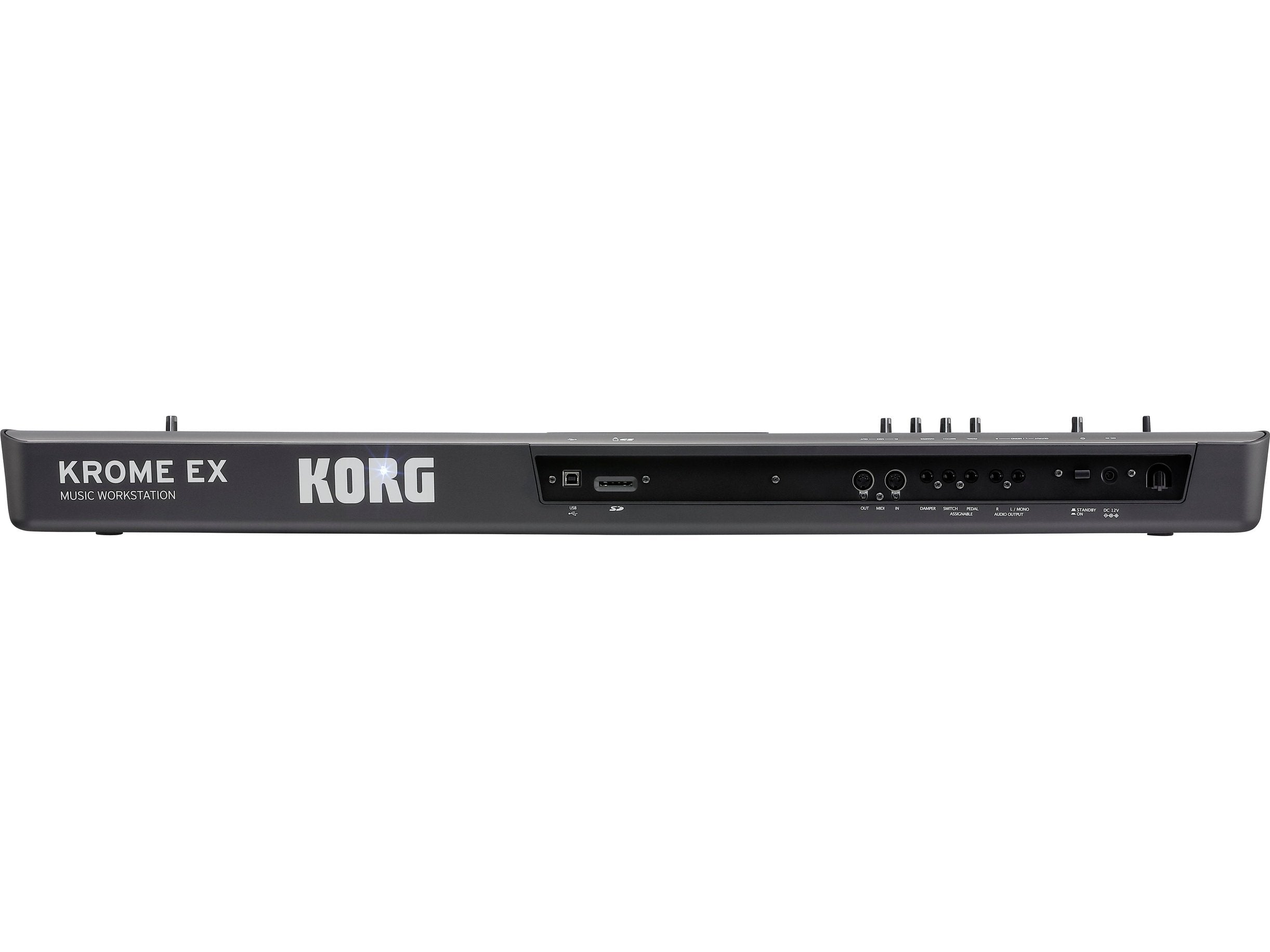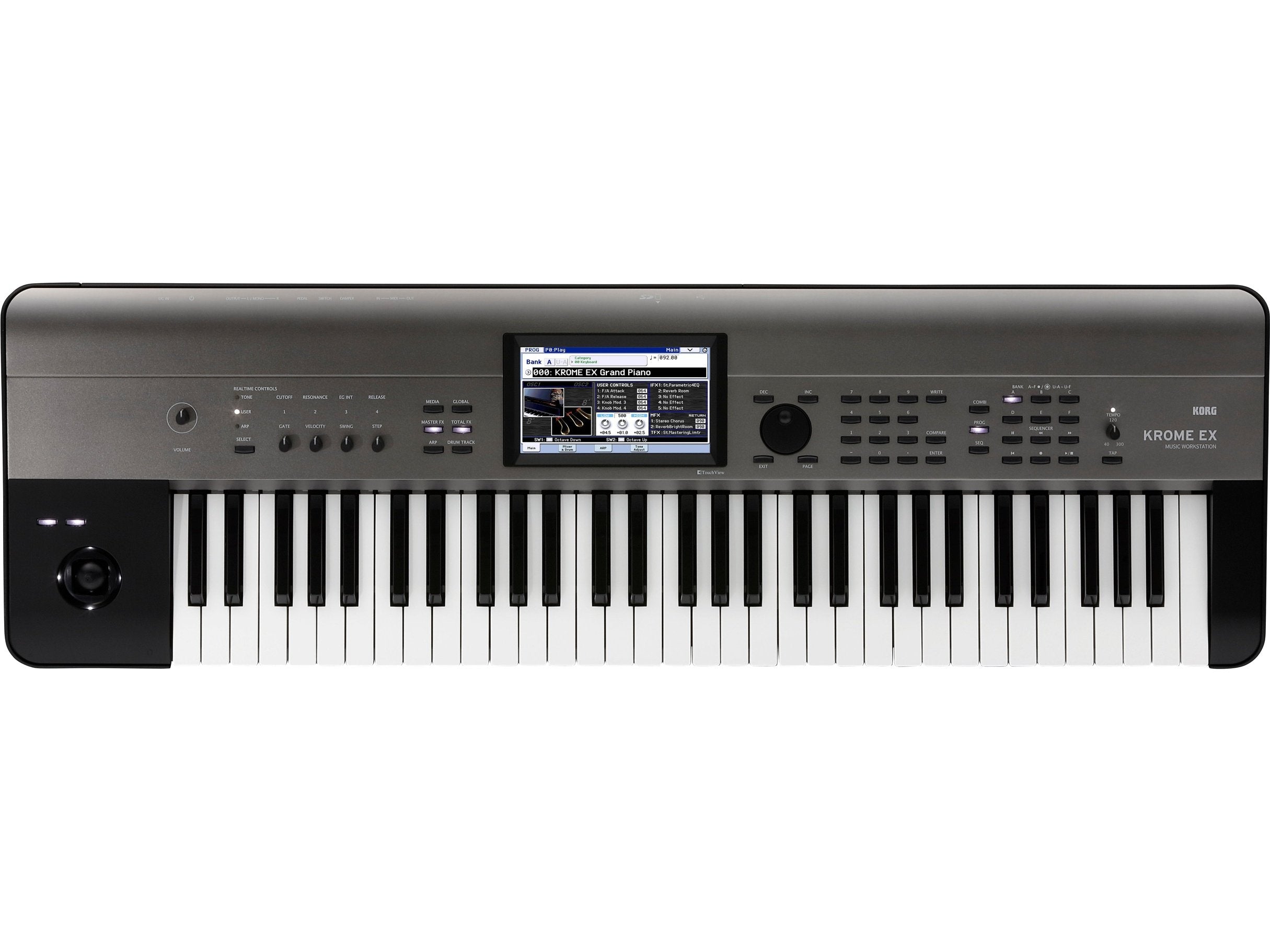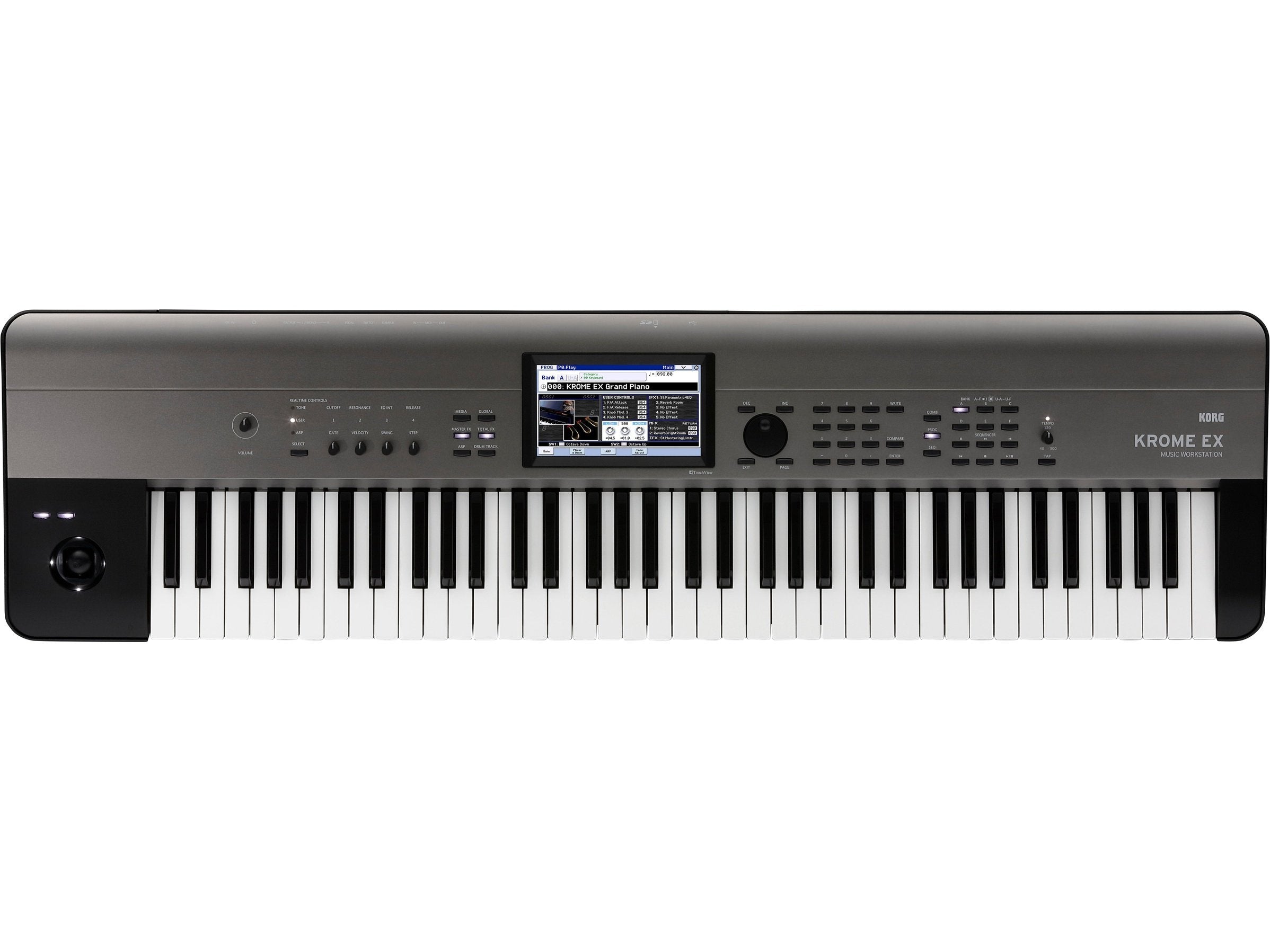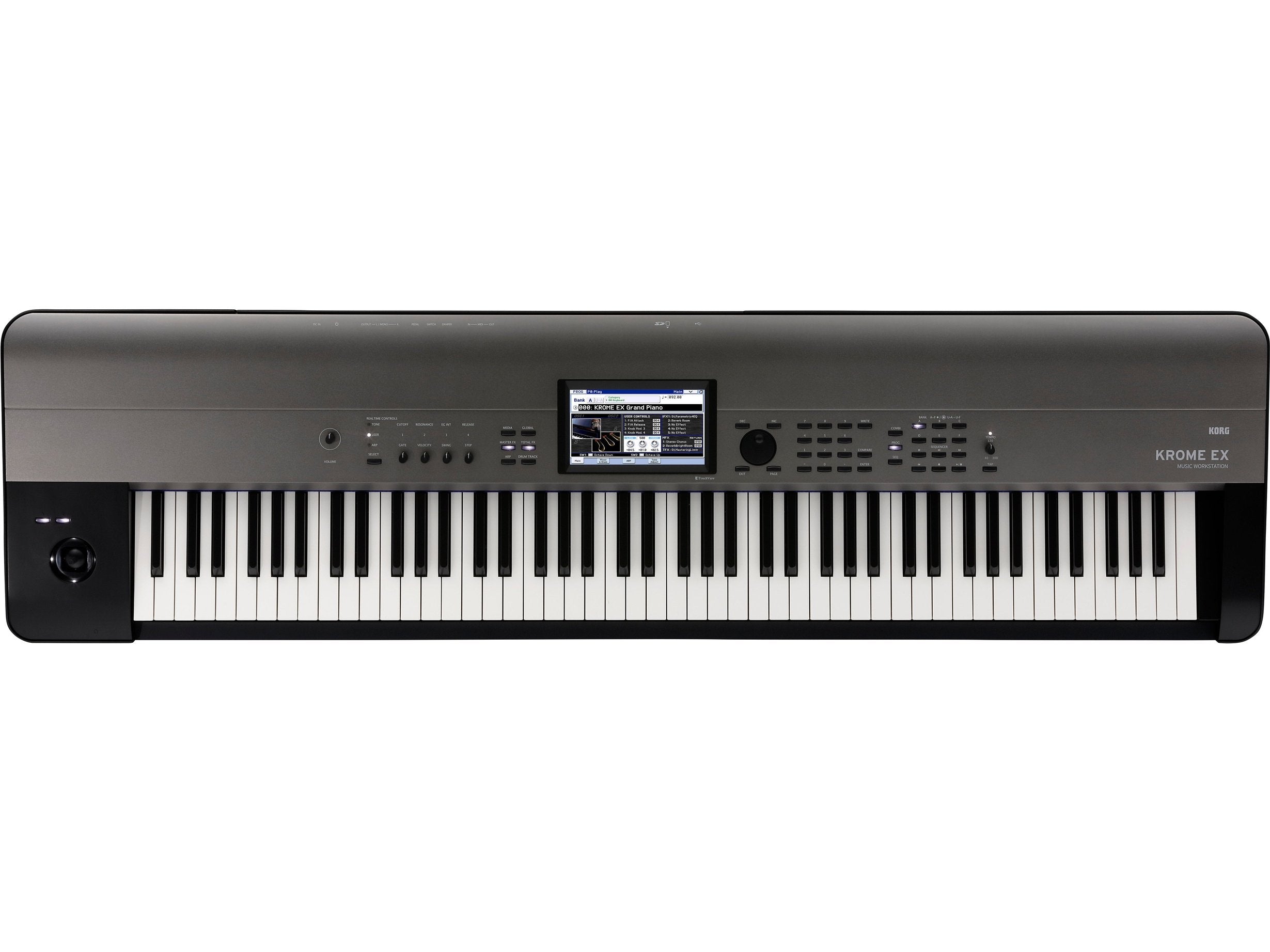 Krome EX
With amazing sounds for today's modern music, Krome EX provides an almost limitless pool of creativity to inspire you and your music. Krome EX features expertly created, in-demand sounds including 896 Programs and 512 Combinations, from incredible acoustic sounds through to EDM palettes.
Extend your warranty for free when buying direct from Korg UK.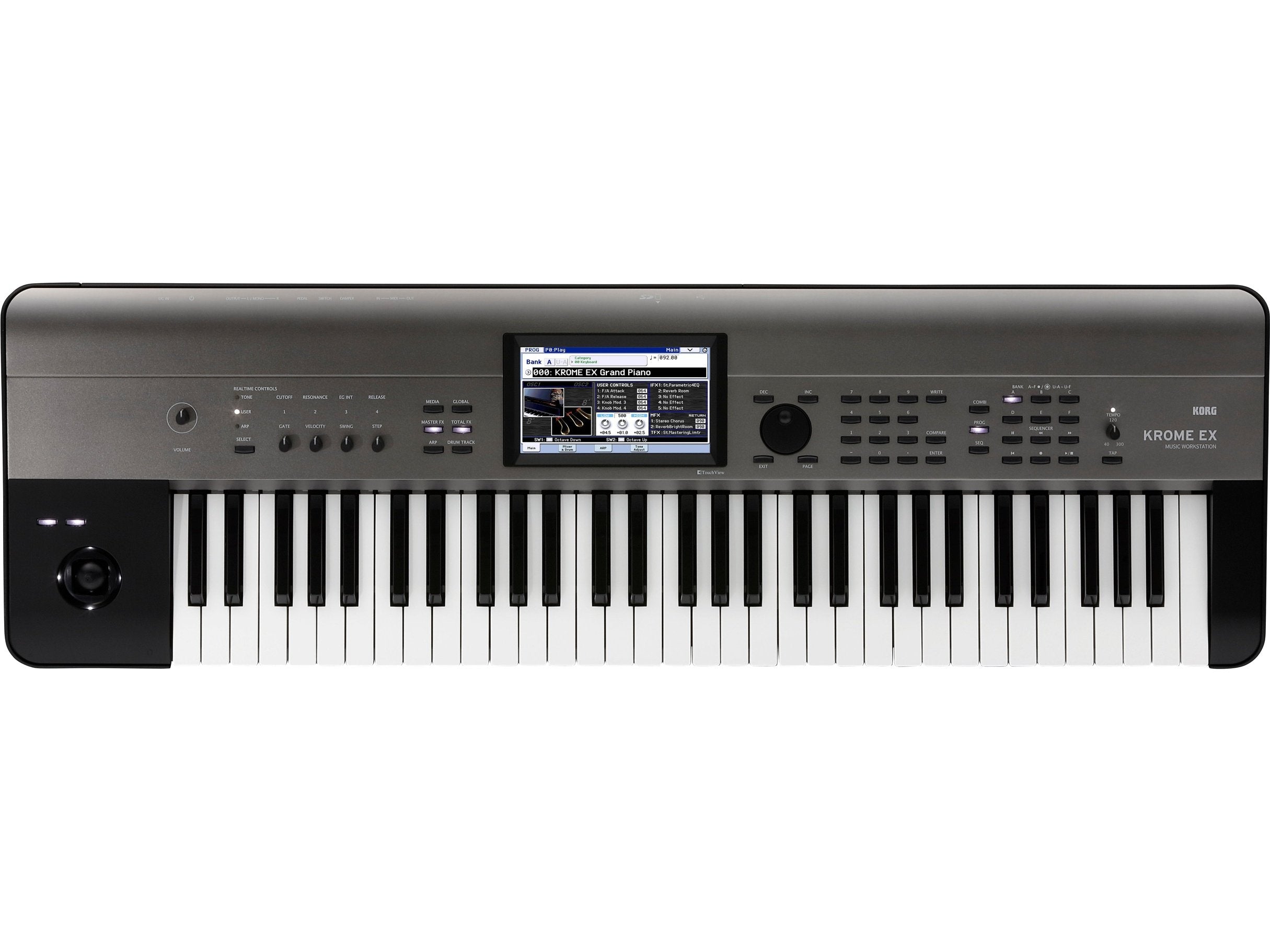 Krome EX
Sale price

£699.00
Regular price
(/)
Keyboard

KROME EX-61

Semi Weighted Keyboard. Velocity sensitive is supported, after touch is not supported.
Standard C2 - C7 (transposable in the range [C1...C6]-[C3...C8])

System

EDS-X(Enhanced Definition Synthesis - eXpanded)

Sounds

Maximum Polyphony

120 voices (120 Oscillators) / Single Mode, 60 voices (120 Oscillators) / Double Mode
*The maximum simultaneous voice polyphony will vary depending on oscillator settings, velocity crossfading and whether you are using mono or stereo multi samples.

PCM Memory

4 GB (In case of 48 kHz, 16-bit Linear PCM converted)
728 multi samples (including 44 Stereo multi-samples)
2,502 drum samples (including 574 Stereo Drum samples )

Program

Oscillator

OSC1 (Single); OSC1 + 2 (Double): Stereo multi samples are supported 8 velocity zones per oscillator with switching, crossfades and layers

Filters

Four types of filter routing (single, serial, parallel, 24 dB). Two multi-mode filters per oscillator (low pass, high pass, band pass, band reject)

Driver

Per-voice nonlinear driver and low boost

EQ

Three bands, with sweepable mid

Modulation

For each oscillator, two envelope generators (Filter & Amp), two LFOs, two key tracking generators (Filter & Amp), two AMS mixers, Pitch EG, Common LFO, two common key tracking generators

Combination

Timbre Number

Max 16. For each Timbre, keyboard and velocity split/layer/crossfades.
Modifications to the program settings via the Tone Adjust function.

Drum Kit

Stereo and mono drum samples. 8 velocity zones switch (crossfades and layers)

The number of Combination / Program / Drum Kit

User Combination

768 Combination (512 Preload)

User Program

1536 Program (896 Preload)

User Drum Kit

80 Drum Kit (48 Preload)

Preset Program

256 GM2 Program + 9 GM2 Drums Program

Effects

Insert Effects

5 Insert Effects (stereo in/out)

Master Effects

2 Master Effects (stereo in/out)

Total Effect

1 Total Effect (stereo in/out)

Timbre / Track EQ

3-band EQ per in 1 Timbre / in 1 Track

Effect Types

193 types (Usable as insert, master, or total effects. However, double-size effects cannot be used as a total effect.)

Modulation

Dynamic Modulation, 2 Common LFO

Effects Control Busses

Stereo side chain (Limiter, Gate, Vocoder etc.)

Effect Preset

32 preset per effect

Polyphonic Arpeggiator

Program Mode

1 unit

Combination, Sequencer Mode

2 units are available

Number of pattern

5 preset Arpeggio pattern, 1,088 User Arpeggio pattern (960 Preload)

Drum Track

Preset Patterns

710 patterns (Common with the preset pattern of the Sequencer mode)

User Patterns

1,000 patterns (Pattern created in Sequencer mode can be converted to drum track user pattern)

Others

Configurable "Trigger Mode / Sync / Zone"

Sequencer

Tracks

16-track + 1 master track

Number of Songs

128 Songs

Resolution

♩=1/480

Tempo

40.00 - 300.00 (1/100 BPM resolution)

Maximum memory

210,000 MIDI events

Template Songs

16 preset / 16 user template songs

Cue List function

20 Cue List
Songs can be arranged consecutively or repeatedly in up to 99 steps, a cue list can be converted back into a song.

Pattern / RPPR (Realtime Pattern Play and Recording)

710 Preset / 100 User pattern (Per song). 1 pattern set per song

Format

KORG (KROME) format, SMF format 0 and 1

Media

Load, Save, Utility, Data filer functionality (Save and Load MIDI System Exclusive Data)

Controllers

Controllers

Joystick, SW [1], SW [2]

Realtime Control

[SELECT] Switch: TONE, USER, ARP

4 Knobs: Modulation, User, Arpeggio control

Drum Track

[DRUM TRACK] Switch: On/Off

Arpeggiator

[ARP] Switch: On/Off

User Interface

Display

Touch view graphical User Interface, 7 -inch Color TFT LCD, 800 x 480 pixel, Onboard LCD brightness control

Mode Switches

[COMBI], [PROG], [SEQ], [GLOBAL], [MEDIA] Switch

VALUE controllers

[VALUE] Dial, [INC], [DEC] Switches, 10 key block ([0] - [9], [-], [.], [ENTER], [COMPARE])

BANK Switches

[A], [B], [C], [D], [E], [F] switches (in Combination mode, [A], [B], [C], [D] switches are available)

SEQUENCER switches

[PAUSE]、[REW]、[FF]、[LOCATE]、[REC]、[START/STOP]

TEMPO

TEMPO

Others

[PAGE] switch, [WRITE] switch, [EXIT] switch, [VOLUME] knob, Contrast knob

Outputs

AUDIO OUTPUT, L/MONO, R

6.3mm (Mono) Phone jack, Unbalanced.
Output Impedance: 1.1[kΩ] (L / Mono terminal: in case of Mono output, = 550[Ω]).
Maximum level: +16.0 [dBu], Load Impedance: more than 10 [kΩ].

Headphone Output

3.5mmStereo phone jack.
Output Impedance: 33[Ω].
Maximum level: 60 + 60 [mW] (In case of 33[Ω] Loaded)

Control Input

DAMPER (Half Damper supported), ASSIGNABLE SWITCH, ASSIGNABLE PEDAL

Others

MIDI

IN, OUT

USB

USB-MIDI Interface (TYPE B) x 1

SD Card Slot

Max 2 GB / SD Memory Card is supported
Max: 32 GB/ SDHC Memory Card is supported (SDXC Memory Card is not supported)

Principle Specifications

Power

Power supply (DC12V 3.5A), POWER switch

Power Consumption

13W

Dimensions (W x D x H):

KROME EX-61: 1,027 mm × 313 mm × 93 mm / 40.43 x 12.32 x 3.66 inches
KROME EX-73: 1,191 mm × 313 mm × 93 mm / 46.89 x 12.32 x 3.66 inches
KROME EX-88: 1,448 mm × 383 mm × 131 mm / 57.01 x 15.08 x 5.16 inches

Weight

KROME EX-61: 7.2 kg / 15.87 lbs.
KROME EX-73: 8.2kg / 18.08 lbs.
KROME EX-88: 14.7kg / 32.41 lbs.

Included Items

AC Adapter,

Accessories (sold separately)

Keyboard stand

Standard-S-ABK (for 61 key model)
Standard-M-SV (for 73 key model)
Standard-L-SV、L-ABK (for 88 key model)

Soft shell cases

SC-KINGKORG/KROME (for 61 key model)
SC-KROME 73 (for 73 key model)
SC-KROSS2 88/KROME 88 (for 88 key model)

Expression/volume pedal

XVP-20

Foot controller

EXP-2

Damper pedal

DS-1H

Pedal switch

PS-1
PS-3

| | |
| --- | --- |
| * | All product, company, and standard names are trademarks or registered trademarks of their respective holders. |
| * | Appearance and specifications of products are subject to change without notice. |
All new products are sold with a 2-year manufacturer warranty which is upgraded to 3 years when bought direct from Korg UK.

Certified Refurbished products also come with a one year warranty. 
We offer a 30-day returns period on all products purchased directly from Korg UK.