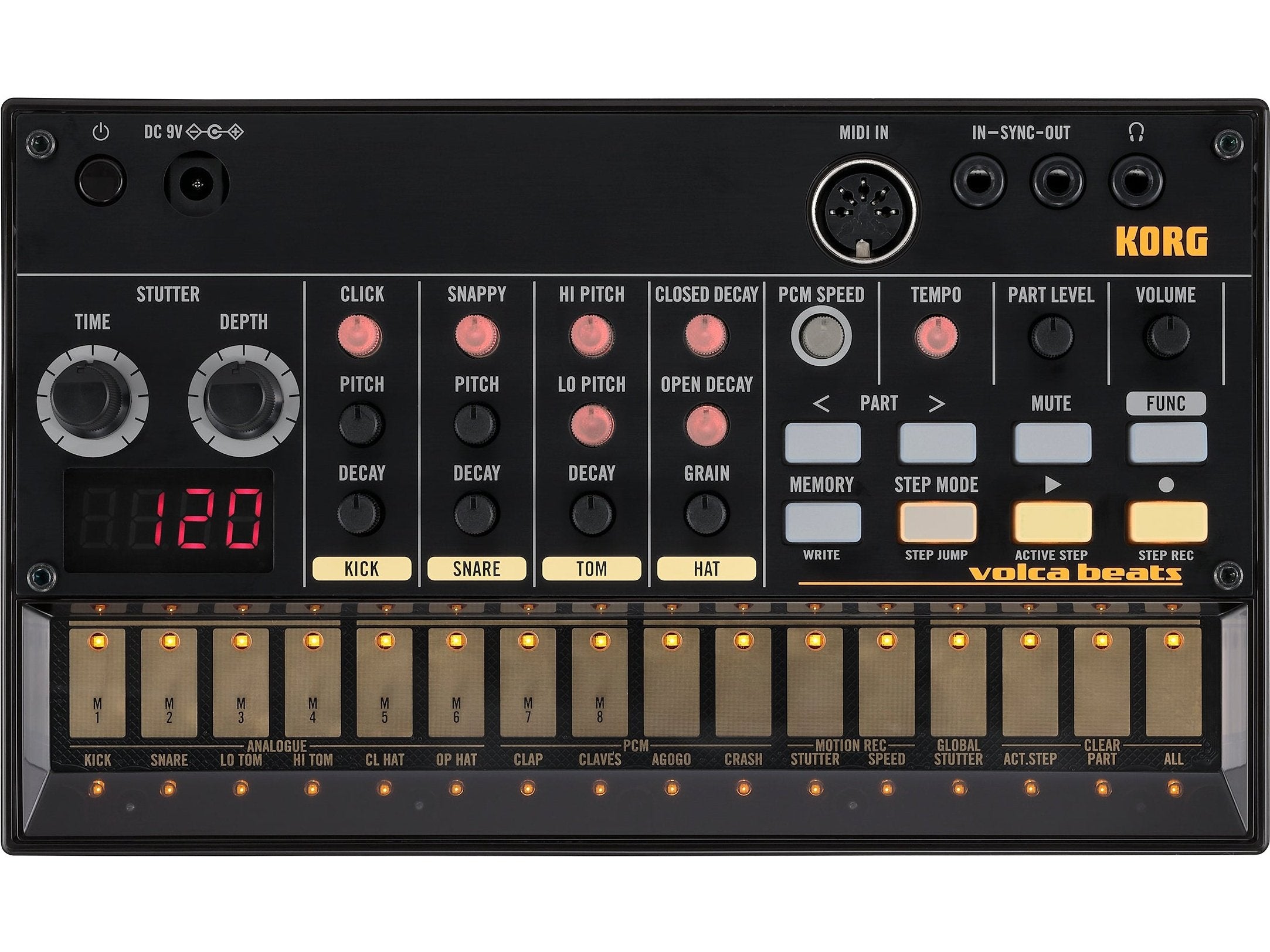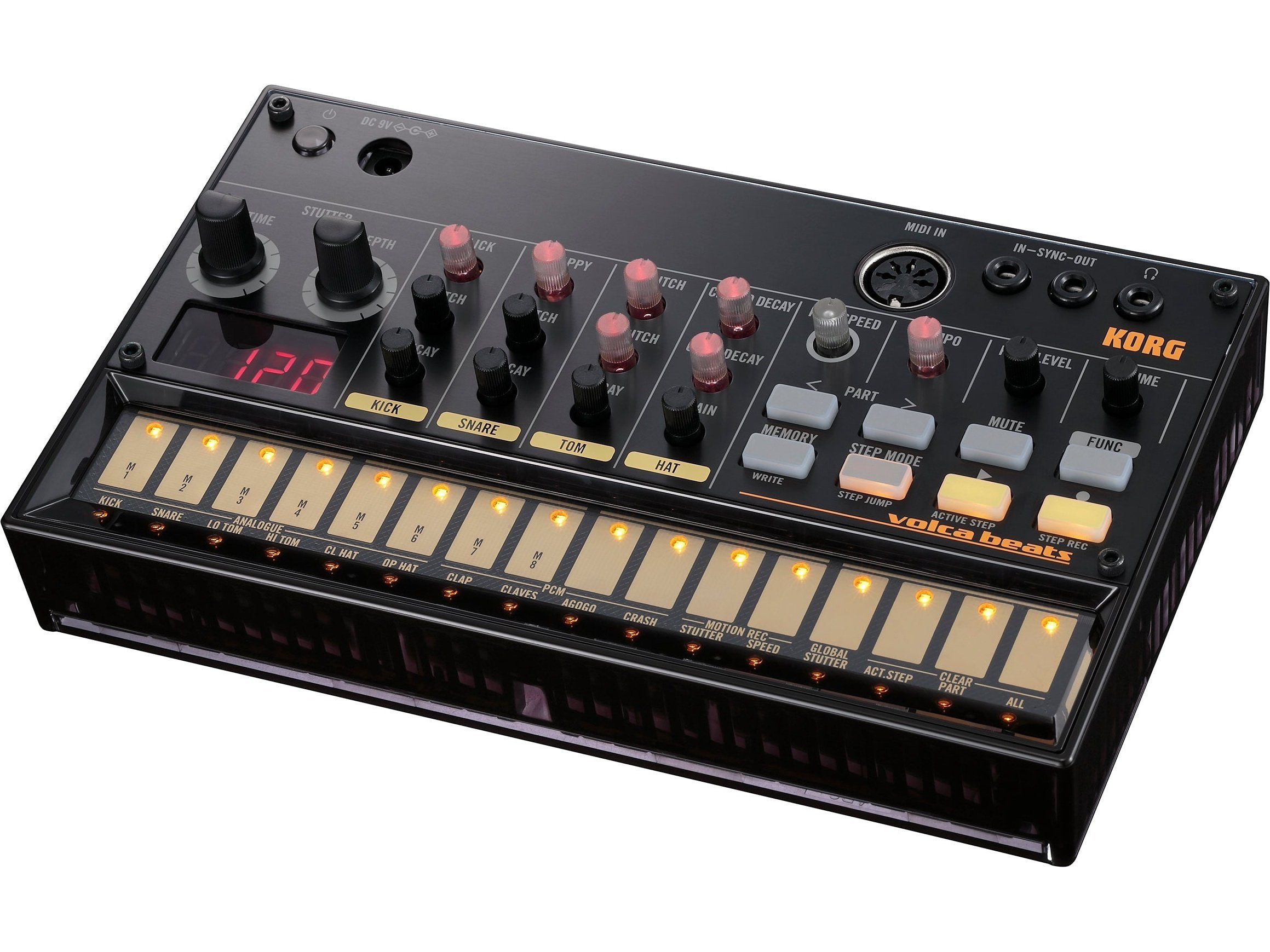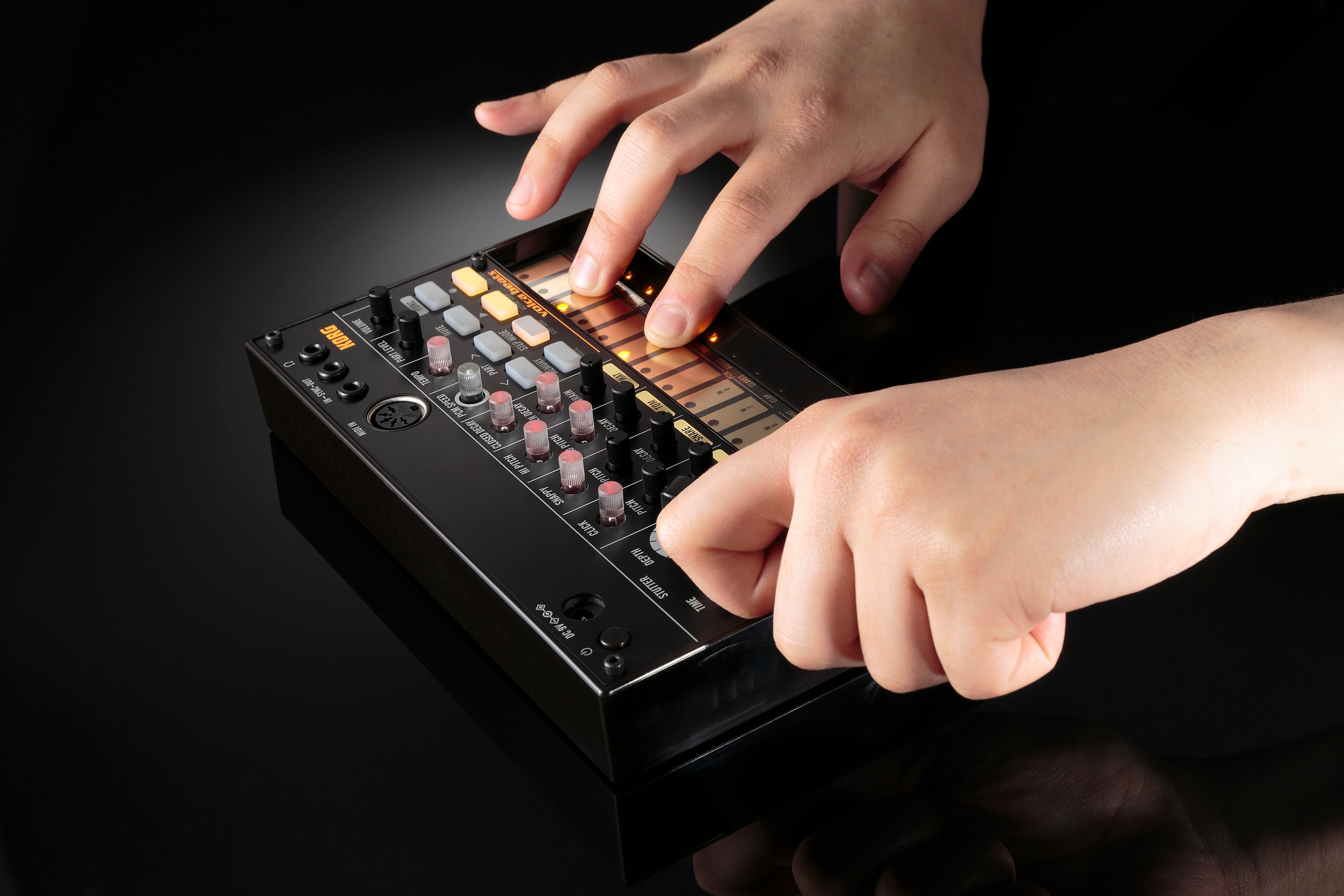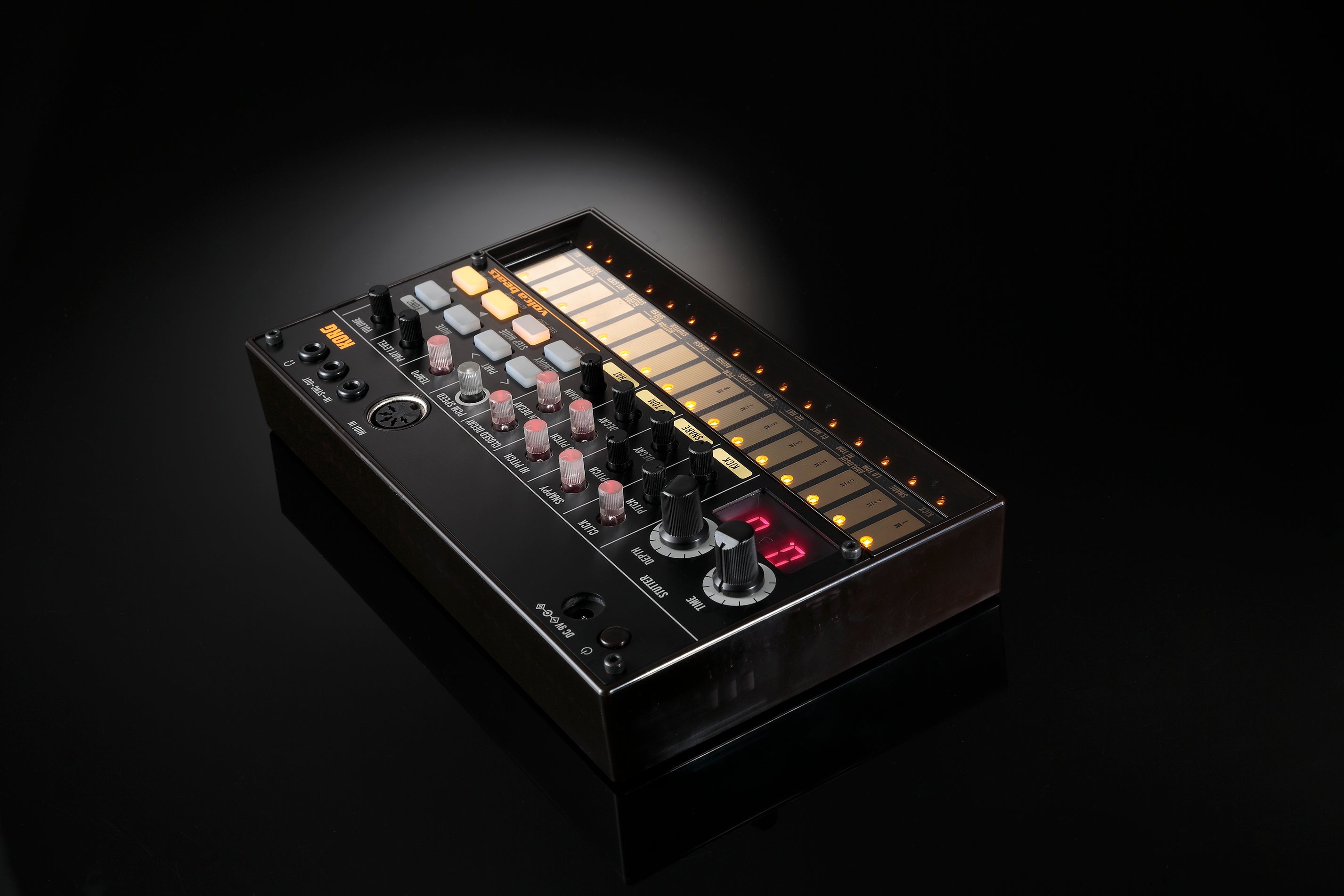 Volca Beats
The Volca Beats upholds the tradition of classic drum machines with thick, powerful analogue drum sounds and a super intuitive 16-step sequencer. Glitch out your beats live with the stutter and step-jump functions, sync up to multiple Volcas or other gear in your studio, or create patterns on the move with battery operation and a built-in speaker!
Extend your warranty for free when buying direct from Korg UK.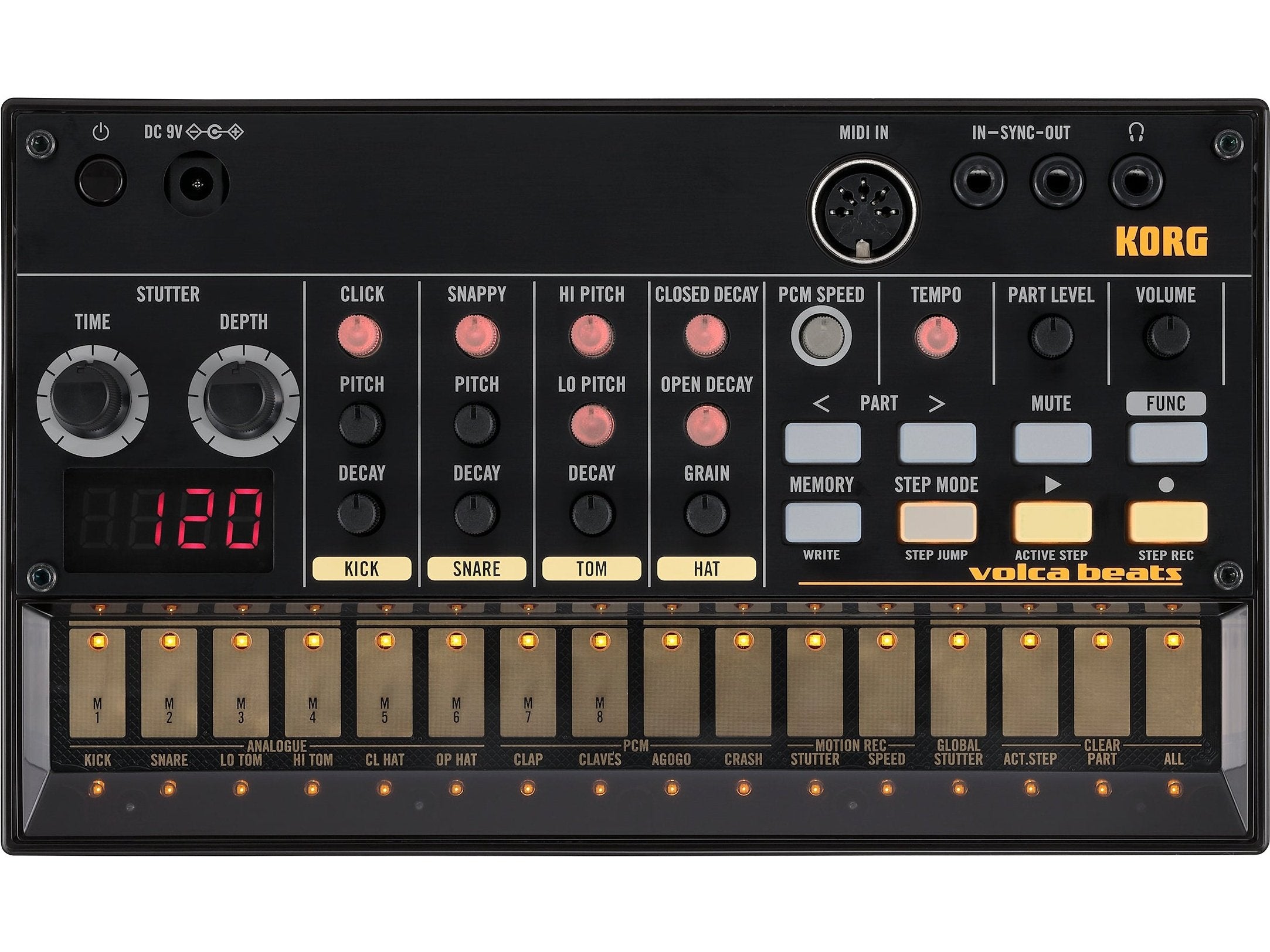 Peerless beats generated by solid analogue drum sounds and an Electribe-style sequencer
Even today, more than thirty years after the age dominated by analogue synthesizers, we just can't let go of the sound of analogue rhythm machines. Those thick sounds have the power to stand up to guitar and acoustic drums, and are still indispensable for track-making or live performance.
The Volca Beats gives you those analogue drums plus the easy-to-use step sequencer of the Electribe; it lets you turn your inspiration into reality and generate beats with the best high quality sounds.
Three true-analogue synthesizers with built-in sequencers to generate the ultimate analogue leads, basses, or rhythms
Following in the footsteps of the Monotron, Monotribe, and MS-20 Mini analogue synthesizers, Korg announces the Volca series. Volca is a new lineup of EDM production tools comprised of three distinct models: the Volca Keys lead synthesizer, the volca Bass synthesizer, and the Volca Beats rhythm machine. These powerful and fun-to-use true-analogue devices deliver a diverse array of fat sounds that can be obtained only from an analogue synthesizer. Each is also equipped with sequencing/recording capabilities for intuitively generating performances. Multiple Volcas can be used in tandem via the vintage-style sync in/out, and with your favourite DAW software or MIDI keyboard via MIDI In. Battery operation and built-in speakers mean that you can conveniently play anywhere and anytime. These are the next-generation analogue synthesizers, bringing you the ultimate sounds and grooves with ease and depth. Whether used together or by themselves, the Volca series is poised to inject true analogue power into any performance or studio setup!
Powerful analogue drum sounds
Real analogue sounds created with reference to classic rhythm machines
The Volca Beats provides six of the sounds for which the greatness of analogue shines most clearly: Kick, Snare, Hi Tom, Lo Tom, Closed Hi Hat, and Open Hi Hat. Paying careful attention to the standard sounds that are indispensable for dance music and that are included on numerous synthesizers and sampling CDs, we've designed powerful new sounds that could not be produced by any means other than analogue.
Maximum impact from minimal parameters - a unique advantage of analogue
The Volca Beats provides a carefully selected minimal set of parameters that let you quickly create the drum sound you want. For example, simply by using the three knobs Click, Pitch, and Decay, you can create an incredible variety of kick sounds, ranging from rough sounds that dominate the low range to tight sounds that keep a precise beat.
Regardless of the settings, all of these sounds will have great presence and density, and will deliver the convincing power that's possible only from an analogue sound generator.
PCM sound engine covers sounds for which analogue is unsuited
The PCM sound engine is used to cover sounds for which an analogue synth is unsuited, such as Clap, Claves, Agogo, and Crash. We've also paid attention to the PCM engine, and have reproduced the rough lo-fi sound of the '80s. These sounds are a good match with the analogue drums, and you can also create even more distinctive sounds by changing the PCM Speed to dramatically raise or lower the pitch.
Loop sequencer distilled from the Electribe
The Electribe's step sequencer
This step sequencer is designed to make editing easy and to let you add or remove parts in an improvisational way. You can use the 16 step keys to intuitively enter notes while visually monitoring the timing of the notes within the measure. You can also play the touch panel keyboard to record in real time.
Up to eight sequence patterns you create can be stored in internal memory.
Stutter function generates repeated triggers that dramatically change the sequence

You can use the Stutter function to dramatically expand your live performance possibilities by adding drum rolls or delay-like effects. It can be used to completely transform the feel of the entire pattern, or as a fill when switching patterns. Movements of the Stutter knob can also be recorded in a sequence.
Active Step function and Step Jump function generate new beats by inserting or removing steps
The Active Step function lets you skip a step during sequence playback; the Step Jump function instantly plays only the step you're pressing. It can create effects similar to a short loop or unexpectedly irregular rhythms, allowing dynamic performances just as though you were performing the sequence itself.
Convenient functions for greater ease of use
SYNC jack and MIDI IN connector allow synchronised performances with multiple units or with your DAW
By using the sync jack you can enjoy synchronised playback with multiple Volcas or with a Monotribe. You can also use the "SyncKontrol" iPhone app to wirelessly control tap tempo, swing settings, and synchronised playback with iOS music apps via WIST.
The MIDI IN connector lets you synchronise with other devices as well as play the Volca from your MIDI keyboard. You can also send note messages from your DAW and use the Volca as an analogue sound module.
Compact size, battery-powered operation, and built-in speaker for enjoyment anywhere
With its compact size, battery operation, and built-in speaker, it's easy to take the Volca anywhere and perform any time.
Keyboard

 

Multi touch trigger pad / step key

Synthesizer

Type:

Analog synthesis (Kick, Snare, Hi Tom, Lo Tom, Closed Hi Hat/Open Hi Hat)
PCM synthesis (Clap, Claves, Agogo, Crash)

Kick

Click, Pitch, Decay, Part Level

Snare

Snappy, Pitch, Decay, Part Level

Tom

Hi Pitch, Lo Pitch, Decay, Part Level

Hi Hat

Closed Decay, Open Decay, Grain, Part Level

PCM

PCM Speed, Part Level

Sequencer

Number of part

10

Number of Steps

16

Number of Recording Patterns

8

Connectors

Audio Output

Headphones (3.5mm stereo mini jack)

Sync

Sync In (3.5mm monaural mini jack, Maximum input level: 20V) , Sync Out (3.5mm monaural mini jack, Maximum Output level: 5V)

MIDI

In

Power

Battery Life

Approximately 10 hours (using alkaline batteries)

Power supply

AA alkaline battery ×6
AA nickel-metal hydride battery ×6
AC adapter "KA-350" (optional)

Others

Accessories

AA alkaline battery ×6 (for verifying operation)

Options

AC adapter "KA-350"

Dimensions
(W x D x H)

193 × 115 ×45 mm / 7.61 x 4.54 x 1.78 inches

Weight

372 g / 0.82lbs (Excluding batteries)



* All products names and specification names are trademarks or registered trademarks of their respective owners.
* Specifications and appearance are subject to change without notice for improvement.
All new products are sold with a 2-year manufacturer warranty which is upgraded to 3 years when bought direct from Korg UK.

Certified Refurbished products also come with a one year warranty. 
We offer a 30-day returns period on all products purchased directly from Korg UK.