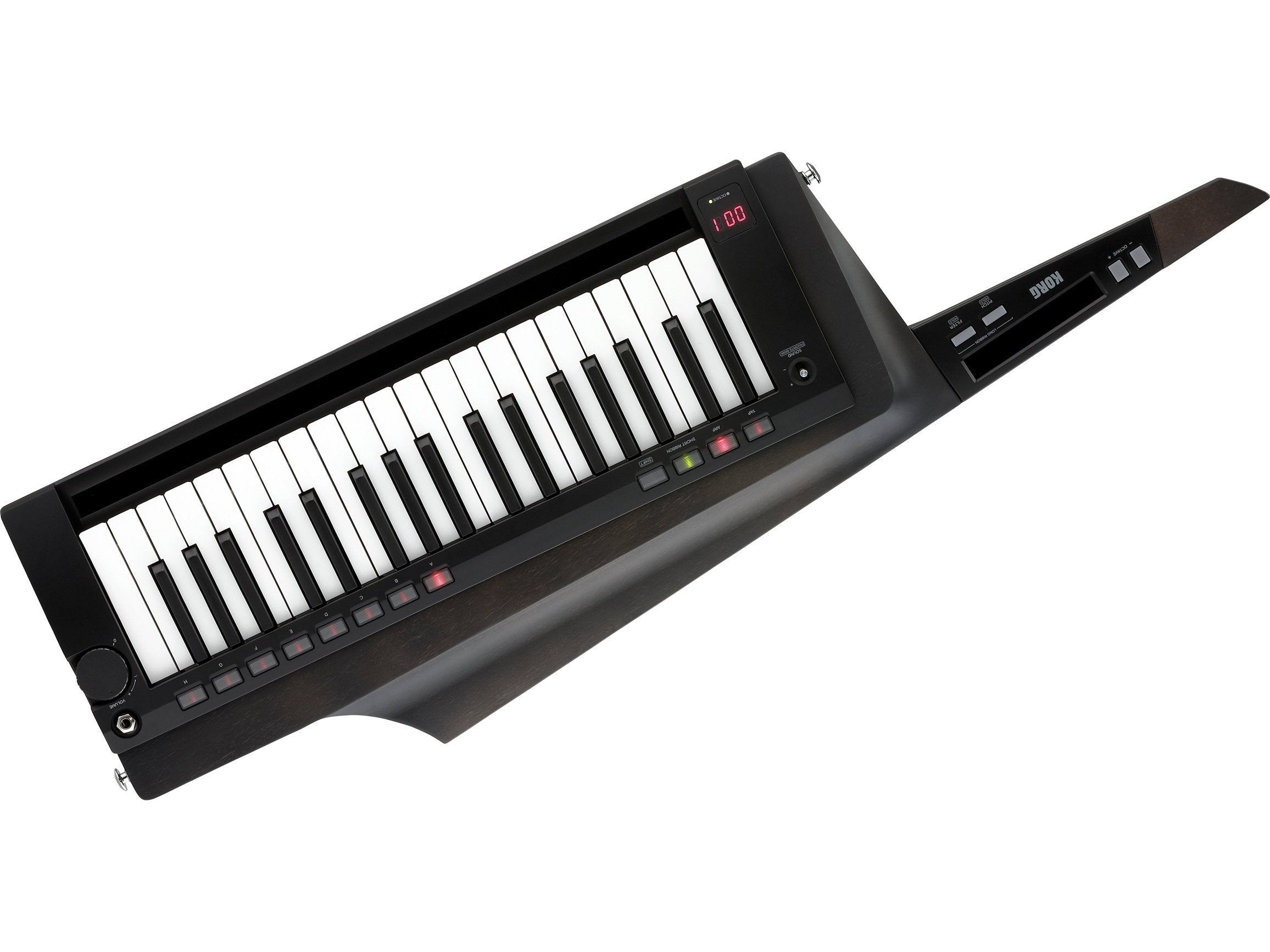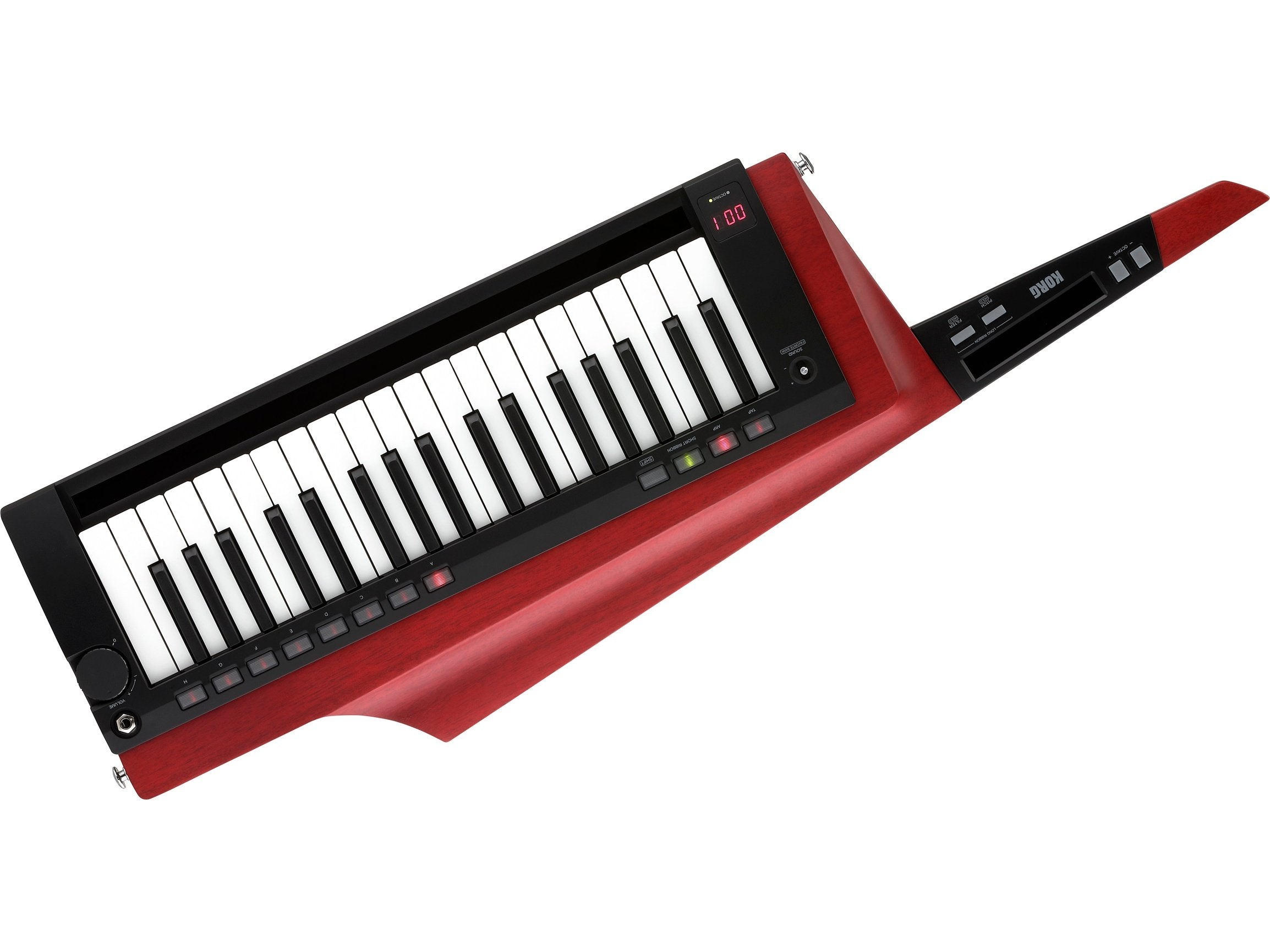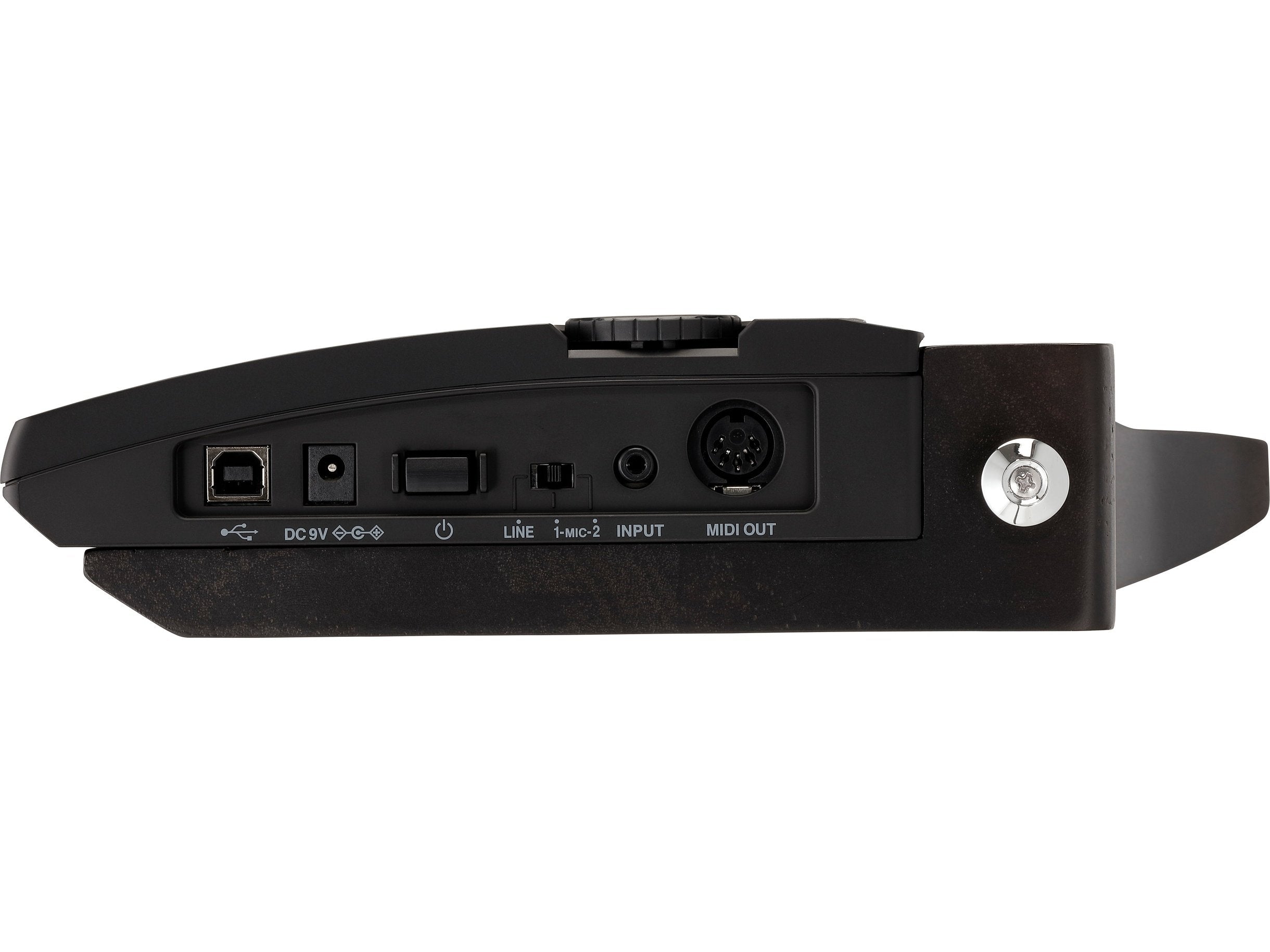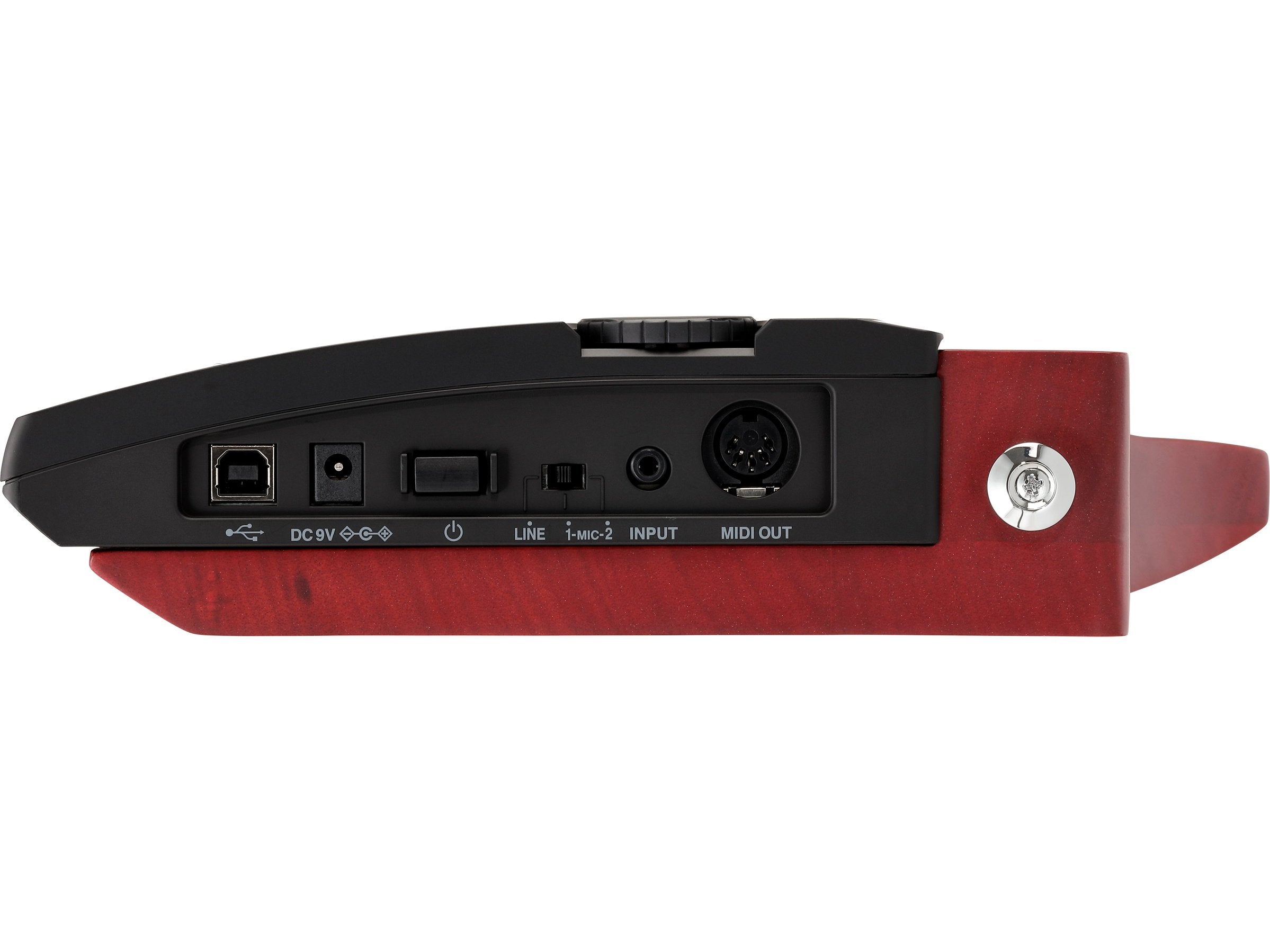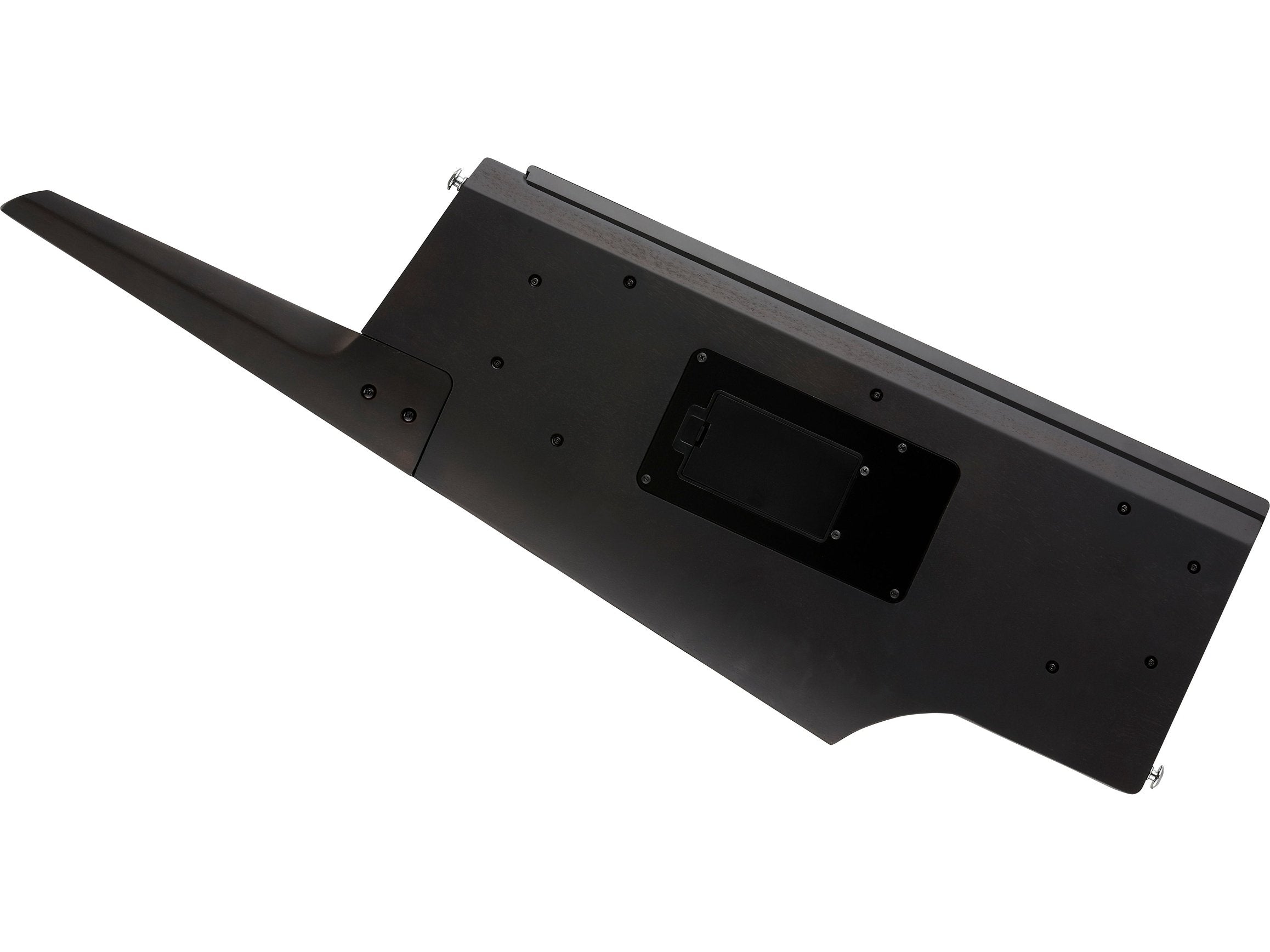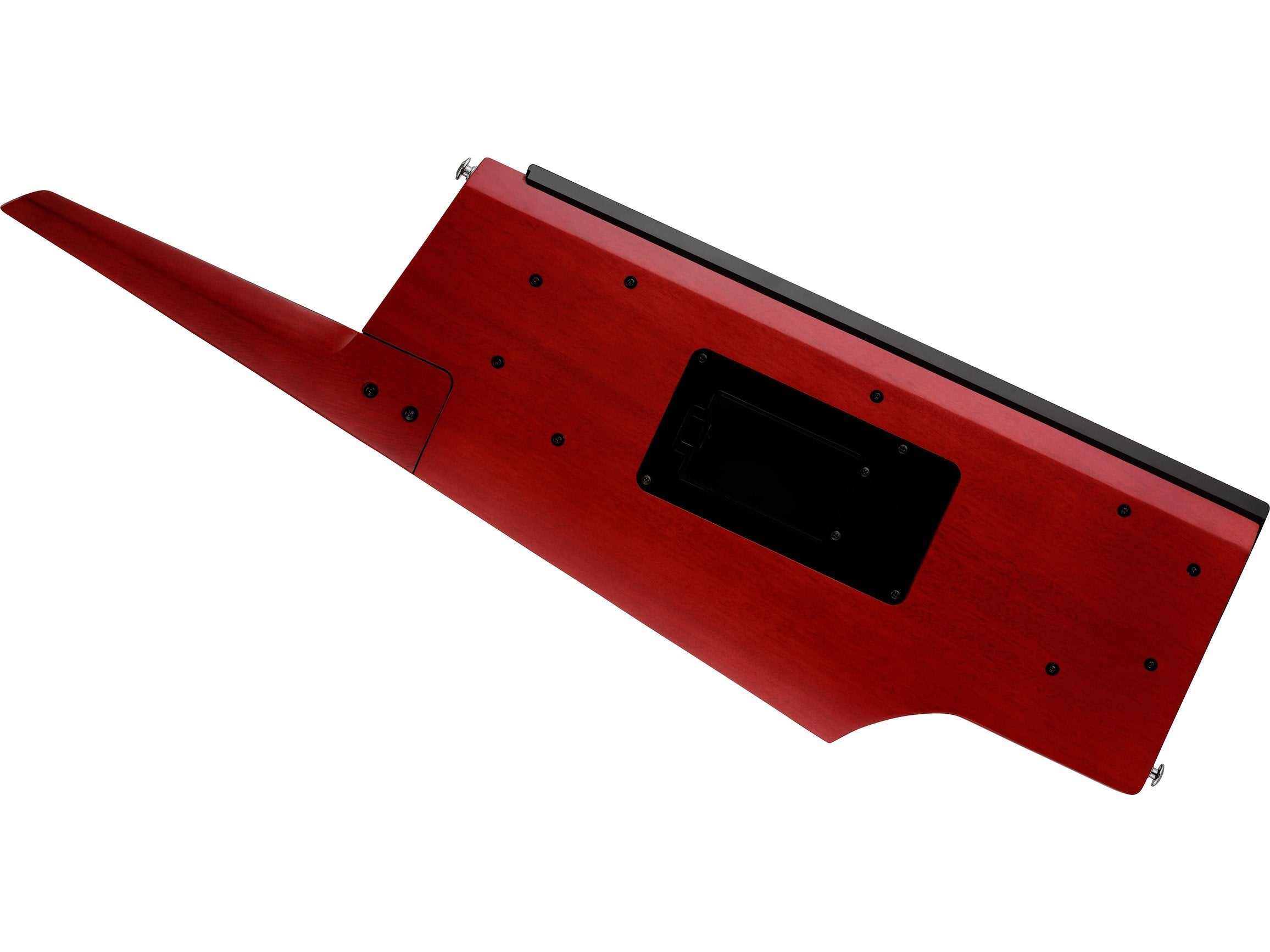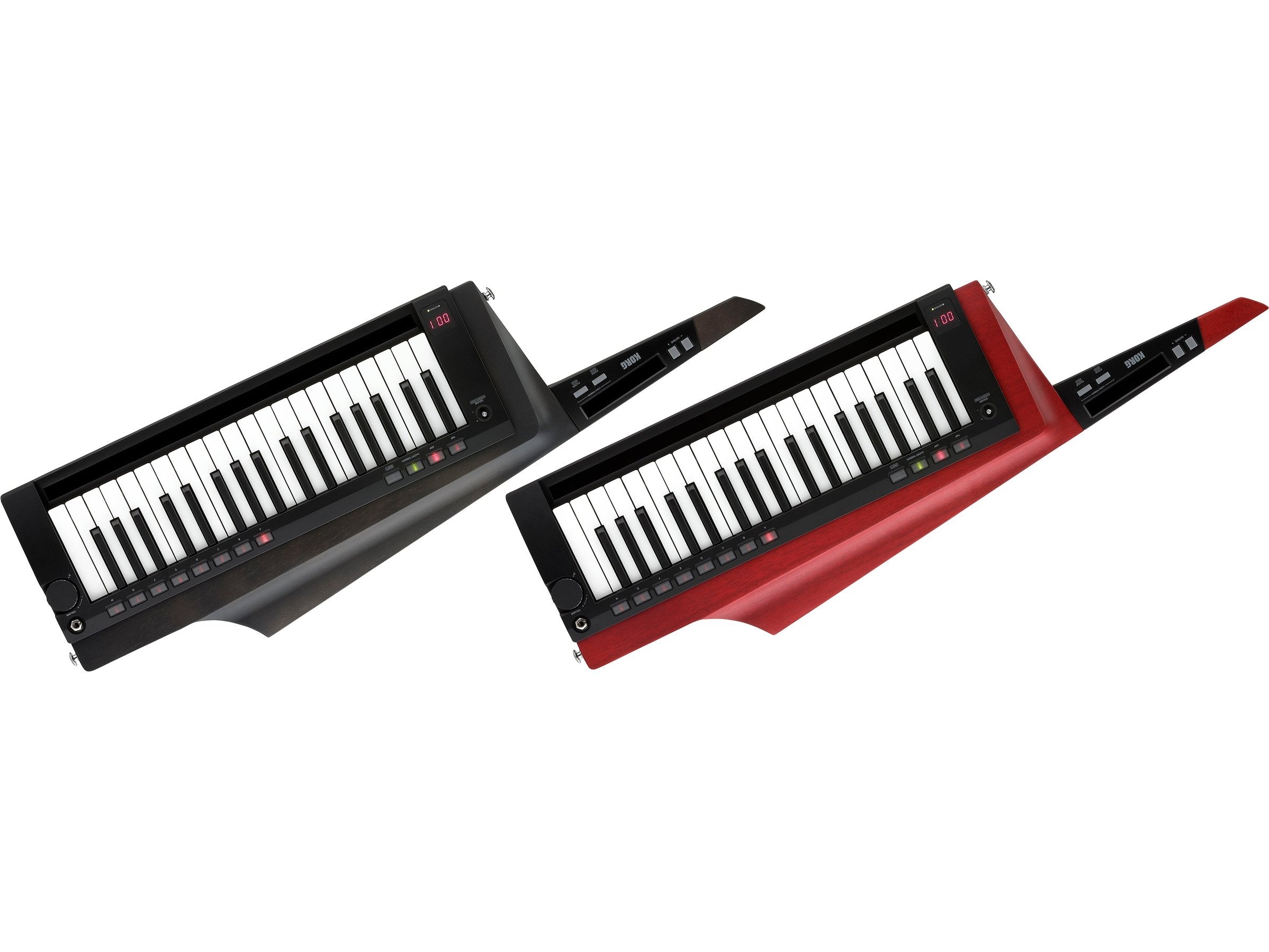 RK-100S 2 - Keytar
The RK100S 2 is inspired by Korg's classic keytar, the RK100. Its unique, ergonomic styling and woodgrain finish, strongly inspired by guitars, coupled with a killer soundset, dual ribbon controllers, vocoder and optional battery operation, gives you an instrument to enhance any musician's stage performance.
Extend your warranty for free when buying direct from Korg UK.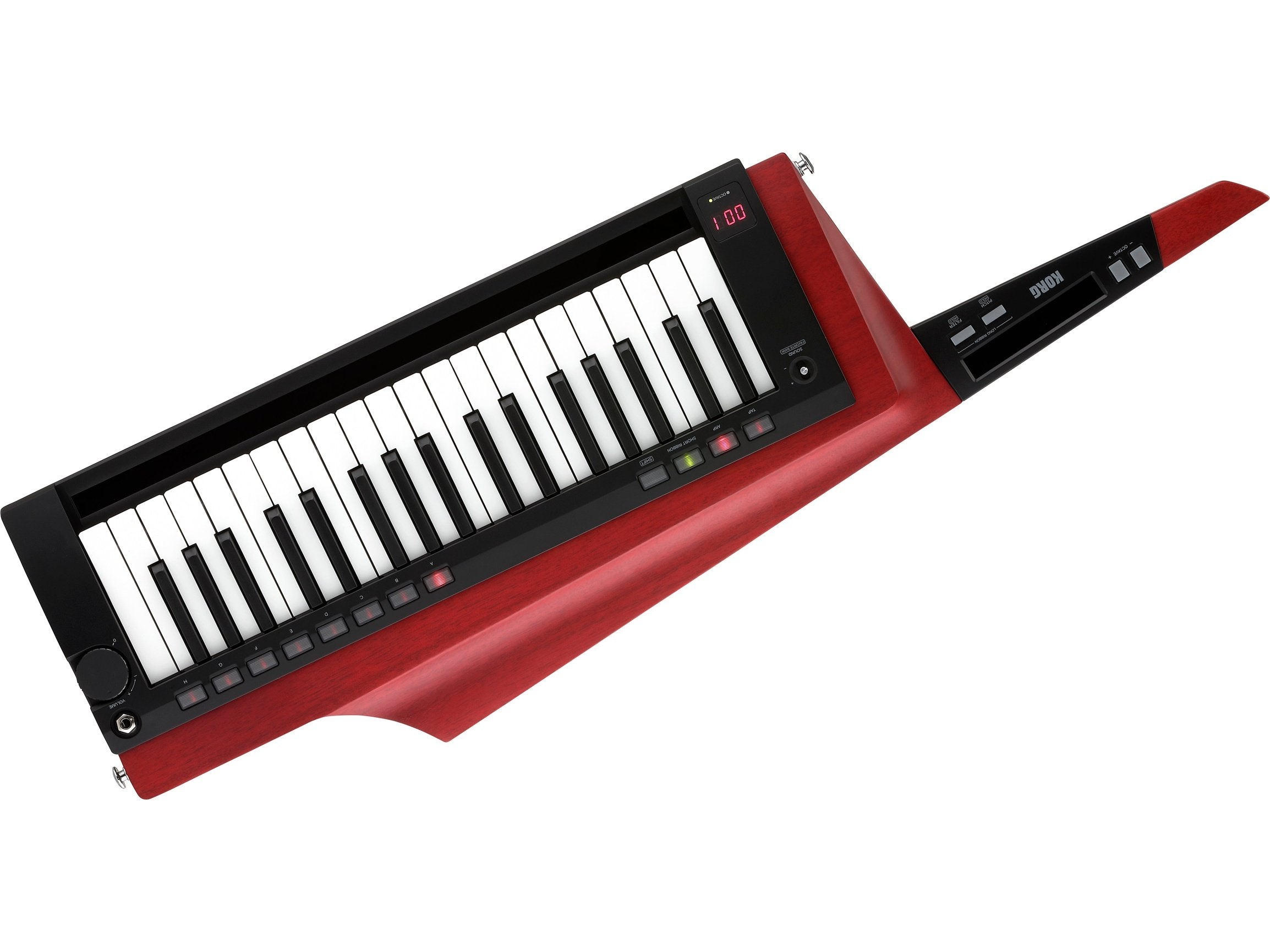 More beautiful than ever.
The long-awaited rebirth of Korg's famous Keytar.
Since its appearance, the RK-100S Keytar has been a hit for its uniquely ergonomic styling, powerful sound engine, and standout looks. Now by popular demand, the RK-100S returns in a big way.
The artisanal wooden body inherited from the original RK-100 is a hallmark of the 100S, which is now available in a finish that accentuates its wood grain. Numerous sounds ideal for solo performance have been added, making the RK-100S fit instantly into any musician's stage performance.
The RK-100S returns.
Clear finish that beautifully shows the woodgrain
The greatest attraction of the RK series is its beautiful body shape that refuses to be bound by the constraints of keyboard instruments. The wooden body is strongly influenced by guitars, featuring a design that includes both strength and softness to generate an enduringly ageless attractiveness.
The RK-100S 2 further progresses this attention to detail, and features a clear finish that lets the woodgrain show. Since each individual unit will have a different woodgrain (*), it projects an even greater sense of high quality and taste than previously. Although it is an electronic instrument, each individual unit is finished with careful attention, making it an instrument with a distinctively unique presence that will continue to provide the joy of ownership.
* Since the body of this instrument uses natural wood, please be aware that there will be individual differences in the woodgrain and appearance.
Newly featured programs that shine with presence for soloing
The renewed RK-100S 2 significantly expands the built-in programs. In particular, we have strengthened its complement of lead synth sounds and other solo sounds that let the musician shine. We have added many of the latest sounds frequently heard in today's music scene, providing 200 stage-ready presets to cover all genres. The sounds emitted from this compact body are supremely powerful, and these sounds can be instantly accessed during a live performance by using the favourite buttons on the top panel. Also provided is an arpeggiator with a diverse range of patterns.
37-note slim keyboard that's easy to play
Both looks and keyboard feature an understated design that will feel comfortable for any player. The RK-100S uses an acclaimed 37-note slim keyboard. While keeping the overall size compact and lightweight, we have focused on making this mini-keyboard uncompromisingly "playable."
Two ribbon controllers expand your performance possibilities
The RK-100S is designed for your aggressive performance style. It features two ribbon controllers that you can use to dynamically modify the sound.
The short ribbon provided on the neck area lets you control the pitch bend and modulation that are indispensable for keyboard performance. The long ribbon located on the keyboard area can be used to control the pitch or filter. You can use this to create bold and smooth sweeps for sustained sounds. Furthermore, it supports scale performance in which notes can be sounded simply by touching the ribbon, giving you free scope for unconventional performances that would not be possible with standard keyboard playing.
Battery operation with long operating life
The RK-100S can be powered by six AA batteries. Simply connect headphones to the instrument, or use a cable to connect it to an amp, and you're ready to start playing just like a guitarist. Since up to eight hours of continuous operation are possible, you can concentrate on your performance without having to bother with power cables on stage. Of course, you can also use a separately sold AC adapter if you like.
Vocoder function adds an accent to your stage performances
The monaural mini-input jack accommodates mic input, so you can connect a headset mic and enjoy full-fledged vocoder playing. You can also connect a smartphone etc. as an external source input, and have fun playing along with a favourite song.
A great choice as a master keyboard
The RK-100S is not limited to playing its preset sounds. It is equipped with a MIDI output connector and USB port, so you can also use it to play a soft synth or an external hardware sound module. Furthermore, its elegant looks make it a great choice as a master keyboard.
You can also use the PC editor to download detailed settings for MIDI and the internal sound engine from the Korg website via USB.
A full complement of accessories including a soft case
Included with the instrument are a strap that you'll need for performing, a dedicated soft case, and an elegant logo sticker. Apply it to customise your instrument for that extra edge that puts you ahead of the crowd!
Use the PC editor for detailed editing
The RK-100S 2 has a USB port for connecting it to your computer, allowing you to control a PC sound module or use the PC editor to edit detailed MIDI settings and parameters of the internal sound engine.
Free bundle of music software
The RK-100S 2 comes with a diverse variety of music software from Izotope including "Ozone Elements" which lets you not only create songs but also master them using AI, "Skoove" which will help you improve your keyboard playing skills, "Reason Lite" DAW software, as well as software synths from Korg and other brands.
In other words, the moment you get your hands on this keyboard you'll have a variety of tools to help you take your music to the next level.


Video
Audio
Color Variation

Translucent Black, Translucent Red

Keyboard

37-keys (Slimkey, velocity sensitive, no after touch)

37-keys (Slimkey, velocity sensitive, no after touch)

MMT (Multiple Modelling Technology)

Program

Number of timbres

Maximum 2 (when using Layer, Split, or Multi)

Polyphony

Maximum 8 voices (Maximum 4 voices when the vocoder is selected)

Synth

2 oscillator + noise generator

Oscillator 1

Waveform: SAW, PULSE, TRIANGLE, SINE, FORMANT, NOISE, PCM/DWGS, AUDIO IN
Modulation: WAVEFORM, CROSS, UNISON, VPMModulation: WAVEFORM, CROSS, UNISON, VPM

Oscillator 2

Waveform: SAW, PULSE, TRIANGLE, SINE
Waveform: SAW, PULSE, TRIANGLE, SINE

Wave shaping

WS type: DRIVE, DECIMATOR, HARDCLIP, OCT SAW, MULTI TRI, MULTI SIN, SUB OSC SAW, SUB OSC SQU, SUB OSC TRI, SUB OSC SIN, LEVEL BOOST

Multi-mode filters

Filter 1: -24 dB/oct LPF–-12 dB/oct LPF–HPF–BPF–Thru
Filter 2: LPF, HPF, BPF F

Vocoder

16-band vocoder, adjustable level and pan for each band, Formant Shift function, Formant Hold function

Effects

Timbre: 2-band EQ

Master effects 17 effect algorithm Master effects

Arpeggiator

UP, DOWN, ALT1/2, Random, Trigger (6 types), Step Arpeggiator function

Programs

200 programs

Audio Input/Output

Input

Input: Input jack (Mono dynamic mic, Line input)
Input select switch:
MIC1: Mic (Non Powered) [Gain Low]
MIC2: Mic (Non Powered) [Gain High]
LINE: Line Input (mono L-ch input)
*Intended for a mono dynamic microphone which doesn't require power, this jack can also be used as a line input
Connector type: mono mini jack

Output

Output jack (Headphone, Stereo, Line out)
Maximum output: 25mW + 25mW @ 33 ohms load
Connector type: φ6.3 mm, stereo phone jack

MIDI

OUT

USB

Type B

Display

7-segment LEDs, 3 digits

Power Supply

Six AA battery (alkaline or nickel-metal hydride), or Optional AC adapter (DC 9 V)

Battery Life

Approx. 8 hours (using alkaline batteries)

Dimensions (W x D x H)

839 x 262 x 74 mm/ 33.03" x 10.32" x 2.91"

Weight

3.5 kg/ 7.72 lbs. (included batteries)

Included Items

Manual, Sticker, Strap, Soft Case, AA alkaline Battery x6 (for verifying operation)

Accessories (Sold separately)

AC adapter

| | |
| --- | --- |
| * | All product, company, and standard names are trademarks or registered trademarks of their respective holders. |
| * | Appearance and specifications of products are subject to change without notice. |
All new products are sold with a 2-year manufacturer warranty which is upgraded to 3 years when bought direct from Korg UK.

Certified Refurbished products also come with a one year warranty. 
We offer a 30-day returns period on all products purchased directly from Korg UK.