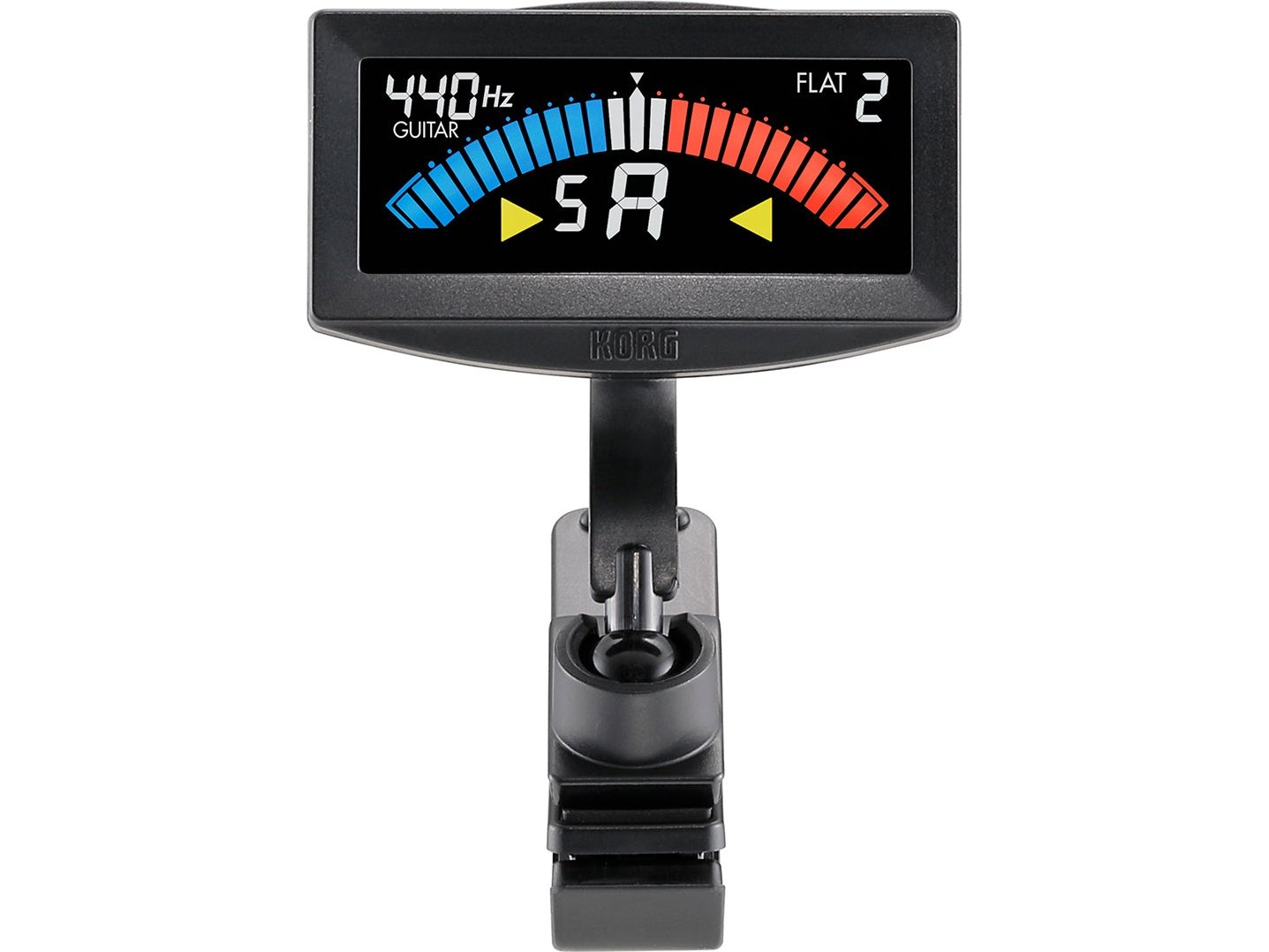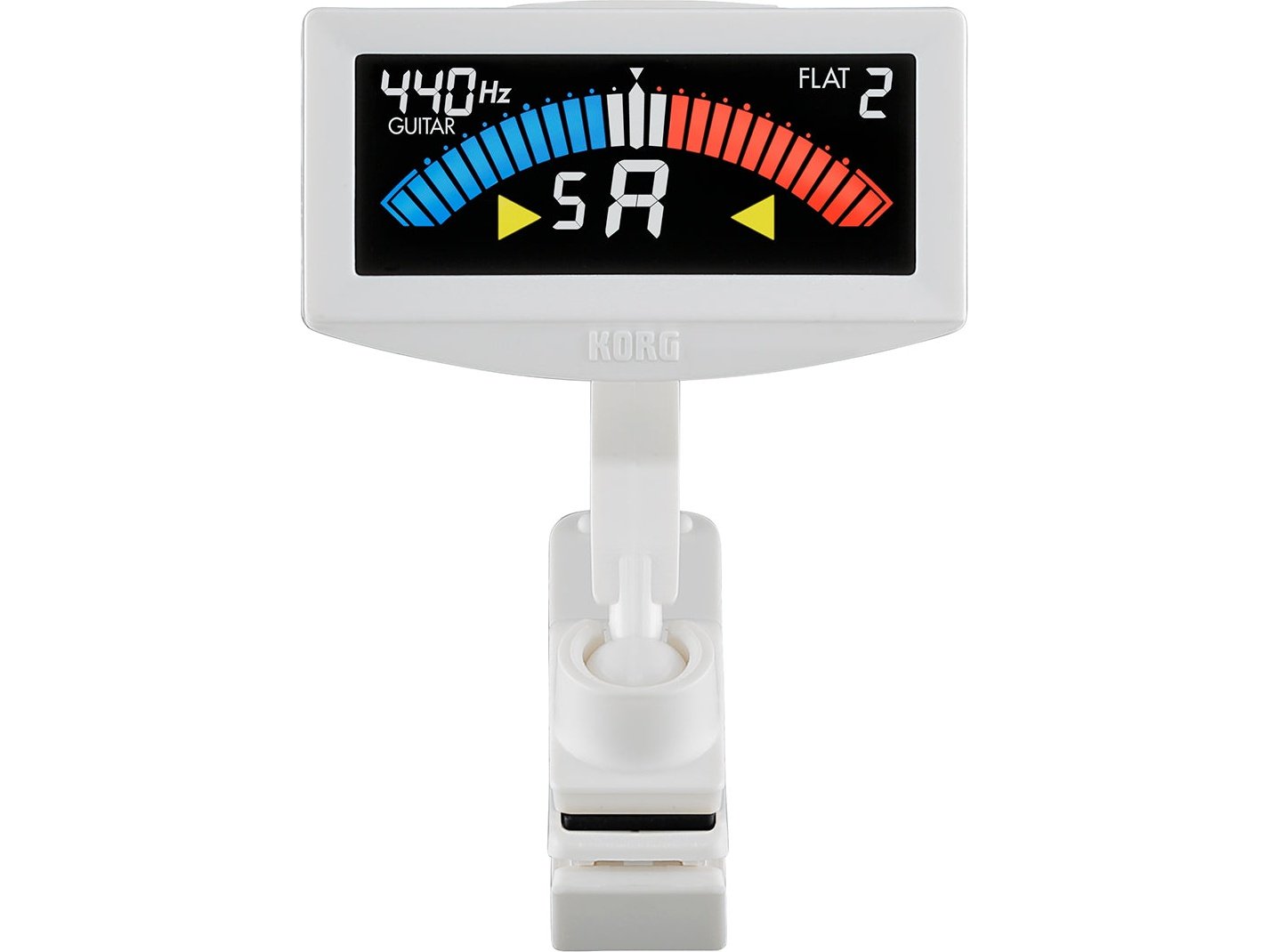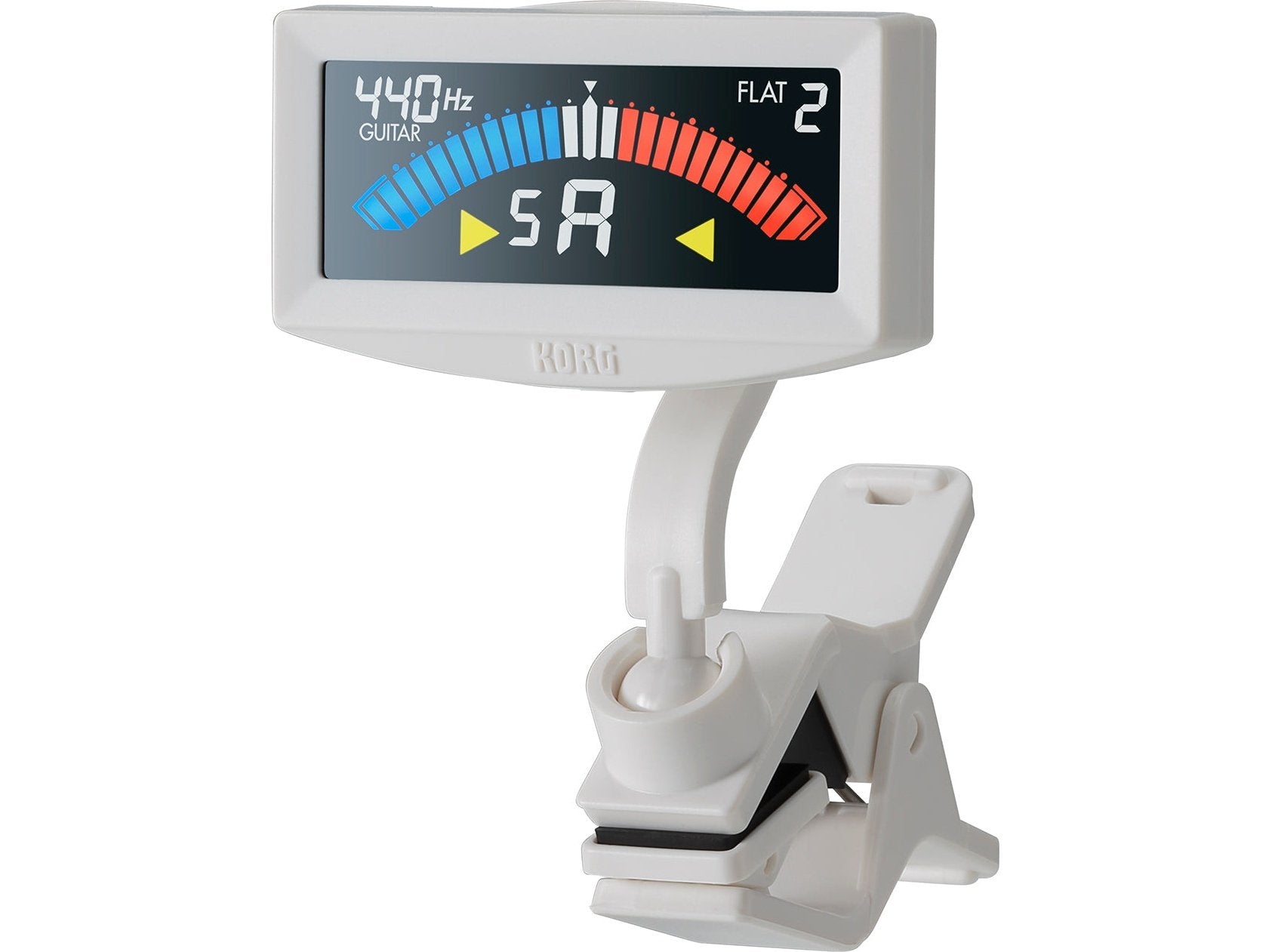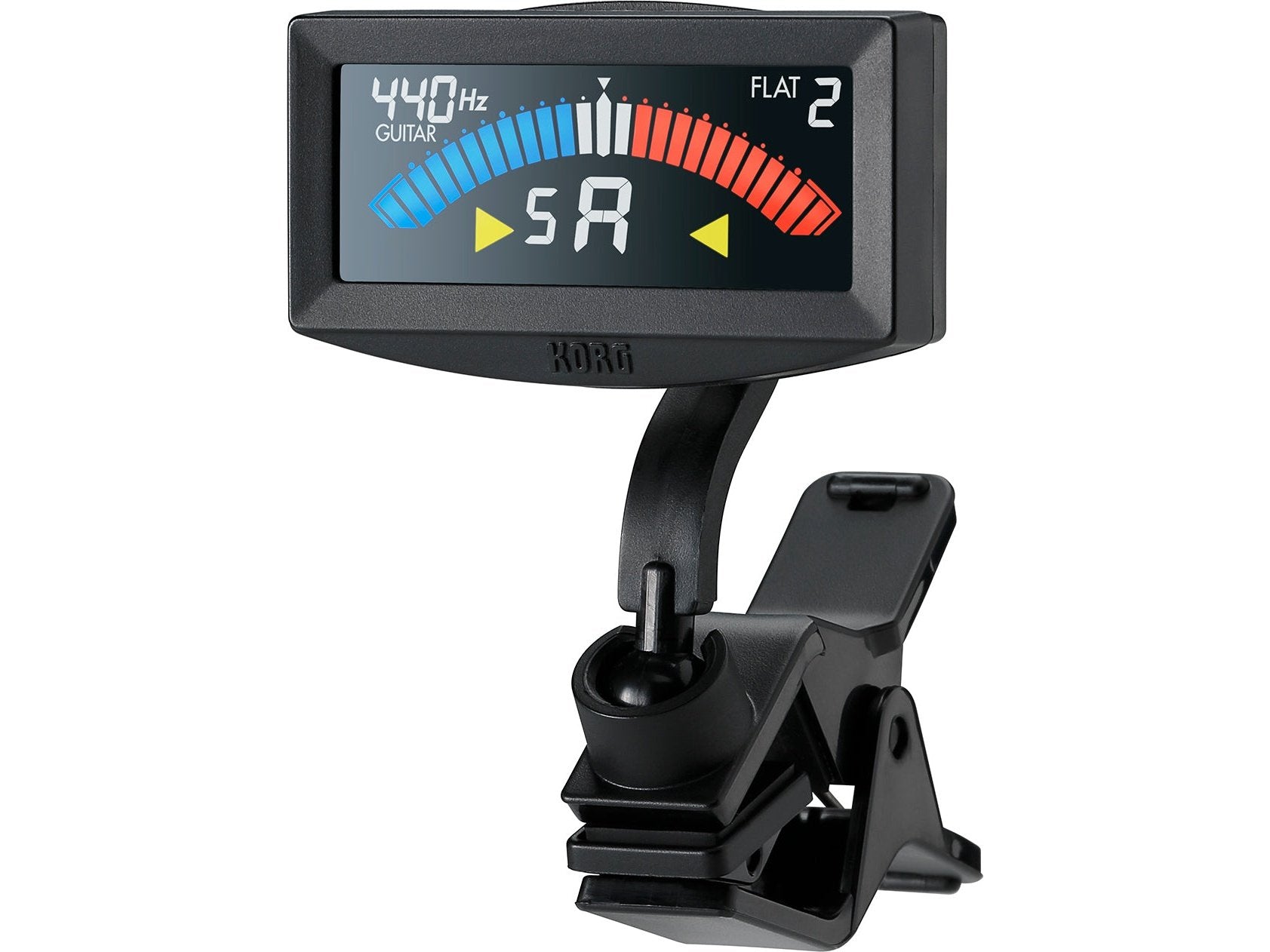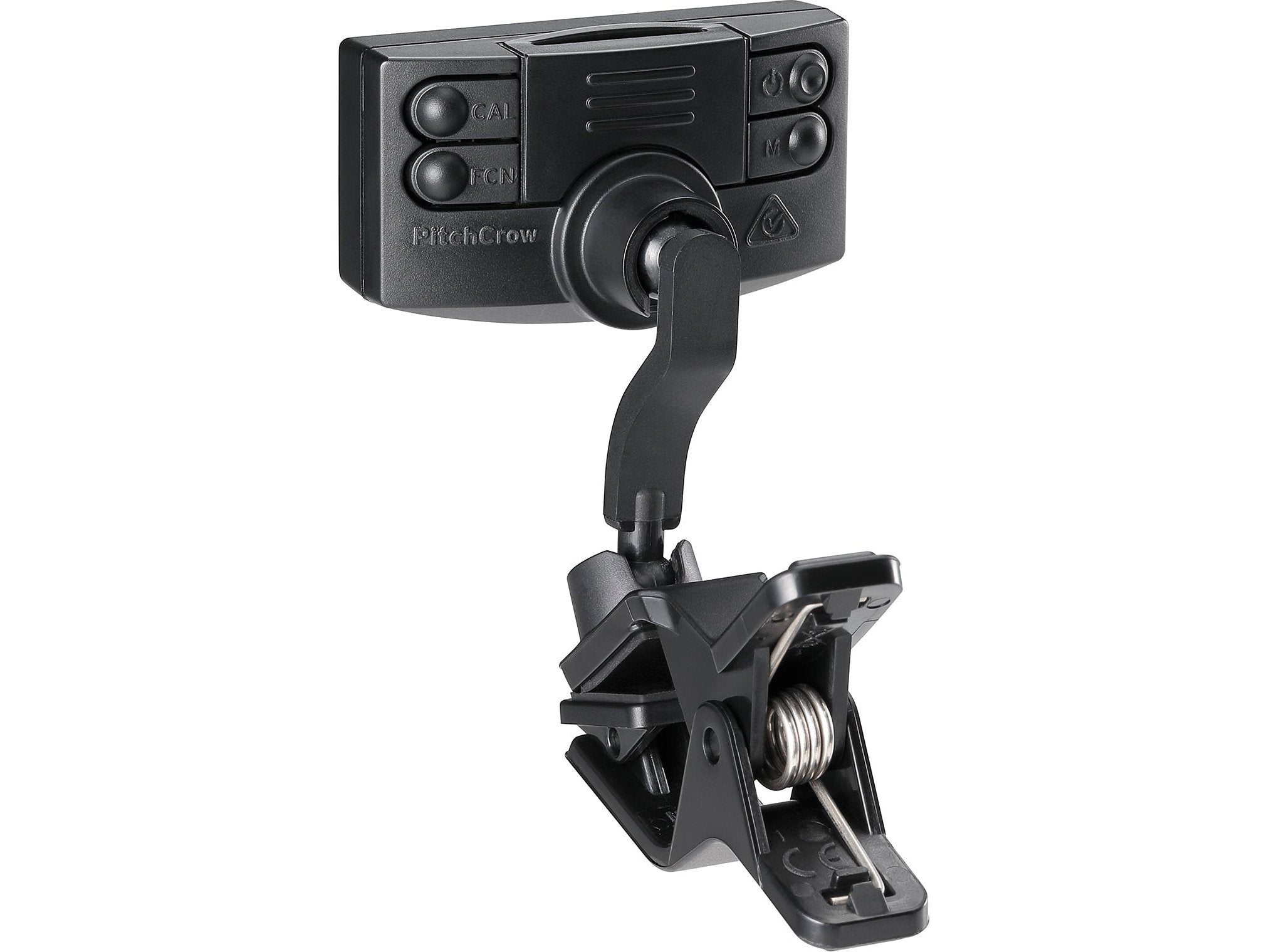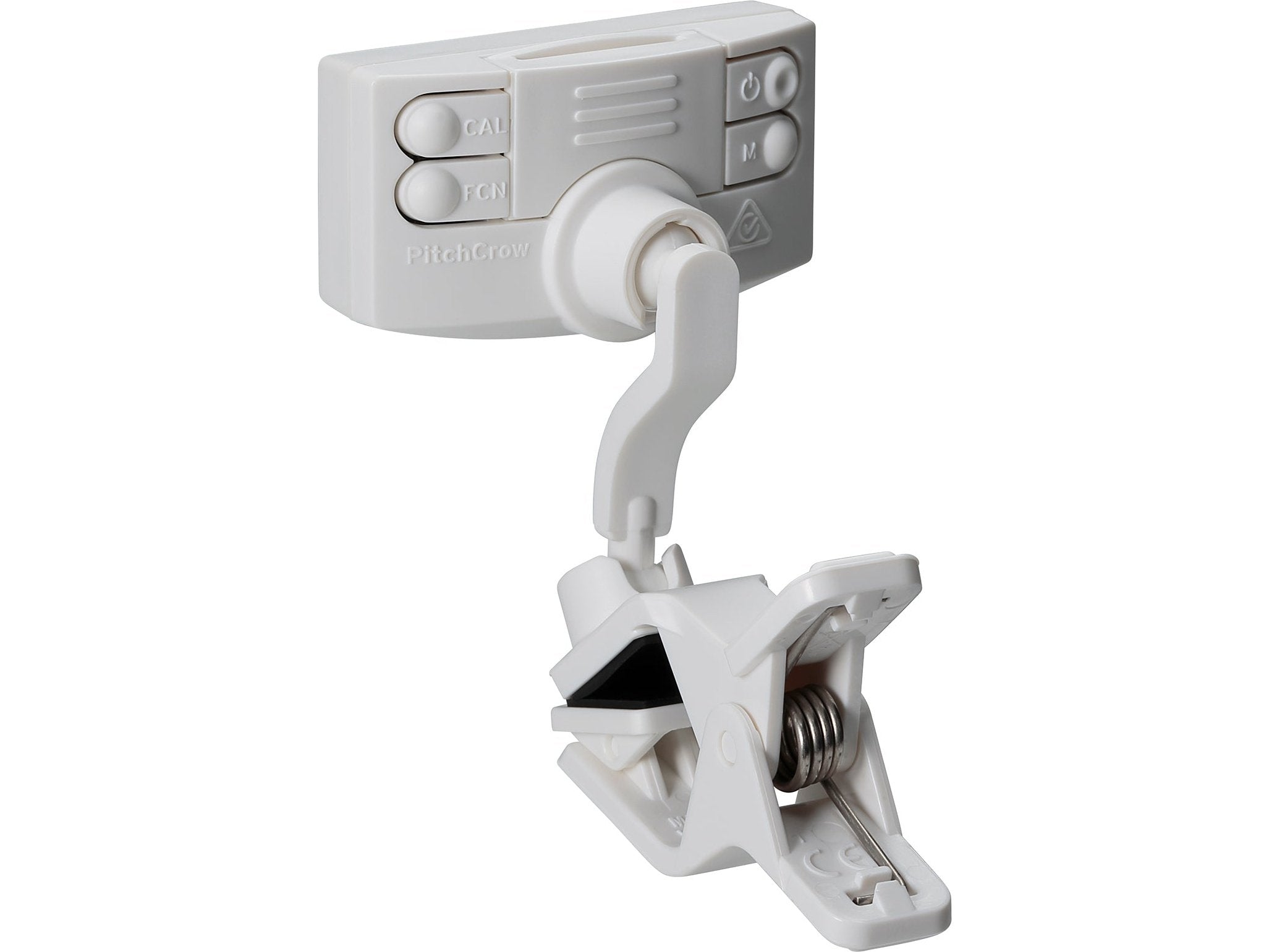 PitchCrow-G Clip-on Guitar Tuner
The Pitchcrow-G is a fully chromatic, compact tuner suitable for both guitar and bass which features a vivid LCD display, 0.1 cent accuracy and extended battery life to give you 24 hours of continuous use.
Extend your warranty for free when buying direct from Korg UK.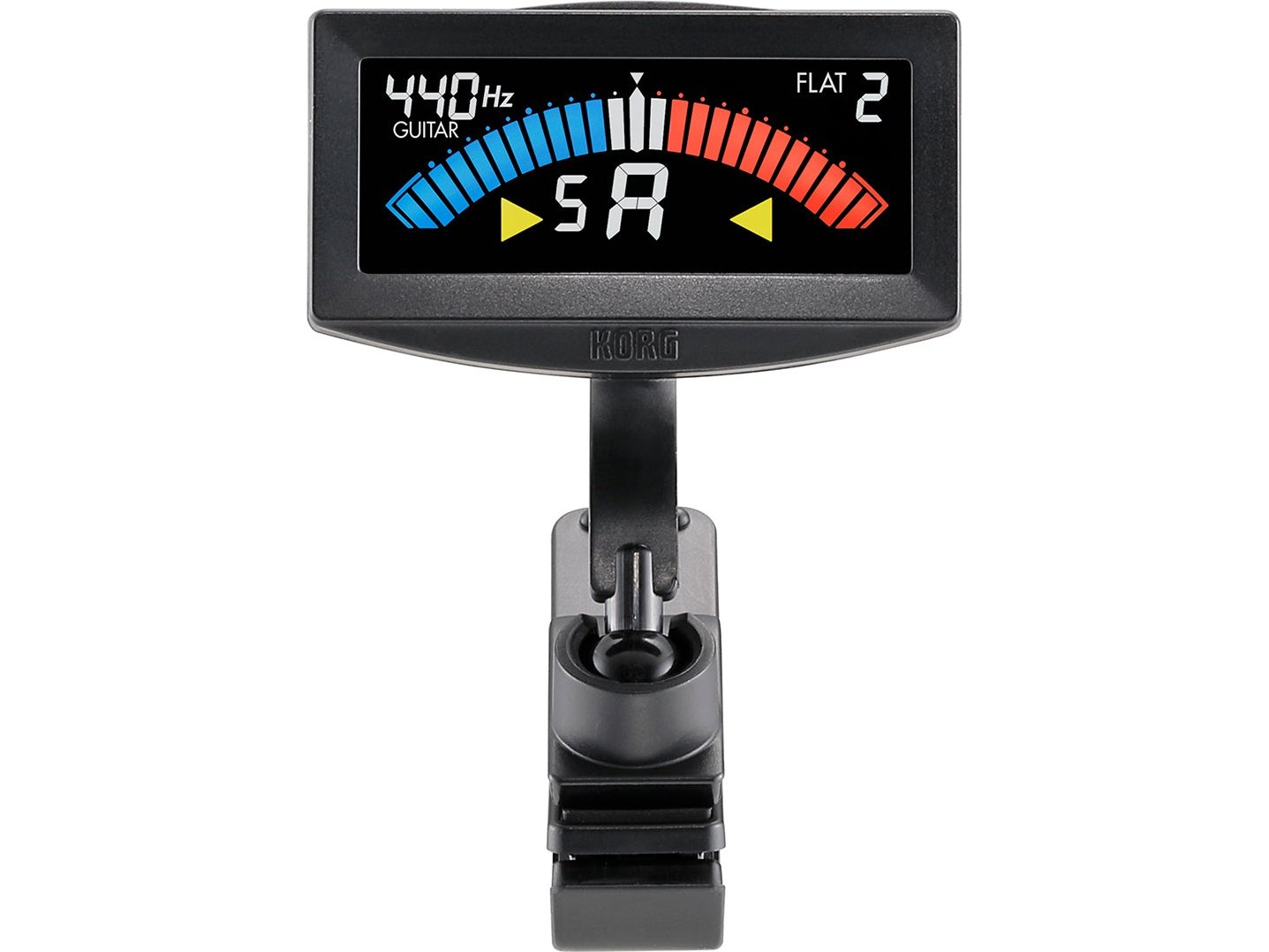 More features, smaller size
Clip-on tuner for guitar or bass
Korg's clip-on tuners can be easily attached to the headstock of your instrument for convenient and accurate tuning. The new PitchCrow-G is the latest addition to Korg's lineup of clip-on tuners for guitar and bass.
The PitchCrow-G is the most compact of all fully-featured clip-on tuners. Its streamlined design includes everything you need to tune accurately, quickly and is approximately 20% smaller and lighter than previous Korg models. Included with the PitchCrow-G is a vivid full-colour LCD and dedicated guitar/bass modes, as well as a new ultra-high precision fine tuning function that allows for accuracy as great at ±0.1 cents. Battery life is also approximately three times longer than previous units, allowing for approximately 24 hours of continuous operation. Forty years after it developed the world's first needle-type meter tuner, Korg is proud to set the new standard for accuracy and reliability in clip-on tuners: the PitchCrow-G.
Compact and lightweight clip-on tuner with a straightforward design
The PitchCrow-G provides maximum functionality at the minimum size. In keeping with Korg's philosophy towards tuning products, a smaller, sleeker, and more accurate clip-on tuner was the ultimate goal when designing the PitchCrow-G. The most notable change is in the size of the display. Without increasing the size of the meter's display area, we've significantly narrowed the unused space around the edge, resulting in a more compact tuner overall. We've also significantly slimmed-down the thickness of the body. Both of these factors also significantly reduced the weight of the PitchCrow-G.
The clip section has also been improved. The new clip uses a more efficient and simplistic design, resulting in improved strength and reliability. It goes without saying that the new design provides uncompromised holding power on any type of headstock, and also retains maximum flexibility due to the its unique ball joint.
Small yet easily visible, light yet strong. The PitchCrow-G provides a more advanced tuning experience for all guitarists and bassists.
Bright and colourful LCD
The colour LCD display easily visible in a variety of settings. The high-brightness white backlight and colour LCD meter provide both high contrast and a wide viewing angle, allowing you to check your tuning status with extreme clarity.
Dedicated guitar/bass modes
In addition to the conventional chromatic mode, there is also a dedicated guitar mode and bass mode. In each mode, the string number is shown beside the note name, allowing even the beginner to tune with ease. Flat and capo settings are also offered (*), allowing you to tune confidently in a variety of performance situations.

* Flat tuning is available in guitar/ bass modes, and capo can be specified in guitar mode.
First string over-wind warning prevents string breakage
In guitar mode, a "first string over-winding warning" appears in the display to prevent string breakage caused by over-winding the thin first string. This is a great feature for the beginner who is still learning how to tune.
Ultra-high precision tuning with accuracy as great as ±0.1 cents
Korg tuners are known for their high accuracy and sensitivity, and the PitchCrow-G is no exception. When practicing at home or in a casual playing environment, the usual ±1 cent precision mode is available for quick and smooth tuning. However, if you're in a professional recording studio or on stage, the fine tuning function provides ultra-precise tuning with ±0.1 cent accuracy and a strobe meter display that catches even the slightest pitch discrepancy, allowing your instrument to be perfectly in tune.
24-hour battery operation
The PitchCrow-G is designed for ultra-low power consumption. By painstakingly redesigning the structure for greater efficiency, we have achieved a battery life that is approximately three times longer than previous tuners, allowing approximately 24 hours of operation. There's also an auto power-off function that will turn the tuner off after it has not been used for a while. You won't find yourself with a dead battery when you pick up your instrument and need to tune, the PitchCrow-G will always be ready.
Video
Scale

12-note equal temperament

Detection Accuracy

±0.1 cent (fine tuning)

Tuning Range (sine wave)

Chromatic: A0 (27.50Hz) – C8 (4186Hz)

Guitar: B1 flat5 (46.25Hz) – E4 capo7 (493.88Hz)

Bass: B0 flat5 B0 flat5 (23.12Hz) – C3 (130.81Hz)

Reference Tone

436 – 445 Hz (1 Hz steps)

Flat Tuning

1 – 5 semitones (In semitones steps)

Capotasto Tuning

1 – 7 semitones (In semitones steps)

Dimensions (W x D x H)

63 x 56 x 25 mm / 2.48 x 2.20 x 0.98 inches (minimum size)

Weight

 21 g / 0.74 oz. (including battery)

Battery Life

 Approximately 24 hours (tuner continuously operating, A4 input)

Included Items

CR2032 lithium battery (3V) x 1 (for verifying operation)

Color Variations

Black, White

*  All product, company, and standard names are trademarks or registered trademarks of their respective holders.

*  Appearance and specifications of products are subject to change without notice.
All new products are sold with a 2-year manufacturer warranty which is upgraded to 3 years when bought direct from Korg UK.

Certified Refurbished products also come with a one year warranty. 
We offer a 30-day returns period on all products purchased directly from Korg UK.