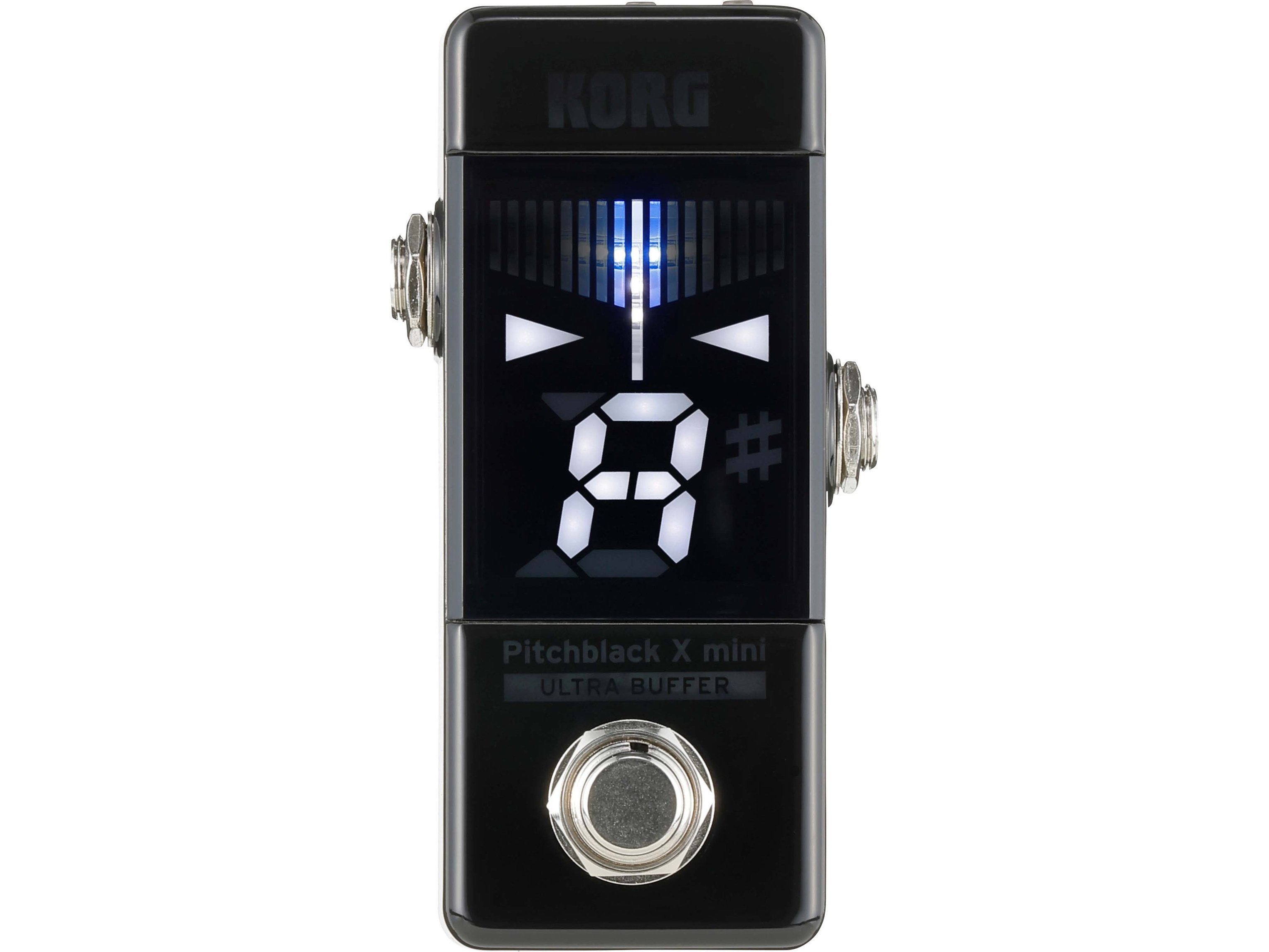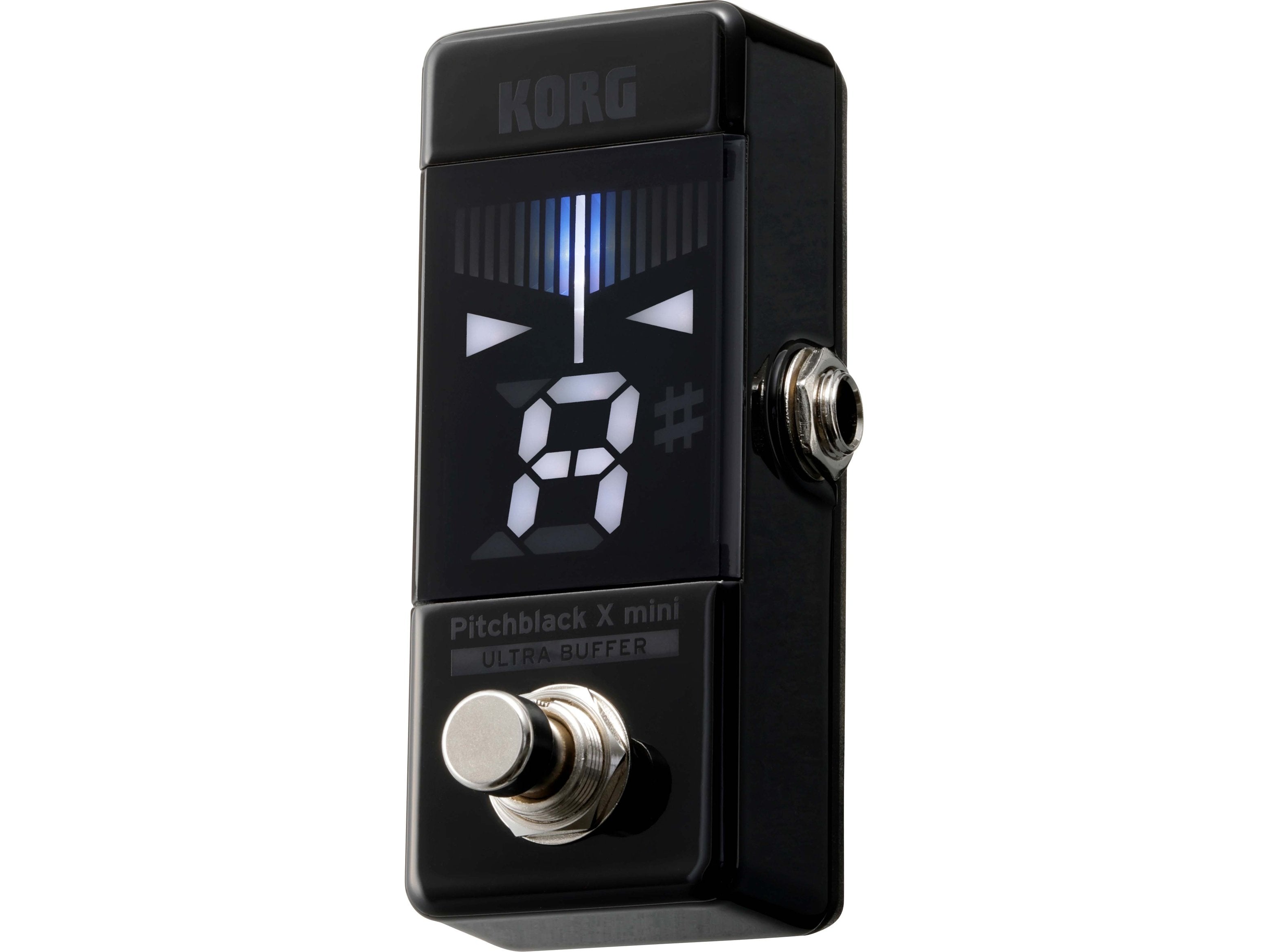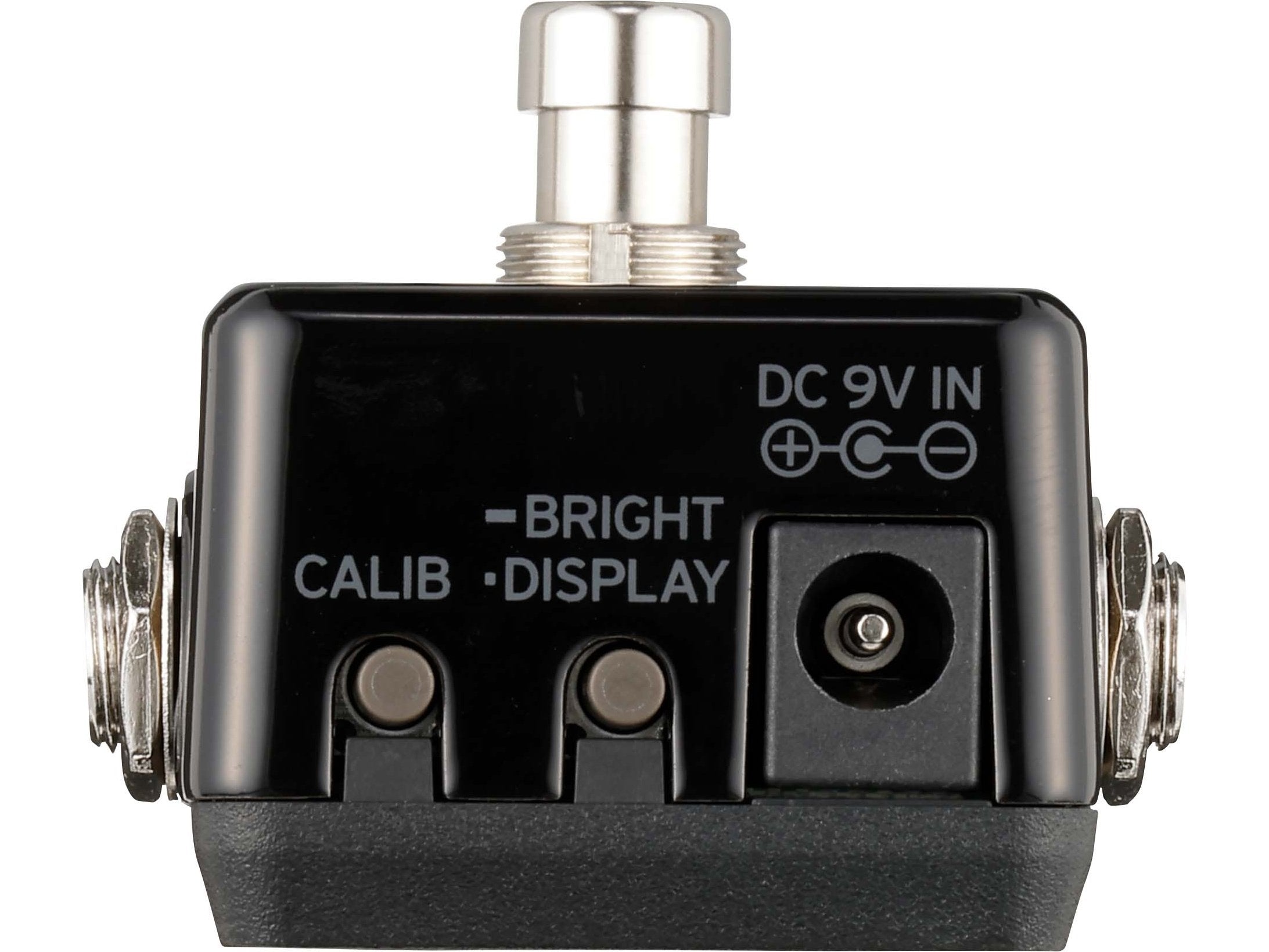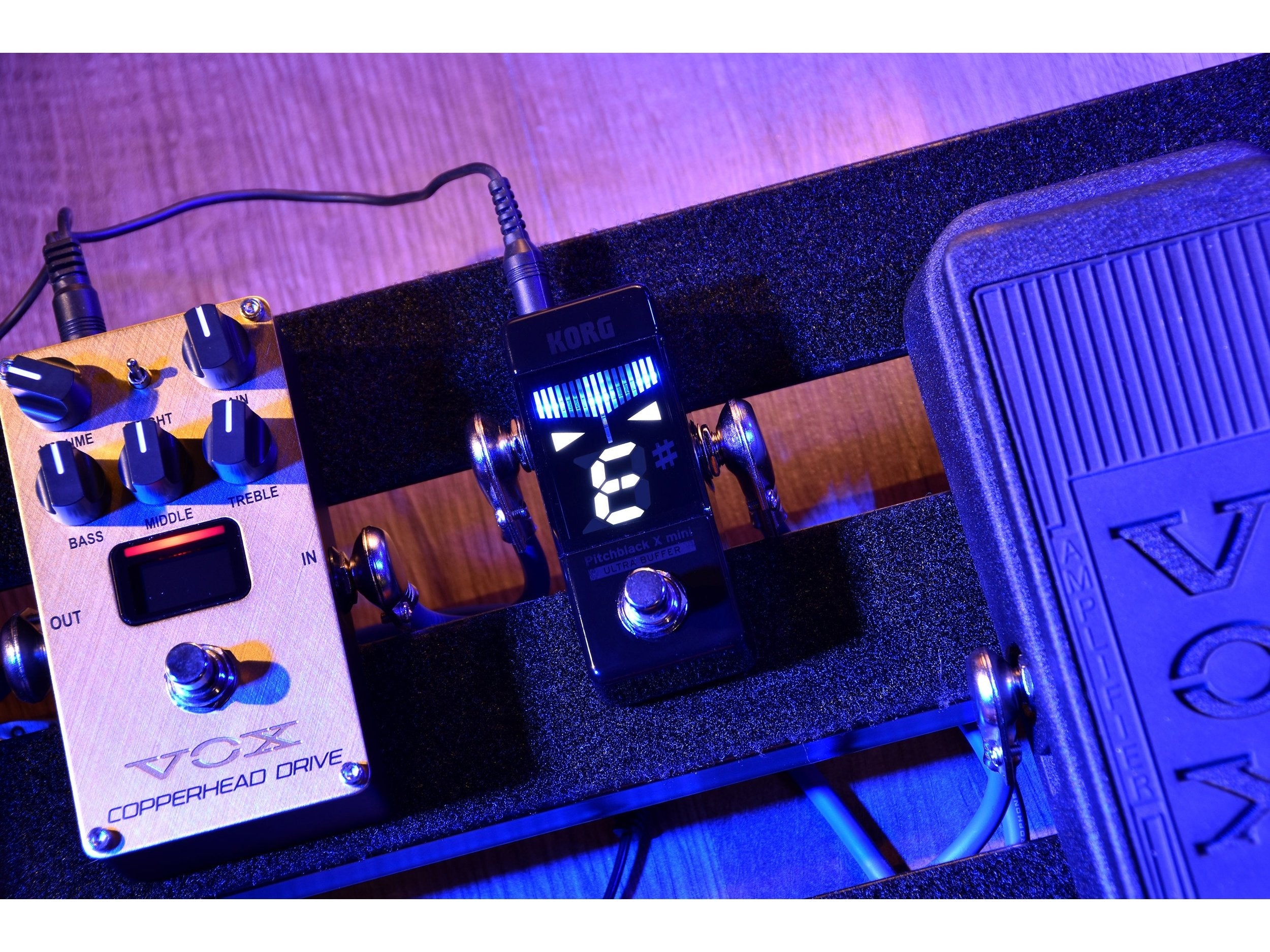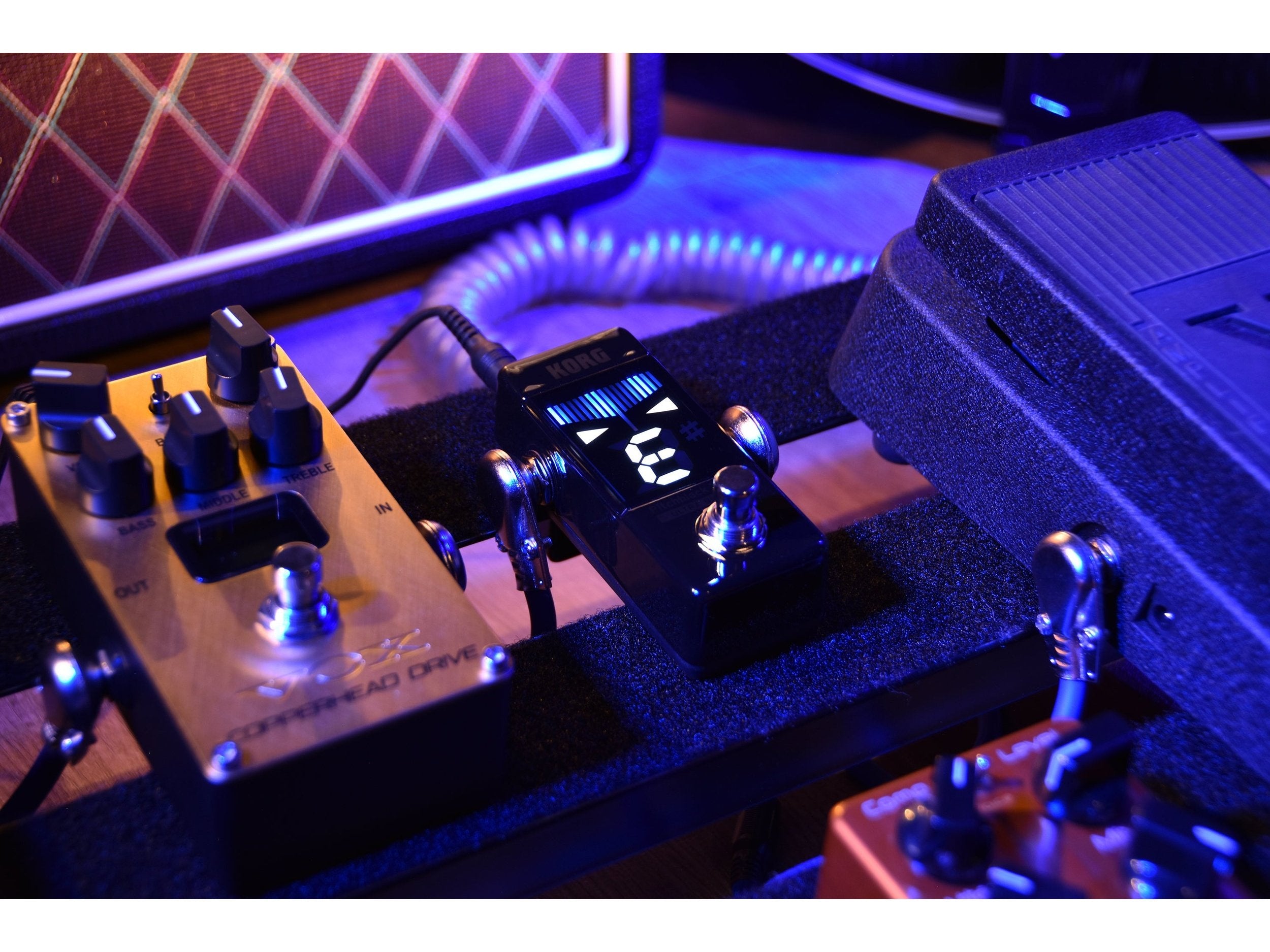 Pitchblack X mini
With its small footprint and signal-enhancing ULTRA BUFFER technology, our next-generation pedal tuner is designed with gigging guitarists in mind.
Extend your warranty for free when buying direct from Korg UK.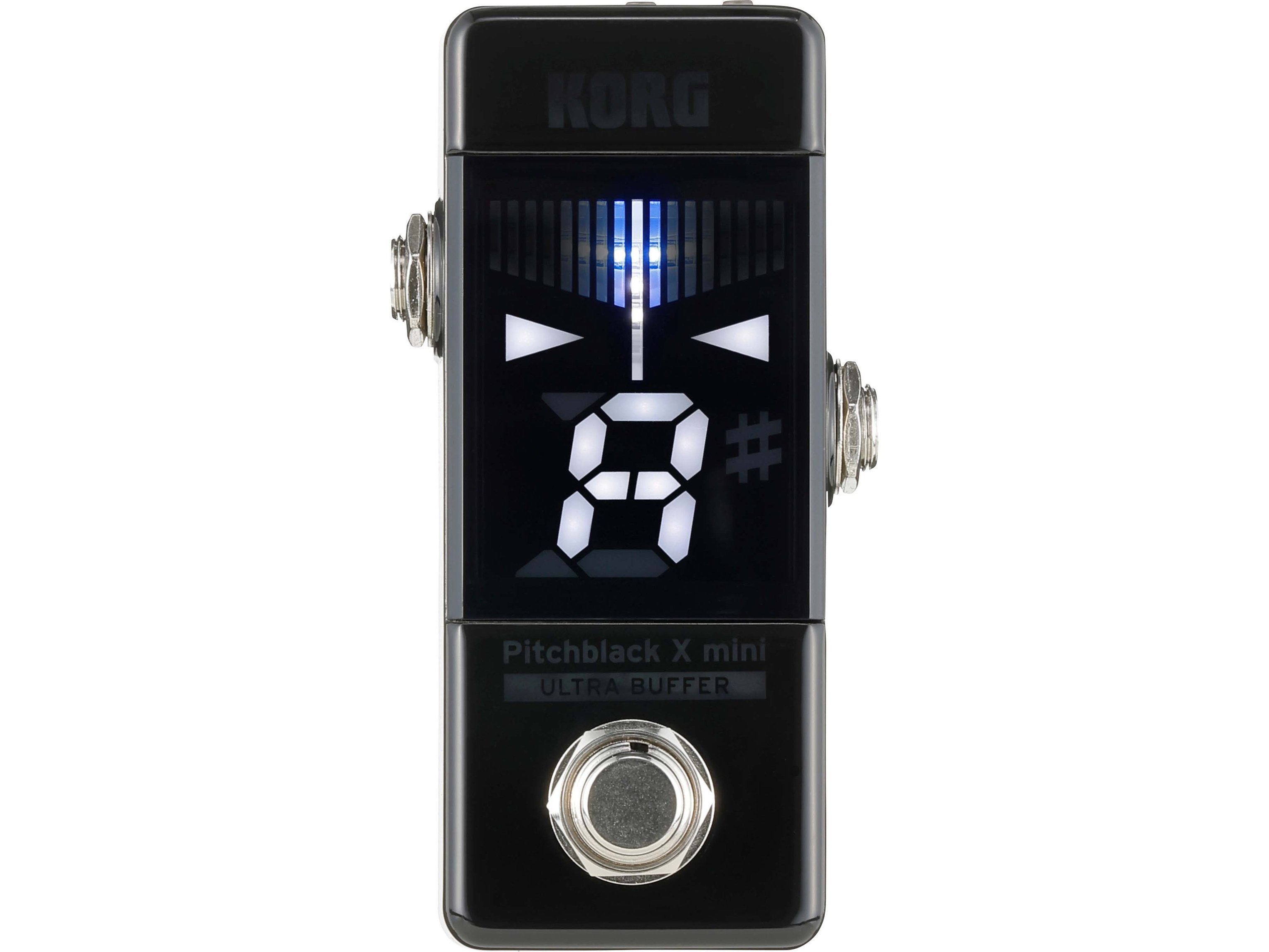 The Pitchblack X mini is the smallest tuner in the Pitchblack X series. Let's face it, we know you don't want to sacrifice precious room on your pedalboard for a tuner, so we designed the Pitchblack X mini to take up minimal space.
Weighing just 124 grams, and with an accuracy of +/- 0.1 cent, this tuner features a bright multi-function display so you can tune your guitar quickly and precisely - even on the darkest of stages.
Featuring our newly-developed ULTRA BUFFER.

The Pitchblack X mini features Korg's newly developed ULTRA BUFFER. This enhanced buffer circuit strengthens your guitar's signal so it remains true to the original pickup output when using multiple effect pedals and long cables.

Large LED meter display with high brightness for high visibility.
As well as an impressively large display on such a compact pedal, the Pitchblack X mini features more LEDs than the previous Pitchblack generation to increase the visual resolution for superior visibility.

We've also put the power in your hands with BRIGHT mode, which allows you to set two levels of brightness. So on brightly lit stages or bright outdoor environments, you can kick the brightness up a gear and tune without difficulty.

Four meter display modes.
Aside from the typical "Regular" display mode you'll be accustomed to, you can choose from three other meter displays. The "Strobe" and "Half Strobe" modes indicate changes in pitch by the direction and speed that the meter is flowing, so you can distinguish even the finest differences in pitch. The "Mirror" mode features two LEDs in a pincer movement, moving closer together towards the centre of the pedal as you tune up.

Ultra-high tuning accuracy down to ±0.1 cents.
The Pitchblack X mini offers highly precise and accurate tuning within a precision of ±0.1 cents when in Strobe mode, making it ideal for situations where the tuning must be absolutely right whether performing or recording. It also has a wide detection range and adjustable calibration.

Features a built-in "just-right tuning" display.
The Pitchblack X mini features a new "just-right tuning" display function, which makes the triangular LEDs on both sides blink when the tuning is correct, helping tuning be a stress-free experience when you're under pressure on stage.

Sturdy housing
The Pitchblack X mini is housed in a robust aluminium case with a strong scratch-resistant coating and can be powered from a regular 9V DC pedalboard type power supply.

Scale:
12 note equal temperament

Detection Range:
E0 (20.60Hz)~C8(4,186Hz)

Calibration Range:
A4=436〜445Hz(1Hz steps)

Detection Accuracy:
+/- 0.1 cent (display mode: Strobe)

Input Impedance:
1 M-ohm (tuner on)

Display Modes:
Regular, Strobe, Half-strobe, Mirror

Connectors:
INPUT (mono 1/4" jack), BYPASS (mono 1/4" jack), DC 9V IN

Power Supply:
DC adaptor (9V)

Power Consumption:
Maximum 30 mA

Dimensions (W x D x H):
45 x 93 x 43 mm (including protrusions)

Weight:
124 g

Included Items:
Notices, Rubber feet, 9V battery x 1

Accessories:
AC adaptor (9V)

All new products are sold with a 2-year manufacturer warranty which is upgraded to 3 years when bought direct from Korg UK.

Certified Refurbished products also come with a one year warranty. 
We offer a 30-day returns period on all products purchased directly from Korg UK.