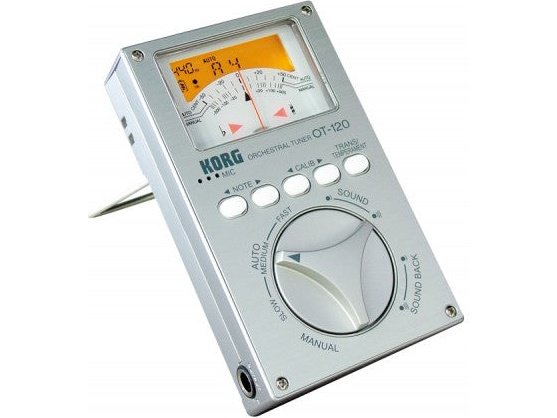 OT-120 Orchestral Tuner
OT-120 utilises a dual backlit LCD/Needle display for exceptional visibility and features an 8 octave range suitable for tuning a wide range of orchestral instruments. Eight temperament options cover a variety of tunings required for period correct instruments making this an invaluable tool for a multitude of players and performers.
Extend your warranty for free when buying direct from Korg UK.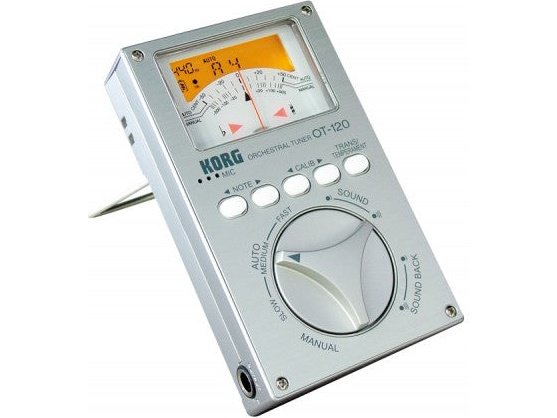 Tune wind and string instruments in a flash with the new OT-120,
a needle-type meter with a wide range and versatile functionality.
Vertical-design and superior visibility

The OT-120 is a chromatic tuner intended for the orchestra, packaging high performance and sophisticated functionality in a vertical design that's easy to hold and operate. It features a dual-display, an easy-to-see needle-type indicator and a backlit LCD screen that shows the battery level, sound output level, calibration, key and note name. Additional design features include a large dial that makes it easy to select the desired mode, finger-friendly buttons and a rear-mounted stand that lets the unit stand by itself. A sophisticated silver aluminium panel contributes to its sleek, new look.

Accurately tune orchestral instruments over a wide range

Since we developed the world's first meter-type tuner in 1975, the accuracy of Korg tuners has made them the choice of artists in all styles of music. With its wide range extending from A0 to C8, the OT-120 lets you quickly tune any type of brass band or orchestral instrument – wind, string or keyboard. The OT-120 also provides a wide range of calibration to support concert pitches in a range of A4=349-499 Hz (1 Hz steps).
Broad support for transposing instruments and historical temperaments

So that you can conveniently tune any wind instrument, twelve types of transposing keys are provided including both sharps and flats. The Multi Temperament function provides eight presets that cover the most popular historical temperaments often used with period instruments. These are also ideal for checking unique temperaments used in classical music.
Smooth and high-precision tuning you expect from a needle-type meter
The OT-120 uses a high-precision needle-type meter to accurately indicate any pitch discrepancy. The speed at which the needle responds to the input can be changed over a range of three steps; you can choose rapid or slow needle movement to match your tuning preference.
You can also choose from two tuning modes; Auto mode, which automatically detects the pitch of a single note you play on the input instrument, or Manual mode, which lets you specify the desired note name. In Manual mode the needle movement is shown in a range of ±500 cents, letting you view the tuning discrepancy over a wide range. In addition to the excellent visibility unique to a needle-type meter, the LEDs located below the meter also indicate pitch deviation or a perfect match, making precise tuning easy even in dim locations.
Energy-saving design for long battery life
The OT-120 is designed for an extended battery life of greater than 100 hours when running on two AAA batteries. It can also be used with an AC adaptor (separately sold option).
Korg's proprietary Sound Back mode provides a reference tone that's ideal for tuning wind or string instruments, or for lessons
The OT-120 can produce a reference tone in a five-octave range extending from C2 (65.41 Hz) to C7 (2093 Hz). Two or more musicians can simultaneously listen to the reference tone while tuning. You can switch the output level in two stages. The large speaker opening allows high volume, and the speaker opening is not obstructed even when using the stand, ensuring that the reference tone will be easily audible.
The OT-120 also provides Korg's proprietary Sound Back mode. This mode lets you connect an optional CM-200 Contact Microphone to the input jack, and automatically make the OT-120's speaker produce a reference tone for the note that is closest to the input pitch you play on your instrument. The meter will also indicate the input pitch, letting you tune using your eyes as well as your ears for greater accuracy – and also providing a great way to train your sense of pitch. Since a mic is built in, the OT-120 can easily detect the pitch of any acoustic instrument.
Soft case included
A convenient, suede-tone soft case is included.
Scale

12 equal tempered, Pythagorean, Werckmeister III, Vallotti, Mean Tone Eb, Kirnberger III, Young, Mean Tone D#, Kellner

Transpose Range

C, C#, D, Eb, E, F, F#, G, G#, A, Bb, B

Detection Range

A0 (27.50 Hz) – C8 (4186 Hz)

Reference Tone:

C2 (65.41 Hz) – C7 (2093 Hz), five octave, two-step volume control

Tuning Modes

AUTO (SLOW, MEDIUM, FAST), MANUAL, SOUND BACK

Calibration

A4 = 349 – 499 Hz (1 Hz step)

Detection Accuracy

± 1 cent

Tone Accuracy

± 1.5 cent

Connectors

INPUT (1/4" phone jack), OUTPUT (1/4" phone jack), DC IN (9 V)

Power Supply

Two AAA batteries, or AC adapter (separately sold)

Battery Life

approx. 100 hours (with alkaline batteries, in meter mode (MEDIUM), A4 tone continuously input, without backlit)

Dimensions
(W x D x H)

74 x 120 x 36 mm / 2.91" x 4.72" x 1.42"

Weight

193 g (including batteries) / 6.81 oz. (including batteries)

Accessories

two alkaline AAA batteries for checking operation, a suede-tone soft case

Options

AC adapter



*Even if a sound is within the detectable pitch range, detection may be unsuccessful for instrumental sounds that contain a large number of overtones or that decay rapidly.

* All product, company, and standard names are trademarks or registered trademarks of their respective holders.
* Appearance and specifications of products are subject to change without notice.
All new products are sold with a 2-year manufacturer warranty which is upgraded to 3 years when bought direct from Korg UK.

Certified Refurbished products also come with a one year warranty. 
We offer a 30-day returns period on all products purchased directly from Korg UK.