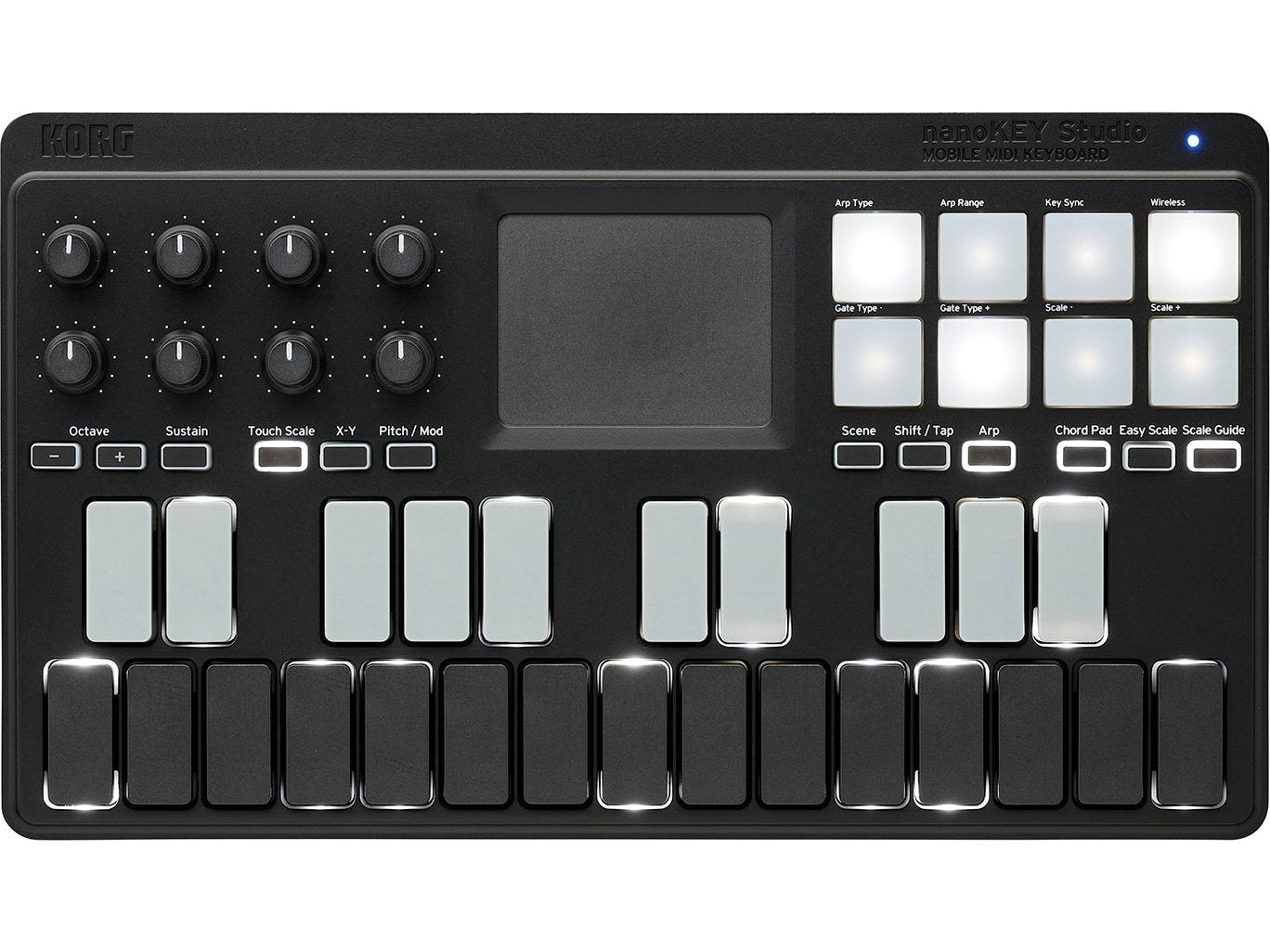 nanoKEY Studio - Mobile MIDI Keyboard
A low profile, bluetooth, USB-MIDI controller with 25-note keyboard and eight pads (both with velocity sensitivity), eight knobs and multi-function X-Y pad. Connect via bluetooth or USB and create music with your favourite DAW or the amazing free suite of software that's included - in the studio or on the move.
Extend your warranty for free when buying direct from Korg UK.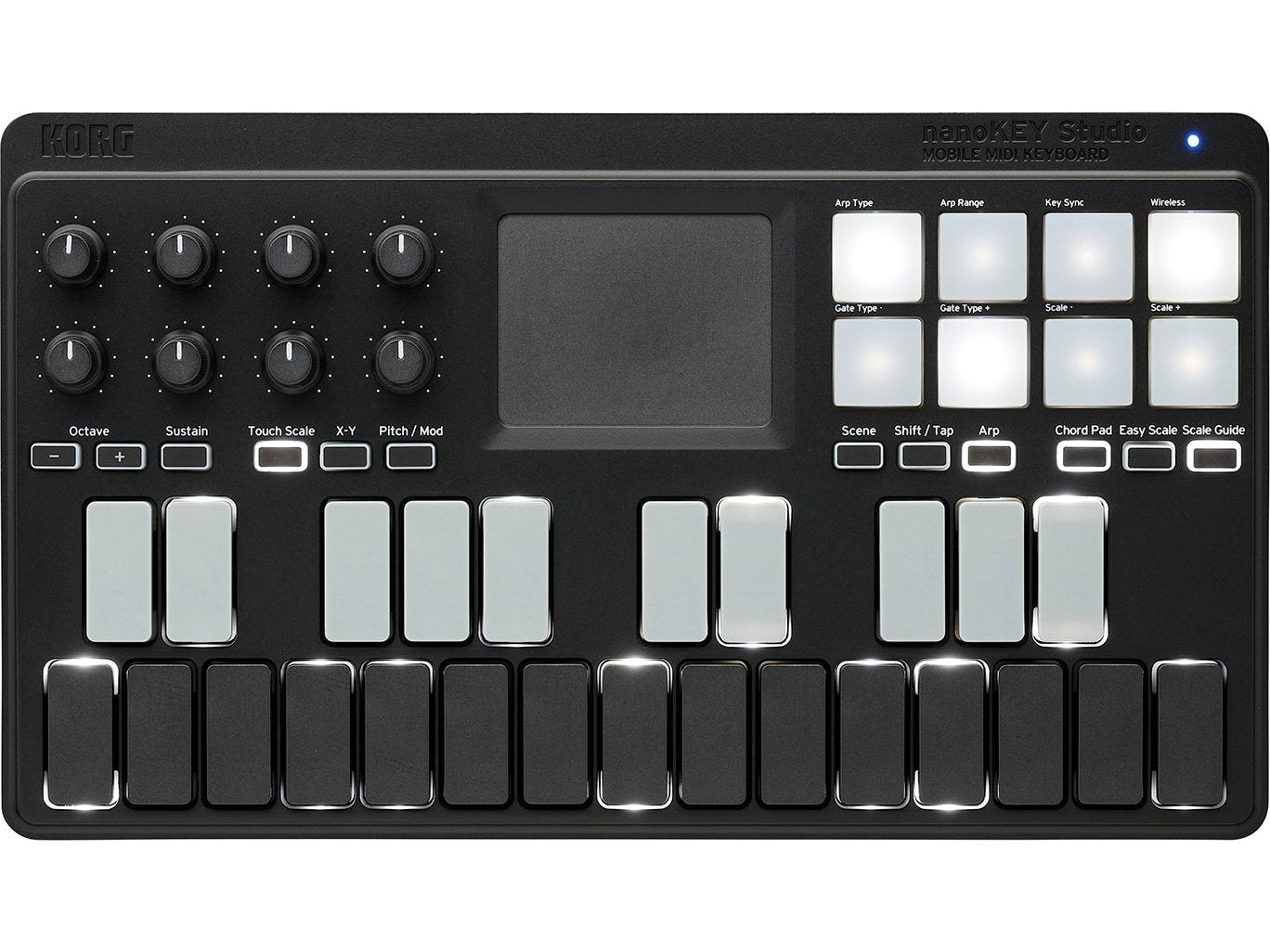 An all-in-one that delivers inspiration. A mobile MIDI keyboard that connects via USB or wirelessly.
The nanoKEY Studio provides a keyboard, knobs, trigger pads, and touch pad that lets you instantly convert your inspiration into sound. It is battery operated and can connect wirelessly to iPhone/iPad or Mac/Windows. It's a compact, mobile MIDI keyboard that is easy to travel with, allowing ease of use anytime, anywhere.
Step-record as easily as typing. A keyboard with 25 backlit keys that illuminate.
Even if you're not the most skilled keyboardist, the 25 velocity-sensitive keys allows you to step-record easily. The Scale Guide function illuminates the keys to show recommended notes in the scale, making it easier to play. This is a smart keyboard with a variety of performance modes, such as the Easy Scale function, that lets you produce musical phrases using any keys.
More freedom to produce music, via USB or wirelessly.
The nanoKEY Studio can connect not only via USB but also wirelessly. It's easy to connect to an iPad/iPhone music app such as Korg Gadget or Apple GarageBand, or to your Mac/Windows music production software. Liberated from annoying cables, you'll be free to set up your system much easier than some other products. Thanks to careful tuning, you'll enjoy low latency and high stability.
Lightweight and compact design can be placed anywhere and easily transported.
Smaller than a sheet of letter-sized paper, you can put the nanoKEY Studio in your bag and take it anywhere. With a simple, refined, and stylish design, along with beautiful lighting with white LEDs, you won't get tired of using it every day. With its modern design, the nanoKEY Studio is ideal for use with new devices such as your laptop, tablet, or smartphone.
Create the ultimate mobile music production system with your iPad/iPhone and the nanoKEY Studio.
The combination of the nanoKEY Studio with Korg Gadget is the ultimate combination for mobile performance. The nanoKEY Studio supports wireless connection via Bluetooth MIDI, so your iPhone can instantly transform into a powerful music production tool. Korg Gadget has a special native mode exclusively for the nanoKEY Studio. Simply by connecting Korg Gadget, the most appropriate controls for MIDI assignment on your nanoKEY Studio are completed automatically. At home, in a coffee shop, in transit, or outdoors, you can quickly immerse yourself in making music in minimal space.
Eight high-sensitivity trigger pads that you can use for drum input or playing chords.
The eight velocity-sensitive trigger pads will convey every dynamic nuance of your drum performance. In chord-playing mode, the Chord Scale function automatically assigns the best chords for the key and scale you've selected, so your song will take shape at amazing speed. You can also assign the pads to trigger audio clips. These pads are not limited by musical genre; they deliver all-purpose music production power.
Touch pad inherited from the KAOSS series provides one-finger control of software synthesizers.
You can use a single finger to control a software synthesizer just like you can with a Kaossilator, or control a plug-in effect the same way as a KAOSS PAD. The nanoKEY Studio features an arpeggiator with rhythm patterns, letting you generate a succession of new phrases simply by touching the pad.
Eight assignable knobs for controlling your DAW and plug-ins.
The eight knobs provide versatile control of your software synthesizers, plug-in effects, and DAW mixer.
A lavish and powerful bundle of music software is included free of charge.
The nano Studio series comes with an extravagant bundle of powerful mobile and desktop music software that includes iPad / iPhone apps, a special edition of Korg Gadget, and the Korg Collection M1 Le which includes plug-in versions of classic Korg instruments. If you have the nanoKEY Studio, there is no need to buy any additional software.
The sounds and functionality of "iPad / iPhone apps" can be expanded by connecting them to a nano Studio series unit.
Customise using dedicated "Korg Kontrol Editor" software.
We provide "Korg Kontrol Editor" software that lets you freely customise the settings of the nanoKEY Studio. You can adjust the velocity curve of the keyboard, and customise the MIDI messages that are assigned to the pads and knobs to meet your needs.

Video
Controller

25-key Keyboard with velocity sensitivity (four velocity curve),
8 trigger pad (velocity sensitivity is supported, four velocity curve),
8 knobs, X-Y pad

Octave + / - buttons, Sustain button, Touch Scale button, X-Y button, Pitch / Mod button, Scene button, Shift / Tap buttons, Arp button, Chord Pad button, Easy Scale button, Scale Guide button

Octave Range

-4–+4

Scene Memory

8

Connections

USB jack (micro B type)

Wireless Type

Bluetooth Low Energy (Apple Bluetooth Low Energy MIDI specification compliant)

Power Supply

USB bus power (when connected via USB)
Two AAA batteries (when connected wirelessly; use alkaline or nickel-metal hydride batteries)

Battery Life

Approximately 10 hours (with the factory settings, when using alkaline batteries)
* Battery life will vary depending on the batteries used and on the conditions of use.

Power Consumption

Less than 500mA

Dimensions (W x D x H)

278 mm x 160 mm x 33 mm / 10.94" x 6.30" x 1.30"

Weight (without batteries)

471 g / 1.04 lbs. (without batteries)

Included Items

USB cable, KORG Software Bundle code, two AAA Batteries for checking operation

Operating requirements

iOS
Wireless Connection

iOS

iPad/iPhone that supports Bluetooth 4.0, and has iOS8 or later installe

Models

iPhone SE, iPhone 6s, iPhone 6s Plus, iPhone 6, iPhone 6 Plus, iPhone 5s, iPhone 5c, iPhone 5, iPhone 4S,
iPad Pro, iPad Air 2, iPad Air, iPad fourth generation, iPad Third generation, iPad mini 4、iPad mini 3, iPad mini 2, iPad mini,
iPod touch sixth generation, iPod touch fifth generation

Mac
Wireless Connection

OS

Mac that supports Bluetooth 4.0 or later, and has OS X10.10 Yosemite or later installed

Models

MacBook (Early 2015 or later)
MacBook Air (Mid 2011 or later)
MacBook Pro (Mid 2012 or later)
Mac mini (Mid 2011 or later)
iMac (Late 2012 or later)
Mac Pro (Late 2013 or later)

Mac
USB Connection

OS

MacOS 10.8 10.9 Mavericks or later

Windows
Wireless Connection

OS

Operating system: Windows 8.1 or later (32-bit/64-bit) [KORG BLE-MIDI Driver is required]

Windows
USB Connection

OS

Microsoft Windows 7 SP1 or later (32-bit / 64-bit)

| | |
| --- | --- |
| * | We do not guarantee that the unit will work with every computer that meets these requirements. |
| * | iPad, iPad Air, and iPad mini are trademarks or registered trademarks of Apple Inc. GarageBand is trademark of Apple Inc.。 |
| * | Bluetooth is a registered trademark of Bluetooth SIG, Inc. |
| * | All product, company, and standard names are trademarks or registered trademarks of their respective holders. |
| * | Appearance and specifications of products are subject to change without notice. |
All new products are sold with a 2-year manufacturer warranty which is upgraded to 3 years when bought direct from Korg UK.

Certified Refurbished products also come with a one year warranty. 
We offer a 30-day returns period on all products purchased directly from Korg UK.