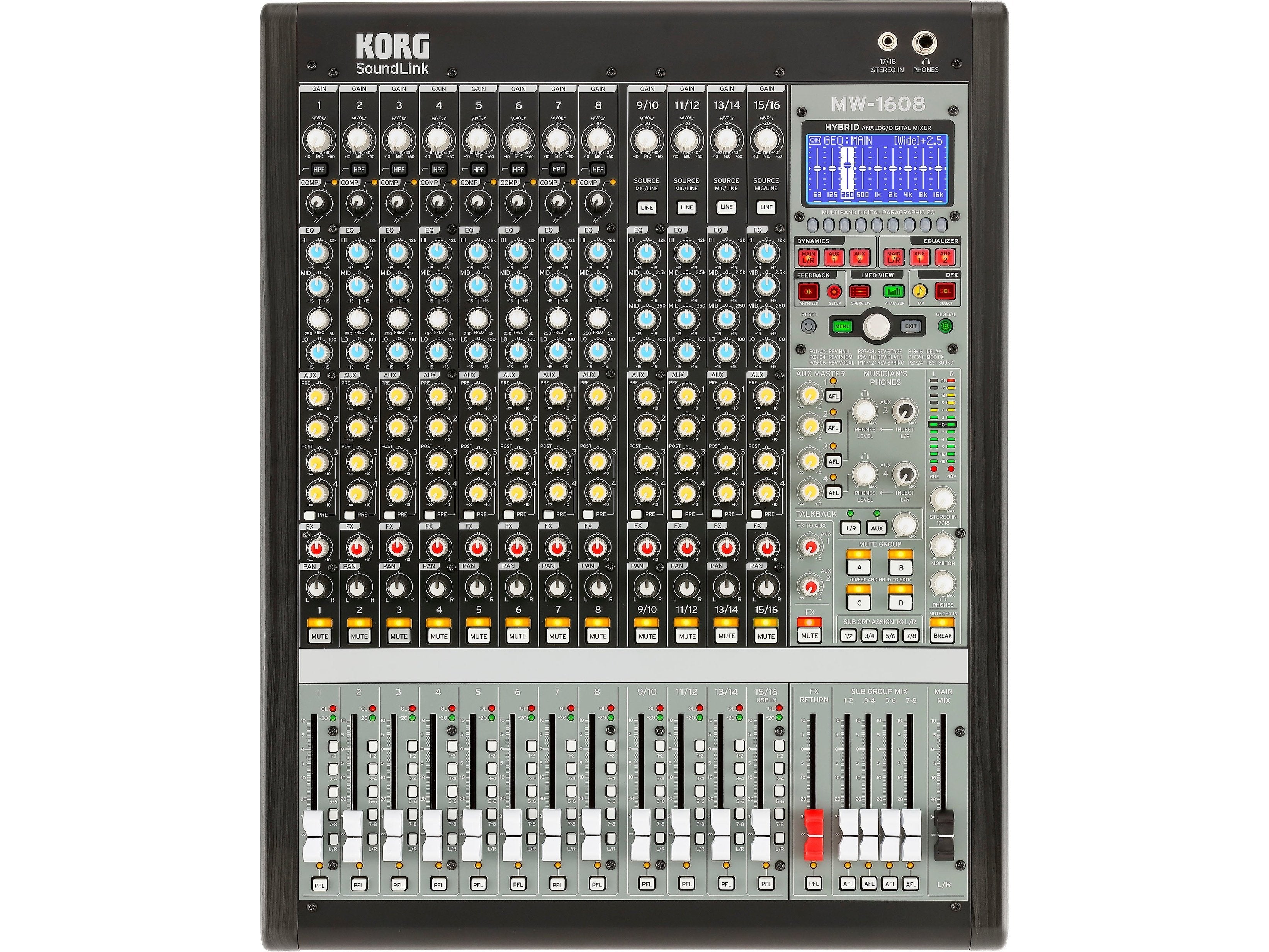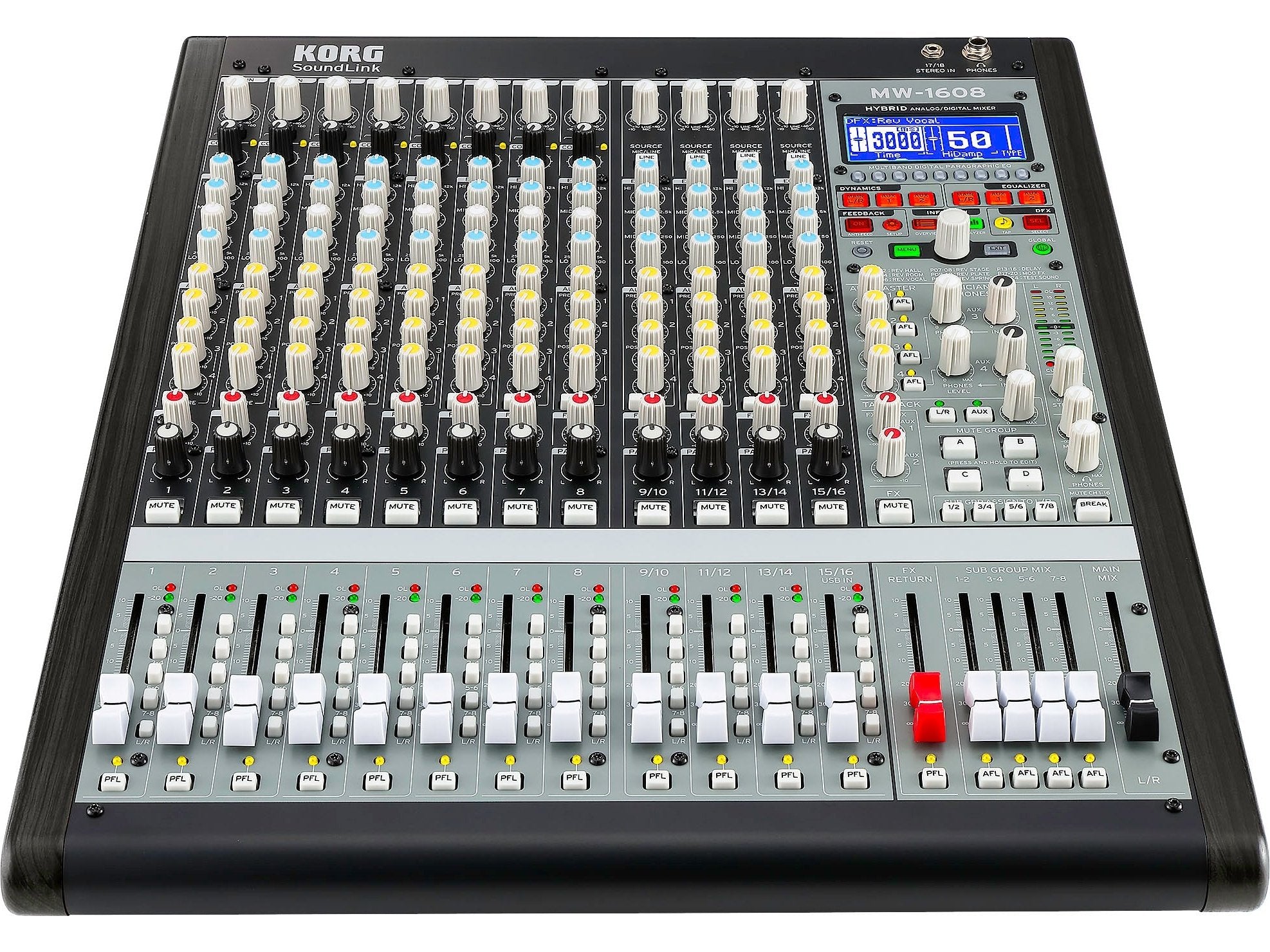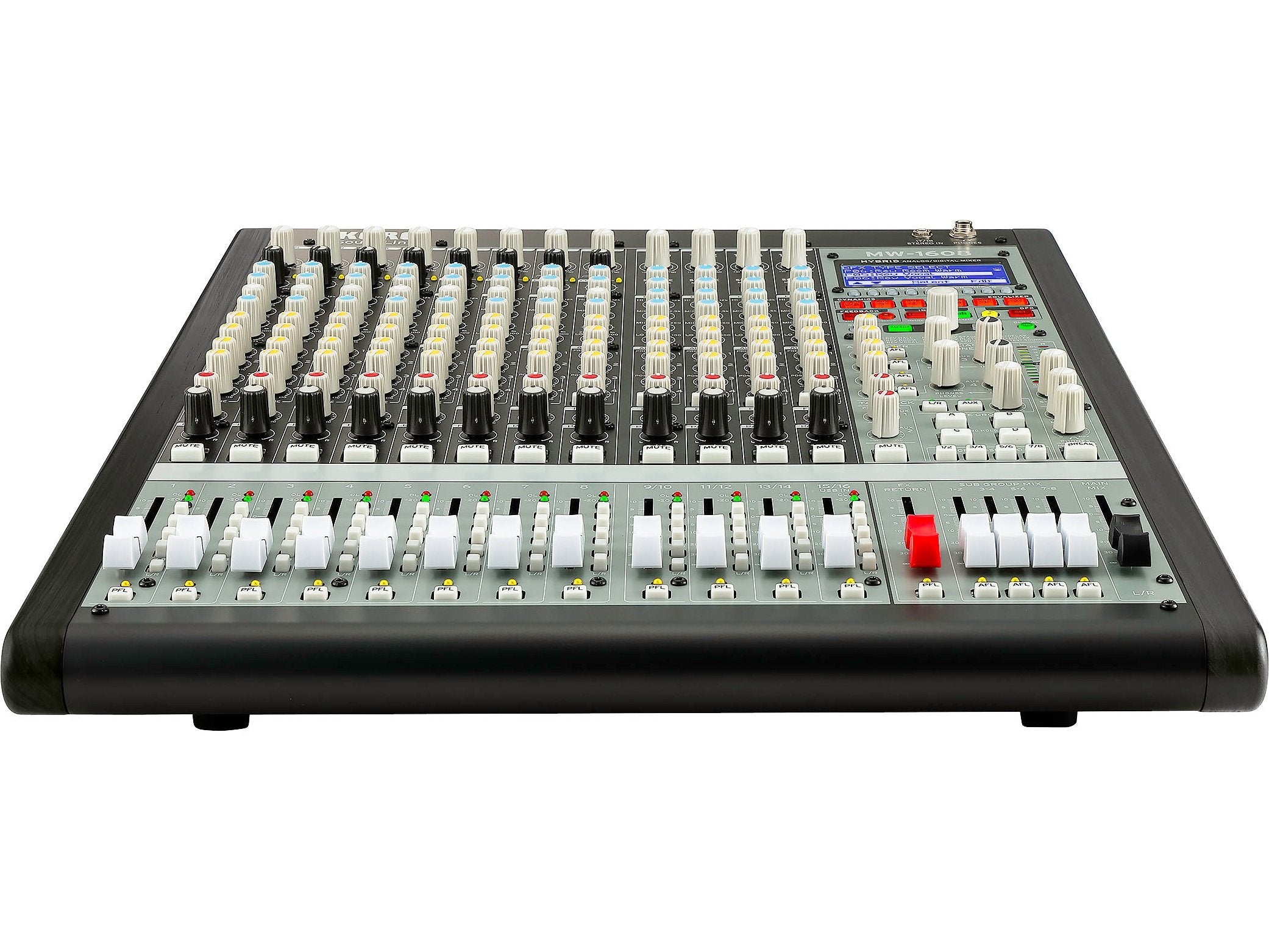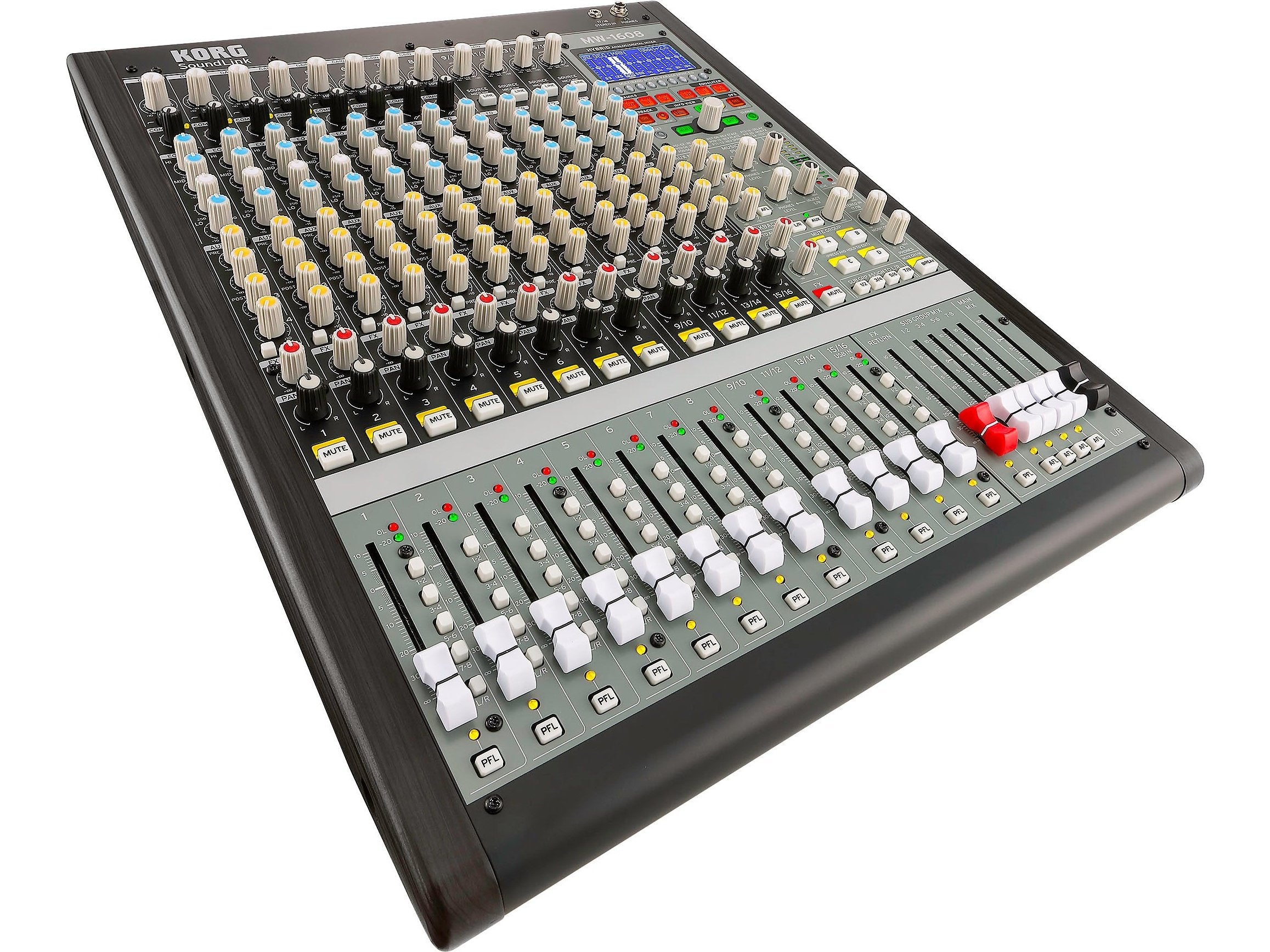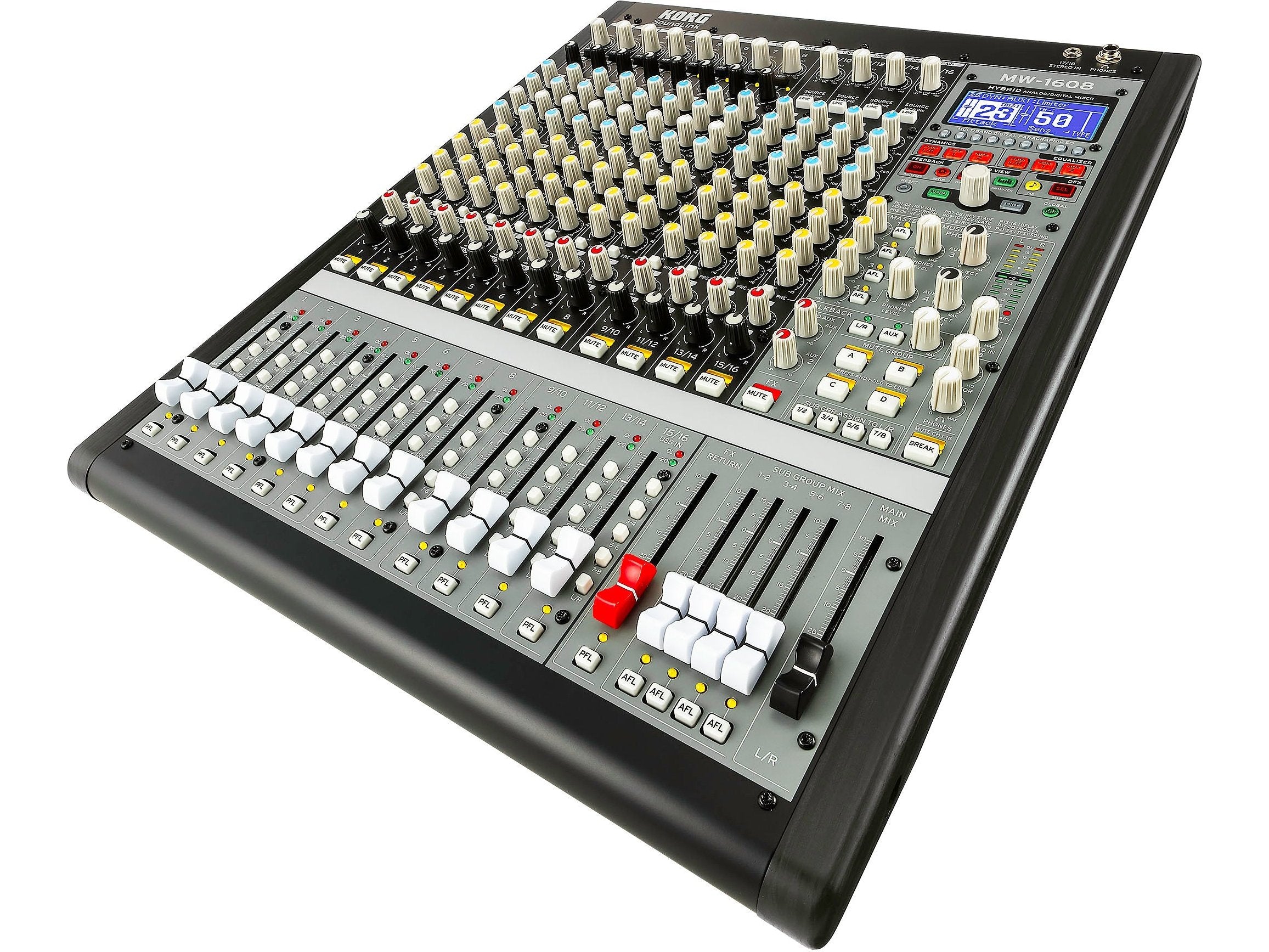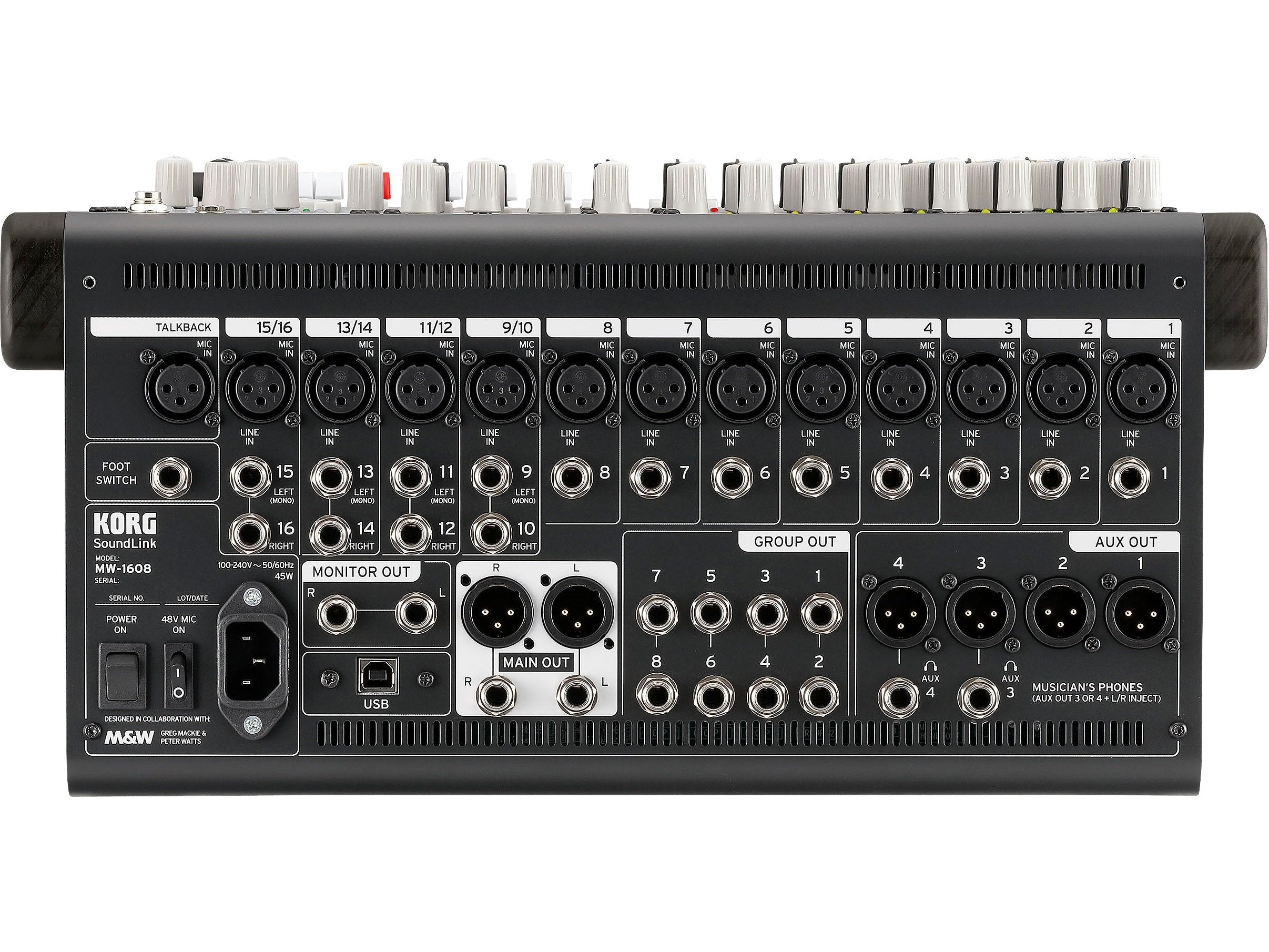 MW-1608 16-channel Hybrid Mixer
Pairing the live control and sound quality of analogue with the power of a digital, the MW1608 16-channel mixer comes from the collaboration between Greg Mackie, Peter Watts and Korg. Part of the Korg SoundLink family, it offers innovative functionality for live mixing and studio use in a console that's familiar and easy to use.
Extend your warranty for free when buying direct from Korg UK.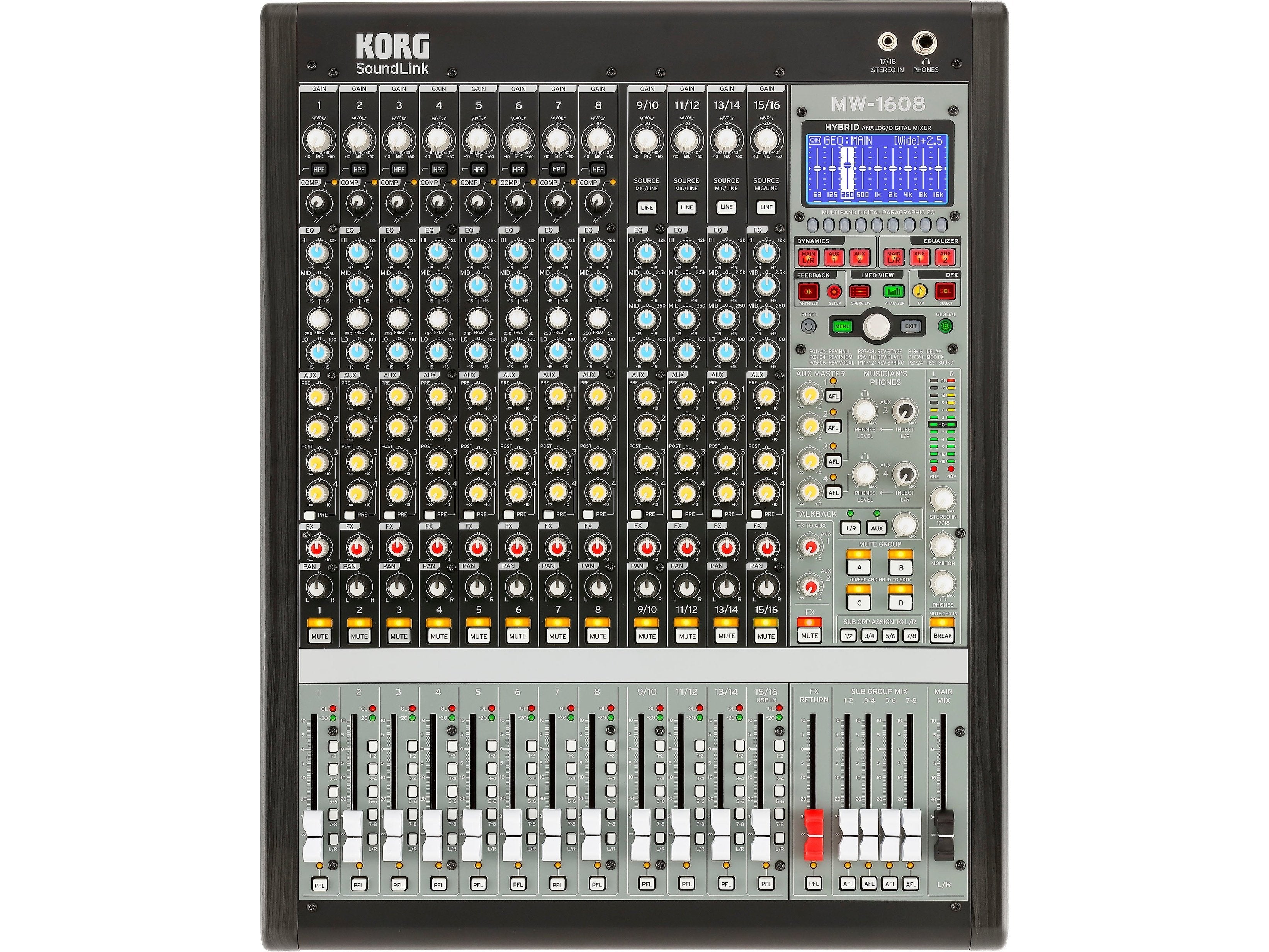 A mixer should not only sound good. It should be very easy to use.
Korg has collaborated with the legendary mixer design team of Greg Mackie and Peter Watts to create hybrid/analogue mixing consoles that make creative mixing easy. Both the 24- and 16-channel models give you instant analogue control for live mixing with stunning sound quality and more musician-friendly features than the competition — paired with the power of high-quality digital where it counts.
Designed in conjunction with mixer design legends Greg Mackie and Peter Watts. SoundLink mixers just look like a conventional 16-channel mixer.
Use a SoundLink and you discover all the typical Greg Mackie features and ideas that make you think "why don't other mixers have that?"; hear your first live mix and discover why Peter Watts helped design legendary Trident consoles and then hundreds of high-end studio processors and preamps. Besides designing mixers, Greg Mackie has been mixing on them for over 40 years. Let's just say, he's picked up a few ideas over that time. Many of which are incorporated into SoundLink.
New HiVolt microphone preamps actually deliver on the usual "low noise, high headroom" mixer claim
When you listen to the "White Album," Rhianna's "Rated R" and "Loud", "Goodbye Yellow Brick Road" and literally hundreds of other familiar albums, you're listening to the legendary Trident mixing console sound. Peter Watts had an important role in Trident technology; he brings the same rich, warm preamp, EQ and dynamics quality to the products he designs today. HiVolt mic preamps give you the most headroom of any comparably-priced analogue or digital mixer (16.5V internal voltage, even on stereo channels where other mixers skimp). They sound warm and musical.
You can tell SoundLink was designed by practical musicians
It's is the only small mixer that has Mute Groups. They let you instantly call up different combinations of channels for various groups on stage, different songs, sound checks, a solo acoustic number, a drum solo or different parts of a church service (choir, praise band, pastor. You get four Group options, each easily programmable and recallable.
Have it their way
Some musicians want to hear more of their own instrument or voice in their in-ear or floor monitor, a process that is complicated to change on other mixers. SoundLink's Musician's Phone feature provides one-knob boost of the complete left/right mix into the musician's individual track. Instead of having to change main mix settings or take up a bus, you have dedicated knobs for two Musician's monitor mixes. A SoundLink exclusive!
Not just effects. Korg effects
Instead of a generic digital effects processor chip, SoundLink mixers use a high-quality proprietary Korg custom chip that builds on all of Korg's multi-decade expertise: twenty four ultra-realistic digital effects. For example, all six reverb effects include an alternate "WARM" version – a touch veteran Korg users will tell you is very useful. Parameters of all effects can be tweaked, saved and recalled, and activated by an optional foot switch. Plus, you get test tone generators for use with the built-in 24-band Spectrum Analyser that's another SoundLink exclusive in a mixer in this price range.
Rack-mount studio-grade DSP you can reach easily
Digital processing and effects are frustrating if they're buried in some long, scrolling menu inside a menu. For EQ and other control features, and a row of individual L/R, AUX 1 and Aux 2 assign buttons for both Equalisation and Dynamics makes mixing easier. SoundLink's Limiter, Compressor, Noise Gate are both effective without being harsh or exaggerated. Each has tweakable, recallable parameters. Coupled with a 31-band Spectrum Analyser, our super-practical 31-band/9-band ParaGraphic EQ solves acoustical problems other small mixers can't handle.
Powerful music software included 
The SoundLink MW 2408/1608 include the powerful RX elements software by iZotope. This advanced software suite is equipped with several tools that will allow you to clean, repair, or even rebalance the mix of any recording, making it the perfect companion software for the SoundLink Mixers .

How to download
Please go to the Korg Bundle Software website and insert the code included in the SoundLink Mixers. This way you will be able to get a specific download code for "iZotope RX 7 Elements". Once you have that download code, go to iZotope's website and use the code to download the software.
* Please note: Technical support for this program is done by iZotope
About iZotope
Founded in 2001, in Cambridge, Massachusetts, iZotope's wide lineup of products is led by "Ozone", the award winning mastering software, and sold and supported by users in more than 50 countries around the world.

Video
Korg Soundlink Mixers Mw2408/1608
Korg Soundlink Mixers with Greg Mackie & Peter Watts
Analog

 

• Input Type: Balanced female XLR and ¼" TRS
• HiVolt Microphone Preamp: -128dBu E.I.N, -10 to -60 dBU nominal input level; 3KΩ input impedance
• Frequency Response to Main Output (at unity gain): +0.5 to -1.5 dBu 20Hz to 20kHz
• THD to Main Output (20-20 kHz, unity gain, unwtd): 0.004%
• S / N Ratio to Main Output (Ref = +4 dB, 20 kHz BW, unity gain, A-wtd): -70 dBu
• System Crosstalk (Ref = +4 dBu, 20 Hz-20 kHz, unwtd): Input to Output, -70 dBu; Adjacent Channels, -90 dBu
• Gain Control Range (± 1 dB): +10dB to +60dB (Mic), -10 to +40dB (Line)
• Main Outputs: Balanced male XLR and ¼" TRS
• Maximum Output Level: +26 dBu
• Output Impedance: 75 Ω
• Headphone Output: 100 mW / ch. @ 32Ω load, 20 Hz-20 kHz (+0.5dB, -1.5dB)

Control

• Savable Settings: Channel Mutes, Effects & effects Mutes, Mute Groups, Break settings, Dynamics, Graphic EQ, Feedback assign to bus
• Recallable Presets: four Mute Groups, 10 Global Scene Memories, 24 FX Memories, 10 Dynamics, 6 GEQ, 16 or 24 Channel Mutes, 3 Feedback bus assignments

Signal Processing

• Mono Channels: HI (12k, shelving), MID (peak, sweepable from 250hz to 5k) and LO (100 Hz, shelving), ±15dB boost/cut;
• Stereo Channels: HI (12k shelving), HI MID (2.5k shelving), LO MID (250 hz shelving) and LO (100Hz shelving) • High Pass Filter: 12dB/octave at 80Hz
• Digital Multi-band EQ: 31-bands with nine frequencies selectable at any one time, Wide 1-octave interval and Narrow ½-octave modes
• Digital Compressor: Hard – 1ms to 40 ms Attack, +11dB to 0dB Threshold; Soft ¬– 1 ms to 40 ms Attack, +11 to -5dB Threshold
• Digital Limiter: 1ms to 40 ms Attack, +19 to +3dB Threshold
• Digital Noise Gate: Hard – 40ms to 1500ms Release, -35 to +7dB Threshold; Soft – 40ms to 1500ms Release, -50 to +4dB Threshold
• Digital Multiband EQ, Compressor, Limiter, and Noise Gate are assignable individually to Main L/R, Aux 1 and Aux 2
• Spectrum Analyzer: 24-channel with Peak Hold function

Digital

• Main L/R Bus ADC Dynamic Range: 115dB (A-wtd)
• Aux and FX Buses ADC Dynamic Range: 111dB (A-wtd)
• DAC Dynamic Range for all Out buses: 115dB (A-wtd)
• USB Stereo Input / Recording Port: USB Class 1
• Internal Processing: 32-bit for internal processing;
• A/D/A Bit Depth: Korg Tru-Bit-Perfect 32-bit
• USB Bit Depth: 24-bit • Sampling rates: 48 kHz, 44.1 kHz
• Digital Effects: Rev Hall, Rev Hall Warm, Room, Warm Room, Rev Vocal, Rev Vocal Warm, Stage, Stage Warm, Plate Reverb, Plate Reverb Warm, Spring Reverb Warm, Analog Delay, Tape Echo, Variable Delay, Delay of the Korg SDD3000, Chorus, Flanger, Exciter, Sub Bass booster, 1 kHZ Test Tone, Slow Sweep, Fast Sweep, White or Pink Noise

Physical

• Power Connector: IEC
• Input-Voltage Range: 100 to 240 VAC, 50/60 Hz
• Power Requirements (continuous): 45 W
• Recommended Ambient Operating Temperature: 0˚ to 40˚ to Celsius /32˚ to 104˚ Fahrenheit
• Dimensions (WxHxD): MW-2408: 18.9" x 7.36" x 20.89" / 480 mm x 187 mm x 530 mm (17.3" / 440 mm wide without side panels, 19" / 483 mm with rack rails); MW-1608: 15.6" x 7.36" x 20.89" / 396 mm x 187 mm x 530 mm (10.6" / 356 mm wide without side panels;)
• Weight: MW-2408: 20.5 lbs / 9.3kg; MW-1608: 17.6 lbs / 8.0kg

MW-001 (sold separately)

Dimensions:
460mm x 32mm x 21mm / 18.1" x 1.25" x 0.82"

Weight:
700g / 1.54 lbs.
All new products are sold with a 2-year manufacturer warranty which is upgraded to 3 years when bought direct from Korg UK.

Certified Refurbished products also come with a one year warranty. 
We offer a 30-day returns period on all products purchased directly from Korg UK.