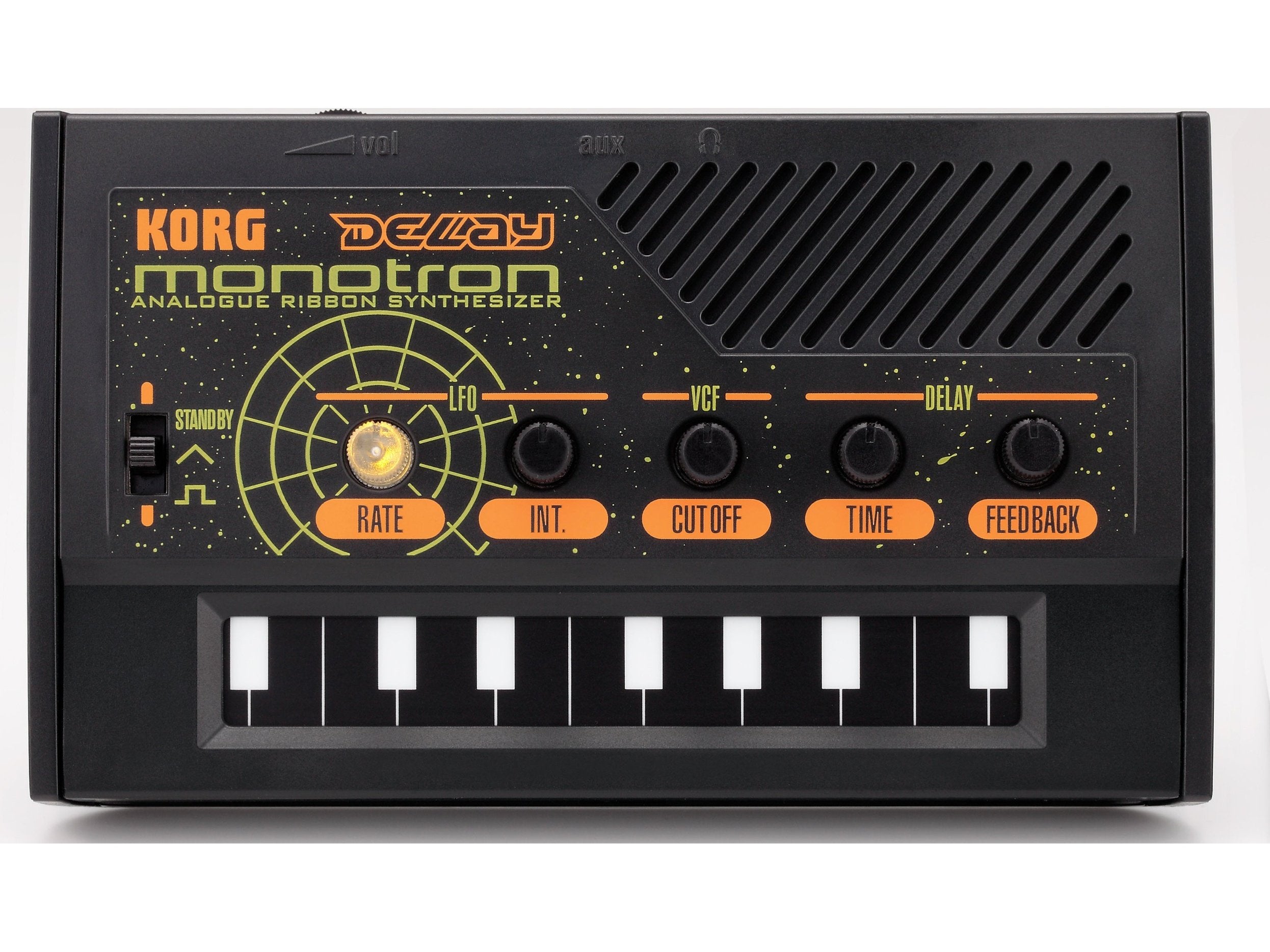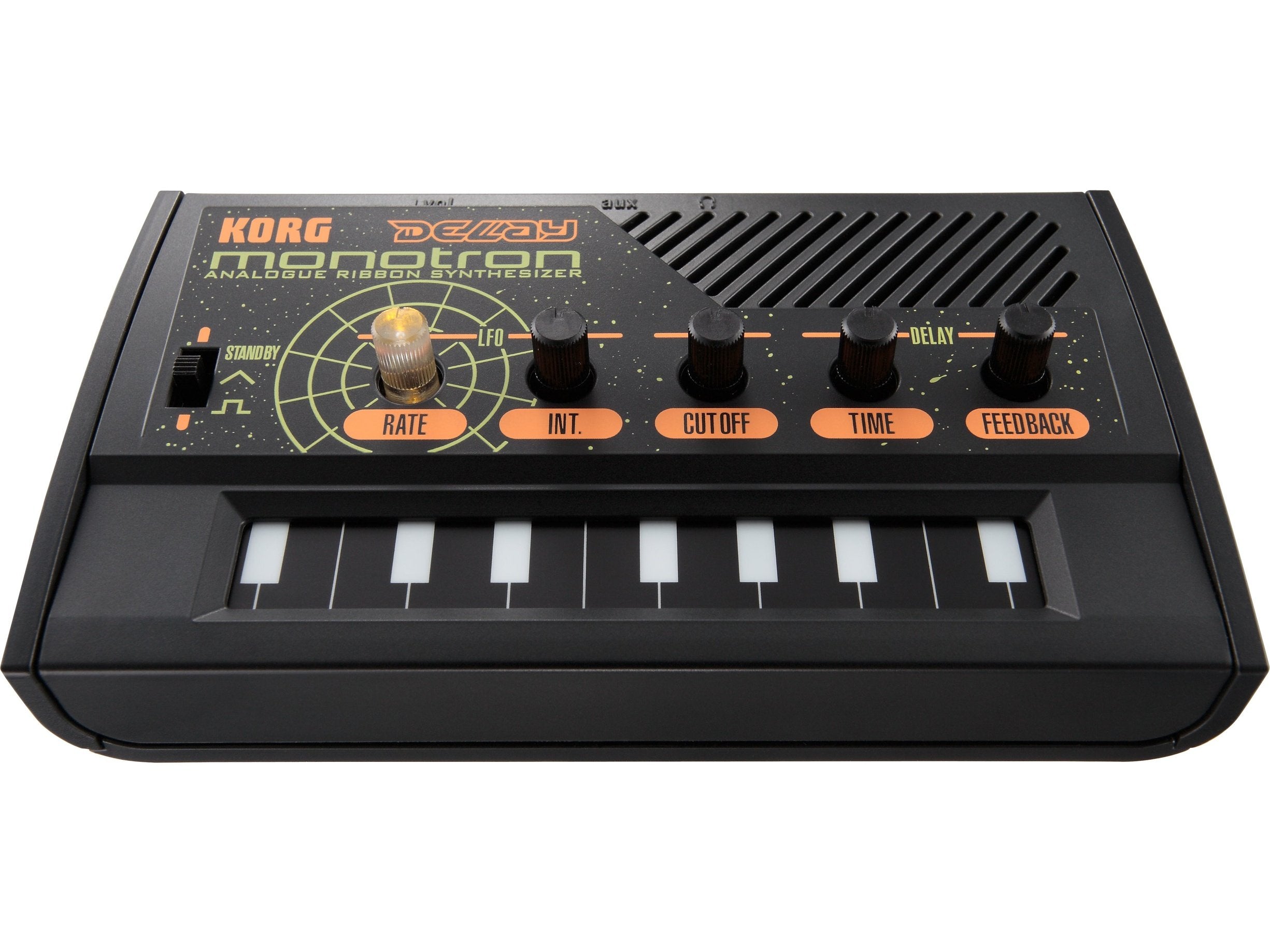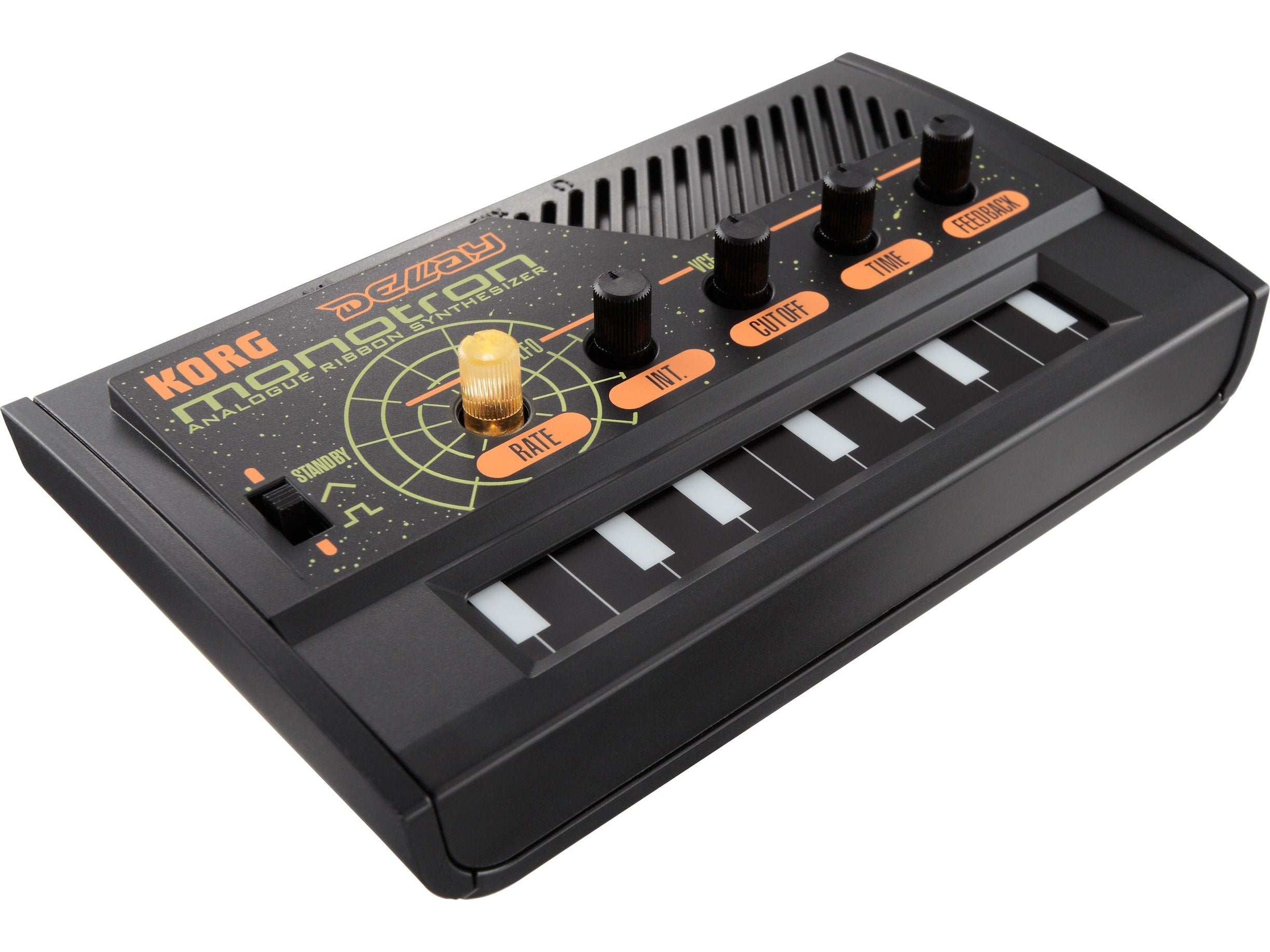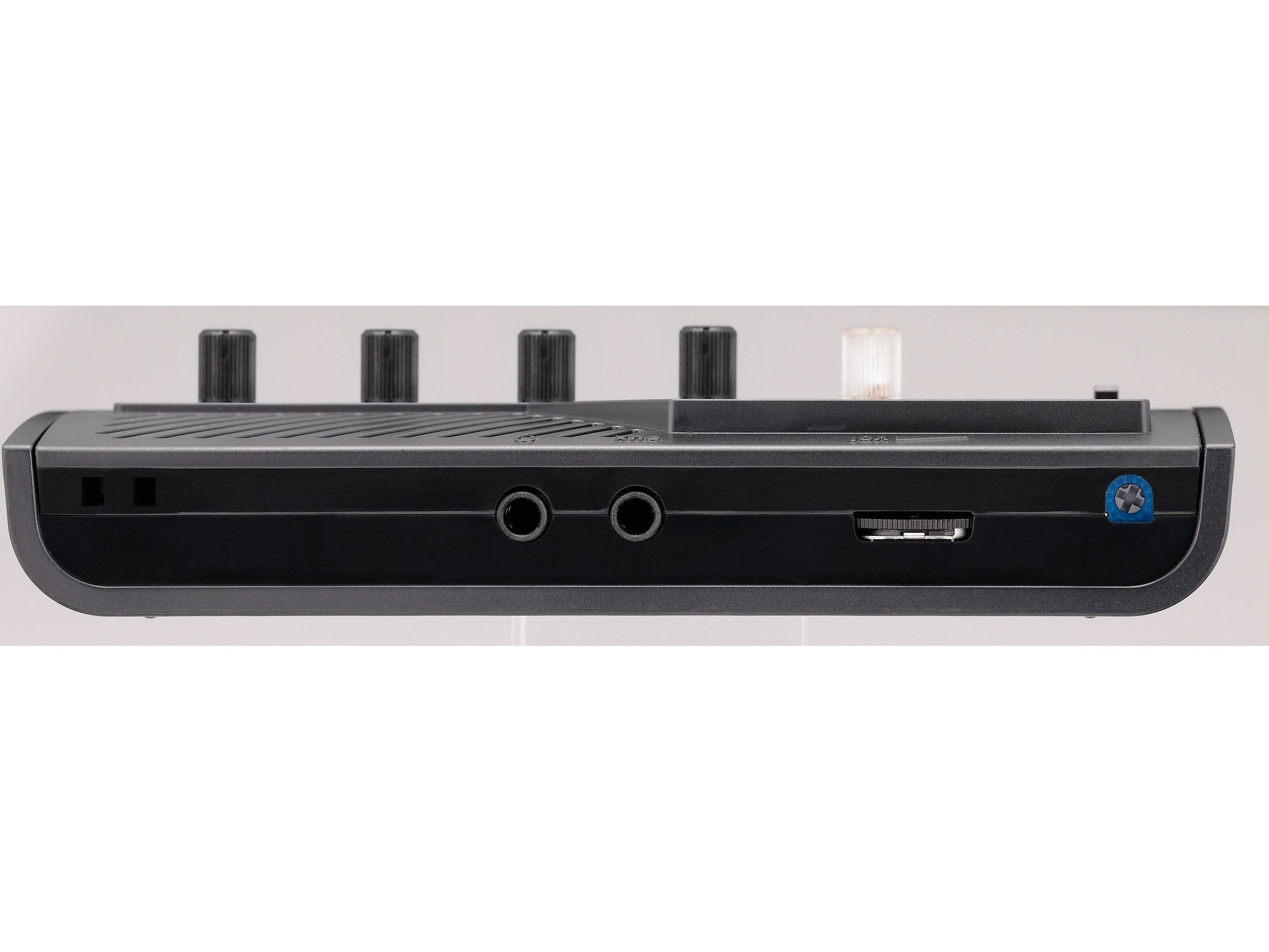 Monotron Delay - Analogue Ribbon Synthesizer
A fully analogue, battery powered, ribbon synthesizer with space delay and LFO that fits in your pocket! With the original MS-20 VCF filter there's plenty of Korg heritage inside, as well as being able to apply that filter and the delay effect to any audio source via the Aux input jack - you really can go anywhere analogue!
Extend your warranty for free when buying direct from Korg UK.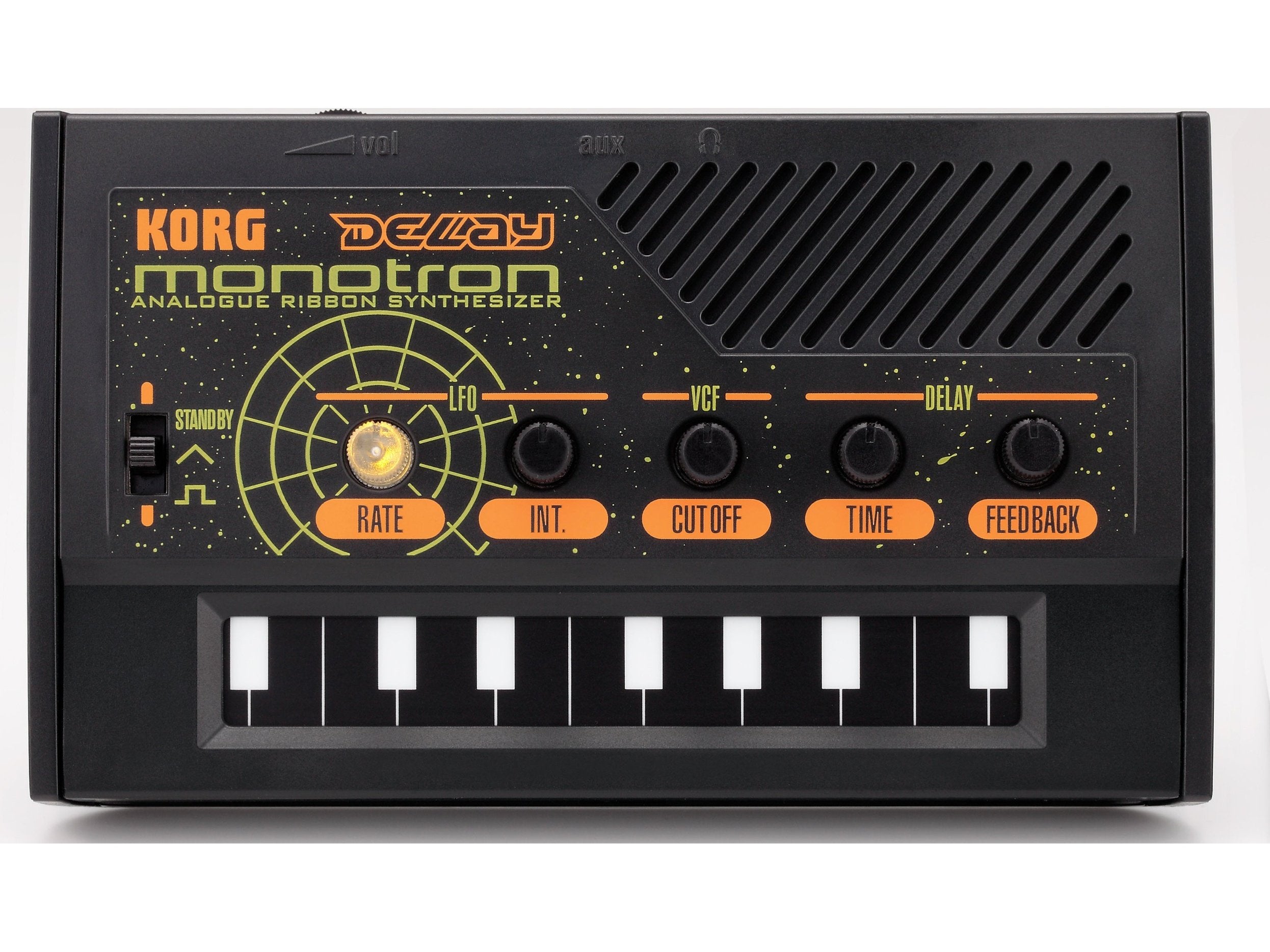 The Monotron Delay features a Space Delay that can produce intense, analogue-like echo effects.
Go Anywhere analogue: That was the theme behind the remarkable battery-powered and palm-sized analogue synthesizer that Korg dubbed the Monotron. Now the powerful and fun-to-play Monotron is joined by two new siblings. Each is played from a ribbon controller keyboard with newly added features. The Monotron's simple operation and ease of use (5 knobs and 1 switch) is alive and well, inviting hours of enjoyment and musical exploration.
Classic analogue Synth / Space Delay Combination

A good delay was an essential part of the classic analogue synthesizer sound. More often than not, that delay came from a tape-style echo machine until affordable digital delays were created. The Monotron Delay is an analogue synthesizer optimised for sound effects. In addition to its analogue oscillator, filter, and LFO, it also provides a Space Delay that's indispensable for swooping, cosmic sounds. The Monotron Delay even reproduces the pitch changes that occur when you vary the delay time, just as though you were using an analogue tape echo. This fat and warm delay will add an authentic edge to your analogue sounds!
Dual-Waveform LFO
The Low Frequency Oscillator (LFO) waveform used to modulate the pitch now offers a choice of waveshapes – a new square wave plus the traditional triangle wave. Both the Rate (Speed) and the Intensity (Depth) can be adjusted independently. In addition, a trimpot on the back panel can continuously adjust the shape/direction of the triangle wave or the pulse-width of the square wave to deliver even more versatility. Used in conjunction with the delay, the LFO can create dazzling effects and provide unique possibilities for embellishing your songs.
Wide-Range Ribbon Keyboard
The Monotron Delay's ribbon controller keyboard features a wide, four-octave range. This design allows the pitch to be controlled even more aggressively and dynamically, making the Monotron Delay a great weapon for a DJ to get the floor moving with irresistible sound. The reversed white keys and body adornments glows under black light illumination, making the Monotron Delay ideal for delivering a striking visual impact in nearly any club environment.
Classic Korg Filtering

The distinctive tone of an analogue filter (VCF) can dramatically alter and enrich the sound. The Monotron Delay uses the same highly acclaimed VCF circuit as Korg's classic MS-10 and MS-20 semi modular synthesizers. Originally released over 30 years ago, these instruments are still coveted today for their aggressive, dynamic filters. The VCF Cutoff knob sets the frequency or tone of the filter; the VCF Peak knob adds emphasis. A powerful filter is an essential aspect of any analogue synthesizer, applying dramatic tonal changes to the sound, and projecting an intense personality that will stand out in any live performance.
Fully-patchable Filter
The input jack (AUX input) built into the Monotron Delay's compact body allow you to place any audio source into the Monotron Delay's signal path, directly before the analogue filter and delay circuit. This provides a great way to connect a Kaossillator, a guitar, or a digital audio player to the Monotron and enjoy tone-bending filter and delay effect
Go Anywhere analogue
A miniature speaker is built into the Monotron Delay. Along with the battery operation and compact size, this feature allows you to enjoy the share the Monotron Delay's analogue synthesis sound with your friends, anywhere, at any time. There's also a headphone output that you can use when practicing in private, creating sounds at home, recording, or for connecting to an amplifier or PA system.
Synthesizer structure

1 VCO, 1 VCF, 1 LFO; DELAY

Switch

Standby / ∆ / Π

Knobs

LFO Rate, LFO Int, VCF Cutoff, DELAY Time, DELAY Feedback

Controller

Ribbon Controller

Volume

Headphone Volume

Aux Input

⅛" Stereo Jack

Headphone Output

⅛" Stereo Jack

Speaker

Miniature Internal; Disabled when headphones are in use

Power Supply

AAA batteries (x2), recommended alkaline batteries

Battery Life

Approximately 8 hours (with alkaline batteries)

Dimensions
(W x D x H)

120 mm x 72 mm x 28 mm / 4.72" x 2.83" x 1.10"

Weight

95g / 3.35 oz. (without batteries)

Accessories

AAA batteries x2 (for verifying operation)

* All products names and specification names are trademarks or registered trademarks of their respective owners.

* Specifications and appearance are subject to change without notice for improvement.
All new products are sold with a 2-year manufacturer warranty which is upgraded to 3 years when bought direct from Korg UK.

Certified Refurbished products also come with a one year warranty. 
We offer a 30-day returns period on all products purchased directly from Korg UK.