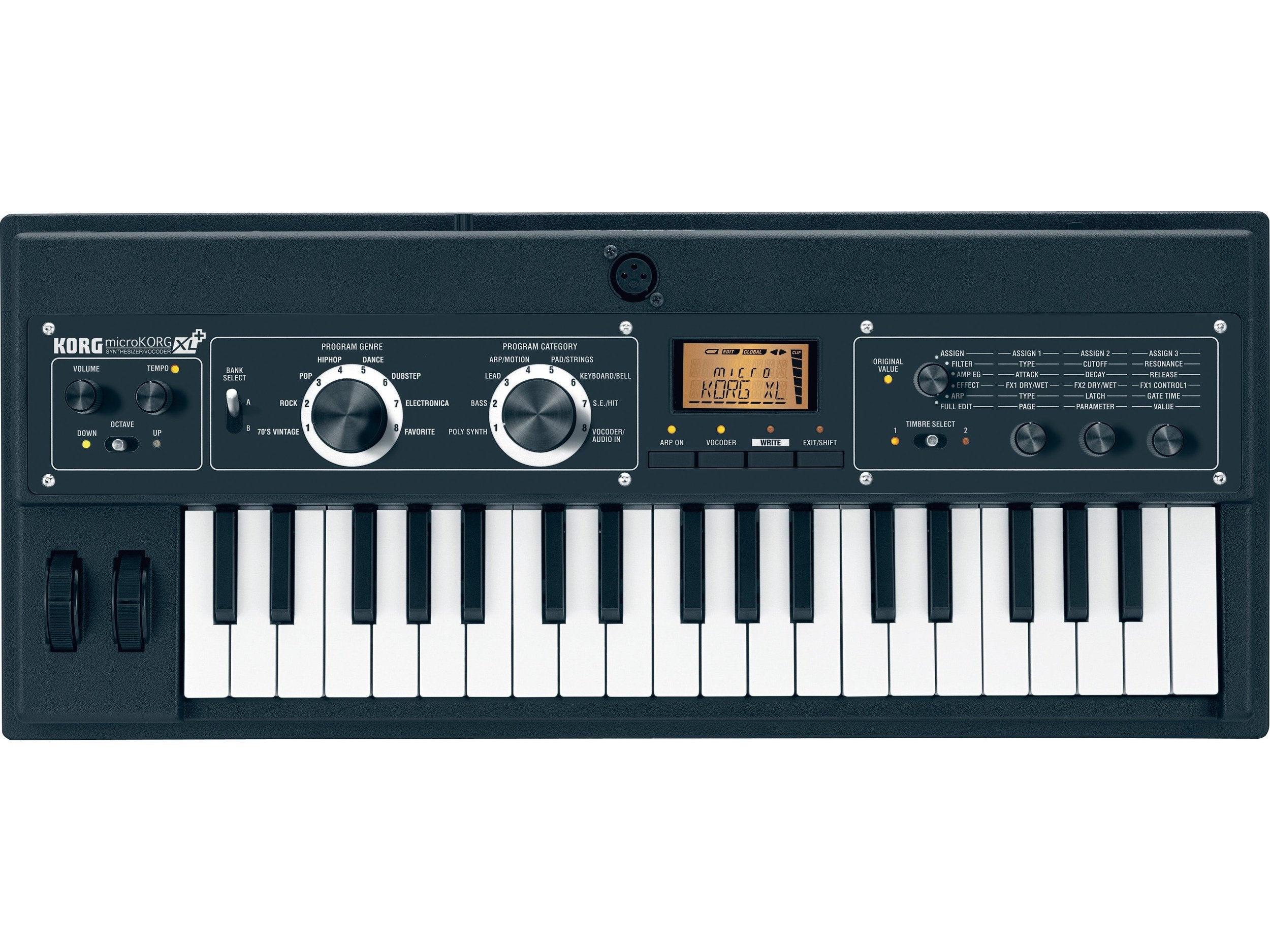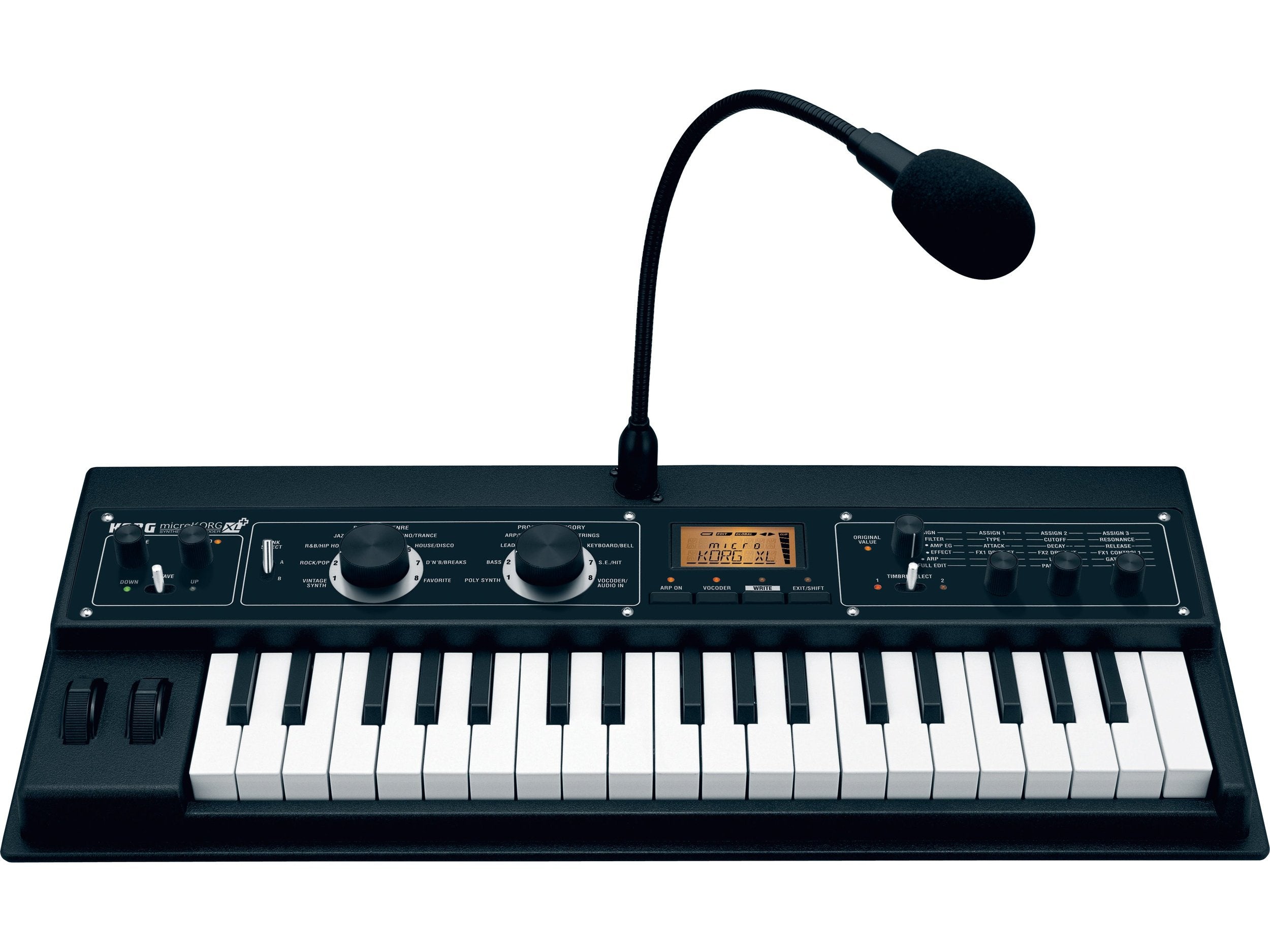 microKORG XL+ Synthesizer/Vocoder
A versatile member of the microKORG family that includes the lush analogue-modelled & vocoder sounds from the classic model and adds staple keyboard sounds such as pianos, EPs, clavs & organs. With a "new vintage" design, improved keyboard, expanded effects section and USB connectivity, the XL+ represents the continued evolution of the microKORG.
Extend your warranty for free when buying direct from Korg UK.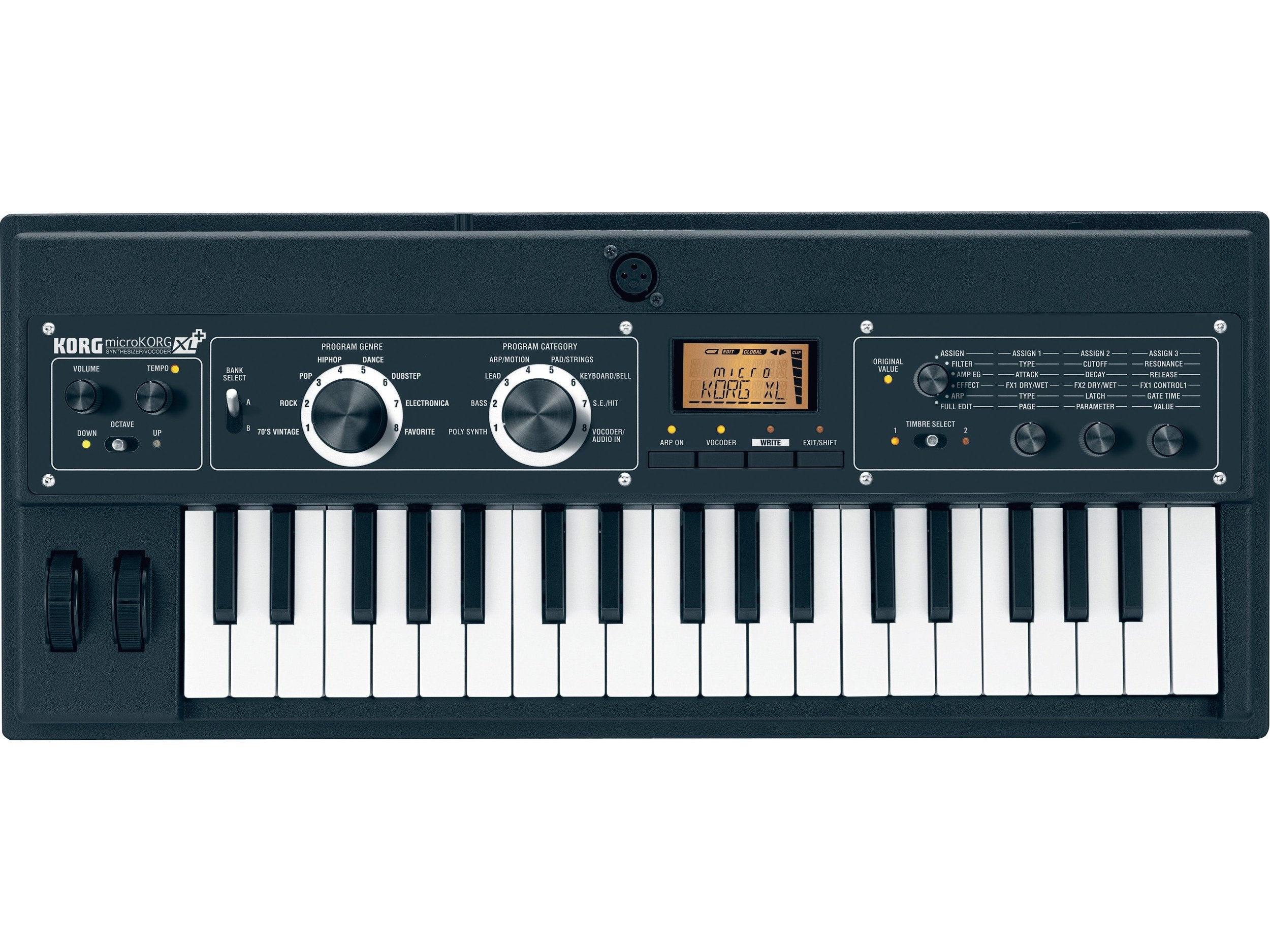 Vintage ... and much more!
With its unmistakably unique exterior and its inimitable sound, the microKORG set the standard for analogue modelling synthesizers. The year 2008 saw the introduction of the microKORG XL, which inherited the microKORG's fat and powerful sounds, while adding keyboard staples such as electric piano and CX-3 organ. And now, in the next evolutionary step, the microKORG XL+ delivers a fresh update to the sounds and look of the microKORG XL, making it an ideal compact keyboard.
More Vintage Sounds than Ever
Lush analogue modelled synthesizer sounds that are characteristic of the microKORG have been freshly added to the microKORG +. In addition, for band use, the microKORG XL+ comes equipped with the piano sound from Korg's classic stage piano, the SGproX (famous for its ability to stand out in your band's mix), as well as its hard-edged grand-type electric piano. This compact package also includes sounds from the M1 and the VOX organ, vintage tape-type string and flute machines, as well as other gorgeous sounds from keyboard history.
Of course, these sounds can be played full-range like the originals that inspired them, either by using the onboard octave switch, or by connecting your choice of any MIDI-capable full-sized keyboard of choice. Each of these 128 programs are genuinely inspiring sounds, giving the microKORG XL+ plenty of variety to serve as your main keyboard or as a secondary keyboard in your rig.
Program genre selector
The microKORG XL featured a sound selector that lets you choose your sound using two large dials: "music genre" and "instrument category."
The new microKORG XL+ has been updated with a new set "music genres" to fit today's evolving music scene. Now you can select a program that matches your song more intuitively than ever.
For even more convenience, you can also leave one of the dials fixed and use the other dial to make program changes during a song (music genre fixed), or use the dial to select Vocoder variations (instrument category fixed).
New Yet Nostalgic - "New Vintage" Design
The microKORG XL+ projects a style that's reminiscent of vintage electric pianos, featuring a futuristic and simultaneously retro design with a stylish black panel and knobs. High-quality parts such as metal levers, dials that move with an audible click, and knobs with a sturdy operating feel are some of the ways that the microKORG XL+ outclasses other instruments in its range and enhances your experience editing synthesizer sounds.
MMT - the distillation of Korg's analogue modelling technology
The microKORG XL+'s sound engine uses MMT (Multiple Modelling Technology), borrowing from Korg's well proven wealth of analogue modelling technology. The MMT sound engine has been featured on numerous products, and provides two oscillators that generate huge powerful sounds.
Oscillator 1 gives you a total of seven types of oscillator algorithm to choose from, including formant waveforms such as human voice, and PCM/DWGS waveforms for vintage keyboard and strings. It also lets you use techniques that cannot be imitated on typical PCM synthesizers, such as cross modulation, unison, and VPM (Variable Phase Modulation).
By taking advantage of modulation (sync or ring) with Oscillator 2, it's easy to create complex and powerful sounds.
Vocoder Function with Included Gooseneck Microphone
The microKORG XL+ can function as a powerful Vocoder that lets you connect a mic and use its audio input to shape the tonal character of the oscillator's sound to create "talking" effects.
The Vocoder consists of a 16-band filter bank that can simulate the Vocoder sounds of the past and also shift the filter frequencies (Format Shift function) or adjust the level and pan of each band to dramatically change the overall sonic character. Using the Vocoder is an easy way to add sounds that can be found in today's popular electronic music.
Since a gooseneck microphone is included, you can immediately start using the Vocoder in your songs.
The Powerful Effect Engine You Expect From Korg
Two master effects utilise the effect engine that was brought to perfection in Korg's Kaoss Pad series, giving you a total of 17 powerful effect types including delay and echo effects as well as dramatic effects such as ring modulator and grain shifter.
In addition, effects such as delay can be synchronised to MIDI clock for a wide range of possibilities in live performance.
Natural Touch Mini-keyboard
The new Natural Touch mini-keyboard offers an even better playing feel than ever before. The proportion of the keys has been adjusted to make chords easier to play, and the touch has been refined for greater ease when playing rapid phrases. The waterfall-type keys project an aura of sophistication, and they also help when playing a glissando.
Battery-powered for Convenient Portability
The microKORG XL+ can take advantage of the included AC adaptor or it can run on six AA alkaline batteries. Checking in at a mere 22 inches long and 4.4 lbs. in weight (main unit only; not including batteries or mic), the microKORG XL+ is a convenient size to take with you, opening up new performance possibilities on the go.
Expanded Sonic Possibilities via USB
By using a USB cable to connect the microKORG XL+ to your computer and using the sound editor software, you can edit all of the parameters easily from your computer. In addition to this software*, you can also download preset program data from the microKORG and the MS2000/MS2000B, and special bonus programs that were made by Korg USA / Korg UK free of charge to gain access to an even larger number of programs.
*Simply download the "Editor / Plug-In Editor" software from www.korg.com or from your local Korg distributor.

*This software is intended for use with the "microKORG XL +" only.

*The Editor / Plug in Editor for the "microKORG XL" will not function correctly with the "microKORG XL+".

== Bonus program made by Korg USA ==

Total = 128 programs
Expanding upon the existing bonus banks for the original microKORG XL, this new set includes sounds which showcase microKORG XL +'s updated PCM sounds. Programs featuring Tape Flutes/Strings, The SG Piano, and VOX organ are all present and ready to use with a quick twist of the dials!

== Bonus program made by Korg UK ==

Total = 128 programs
Venturing into the darker side of the microKORG XL+ sound engine, the Korg UK bonus bank features an exotic mix of new programs and sound effects, including essential Dubstep signature sounds, throbbing basses, gritty lead sounds, analogue drum hits, monotron emulations, classic analogue synths along with a variety of hard hitting sound effects.
The microKORG XL+ as you've never heard it before!

Video
Audio
Tone Generator System

MMT (Multiple Modeling Technology)

Program

Multi Timbral

Maximum 2 (when using Layer, Split, or Multi)

Voice polyphony

Maximum 8 voices (when using Vocoder, it is 4 voices)

Synth

2 oscillators + noise generator

Oscillator 1

Waveform: 8 types (Sawtooth, Pulse, Triangle, Sine, Formant, Noise, DWGS, Audio In), Modulation: Waveform, Cross, Unison, VPM

Oscillator 2

Waveform: 4 types (Sawtooth, Pulse, Triangle, Sine)
Modulation: Ring, Sync, Ring+Sync

Waveshape

Type: Drive, Decimator, HardClip, OctSaw, MultiTri, MultiSin, SubOSCSaw, SubOSCSqu, SubOSCTri, SubOSCSin, LevelBoost,

Multimode Filters

Filter 1: -24 dB/oct LPF ~ -12 dB/oct LPF ~ -12 dB/oct BPF ~ -12 dB/oct HPF ~ Thru, Filter 2: LPF, HPF, BPF (swichable)

Vocoder

16 channel vocoder, adjustable level and pan for each channel, Formant Shift function, Formant Hold function

Keyboard

37 notes (Natural Touch mini-keyboard, velocity sensitive)

Controller

Pitch bend wheel, Modulation Wheel

Effects

Timbre

2 band EQ

Master effect

2 units, 17effect algorisms.

Arpeggiator

Six types: UP, DOWN, ALT1/2, Random, Trigger, Individual step on/off function

Programs

128 programs (A/B banks x 8 genres x 8 category)

Inputs

[AUDIO INPUT 1] (1/4" phone jack, unbalanced, with MIC/LINE switch) – Rear Panel
[AUDIO INPUT 1 (MIC)] (XLR jack / balanced) – Front Panel

Outputs

[L/MONO, R] (1/4" Standard phone jacks / unbalanced)
[Phone] (1/4" Stereo Standard phone jacks)

MIDI

IN, OUT

USB

Type B

Display

Custom LCD

Power Supply

DC 9 V (AC adapter), or six AA alkaline batteries (sold separately)

Battery Life

Approx. four hours (with alkaline batteries)

Dimensions
(W) x (D) x (H)

556 x 231 x 73mm / 21.89" x 9.09" x 2.87"

Weight

2.0 kg/4.41 lbs. (without batteries and included microphone)

Accessories

AC adapter, Gooseneck Microphone,

Optional accessories

SC-micro MSG

Mobile Monitor Amplifier

MMA-130
It provides a DC9V output jack that can provide power to one of a number of Korg instruments like microKORG XL+)
All new products are sold with a 2-year manufacturer warranty which is upgraded to 3 years when bought direct from Korg UK.

Certified Refurbished products also come with a one year warranty. 
We offer a 30-day returns period on all products purchased directly from Korg UK.