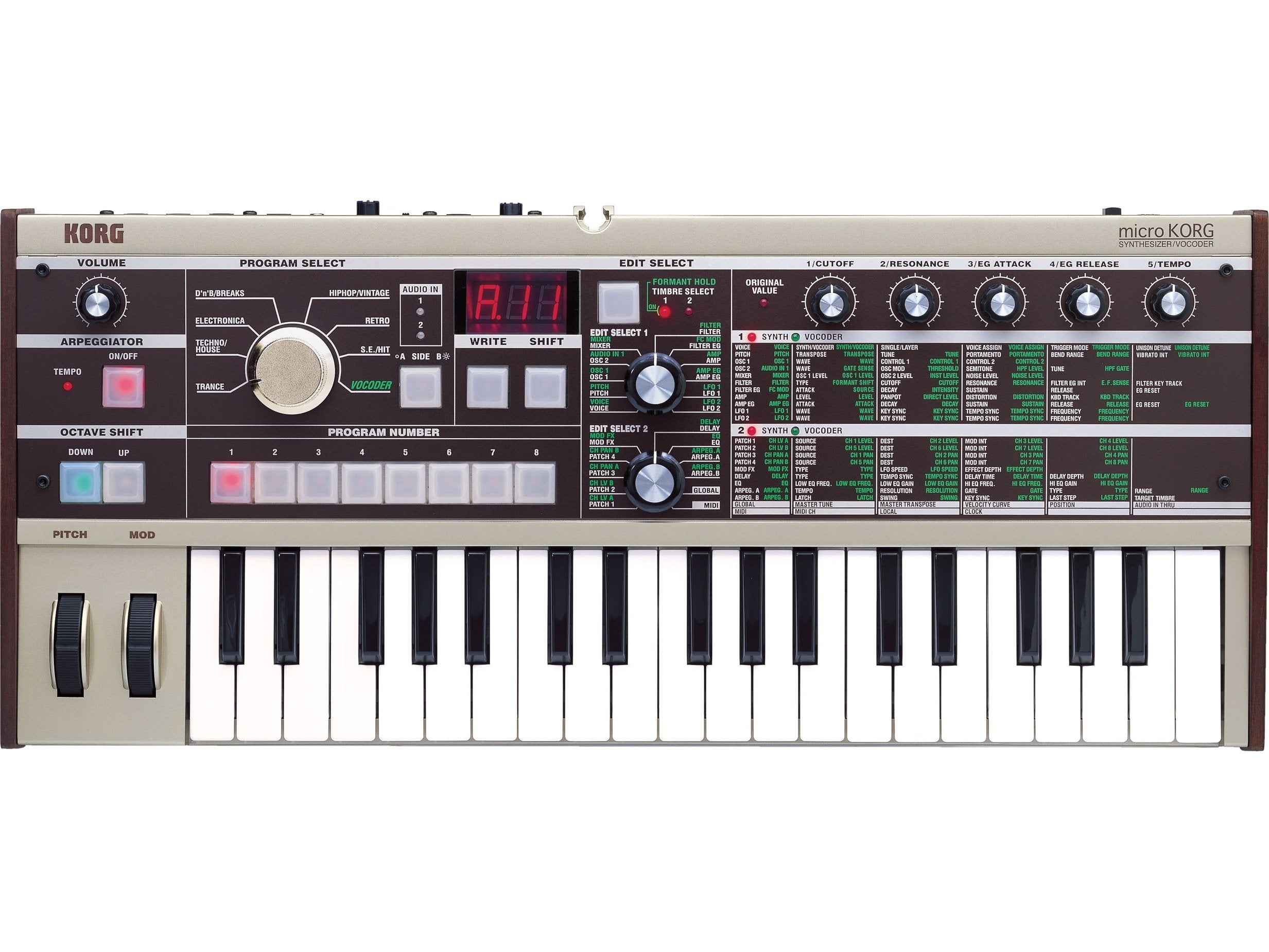 microKORG Synthesizer/Vocoder
One of the most popular synths ever produced, the microKORG is a compact-sized synthesizer and vocoder that punches well above its weight. With a super easy yet powerful control matrix, it delivers a sound and functionality that will satisfy everyone from the beginner to the professional, with the added convenience of battery powered portability!
Extend your warranty for free when buying direct from Korg UK.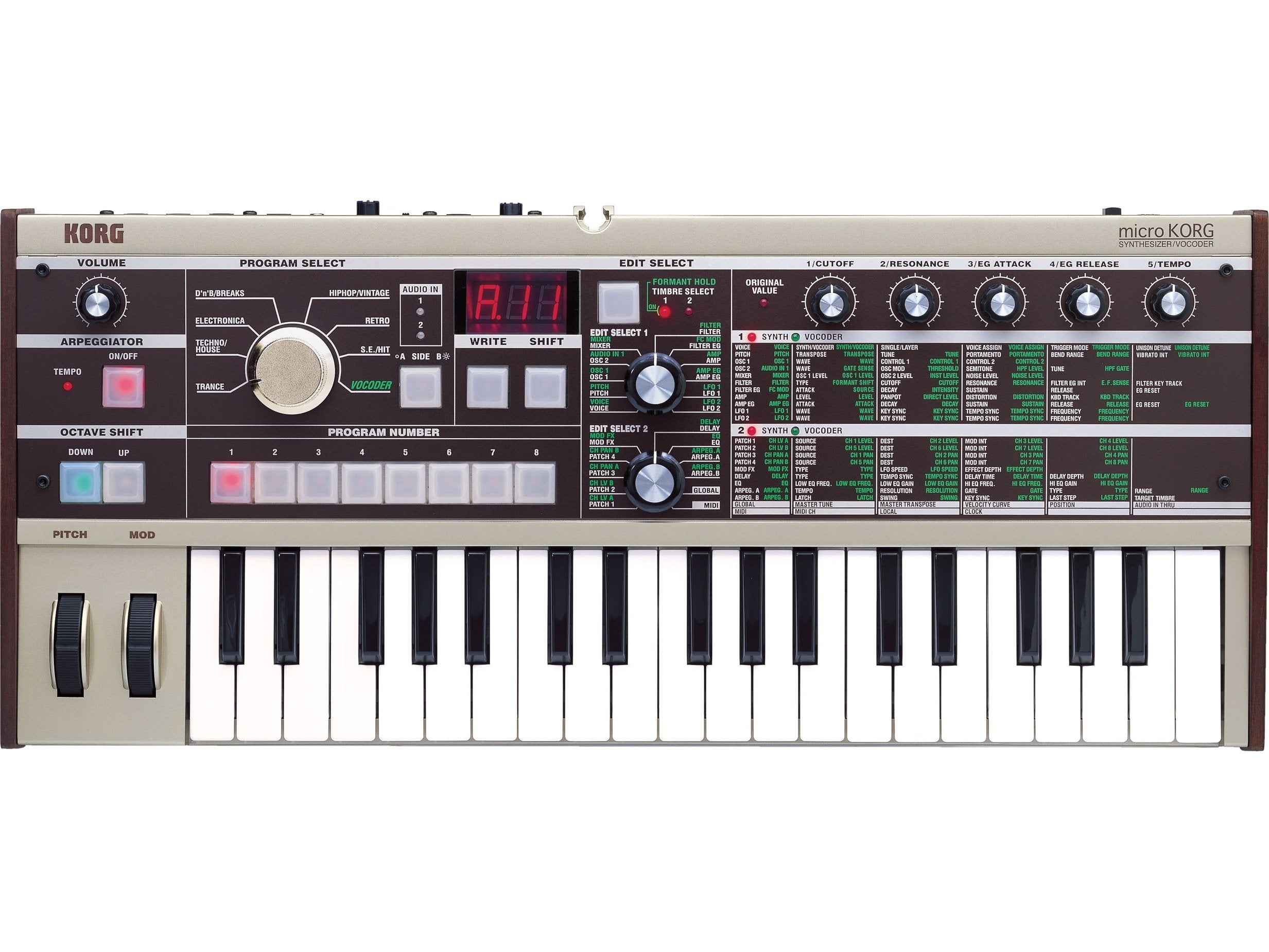 Serious synthesizer and vocoder functionality in a compact package --- the microKORG.
The microKORG is a compact-sized synthesizer that delivers the true enjoyment of synthesis. Underneath its small exterior lurks an amazingly powerful synthesizer. It is fun to play, and it delivers a sound and functionality that will satisfy everyone from the beginner to the professional. Welcome to a world of unlimited creativity.
A bright new colour appears for 15th anniversary of microKORG.
It has been fifteen years since microKORG's release in 2002, and now in 2017, a 15th anniversary platinum-colour model is now available. The stylish operating panel features a bright colour scheme unified by accents such as black wood panels at left and right, making it an exciting colour variation model new to the microKORG.
*A limited number of microKORG PT units will be sold.
All specifications other than colour are identical to the microKORG model.
A true synthesizer with an analogue modelling tone generator
The microKORG is a serious yet compact synthesizer with a strong personality, designed to give you the true enjoyment of creating sounds.
The tone generator features the same DSP analogue modelling system as the MS-2000 – which has been acclaimed by musicians for its warmth and broad range of sounds. Offering a wide selection of waveforms, the microKORG offers powerful filters, envelopes, LFOs, effects and modulation possibilities to help you shape the sounds you want.
You can edit the sound easily and intuitively, simply by selecting parameters and turning knobs. Since it's easy to modify the sound in realtime, the microKORG can play a role in a wide variety of situations ranging from live performance, to recording, to computer control.
Powerful-sounding oscillator section
Each voice of the microKORG consists of two oscillators (OSC1 and OSC2). OSC1 provides basic analogue waveforms such as sawtooth wave, square wave, and sine wave, as well as VOX Wave (human voice formats) and 64 DWGS waveforms from Korg's classic DW-8000 digital synthesizer. This is a total of 71 possible selections, more than any other modeling synthesizer! Many of these waves can be further shaped to produce classic effects like pulse width modulation, FM and other forms of waveshaping. By applying ring- or sync-modulation from OSC2 with its three basic analogue waveforms, you can easily create extremely complex sounds that would be impossible using just a single oscillator. An external audio input can be used to route audio into the microKORG and process it with the filter and effects sections.
Eight oscillator types: Sawtooth wave, square wave, triangle wave, sine wave, Vox wave, DWGS x 64, Noise, Audio In
Knife-sharp filter section
The multi-mode filter of the microKORG lets you choose from two types of low-pass filter (-12 dB/-24 dB), a band-pass, or a high-pass filter. Filter resonance can be adjusted to emphasise a frequency peak, and will self-oscillate if desired. These extremely sharp filters give you the versatility to create any tone from traditional fat sounds to cutting dance sounds.
An amp section with great presence and distortion
The amp section allows you to shape the volume of the sound over time. In addition to adjustable volume and pan, you can switch a powerful distortion on/off. This can be used to add a distinctive "edge" to any sound, letting you produce extremely intense tones.
EG and LFO add subtle tonal movement
The EG (Envelope Generator), which applies time-variant change to the sound parameters, is a classic ADSR design (Attack, Decay, Sustain, and Release), and can also be used as a modulation source. Two types of LFO (Low Frequency Oscillator) are provided, letting you apply cyclic modulation to the sound parameters. High-speed DSP processing ensures that vibrato, wah, and tremolo effects are produced very smoothly.
Virtual patches for even more sophisticated sound-editing
The microKORG provides a virtual patch function which simulates the patching functionality of classic Korg synthesizers of the past such as the PS series and MS series, letting you specify four modulation routings. Each patch consists of a modulation source "SOURCE" [1], a modulation destination "DEST" [2], and a modulation intensity adjustment "MOD INT" [3]. A modulation source or controller such as Filter EG, AMP EG, LFO 1/2, keyboard tracking, or wheel can be freely connected to a parameter such as pitch, cutoff or amp to create more flexible and sophisticated sounds.
microKORG Sound Editor
The microKORG SoundEditor is a software program that allows you to use your computer to edit the various parameters of the microKORG. As you edit, the data is immediately transmitted to the microKORG so you can instantly hear the results of your editing. The computer can graphically display many parameters at one time, making it easy to address all the power of the microKORG's engine. The edited data can be saved in to a file and stored. In this way, the microKORG SoundEditor can be also be used as a librarian for your sounds and settings.
* In order to use the microKORG SoundEditor, you will need a separately sold MIDI interface and MIDI cables to connect the microKORG to the computer.
Versatile and distinctive vocoder
You can connect a mic to the AUDIO IN1 jack of the microKORG, and use it for a powerful vocoder that applies the tonal character of a vocal input to the sound of an oscillator, producing the impression that it is speaking or singing.
This is an eight-band vocoder (the sixteen filters are used in pairs) that can not only simulate the classic vocoder sounds of the past, but also shift the filter frequencies (Formant Shift function) or even adjust the level and panning of each frequency band to dramatically transform the tonal character and create highly original sounds. In addition, the Formant Hold key freezes the formants of the input vocal signal, allowing you to capture your voice and play it on the keyboard. Since the microKORG ships with a microphone, you can start using the powerful vocoder function immediately.
While vocalising into the mic and using the keyboard to play vocoder sounds, you can "freeze" the current tone of the vocoder by pressing the Formant Hold key. This allows you to continue to play the current vocoder sound, even when you are not vocalising. This tone will be remembered when you write the vocoder program to memory. Several of the vocoder bank programs will sound even if you simply play the keyboard. These programs were written with Formant Hold turned on.
128 programs for immediate use
The microKORG contains 128 programs covering a wide range of current and classic synth and vocoder sounds.
From the warm and rounded tones characteristic of analogue modelling, to sharp and extreme sounds, you can easily access the sounds you need, thanks to the clear genre categories that the sounds are organised by.
Just select the music style/sound category you want and pick a sound! Once you select a sound the five knobs will control the most important functions you would want in performance for immediate results.
A full range of effects
The microKORG provides three types of modulation effects (chorus/flanger, phaser, ensemble), three types of delay effects (stereo, cross, L/R), and a two-band equalizer to add the finishing touch to your sound. The delay effect can be synchronised with the arpeggiator or an external MIDI clock, a great feature for live performances and groove- oriented music. All effects can be edited simply by turning knobs to create your own unique sounds.
Freely settable arpeggiator
Six types of arpeggio patterns (UP, DOWN, ALT1/2, Random, Trigger) are built in.
You can adjust the length and resolution of the arpeggiated notes, and switch steps on and off to produce cool patterns easily.
Process an external audio source via the audio inputs
The microKORG provides two external audio input jacks. You can apply filtering or effects to an external sound such as a sampler or other audio source to create truly original sounds.
MIDI controller functionality
The microKORG is perfect for use in a computer-based music production setup. Since the five knobs on the panel can transmit MIDI messages (control changes), they can be used as controllers for software synthesizers.
You can use its 37-note velocity-sensitive mini-keyboard for recording into your sequencer. And of course the microKORG can be used as an external sound module with powerful synthesizer and vocoder functionality. Thanks to its small size and battery-powered operation it's the ideal match for use with portable notebook computer systems.
Controls designed for easy access
With its compact design, the microKORG is easy to carry and set up. There's no complex menu structure --- all parameters are right there on the panel for easy access to any function.
Designed for live performance, all the important controls are large and easy- to-read, even on dimly lit stages.
And by taking advantage of its realtime capabilities, you can make your stage sound even more powerful.
Pop and distinctive looks, and an included mini-mic

With its beige-gold body colour and wooden side panels, and a retro-feeling design that reflects a pop sensibility, the microKORG projects a powerful visual presence.
Included with the microKORG is a miniature condenser mic for use with the vocoder that can be adjusted to the desired angle.
Video
Audio
microKORG Demos
microKORG_USA_Bank
Sound Generation Method

Analog Modeling Synthesis System

Synthesizer Program

Multi Timbral

2 (max, Split/Dual Mode)

Voices

4 voices

Sound Source

2 Oscillator + Noise Generator,
Multi Mode Filter(-24dB/octLPF,-12dB/oct LPF/BPF/HPF)
EG×2
LFO×2
Virtual Patch×4

Vocoder Program

Voices

4 voices

Sound Source

1 Oscillator +Noise Generator
EG×1
LFO×2
8 Channels vocoder
Level and pan of each channel can be edited
Formant Shift function

Programs

128 programs

Effects

Modulation effects (3 types), Delay (3 types), Equalizer

Arpeggiator

6 types

Controllers

Real-Time control knob X 4 (3 level Selection), Arpeggio ON/OFF

Keyboards

37 Keys (mini-keyboard, keyboard has velocity)

Inputs

AUDIO IN 1,2, Level switch LINE/MIC, [AUDIO IN 1, 2 (LINE) ], [AUDIO IN 2 (MIC)]

Outputs

L/MONO, R, Headphones

MIDI

IN, OUT, THRU

Display

3 characters×1 line with 8 segment LED

Power Supply

DC 9 V (AC adapter), or six AA alkaline batteries (sold separately)

Power Consumption

6.4 W (MAX)

Dimensions
(W) x (D) x (H)

524 x 232 x 70mm/20.63" x 9.13" x 2.76"

Weight

2.2 kg/4.85 lbs. (without batteries and included microphone)

Accessories

AC adapter (DC 9 V, 600 mA)
Condenser Microphone

* All product, company, and standard names are trademarks or registered trademarks of their respective holders.
* Appearance and specifications of products are subject to change without notice.
All new products are sold with a 2-year manufacturer warranty which is upgraded to 3 years when bought direct from Korg UK.

Certified Refurbished products also come with a one year warranty. 
We offer a 30-day returns period on all products purchased directly from Korg UK.