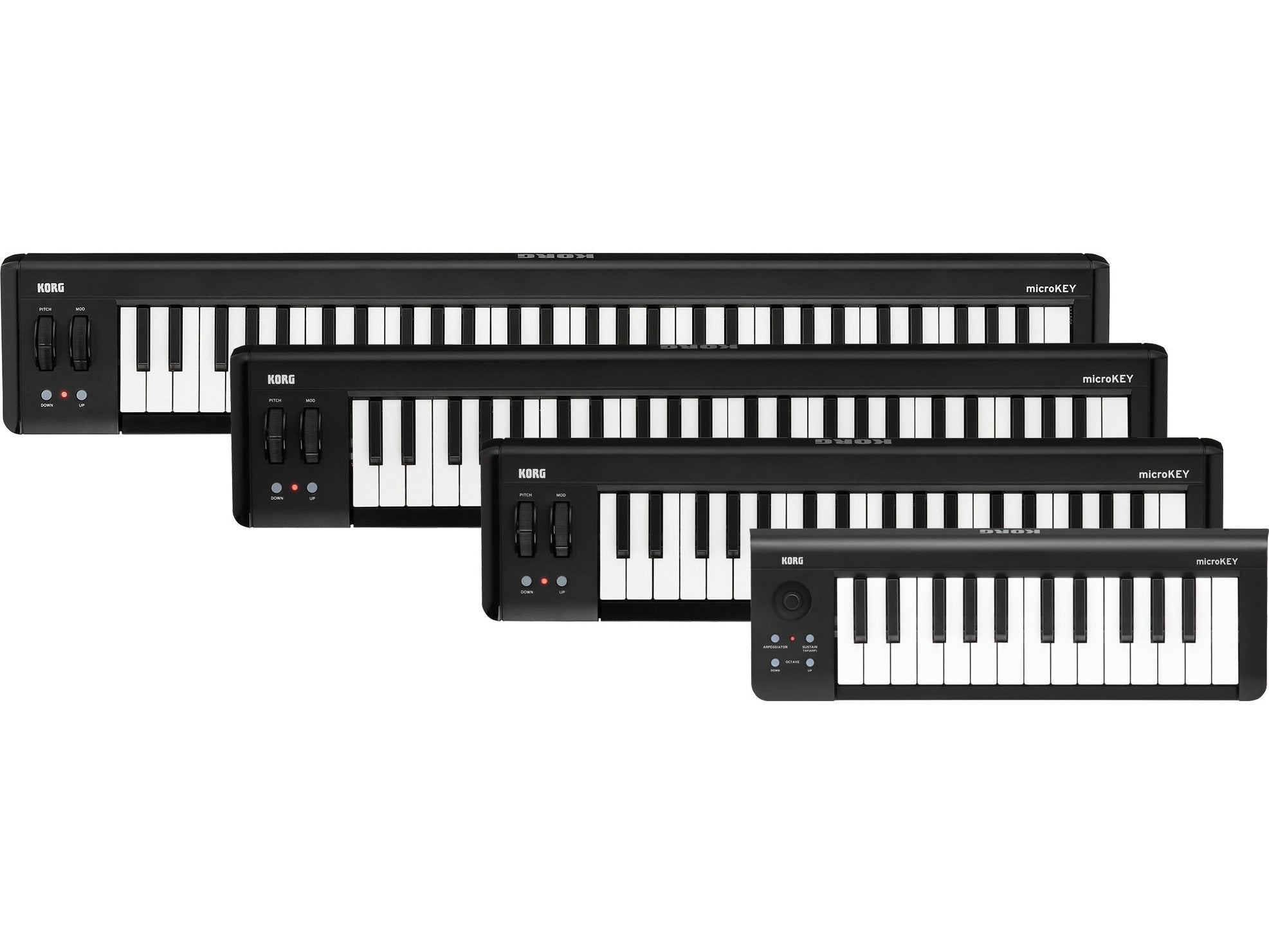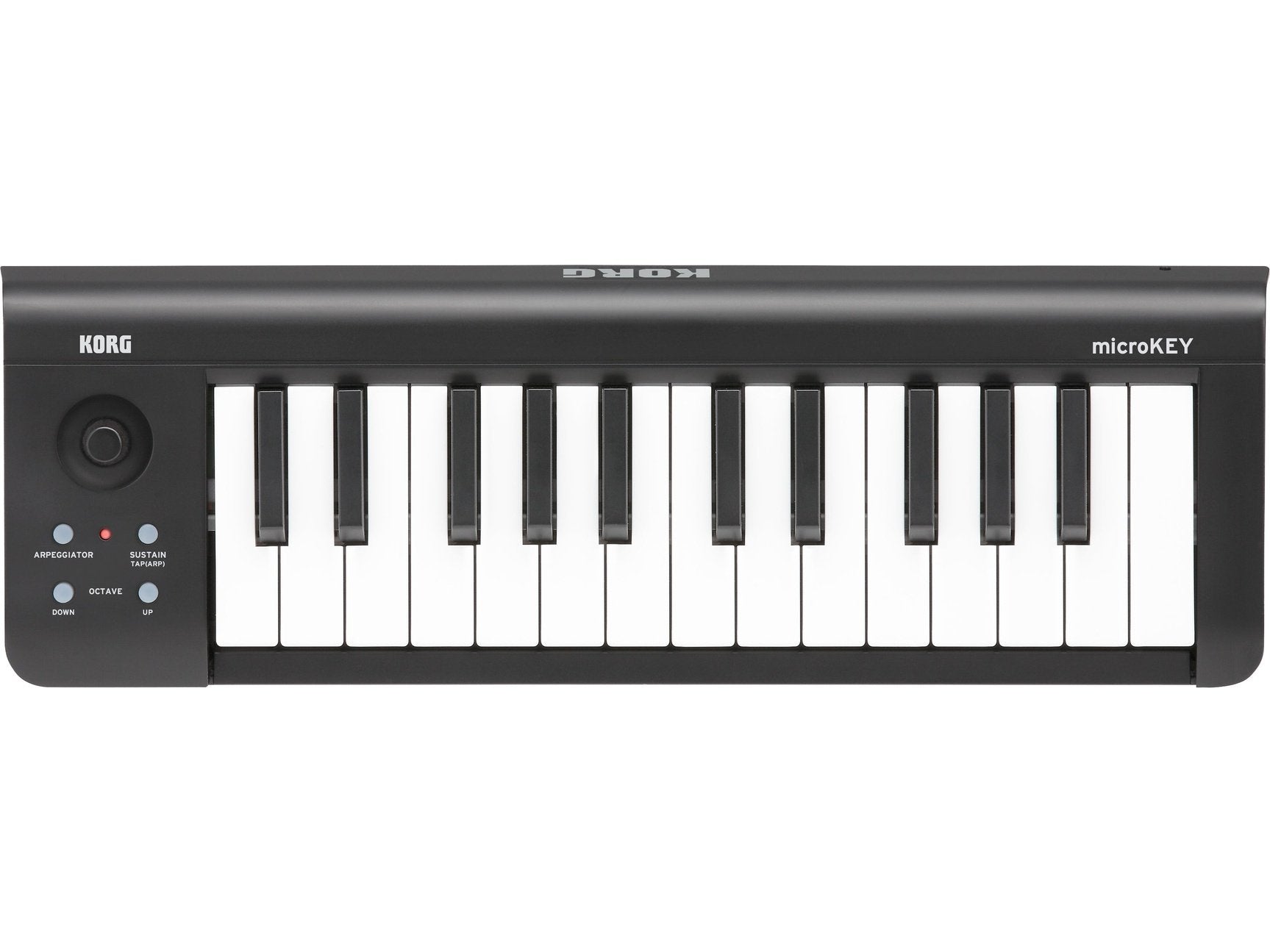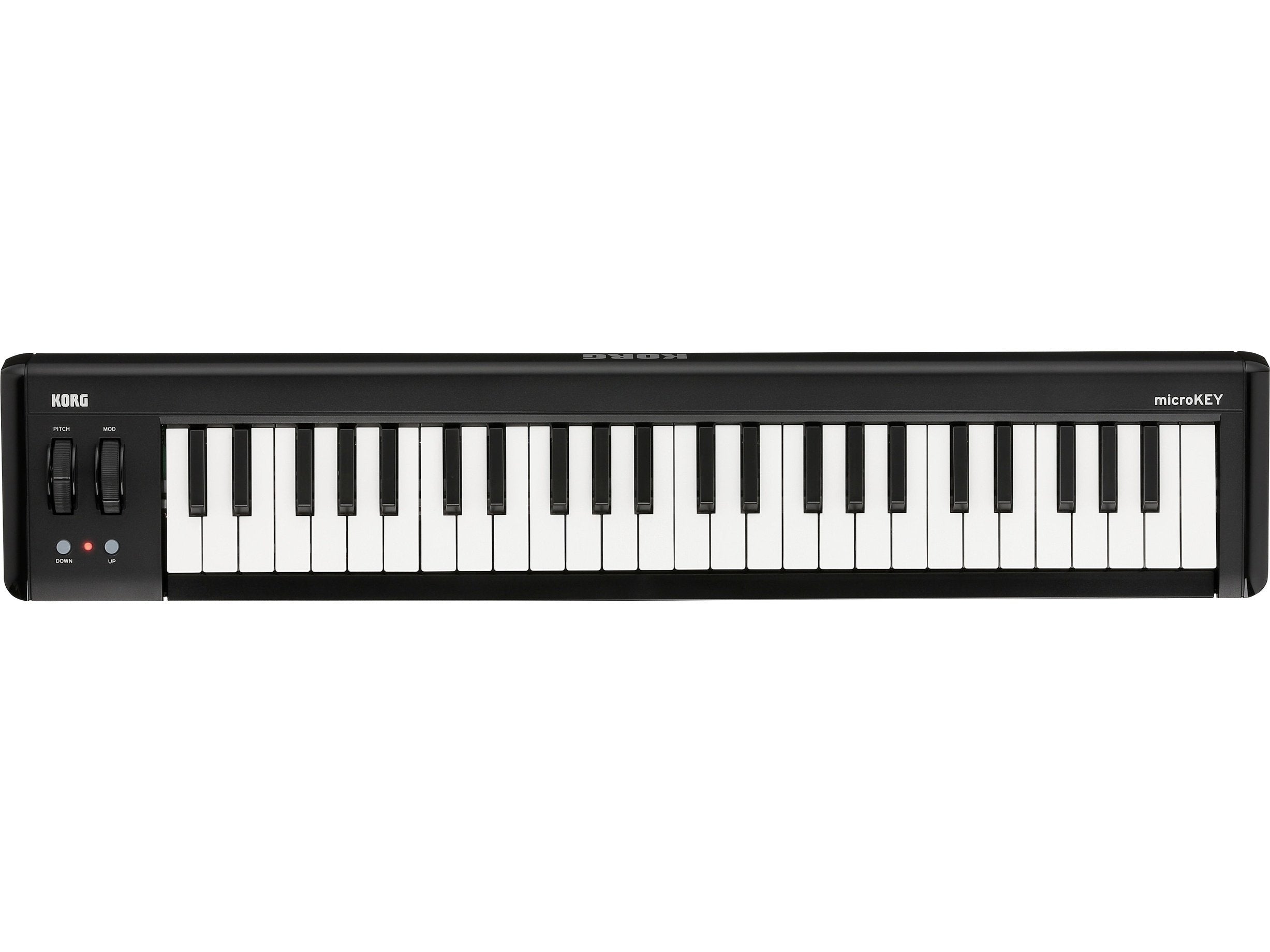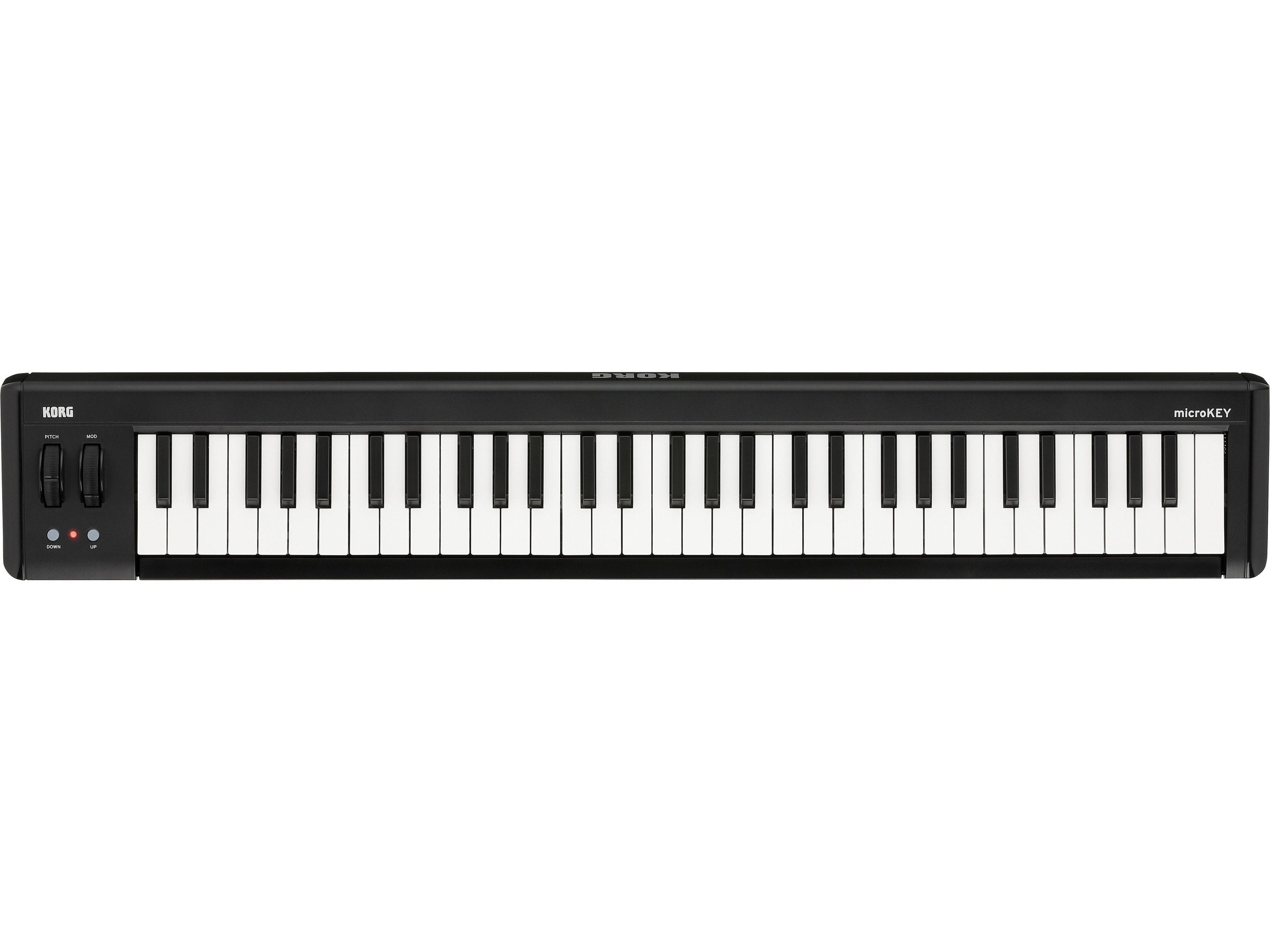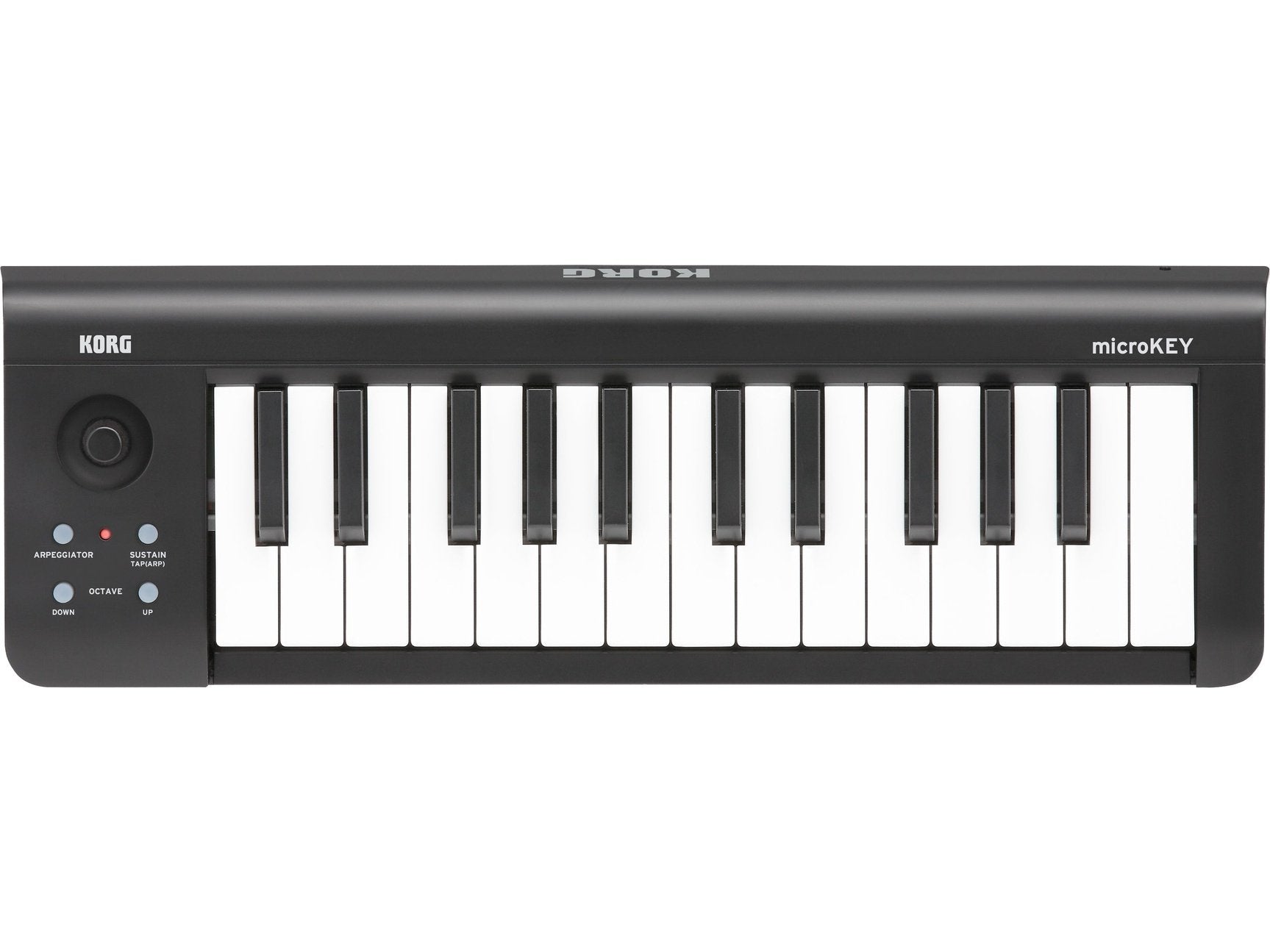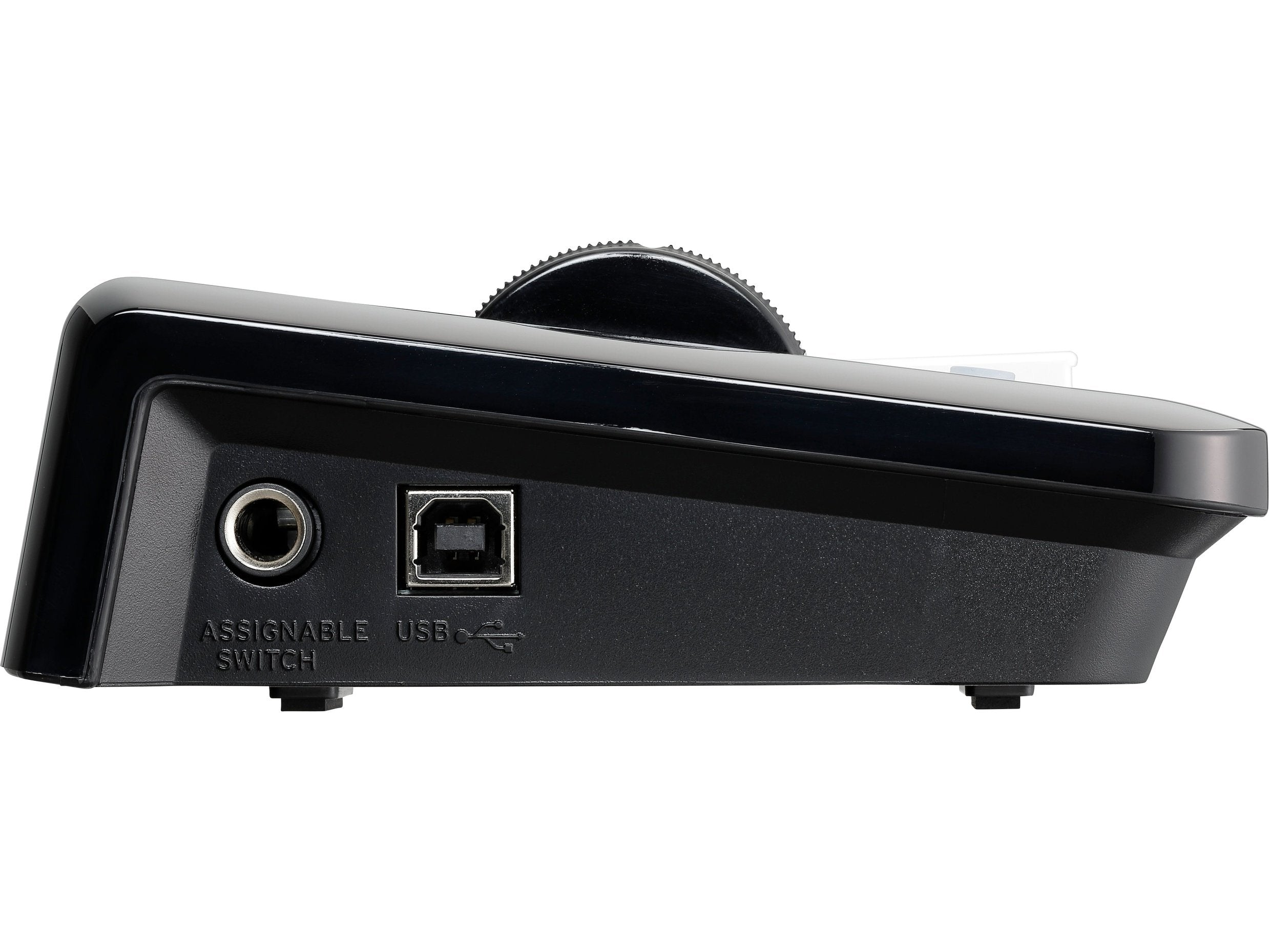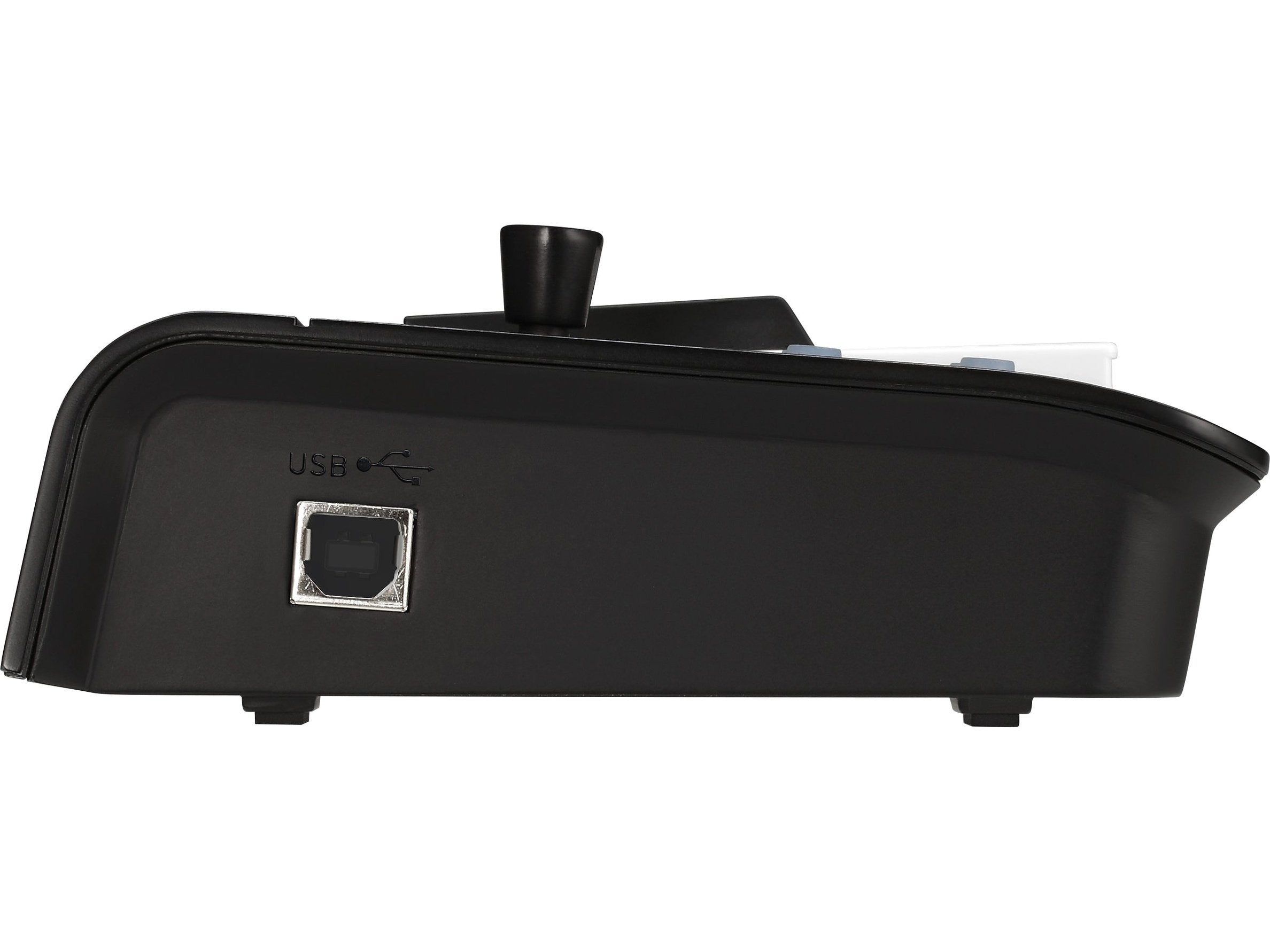 microKEY 2 - MIDI Keyboard
A compact, bus powered, MIDI controller keyboard with pitch bend and modulation wheels and sustain pedal input. Connect via USB and start creating music with the amazing free suite of software that's included! Ideal for home studios or mobile music making.
Extend your warranty for free when buying direct from Korg UK.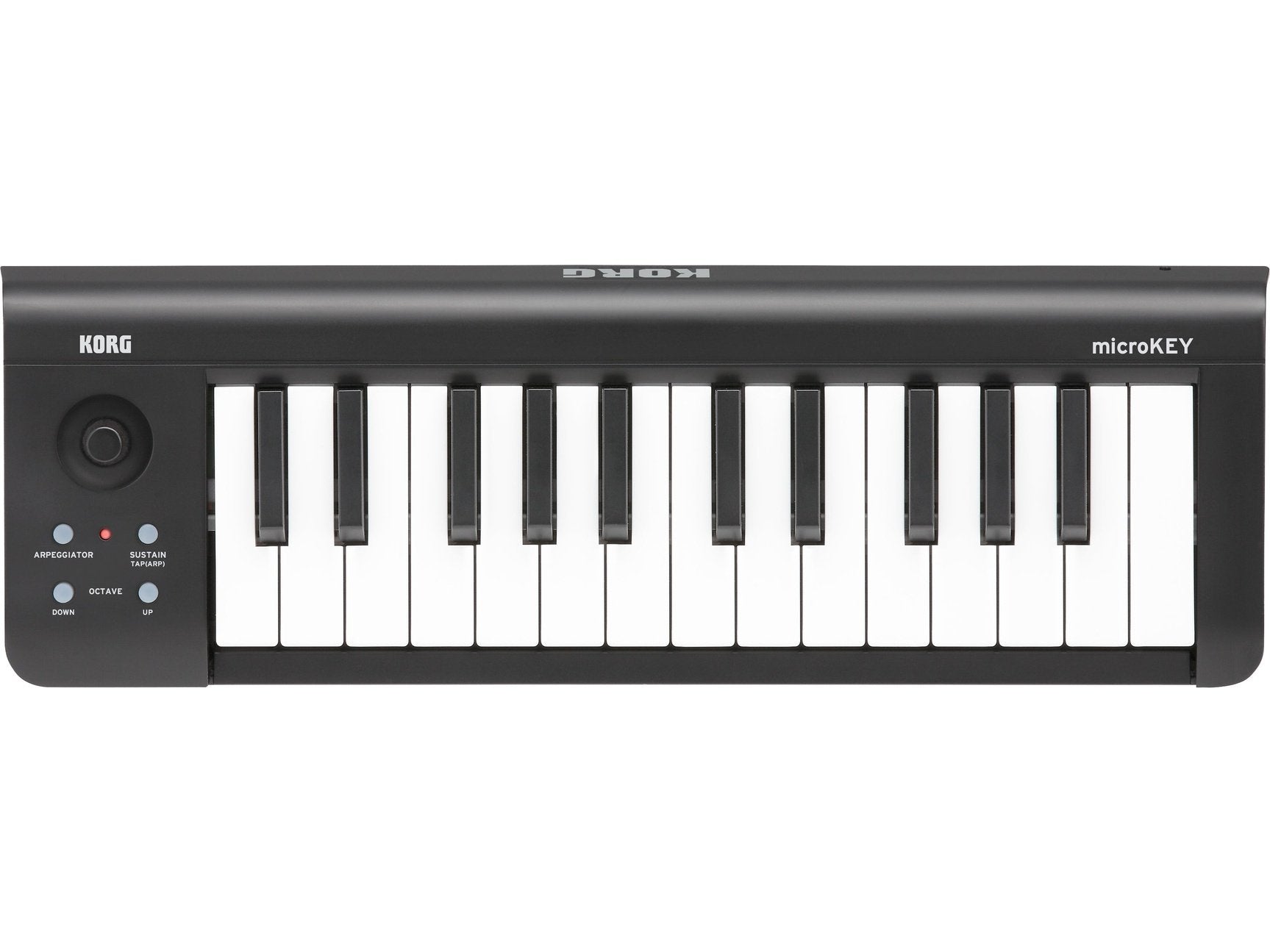 Control that's conveniently simplified
With all of the endless options, configurations, and choices that modern technology offers musicians today, in the end, the simplest solution is often the best solution.
An uncomplicated, straightforward design, compact size, and easy connectivity made the first-generation microKEY series a bestseller.
Our second-generation microKEY lineup retains those attributes and adds iPad and iPhone support*, plus a damper pedal jack for improved playability. We've also added a 49-key model, for the player who needs a few more keys in a still-compact format.
In all, the microKEY series has evolved to become even more convenient and versatile, making it an ideal choice for first-time and more established players alike. Whether you're producing in the studio, or creating on the go, the microKEY will give you exactly what you need – and nothing you don't.
* Via the Apple Lightning - USB camera adaptor – sold separately.
Compact and playable Natural Touch Mini Keyboard
Korg's Natural Touch mini keyboard has been carefully designed to assure playability while staying compact, and makes it easy to play chords or rapid phrases. Choose between a 25, 37, 49 or 61-key configuration to suit your specific playing style and space/travel requirements.
Connect with a single USB cable*; supports Mac, Win, iPad, and iPhone
Since the microKEY is USB bus-powered, you only need a single USB cable to connect it to Mac or Windows. There's no need to install a driver; just use your preferred music software (or install any of the applications provided with microKEY), connect it to your computer and start playing right away! The second generation of microKEY now supports easy connection to iPad and iPhone. Add an Apple Lightning - USB camera adaptor and one USB cable and your setup is complete, allowing you to access apps such as Korg Gadget, Korg Module, and GarageBand.

* For connection to the iPad/iPhone, use the Apple Lightning - USB camera adaptor.
Connect a pedal, and enjoy full control functionality
The 37, 49, and 61-key models provide an assignable switch jack for connecting a damper pedal. The 25-key model provides a sustain button that implements the damper function.
On all models, you can use the octave buttons in conjunction with the key transpose function to play MIDI's entire range of notes. The 37, 49, and 61-key models provide pitch bend and modulation wheels.
The 25-key model provides a joystick that can also control pitch bend and modulation, as well as an arpeggiator function, giving you full control in spite of this model's space-saving dimensions, and providing a wealth of performance expression.
Lavish array of powerful music software bundled free of charge
With microKEY you won't have to purchase additional software; you can start creating music right away.
The microKEY comes with a serious collection of powerful music software titles including special editions of the award winning and hugely popular Korg Gadget and Korg Module plus the M1 Le (from the Korg Collection) which includes a plug-in version of the legendary best-selling Korg M1 synthesizer.
You can upgrade at a special price (US $149) from this M1 Le to the "Korg Collection - Special Bundle."
* The Korg Collection Special Bundle contains the following classic software titles: the ARP ODYSSEY duophonic synthesizer, the MS-20 analogue monophonic synthesizer, the Polysix polyphonic synthesizer, the all-embracing Mono/Poly analogue synthesizer, the M1 which was the original music workstation, the Wavestation digital synthesizer, and the MDE-X effect plug-in.
Dedicated editor software "Korg Kontrol Editor" is provided
By using the dedicated Korg Kontrol Editor for Mac/Windows you can customise the keyboard to your preferences, including fine adjustments to the velocity curve.
Video
Keyboard

Natural Touch mini-keyboard
microKEY-25: 25
microKEY-37: 37
microKEY-49: 49
microKEY-61: 61

Controllers

microKEY-25: Joystick, arpeggiator button, Sustain / TAP button, Octave Shift buttons microKEY-37/49/61: Pitch bend wheel, Modulation wheel, Octave Shift buttons

Octave Shift

microKEY-25/37: -4 – +4
microKEY-49/61: -3 – +3

Connections

microKEY-25: USB Type B (x1)
microKEY-37/49/61: Assignable switch jack, USB Type B (x1)

Power Supply

USB bus power

Power Consumption

Less than 100mA

Dimensions
(W x D x H)

microKEY-25: 395 x 131 x 52 mm/15.55" x 5.16" x 2.05"
microKEY-37: 565 x 139 x 54 mm/22.24" x 5.47" x 2.13"
microKEY-49: 709 x 139 x 54 mm/27.91" x 5.47" x 2.13"
microKEY-61: 850 x 139 x 54 mm/33.46" x 5.47" x 2.13"

Weight

microKEY-25: 0.65 Kg / 1.43 lbs.
microKEY-37: 1.0 kg / 2.21 lbs.
microKEY-49: 1.4 kg / 2.21 lbs.
microKEY-61: 1.71 kg / 3.77 lbs.

Included Items

USB cable, KORG Software Bundle code

System Requirements

Windows

Microsoft Windows 7 SP1 or Later (32bit/64bit)

Mac OS

Mac OS 10.8 Mountain Lion or later

iOS

iOS8 or later

| | |
| --- | --- |
| * | We do not guarantee that the unit will work with every computer that meets these requirements |
| * | All product, company, and standard names are trademarks or registered trademarks of their respective holders. |
| * | Appearance and specifications of products are subject to change without notice. |
| * | We have detected some power supply issues occurring when using a USB-C to USB adapter on Mac's Thunderbolt3 ports. |
All new products are sold with a 2-year manufacturer warranty which is upgraded to 3 years when bought direct from Korg UK.

Certified Refurbished products also come with a one year warranty. 
We offer a 30-day returns period on all products purchased directly from Korg UK.