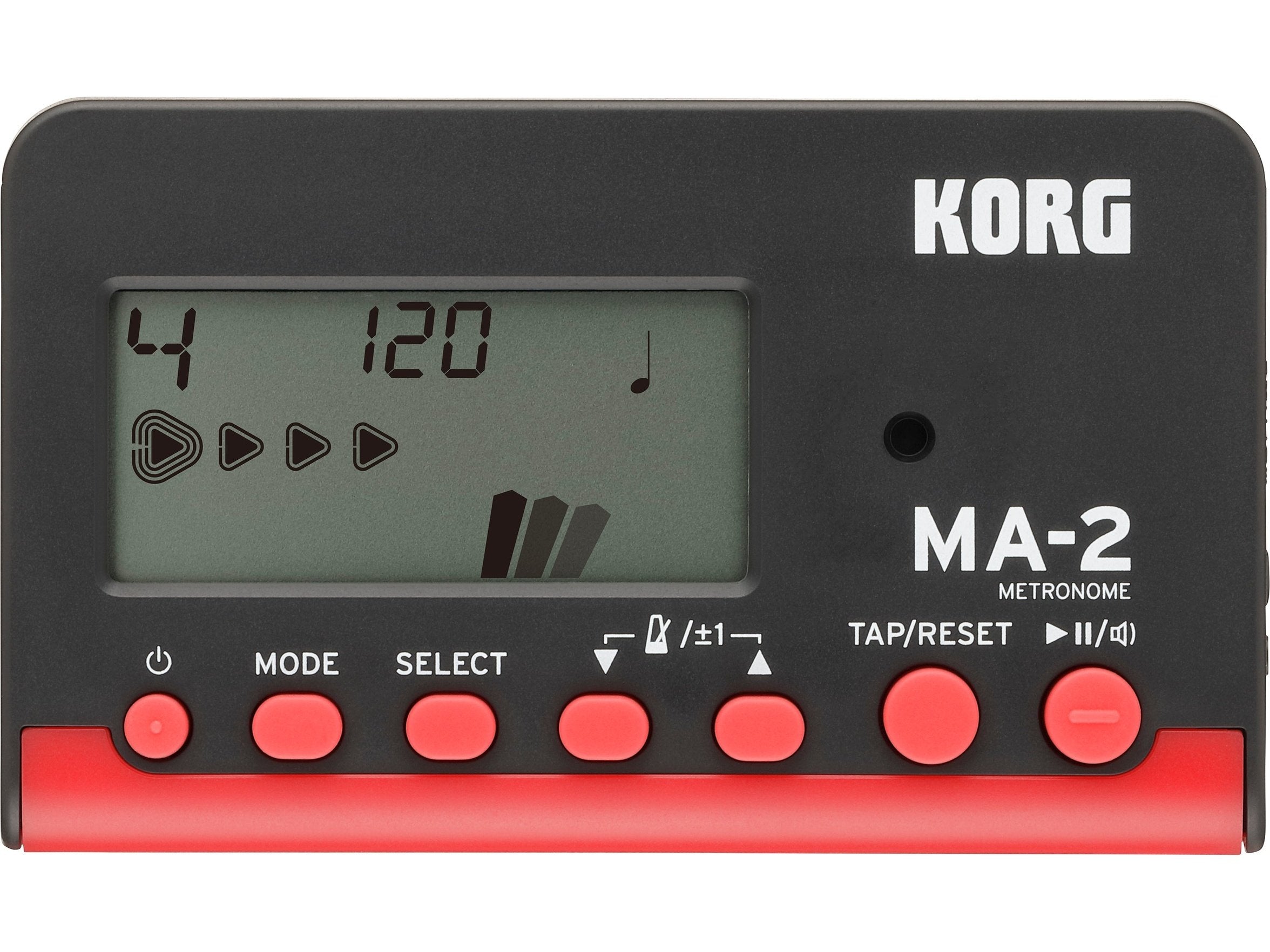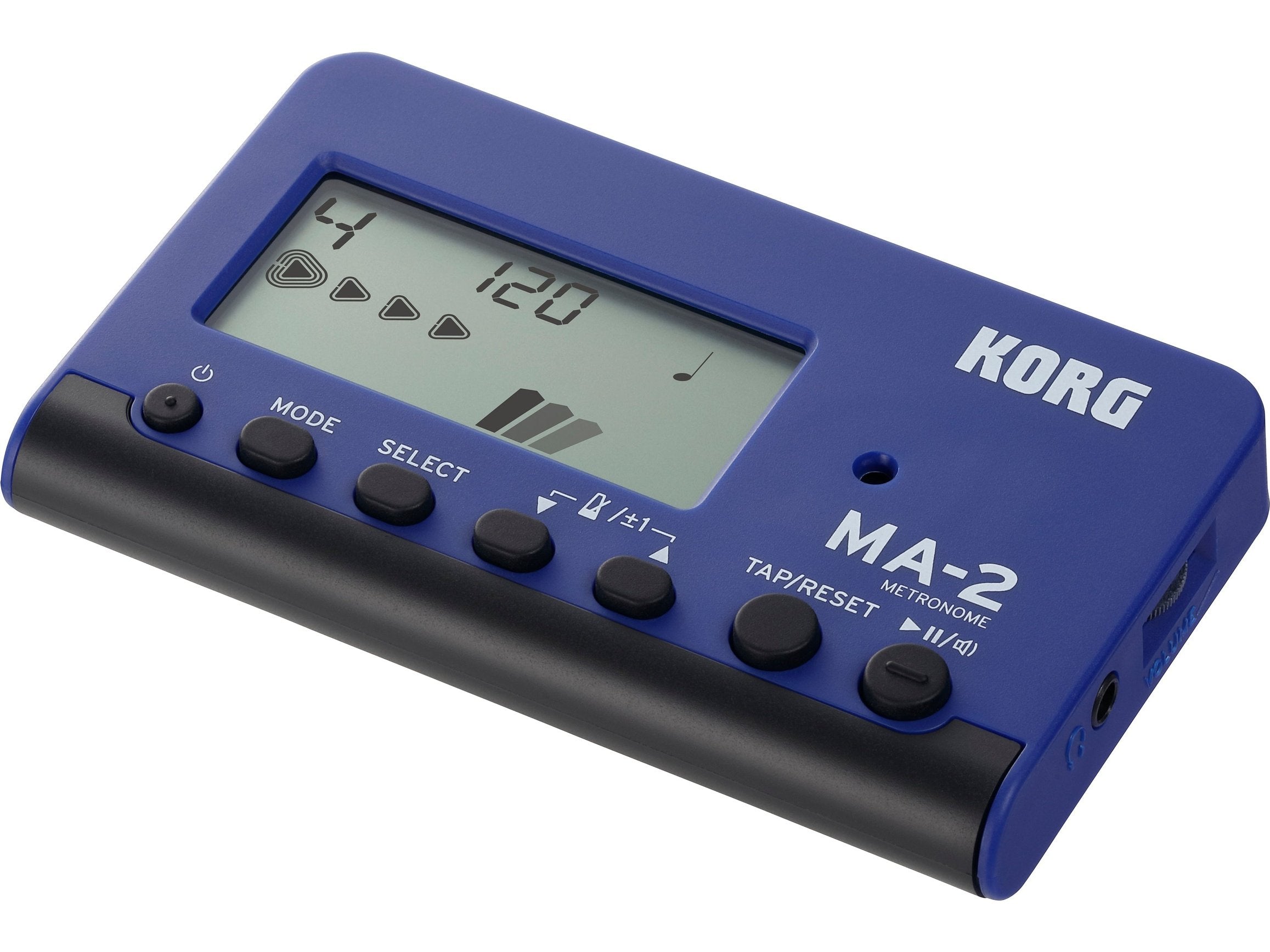 MA-2 Compact Metronome
A multi-function digital metronome with enhanced display and 2 types of tempo step, over ten different rhythms in a number of different time signatures and useful tap-tempo button for easy tempo detection. MA-2's features are packed into a slimline body with over 400 hours of battery use making this an essential tool for players of all levels.
Extend your warranty for free when buying direct from Korg UK.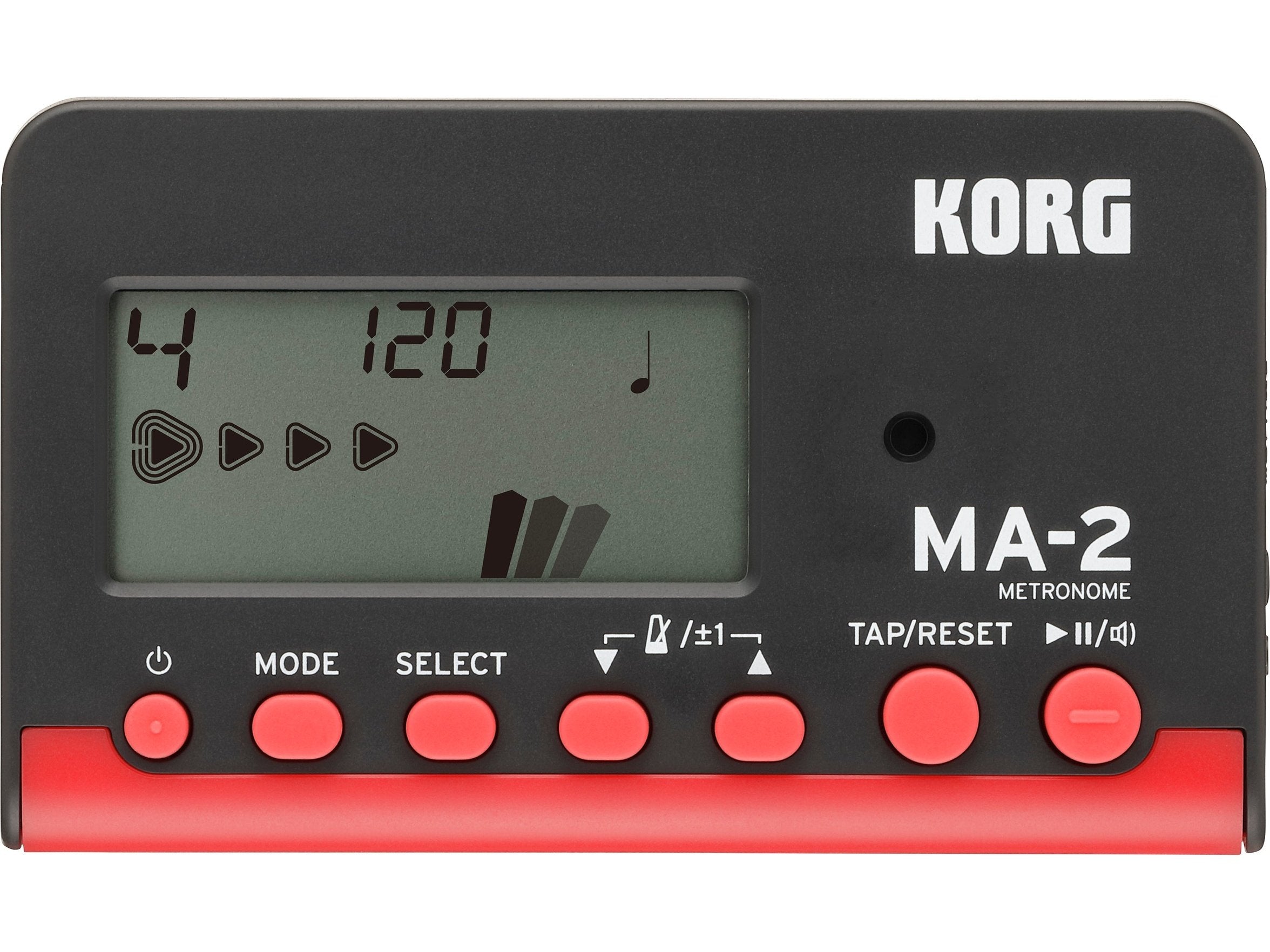 Now even easier to see and hear.
The MA-2 is the new must-have metronome for orchestral instruments.
The MA-1, a compact card-type electronic metronome, has been further improved. The MA-2 is an indispensable unit for rhythm training, and solidly covers the functions of a metronome. In addition to basic functionality such a wide tempo range and a generous number of beats and rhythm patterns, it also provides user-friendly features including an improved display, a loud, crisp sound, and additional functions such as a newly provided "timer mode." Choose from two different vivid and stylish colour schemes for the body: blue and black, or a black and red.
Larger and more easily readable display
The MA-2's display is 30% larger than that of the previous model, drastically improving the visibility. Within the display, a digital needle moves between left and right, providing a visual indication of the beat in additional to the audible indication. A triangular icon shows the beat position and the timing at which the measure changes.
Enhanced volume and crisp sound for easier detection
The MA-2 is equipped with a newly designed electronic buzzer. It's more powerful, providing easily audible sound that won't be buried by high-volume instruments or high frequencies.
Covers all the needs of rhythm training/h2>
You can choose from three different methods of setting the tempo: pendulum step lets you specify a numeric value just as on a mechanical metronome, full step lets you specify the tempo in one-step increments, and tap tempo lets you specify the tempo by pressing a button in time with the song you're playing. You can also combine a time signature of between 0–9 beats with eight types of rhythm, supporting many types of musical practicing.
Equipped with "timer mode" and "sound out mode" for daily practicing
The MA-2 provides basic metronome function, but also includes a "timer mode" and a "sound out mode" that are useful for daily practicing. Use the MODE button to switch between these at a touch.
Timer mode
When the specified time elapses, an alarm sounds and the metronome stops. You can set this in one-minute increments between one minute and 120 minutes, making it ideal for warming up or practicing the basics.
Sound out mode
A reference tone is emitted from the built-in speaker as a guide for tuning. You can select the reference tone in the one-octave range of C4–B4. The reference frequency of A4 (calibration) can be adjusted in 1 Hz increments in the range of 410 Hz to 480 Hz.
All-new body design & improved functionality
The folding stand lets the metronome stand on its own in an easily visible location. The sliding battery cover is designed as one piece with the main unit, so there's no danger of the cover being lost when you replace the batteries.
Up to 400 hours of continuous use
When using alkaline batteries, the unit provides approximately 400 hours of continuous operation. As the remaining battery power runs low, a battery indicator appears in the display, making it clear when the batteries need to be replaced. Even for extended practicing sessions, you can concentrate on your performance without worrying about battery life.
Video
Tempo range

30 bpm to 252 bpm

Tempo settings

PENDULUM step, FULL step, TAP tempo

Beat Range

0–9 beats

Rhythms

Quarter notes, eighth notes, triplets (straight triplets, triplets with inner beat omitted, triplets with the third beat omitted), sixteenth notes (quadruplets, quadruplets with middle beats omitted, quadruplets with the third and fourth beats omitted).

Tempo accuracy

±0.02%

Reference Tone

C4 (261.63Hz) to B4 (493.88Hz) 1 octave

Calibration range

A4=410Hz to 480Hz (unit: 1Hz)

Tone accuracy

under 1cent

Connections

Headphones jack (3.5mm stereo mini jack)

Speaker

Φ15mm piezo speaker

Power Supply

Two AAA batteries, 3V

Battery Life

Approx. 100 hours (when using zinc-carbon batteries), Approx. 400 hours (when using alkaline batteries), (tempo 120, 4 beats, and max volume)

Dimensions (W x D x H)

100 ✕ 60 ✕ 16 mm / 3.94" x 2.36" x 0.63"

Weight

68 g / 2.40 oz. (including batteries)

Included Items

Two AAA alkaline batteries for verifying operation

Color Variations

Blue-Black (MA-2-BLBK), Black-Red (MA-2-BKRD)

Settings for the metronome section's tempo, beat and rhythm, and for the sound out mode's calibration and reference tone settings, are remembered even when the power is turned off. However, these settings return to the initial values when you replace the batteries.

The Auto Power-Off function automatically turns the power off when 20 minutes have elapsed with the metronome stopped.

* All products names and specification names are trademarks or registered trademarks of their respective owners.

* Appearance and specifications of products are subject to change without notice.
All new products are sold with a 2-year manufacturer warranty which is upgraded to 3 years when bought direct from Korg UK.

Certified Refurbished products also come with a one year warranty. 
We offer a 30-day returns period on all products purchased directly from Korg UK.