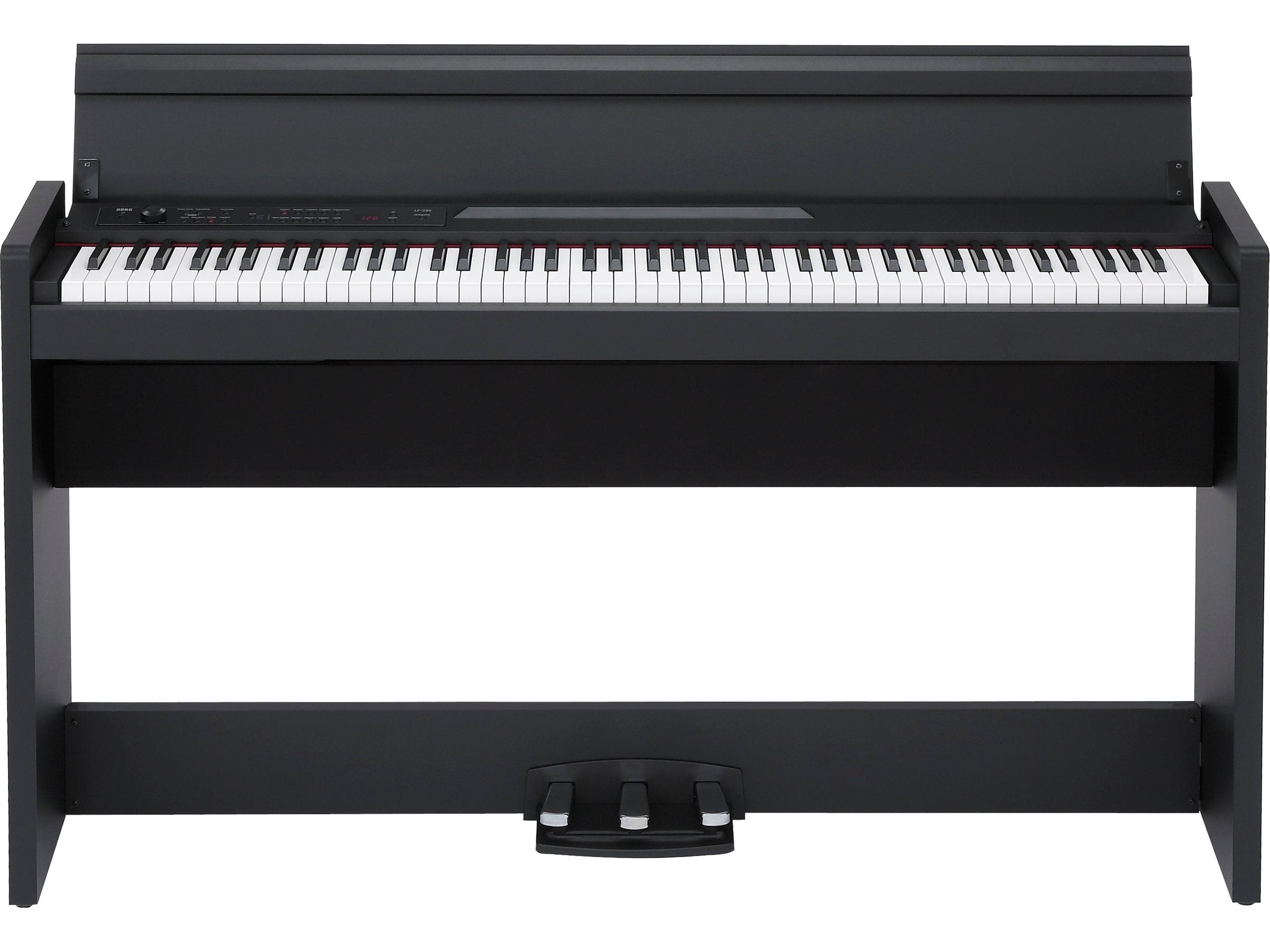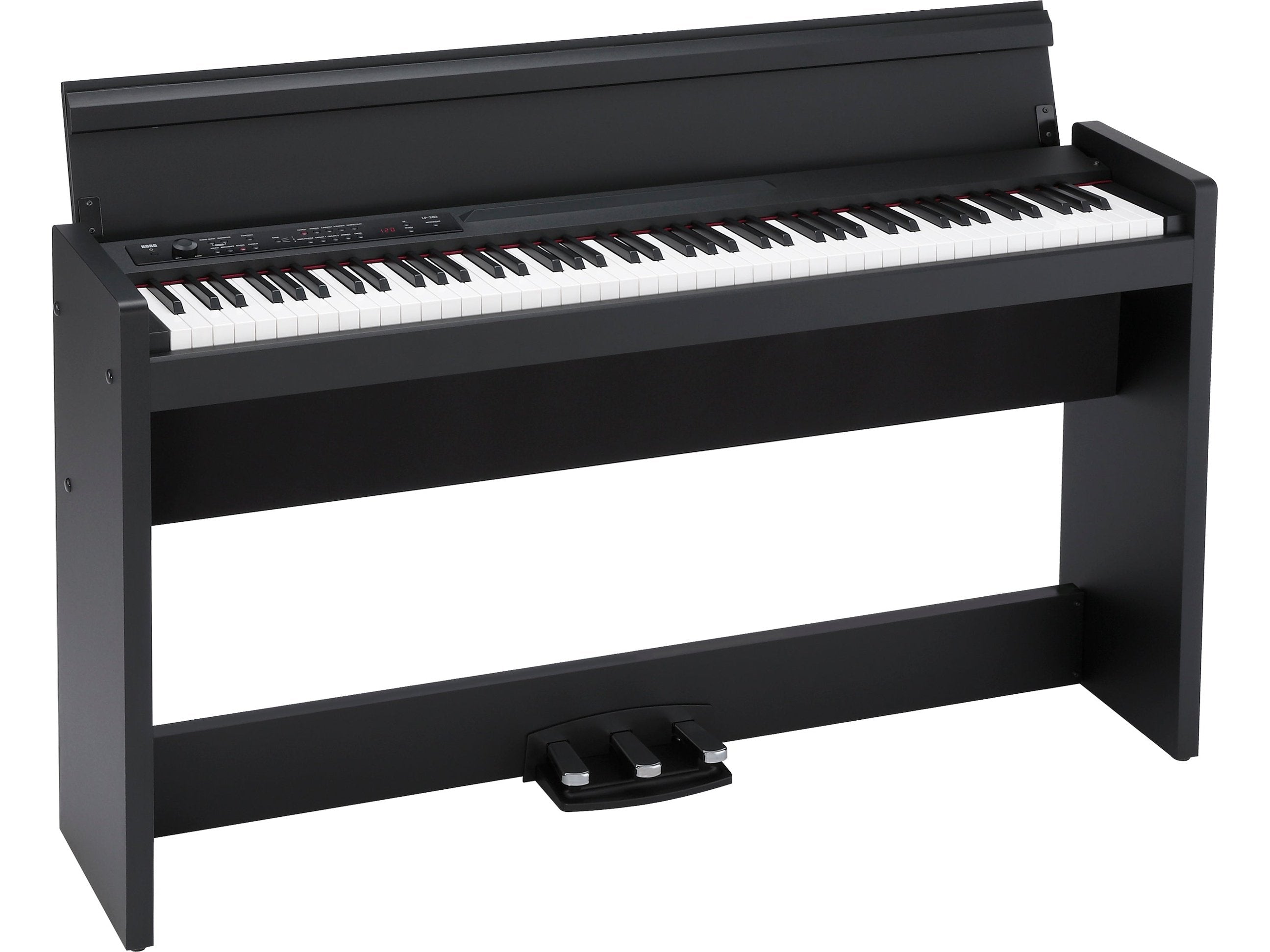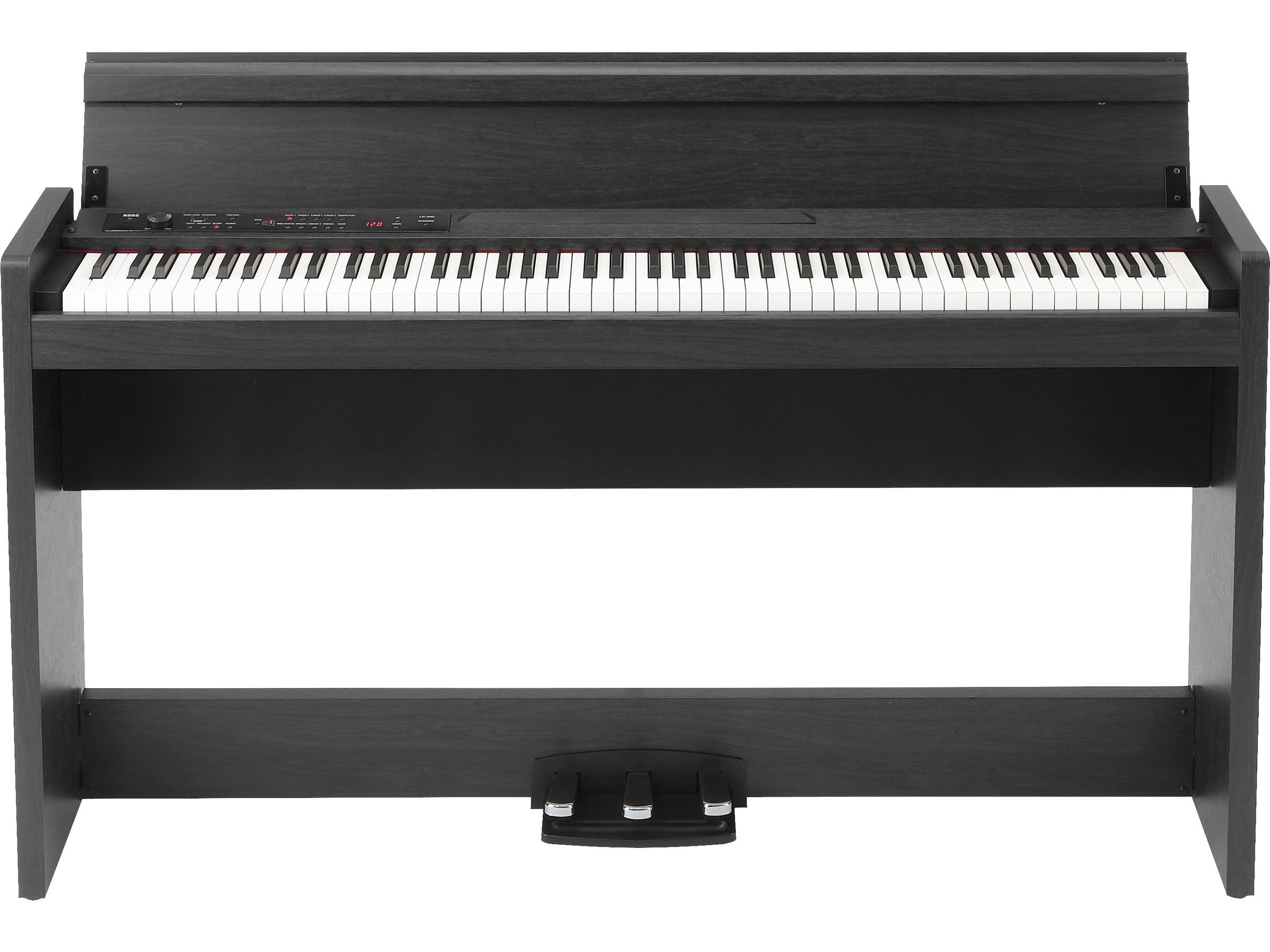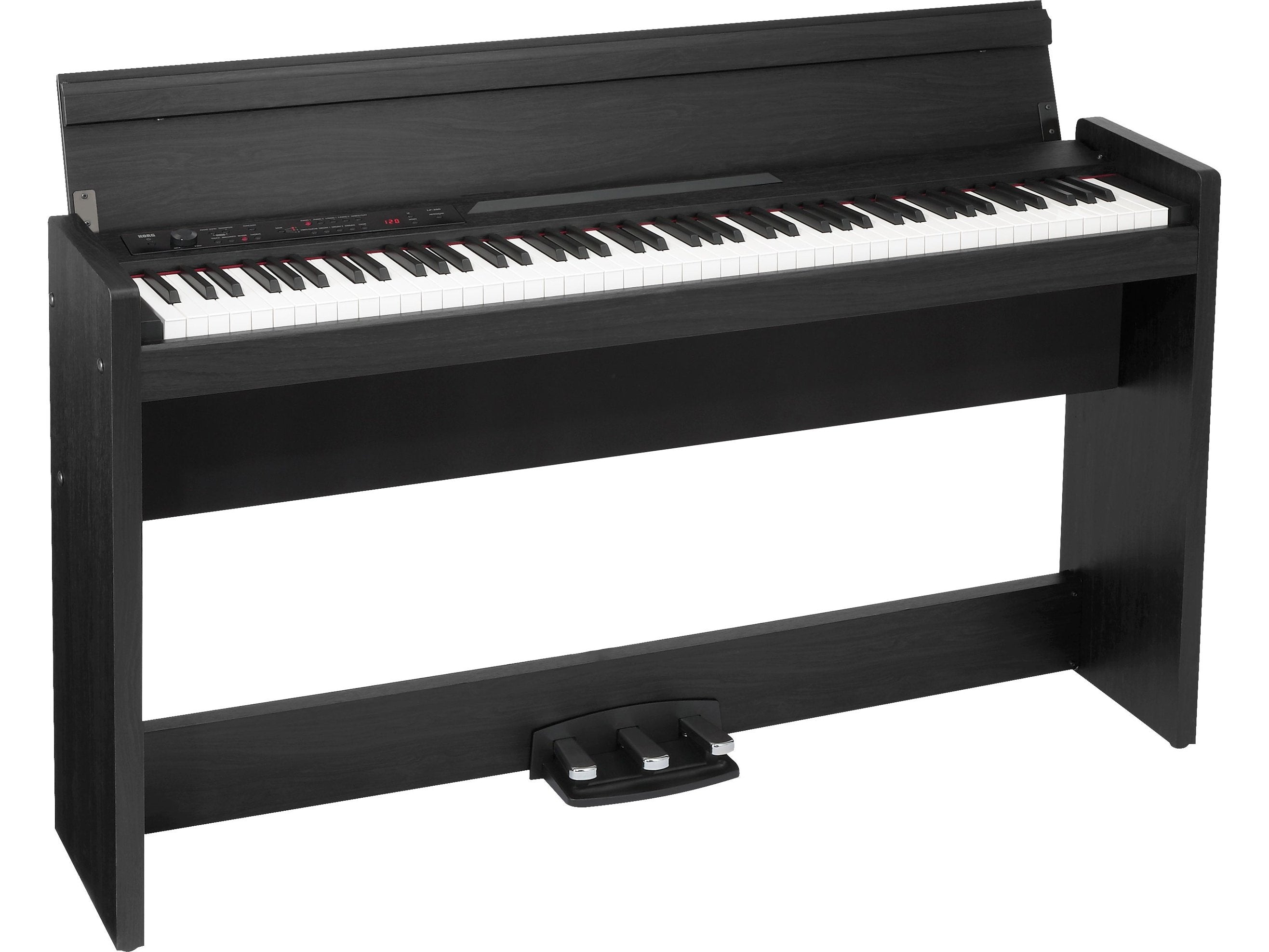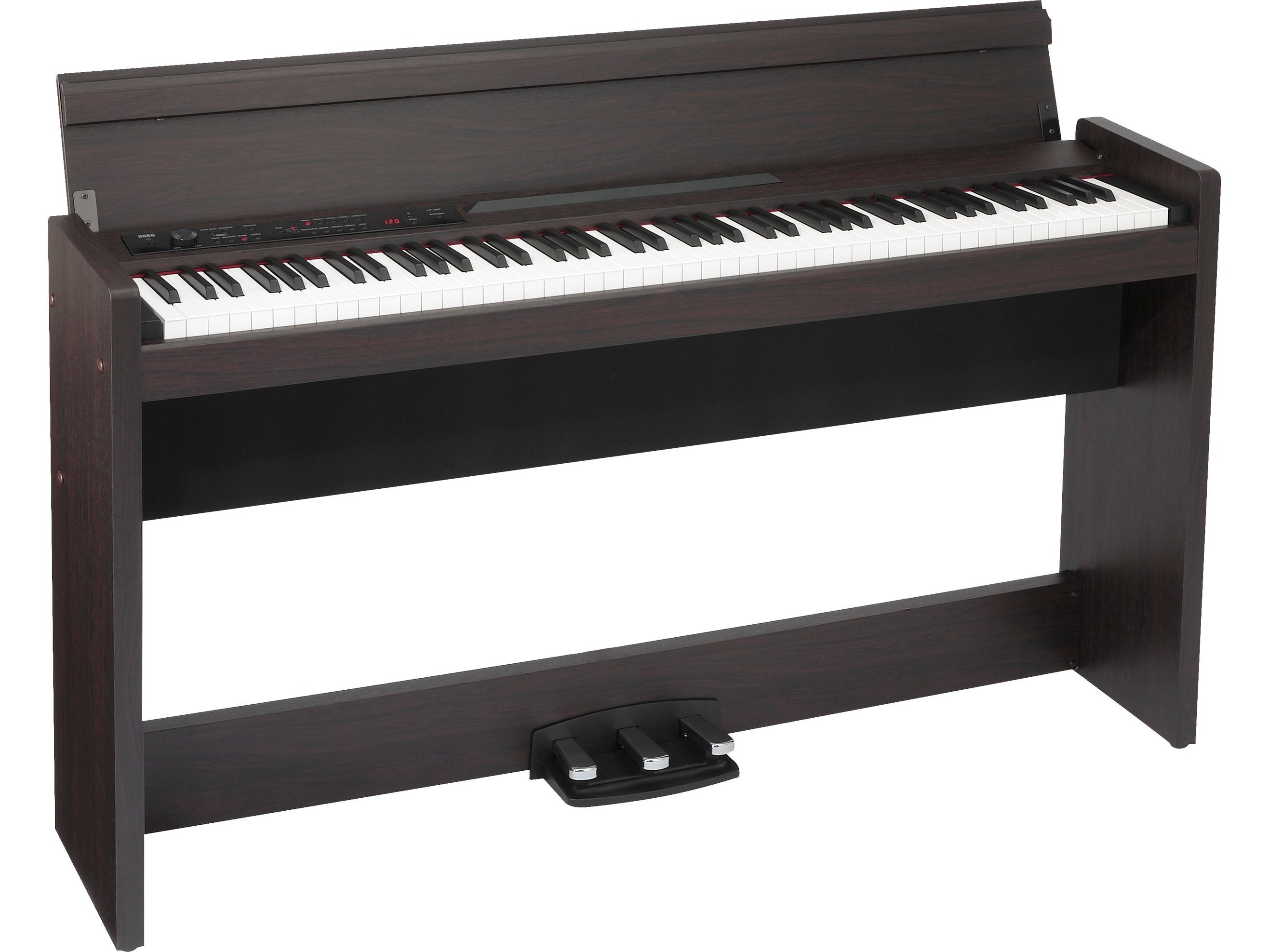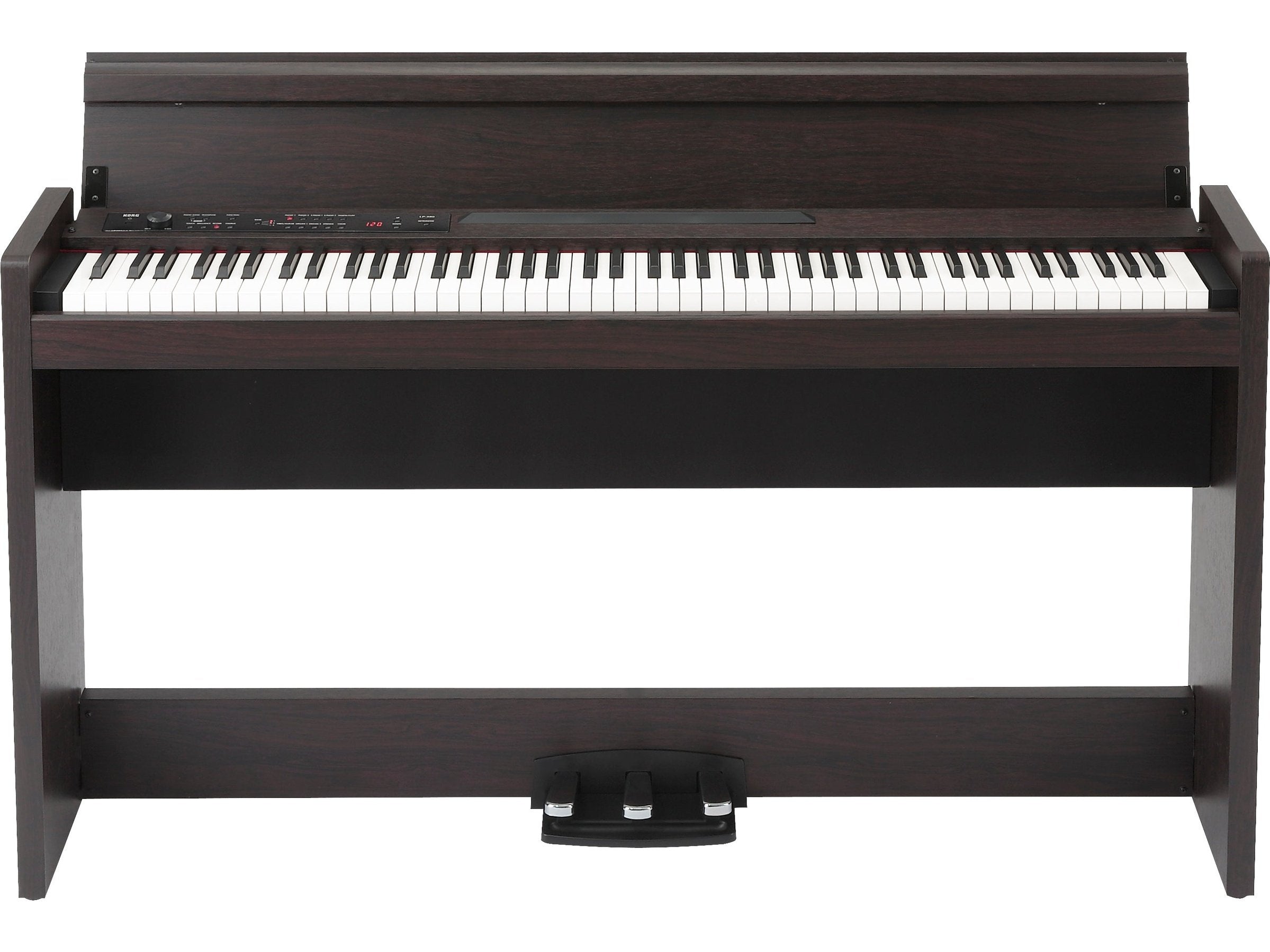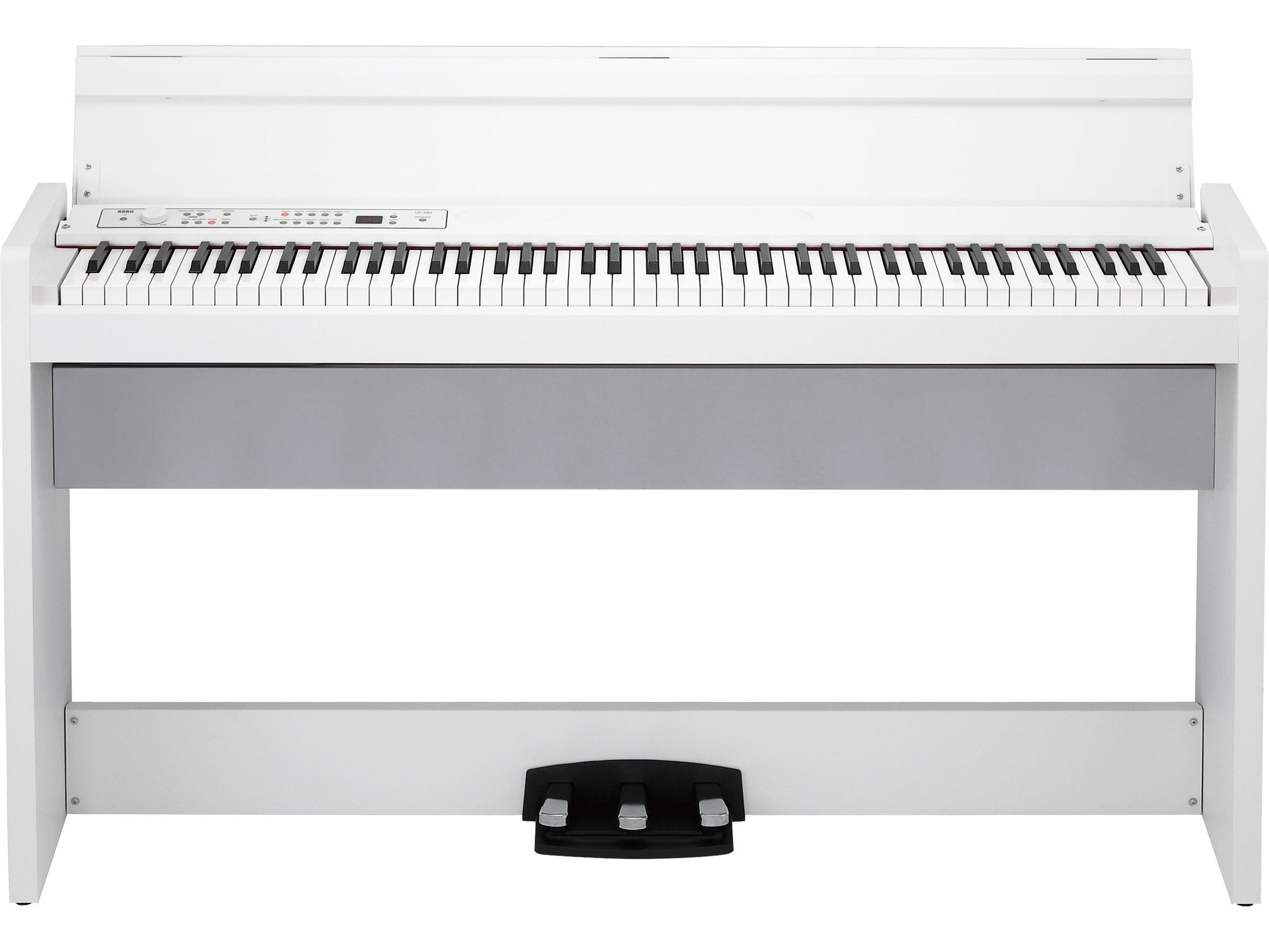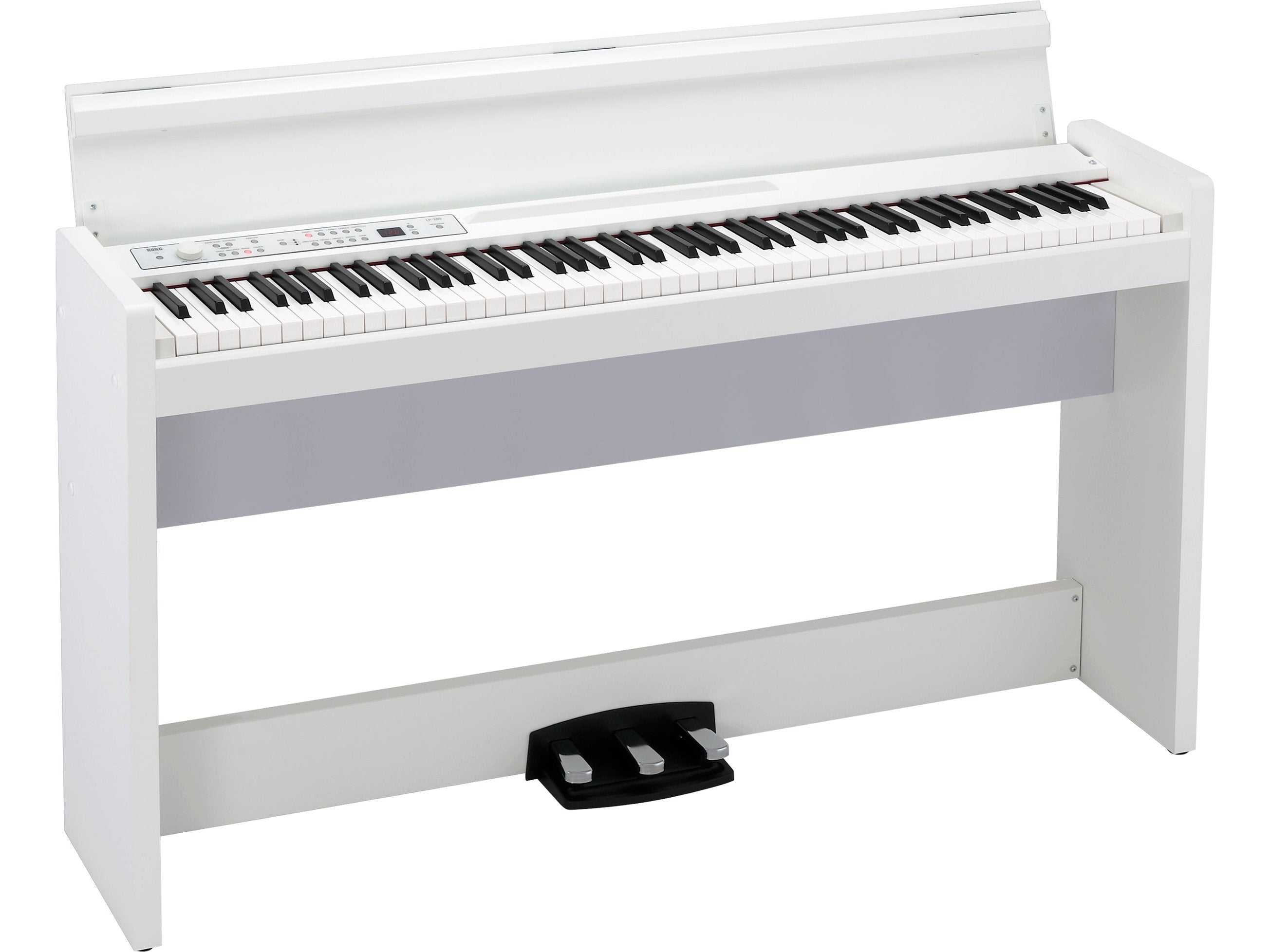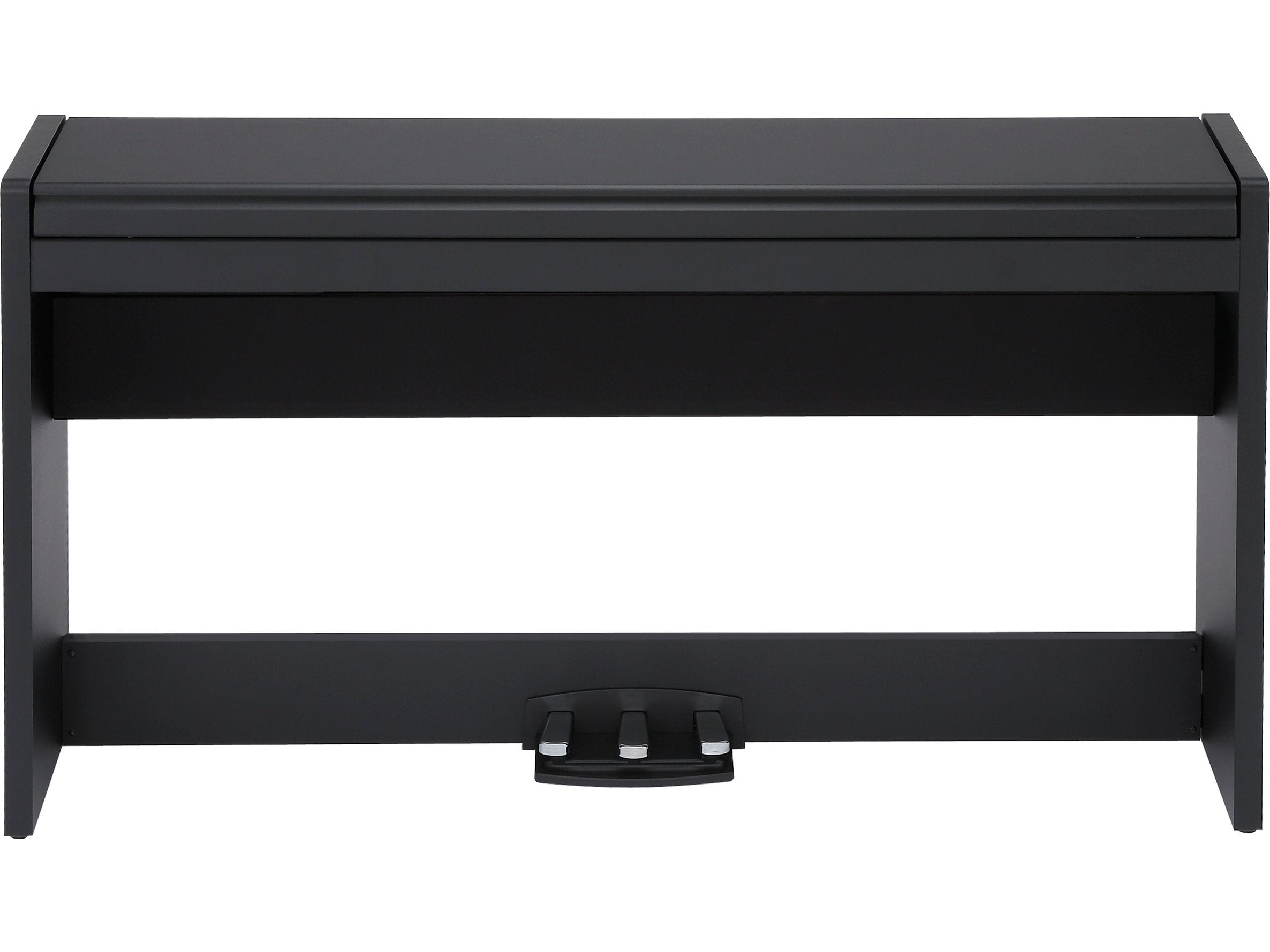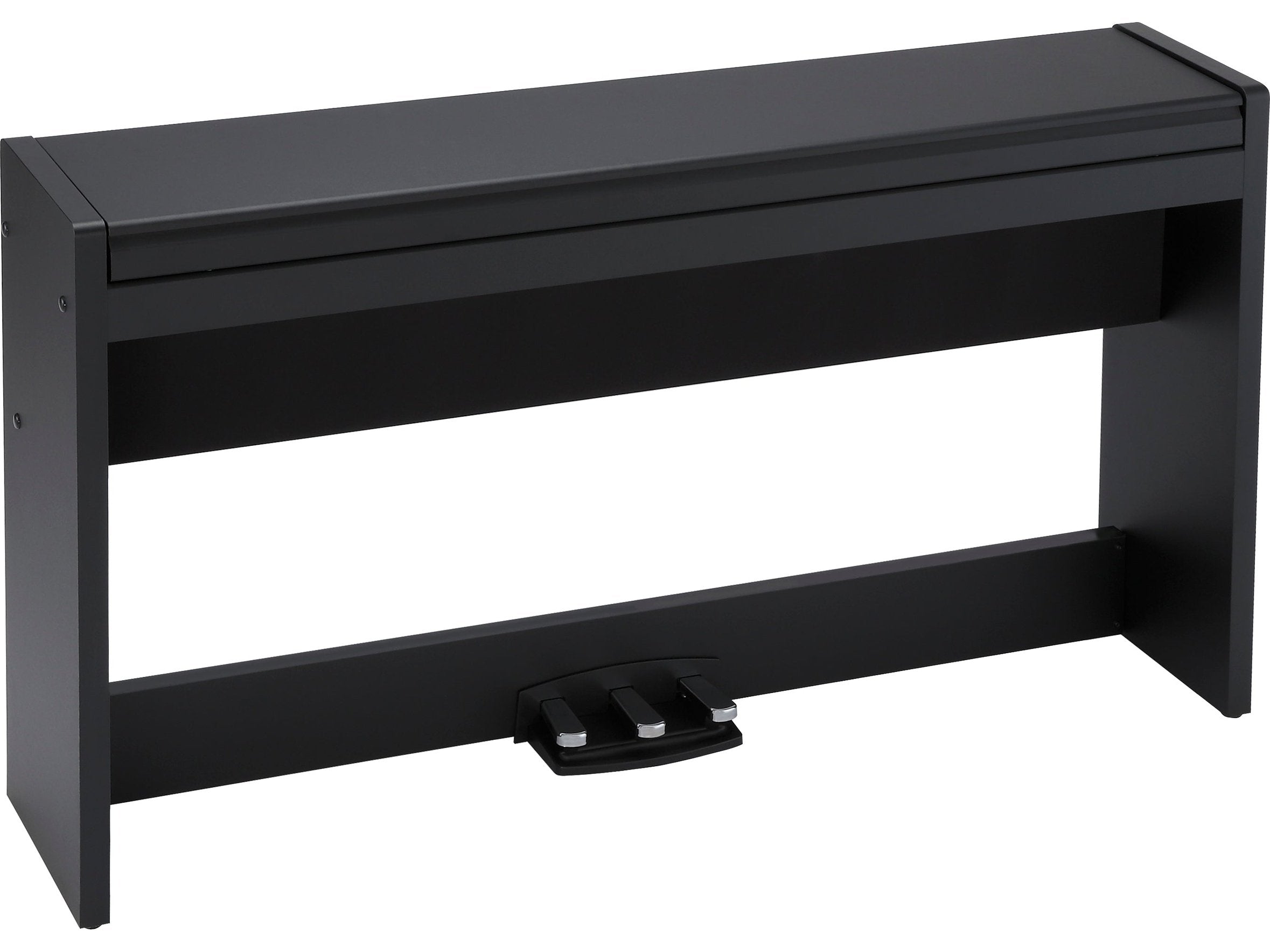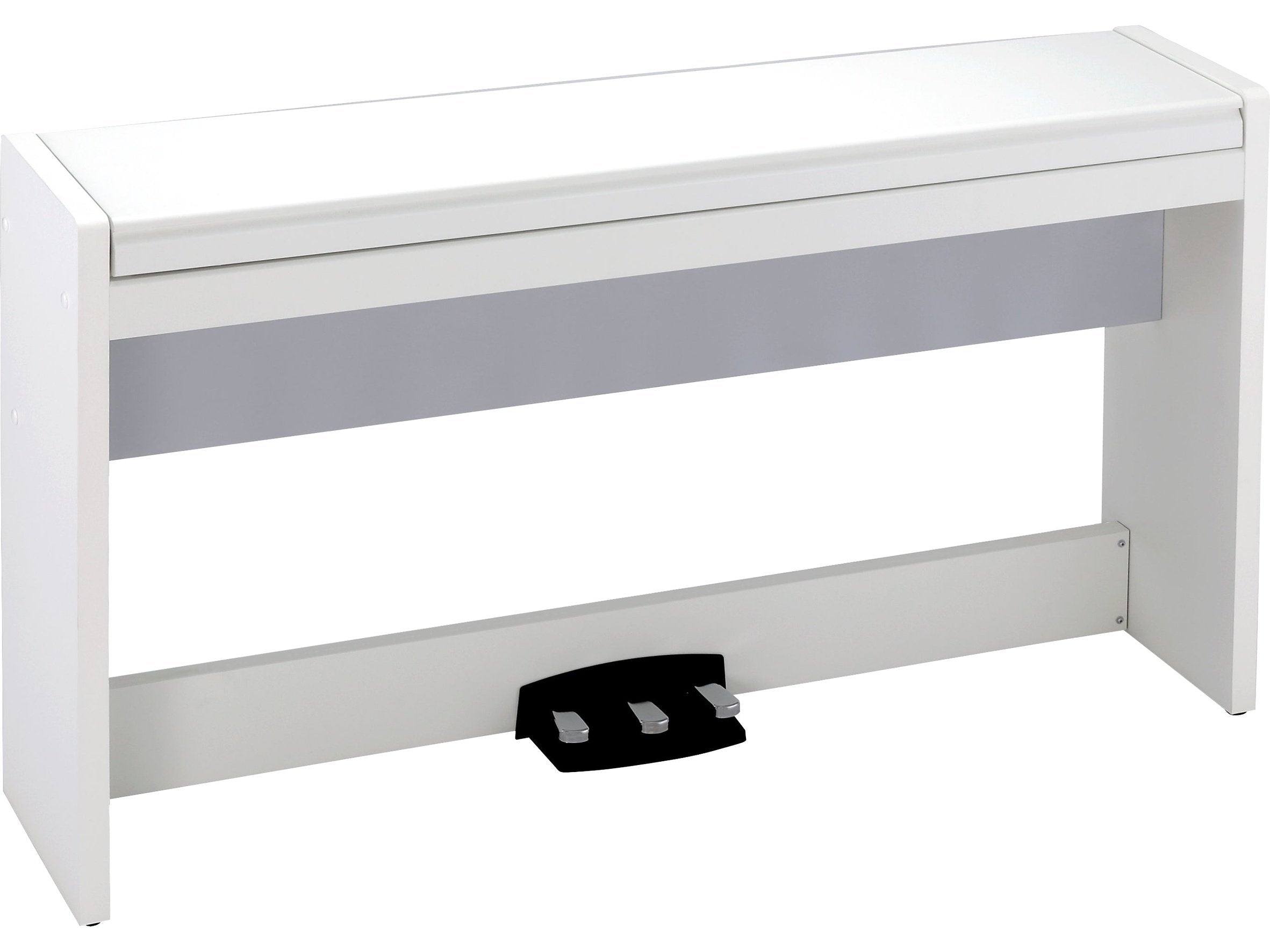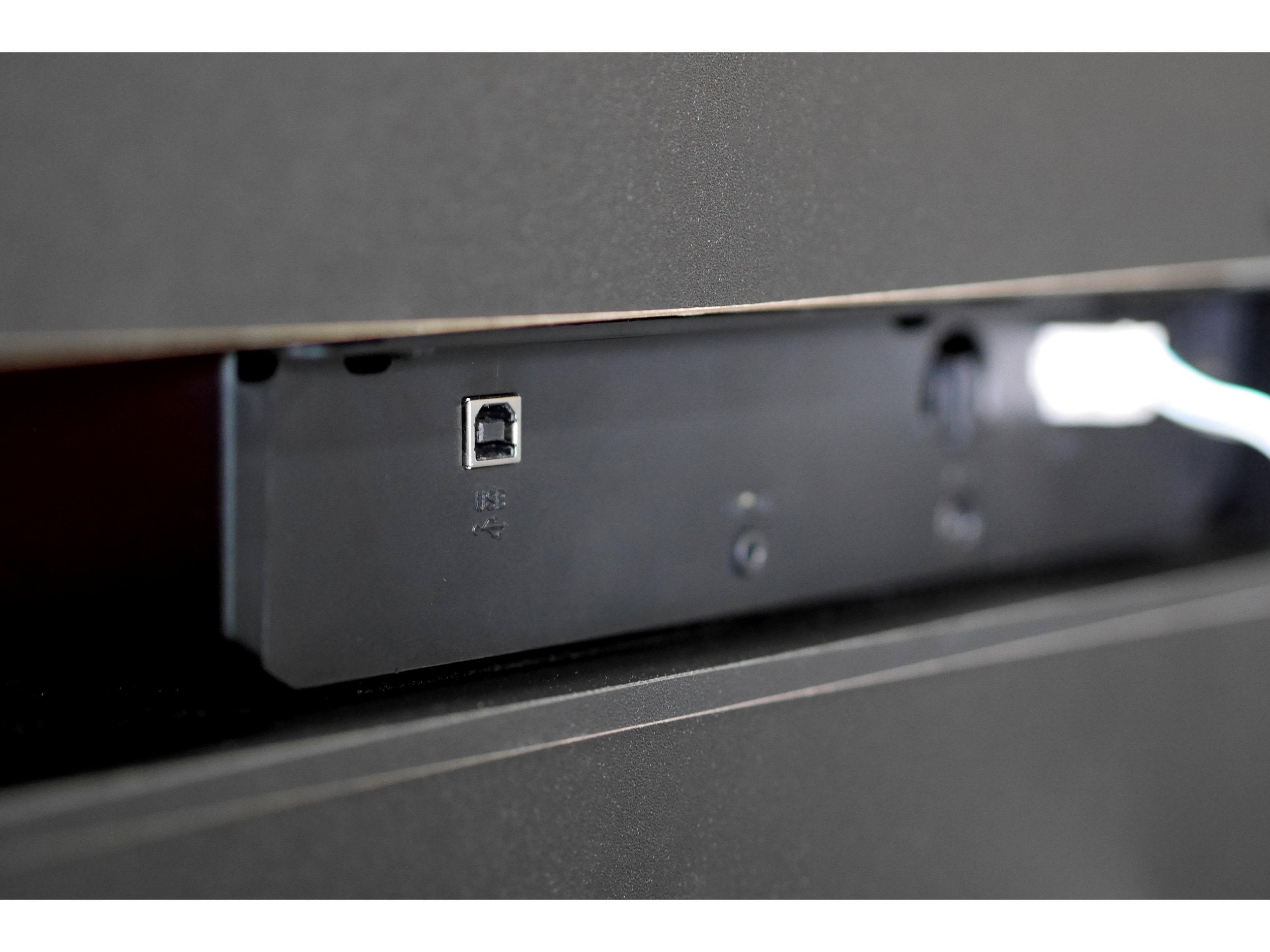 LP-380U Digital Piano
Providing brilliant sound in a low profile design, the LP-380 is the perfect addition to any home. The latest sound technology and high-quality speaker system faithfully reproduce the sound of an acoustic instrument, while the authentic Japanese Real Hammer Action 3 keyboard supports detailed expressive performances.
Extend your warranty for free when buying direct from Korg UK.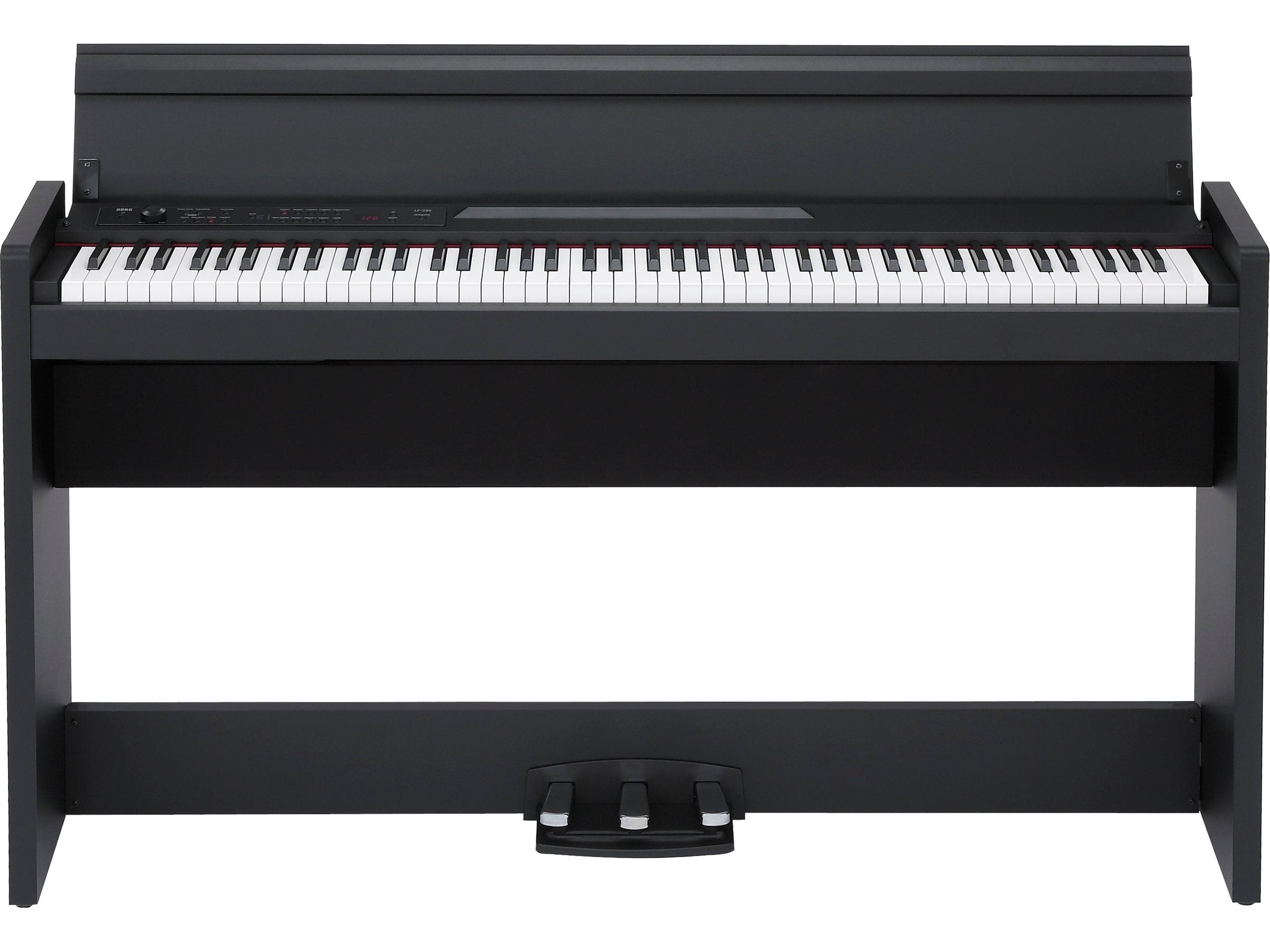 Authentic grand piano experience in a slim design that adds style to your home
The LP-380 provides a brilliant piano sound in a low-profile, slim design. The flat-top cabinet looks stylish even when the key cover is closed. The high-output amplifier and speakers accurately reproduce a realistic piano sound, while Korg's flagship RH3 keybed enables expressive performances.
Skillfully Crafted in Japan
The prestigious LP-380 digital piano, featuring the highly acclaimed RH3 keybed, is proudly built in Kyoto, Japan by craftsmen with the experience and expertise gained from producing some of the highest quality digital musical instruments available. Our goal is complete customer satisfaction and we are proud to produce pianos that musicians will enjoy playing now and for years to come.
Slim and Stylish Design
The LP-380 is a digital piano that's designed with a style to match your interior decor. Merely 26 cm in depth, it's slim enough to fit anywhere. The wooden key cover is flat on top, allowing the instrument to blend elegantly into your room when you're not playing it.
Keeping safety in mind, the cover uses a soft landing mechanism to ensure that it closes gently.
The slim and stylish chassis projects a sense of stability. The RH3 keyboard, three pedals, and large-diameter speakers ensure a superb piano-playing experience and rich piano sound.
Rich Piano Sounds That You'll Enjoy Playing
In order to reproduce the playing feel of an acoustic piano as closely as possible, the sound switches between four piano samples according to your playing dynamics. From subtle touches to powerful crescendos, the sound will respond realistically to your playing. In particular, the Classic Piano and Grand Piano sounds realistically reproduce the damper resonances that occur when you hold down the damper pedal of an acoustic piano, making the overall sound of the piano even more pleasant and enjoyable to play.
Authentic Vintage Electric Piano Sounds
As a musical instrument manufacturer, Korg has placed particular emphasis on the electric piano sounds. They not only reproduce the way that the tone responds to your touch, but they also reproduce the subtle noises that occur when you release a key. Six varieties are provided, covering the sounds widely used in pop music of the '60s and '70s, as well as some of the tones that are highly regarded in soul music.
30 High-Quality Sounds
Starting with piano and electric piano, there are a total of thirty expressive and high-quality sounds built in. There's also a Layer Mode that lets you play two sounds together, and a Partner Mode that divides the keyboard into left and right regions so that two people can play the same range of pitches at the same time. Two headphone jacks make it convenient for two people to enjoy playing the LP-380 together. You also have a choice of nine different temperaments, supporting historically authentic performances with period instrument ensembles.
Three Effects
There are three effects: brilliance adjusts the brightness of the tone, reverb simulates the natural ambience (reverberation) of a concert hall, and chorus adds spaciousness.
High-output Amp and Speaker Section
The amplifier (22W x 2) boasts the highest output in its class, properly reproducing the expressive piano sounds with rich tone, sonorous lows, sparkling highs, and gorgeous resonance. Two large-diameter 10 cm speakers are placed inside the cabinet, allowing the sound to resonate for even richer depth. Placing the speakers below the keyboard creates the sensation that the sound is enveloping the entire piano, providing even greater realism.
Real Weighted Hammer Action 3 Keyboard
The Real Weighted Hammer Action 3 (RH3) keyboard reproduces the same playing experience as on a grand piano, with heavier response in the lower register that becomes lighter as you play upward. With improved response to repeated keystrokes, even rapid passages can be reproduced without impairing the expression of the performer.
There's also a Key Touch Control function that lets you choose one of three levels to specify how your playing dynamics will affect the sound, allowing you to personalise the instrument to your own keyboard touch. With a view toward the environment, no lead is used in the hammers of the keyboard.
Reduced Chassis Size and Weight
In consideration of the user's possible need to move or relocate the instrument, the LP-380 has been lightened by approximately 5.0 kg in comparison to the previous model (LP-350), making it easier to move or transport, as well as making assembly safer.
LINE OUT Jack
You can use the LINE OUT jack (stereo mini-jack) to connect the instrument to your amplified speaker system or recording device.
Premium Pedal Performance
The LP-380 includes all three pedals that are normally found on a concert grand piano, including support for realistic half-pedalling on both the damper and soft pedals. These pedals are affixed to the LP-380 in the perfect position for an authentic piano playing experience.
MIDI Capability
The LP-380 supports MIDI, the unified standard for transferring performance data between electronic musical instruments and computers. MIDI allows connected devices to control each other, and lets you use the LP-380 as a 16-part multi-timbral sound module.
Metronome
The built-in metronome lets you adjust the time signature, tempo, and volume. It also lets you use a bell sound as the accent.
USB MIDI/AUDIO
You can use a USB cable* to connect this instrument's USB port to your smartphone, tablet, or computer, and use the LP-380U as a MIDI keyboard to play an external sound module. Your performance on the LP-380U can be recorded as music data on your smartphone, and sound from your smartphone can be heard through the speakers of the LP-380U.
*USB cable sold separately for connection to your PC, and a USB cable + Lightning-USB camera adaptor or USB B to C cable (both sold separately) for connection to your iPhone or iPad.
Generous bundle of software that's convenient for practicing or for creative work
The LP-380U is bundled with software that will take your music to the next level, including "Skoove" which will help you improve your keyboard performance ability, the "Korg Module" piano keyboard sound module app, and the "Korg Gadget 2 Le" DAW music production app.
Three-month premium plan trial for "Skoove" online piano lessons
Skoove is the fastest and most broad-based platform for learning piano performance. Through the three steps "hear, learn, perform" you'll acquire performance skills and musical ear training. More than ten courses and more than 300 songs are provided, and others are constantly being added. Skoove provides lessons that are appropriate for the needs and skill levels of those who are just starting piano as well as those who can already play.
"Korg Module" piano keyboard sound module app
This is a high-quality mobile sound module app that provides a pro-quality sound library that's ideal for both performance and music production, available only for iOS. It lets you enjoy top-notch grand piano sounds as well as studio-quality sounds of widely used keyboards.
"Korg Gadget 2 Le" DAW music production app with built-in sound module
This is a mobile music production app for iPad/iPhone that provides miniature synthesisers and drum machines called "gadgets," and allows you to freely combine these to enjoy producing music with an intuitive interface.
*"Korg Module" and "Korg Gadget 2 Le" can be used to expand the sounds and functionality when they are connected to the LP-380. (*USB cable sold separately for connection to your PC, and a USB cable + Lightning-USB camera adaptor or USB B to C cable (both sold separately) for connection to your iPhone or iPad.)
Please visit "Korg Software Bundle" to use these software and applications
Premium Japan quality
The Korg LP-380 digital piano features a Real Weighted Hammer Action (RH3) keyboard that divides the hammers into four different weights, with a heavier feel in the low register and a lighter feel in the high register as found on concert grand pianos. The entire process of making the LP-380, from making this keyboard to assembling the complete instrument, is carried out in Miyama-cho, Nantan-shi, located in the Nantan region at the centre of Kyoto prefecture that is one of Japan's most famous tourism spots, noted for its preservation of numerous historic houses.
Why in Miyama, Kyoto?
Korg chose Miyama, Kyoto for production of the LP-380 to ensure consumers a high-quality electric piano at an affordable price.
High-performance electronic pianos simply cannot be mass-produced and are made in small lots resulting in superior quality and no waste. Instead of mass production, the best practice is to use the cell production method in which the production line is split into a number of self-contained units. Each team or "cell" is responsible for the steps to complete the product. Because these instruments are made in small numbers, there is a high level of efficiency and teamwork among a group of skilled workers.
The people of Miyama are raised to value human contact and possess a high level of respect for others. It is said that they have a deeply rooted character that reveals itself in whatever they do. This is what enables everyone working in the Miyama factory to pour their hearts into creating these wonderful musical instruments with individual care and affection.
Video
Color Variations:

Black (LP-380-BK)
White (LP-380-WH)
Rosewood grain finish (LP-380-RW)
Rosewood grain black finish (LP-380-RWBK)

Keyboard:

88 key (A0–C8), RH3 (Real Weighted Hammer Action 3) Keyboard

Touch selection:

Light, Normal, Heavy

Pitch:

Transpose, Fine tuning

Temperament:

9 types

Sound generation:

Stereo Piano System

Maximum polyphony:

120 voices

Sounds:

30 (10 x 3 Banks)
Acoustic Piano x 5, Electric Grand, Electric Piano x 6, Harpsichord, Clavi x 2, Vibraphone, Marimba, Acoustic Guitar, Jazz Organ x 3, Pipe Organ x 3, Strings x 3, Choir 3

Effects:

Brilliance, Reverb and Chorus (3 levels each)

Demo Songs:

30 (Sound Demo song x 10, Piano Demo Song x 20)

Metronome:

Tempo, Time signature, Accent, Sound and Volume controls

Pedals:

Damper*, Soft*, Sostenuto
*Half-pedalling supported

Connections:

Line Out, MIDI (In, Out)*1, USB Type B*2, Headphones x 2, Pedal, Speakers, DC19V
*1 LP-380 Only
*2 LP-380U Only

Controls:

Power, Volume, Piano Song, Transpose, Function, Touch, Brilliance, Reverb, Chorus, Bank, Sound x 10, Up, Down, Metronome

Amplification:

22 Watt x 2

Speakers:

10cm x 2

Power supply:

DC 19 V, AC adapter (included)

Power Consumption:

15W

Dimensions:
(W x D x H)

1,355 x 351 x 772 mm / 53.35 x 13.82 x 30.39 inches
1,355 x 351 x 936 mm / 53.35 x 13.82 x 36.85 inches (with key cover opened)

Weight:

37 kg / 81.57 lbs (including Stand)

Accessories:

AC adapter, Stand
All new products are sold with a 2-year manufacturer warranty which is upgraded to 3 years when bought direct from Korg UK.

Certified Refurbished products also come with a one year warranty. 
We offer a 30-day returns period on all products purchased directly from Korg UK.