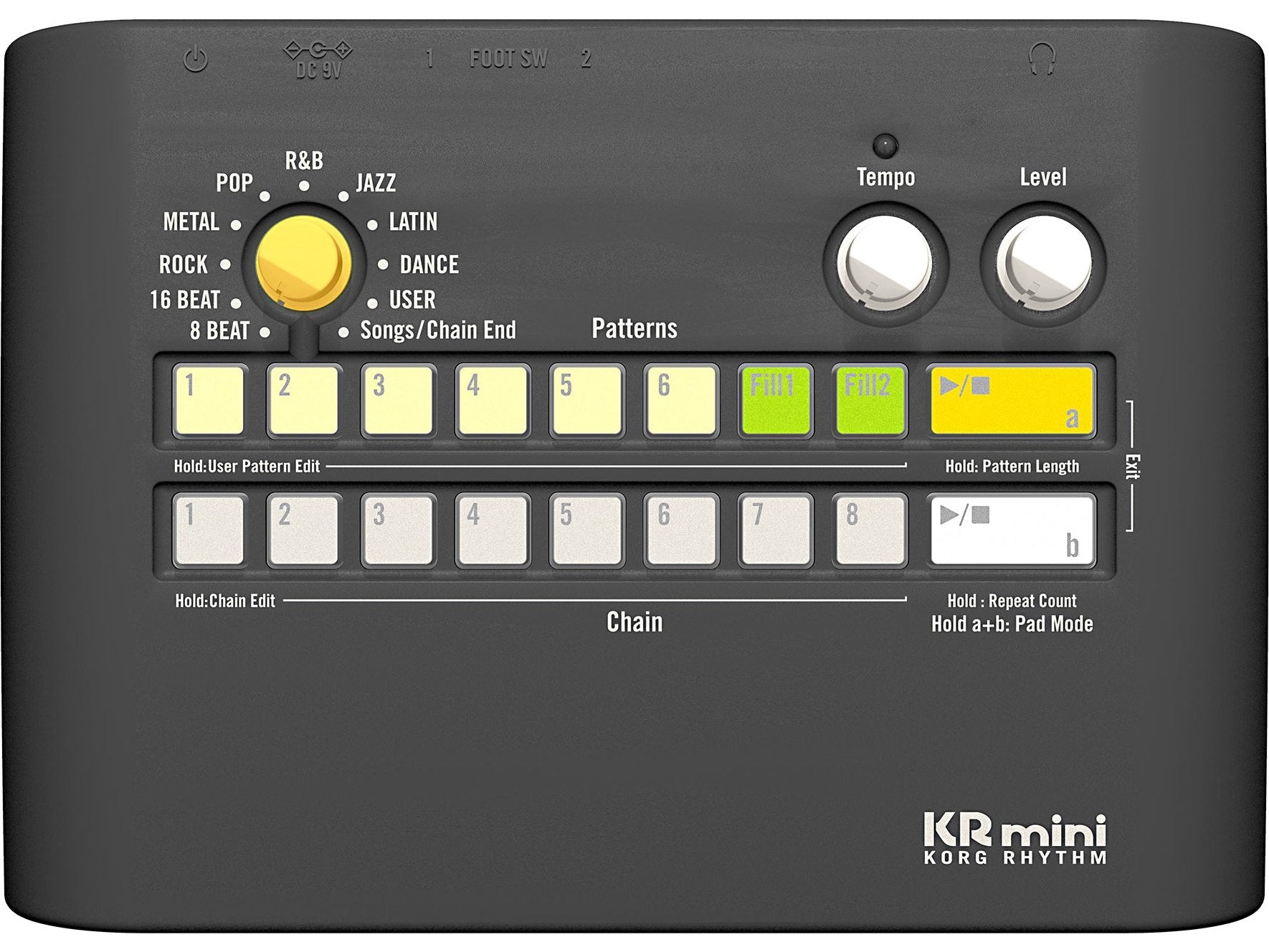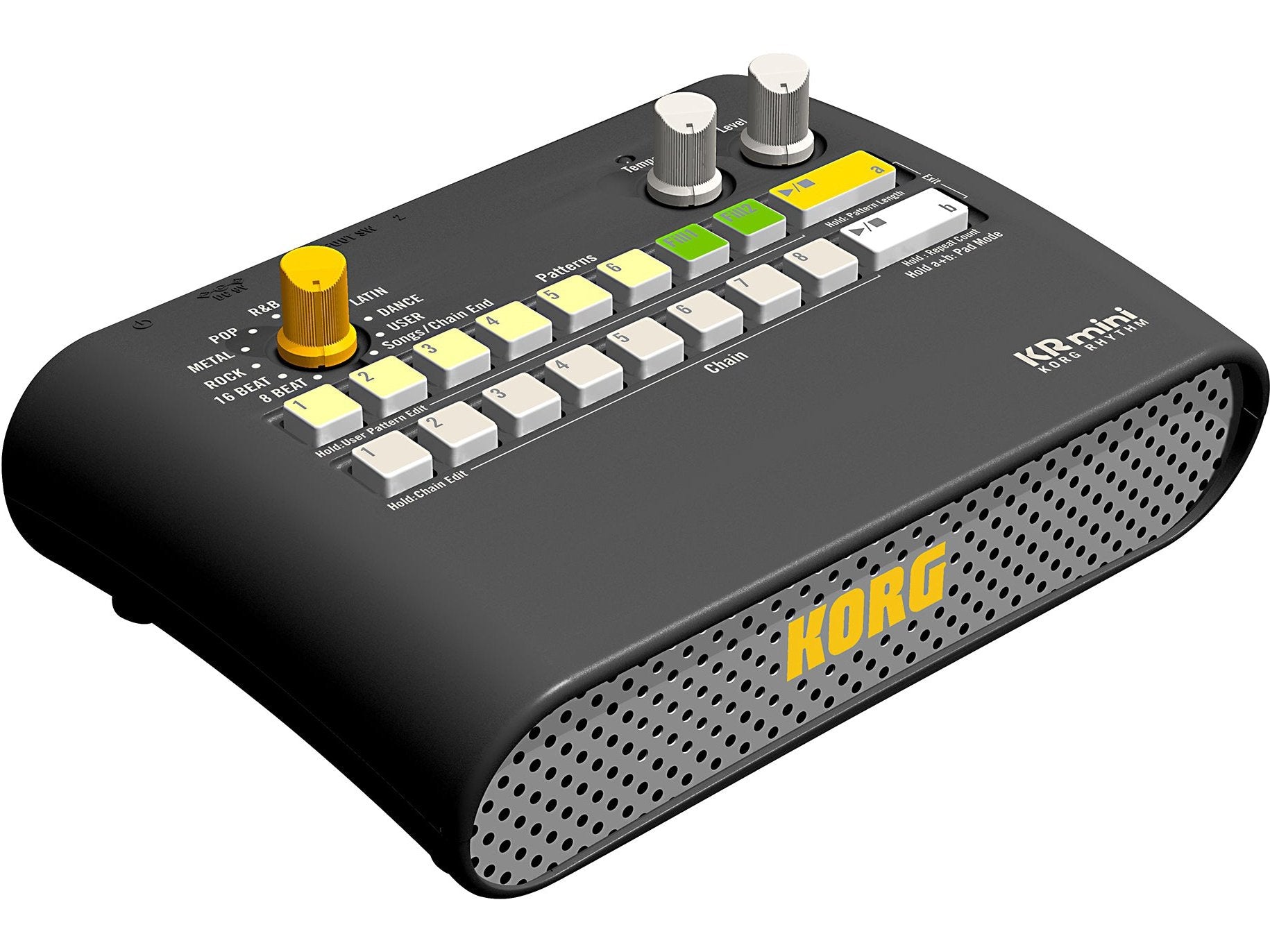 KR Mini - Drum Machine
KR Mini is a simple and compact rhythm machine with a built-in speaker and optional battery power, so you can practice or jam anywhere. The 60 patterns span a variety of genres from pop, rock, jazz through to latin so whatever musical mood you're in, you're covered. You can even chain patterns together or create your own using the drum pads!
Extend your warranty for free when buying direct from Korg UK.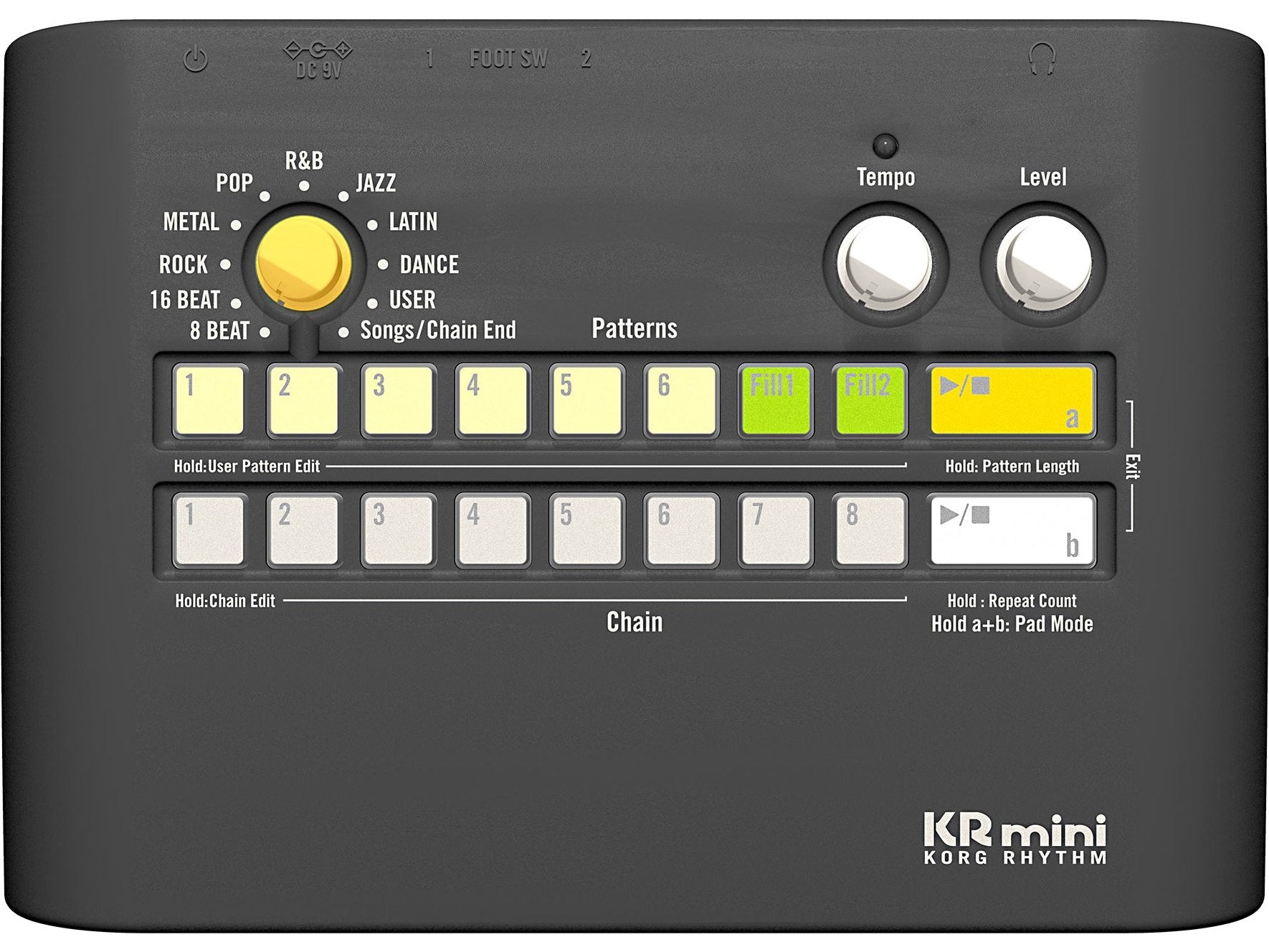 Your trusted rhythm partner
Power-up your practicing with diverse rhythm patterns!
A great companion for practicing guitar, bass, acoustic guitar, winds, or any type of instrument!
The KR mini - an easy, simple and compact rhythm machine with a built-in speaker and optional batter power for play-anywhere convenience!
Many musicians wish that they could enjoy casually performing while being backed up by real rhythm patterns rather than just a metronome. Korg has responded to these wishes with the KR Mini rhythm machine. It features a simple design that eliminates all complex functions, looks that overflow with nostalgia and analogue-like controls. Playing a rhythm pattern is easy as making selection and pressing play. A total of 60 diverse rhythm patterns and 120 fills are ready to accompany you. Easy, simple and compact, the KR mini can play its role anywhere.
Easily play rhythm patterns!
Just use the knob to select the musical style you want and press a button to start playing a rhythm! Since the KR mini is light-weight, can operate on batteries and has a built-in speaker, you can use it to provide a backing rhythm pattern wherever you are. It covers a wide range of genres, including 8-beat, 16-beat, rock and pop, with six patterns for each genre. Plus there are eight song patterns containing drum parts that are several measures in length. It's a must-have item that will be perfect not only for guitarists and bassists but also for wind/orchestra players and pianists.
Connect rhythm patterns to create original rhythm songs!
There's a Chain function that lets you easily create original rhythm songs by connecting preset rhythm patterns. It's also easy to create more complex rhythm songs; you can include fill-ins and specify the loop end location as well as the number of playback repetitions.
Use the pads to play the drums! Ideal for finger drumming!
The 16 pads are assigned to play drum sounds such as bass drum, hi-hat and cymbals. You can use these pads to enjoy finger drumming. The pads are velocity sensitive, so the force used to strike a pad will be reflected by the sound; letting you create even more realistic drum phrases.
Although finger drumming has typically been done using a PC-based system with samplers and MIDI controllers, the compact KR mini, with its built-in speaker and battery-powered operation means that now you can enjoy performing on the street, outdoors, or anywhere you may be inspired. The KR mini is a necessity for any finger drummer.
Pedal switch and headphone/speaker output for expansion
An optional pedal switch lets you use your foot to start/stop the rhythm or to control fill-ins. You'll be able to smoothly control the KR mini while continuously playing your instrument. The KR mini also has a headphone/speaker output, so you can connect it to your PA system and play drum patterns from an external speaker. Use it with a guitar amp to create a simple setup for live performance. Rhythm Patterns (6 patterns for each genre *Not including songs): 8Beat, 16Beat, Rock, Metal, Pop, R & B, Jazz, Latin, Dance, User, Songs/Chain End

Video
Number of Rhythm Patterns

User: 6
Preset: 54

Number of Songs

8

Fill In

2 for each pattern

Tempo

BPM = Approximately 40 - 240

Connections

OUTPUT jack, Headphones jack, FOOT SW 1/2 jack

Power supply

AA alkaline batteries x 3, or Optional AC adapter (DC 9V)

Battery life

Approximately 7.5 hours
(Battery life will vary depending on the batteries used and on the conditions of use)

Speaker

2W x 1

Dimensions
(W x D x H)

165 x 117 x 59 mm / 6.50 x 6.83 x 2.32 inches

Weight

372 g / 13.12 oz. (excluding batteries)

Accessories

AA alkaline Batteries x 3 for verifying functionality

Options

AC Adapter (KA350)
Pedal switches (PS-1, PS-3)

* All product, company, and standard names are trademarks or registered trademarks of their respective holders.
* Appearance and specifications of products are subject to change without notice.
All new products are sold with a 2-year manufacturer warranty which is upgraded to 3 years when bought direct from Korg UK.

Certified Refurbished products also come with a one year warranty. 
We offer a 30-day returns period on all products purchased directly from Korg UK.