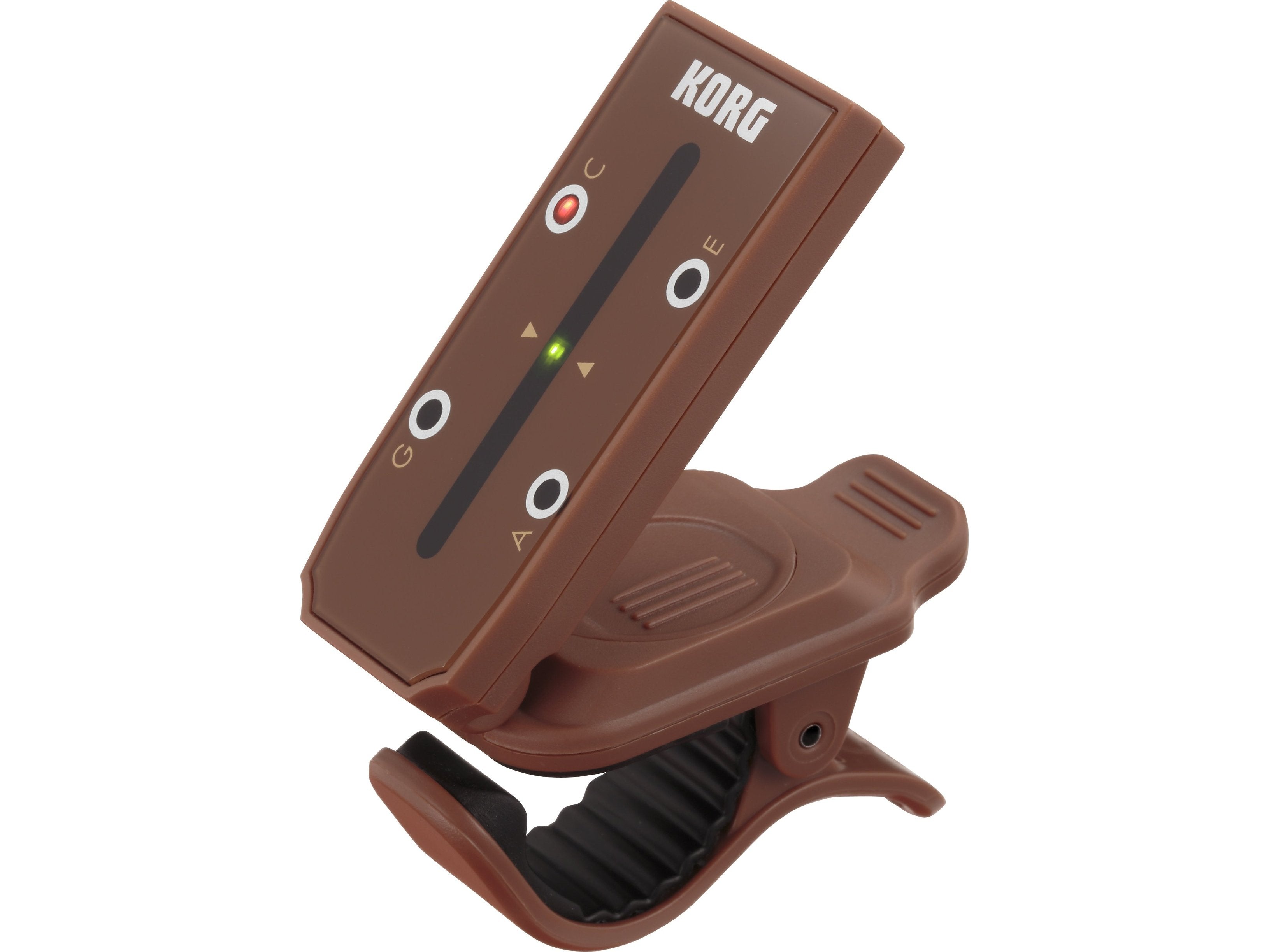 Headtune Clip-On Ukulele Tuner
Headtune mimics the visuals of a ukulele headstock making it super easy to understand which string you are tuning which is perfect for beginners or younger players alike.
Extend your warranty for free when buying direct from Korg UK.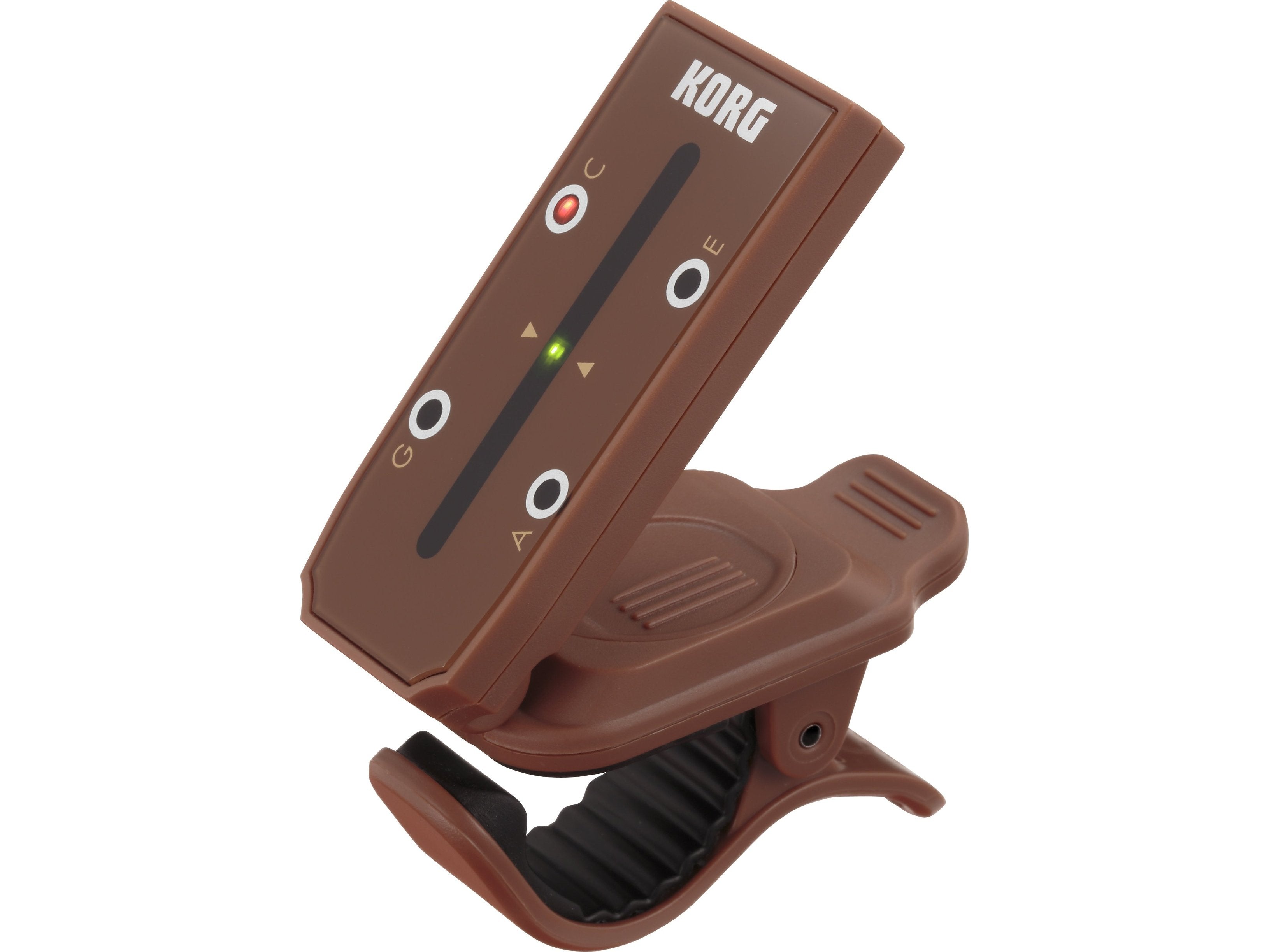 The tuner that's shaped like a headstock The ideal clip-on guitar/bass/ukulele tuner for beginners.
The Headtune is a clip-on tuner with a unique design that's based on the shape of a guitar, bass, or ukulele headstock. With the Headtune attached to the headstock of your instrument, play a single note on the string that you want to tune. Two indicators will illuminate: the string indicator LED will show the peg position, and the LED meter will indicate the tuning of that note. This makes it obvious which peg needs to be adjusted. You can choose from a lineup consisting of four models: two models that are suitable for standard guitar headstocks, a model for bass, and a model for ukulele. With the innovation and precision you expect from Korg, the Headtune makes tuning easy!
Clip-on tuner shaped like your instrument's headstock
The Headtune is designed with a shape that matches the headstock of typical guitars, basses, and ukuleles. When you play a single note, the built-in piezo pickup will instantly detect the pitch of the vibrating string. Two types of LEDs will light up: a string indicator LED, to indicate the peg location, and an LED meter to indicate the pitch. This makes it obvious which peg you should adjust and how it should be adjusted. Since you can tune your instrument even if you don't remember the note names of each open string, this makes using the Headtune especially easy for beginners*.
The HT-U1 is the ukulele model, which also detects "Low-G tuning" with the "G" (fourth string) tuned one octave down, supporting solo performances that cover a wide pitch range.
*To check the note name, please refer to the alphabetical character located beside the string indicator LED.
Compact and lightweight body for easy portability
The Headtune features an extremely compact and lightweight body that easily fits into the pocket of your guitar case for effortless transportation.
Wide detection range and LEDs for visibility
You can adjust the angle by raising the meter display section to a maximum of 120 degrees. The string indicator LEDs and LED meters provide high contrast and a wide viewing angle, ensuring easy visibility for the player even in dimly lit locations, and allowing you to tune from a natural position.
Highly stable clip attaches firmly to the headstock
The Headtune features the same highly stable clip as used on Korg's clip-on pitchclip tuner. It will securely attach to the headstock of your guitar, bass, or ukulele.
The Auto-Power off feature prolongs battery life by shutting off the tuner when it's not in use
Using a widely-available lithium coin battery (CR2032) provides the Headtune with a generous 35 hours of usage. The Auto Power-Off function automatically turns the Headtune off when no sound has been detected for approximately ten minutes, avoiding unnecessary battery consumption.

Video
Scale

12 equal tempered chromatic steps (A4=440Hz)

Detection Range (sine wave)

Guitar : E2 (82.41Hz) – E7 (2637.03Hz)
Bass : E1 (41.20Hz) – G6 (1567.98Hz)
Ukulele (compatible with standard G, C, E and A tuning) : G3 (196.00Hz) – A7 (3520.00Hz)

Detection Accuracy

+/-1 cent

Power Supply

Coin-type lithium battery (CR2032) x 1

Battery Life

Approximately 35 hours (continuous A4 input)

Dimensions (W x D x H)

54 x 26 x 35 mm, 2.13 x 1.02 x 1.38 inches [HT-G1/B1]
54 x 24 x 35 mm, 2.13 x 0.94 x 1.38 inches [HT-G2/U1] [HT-G2/U1]

Weight

18 g / 0.63 oz. (including battery)

Accessories

Coin-type lithium battery (CR2032) x 1 for verifying functionality

* All product, company, and standard names are trademarks or registered trademarks of their respective holders.
* Appearance and specifications of products are subject to change without notice.
All new products are sold with a 2-year manufacturer warranty which is upgraded to 3 years when bought direct from Korg UK.

Certified Refurbished products also come with a one year warranty. 
We offer a 30-day returns period on all products purchased directly from Korg UK.