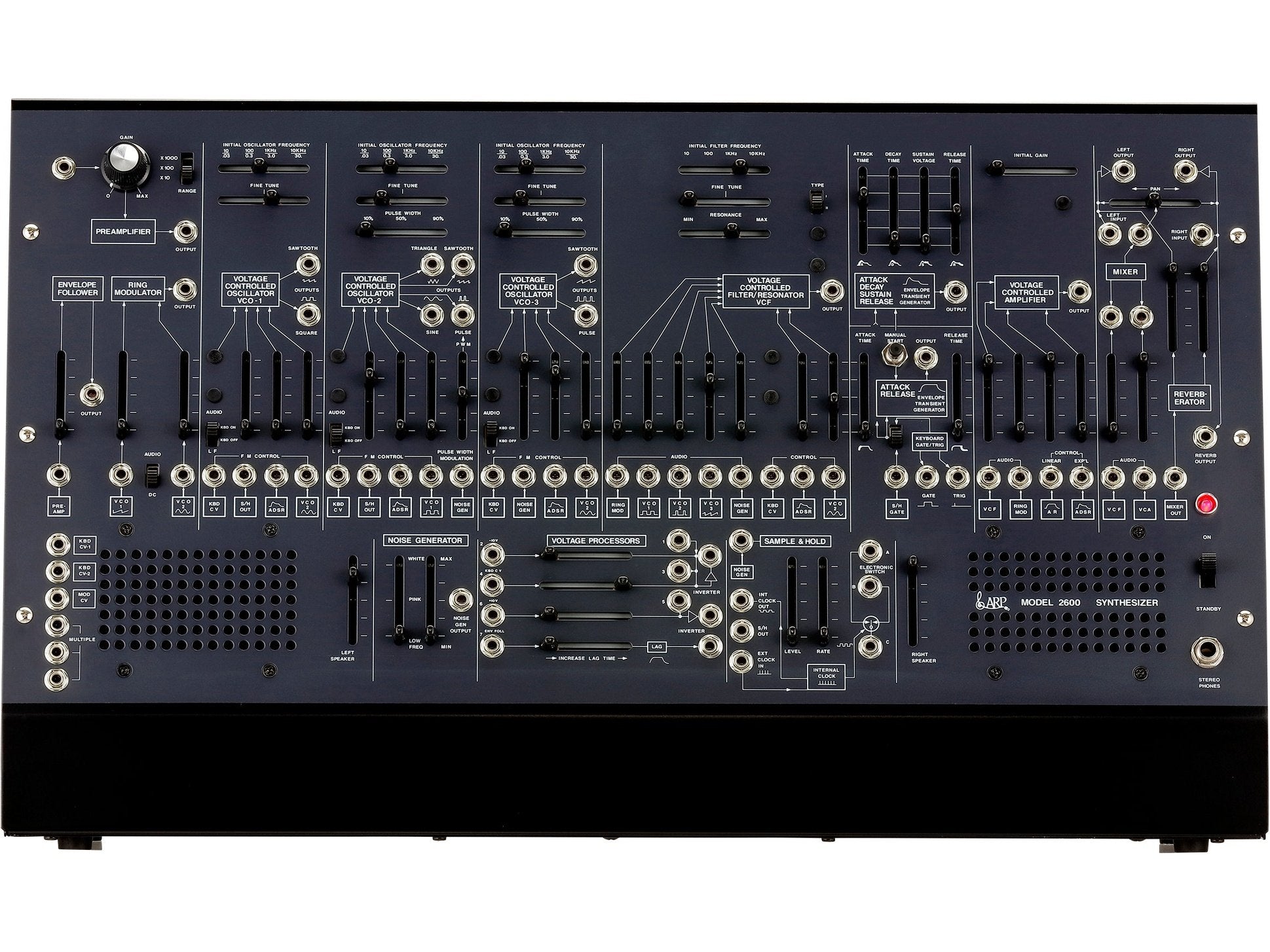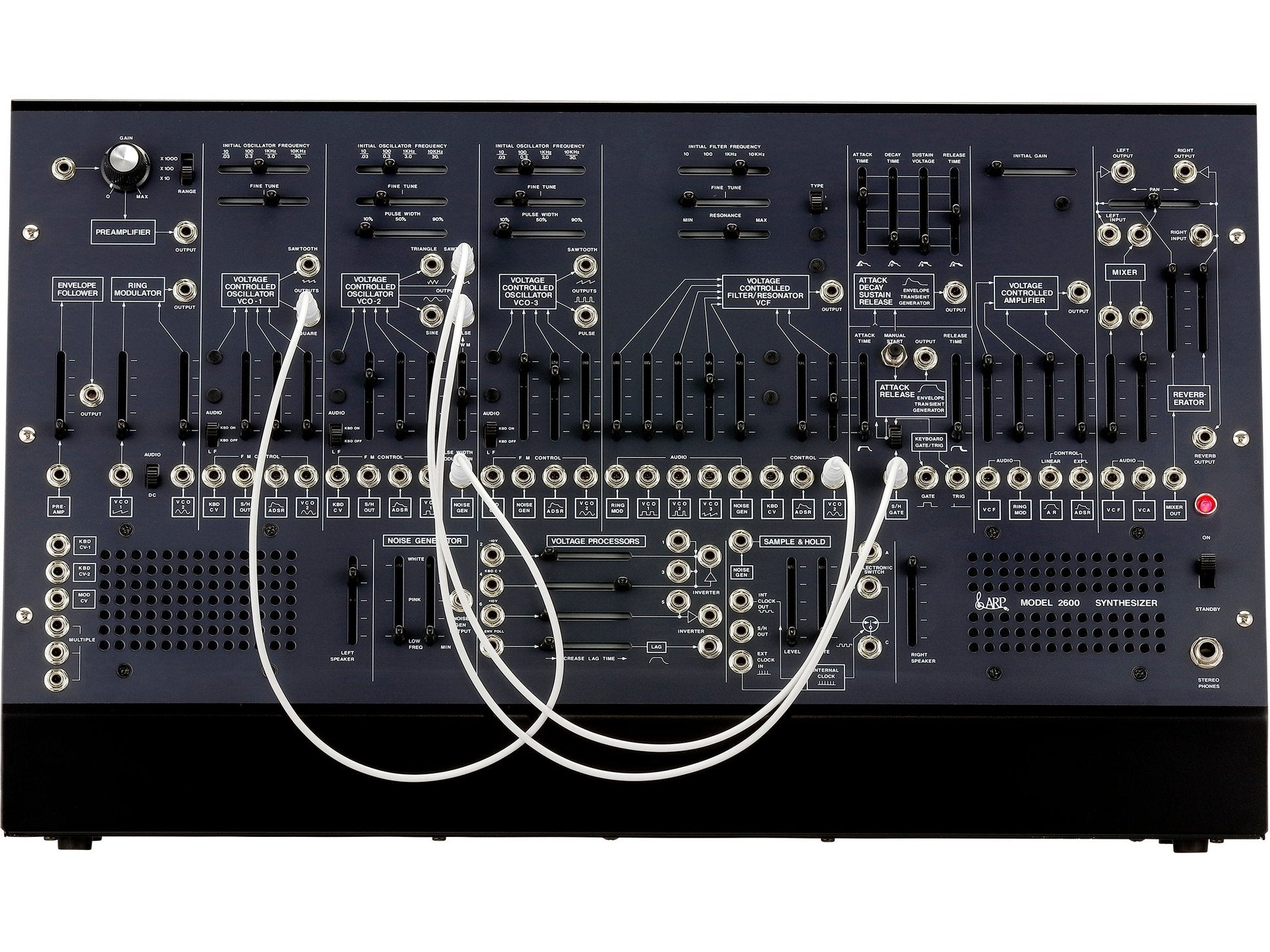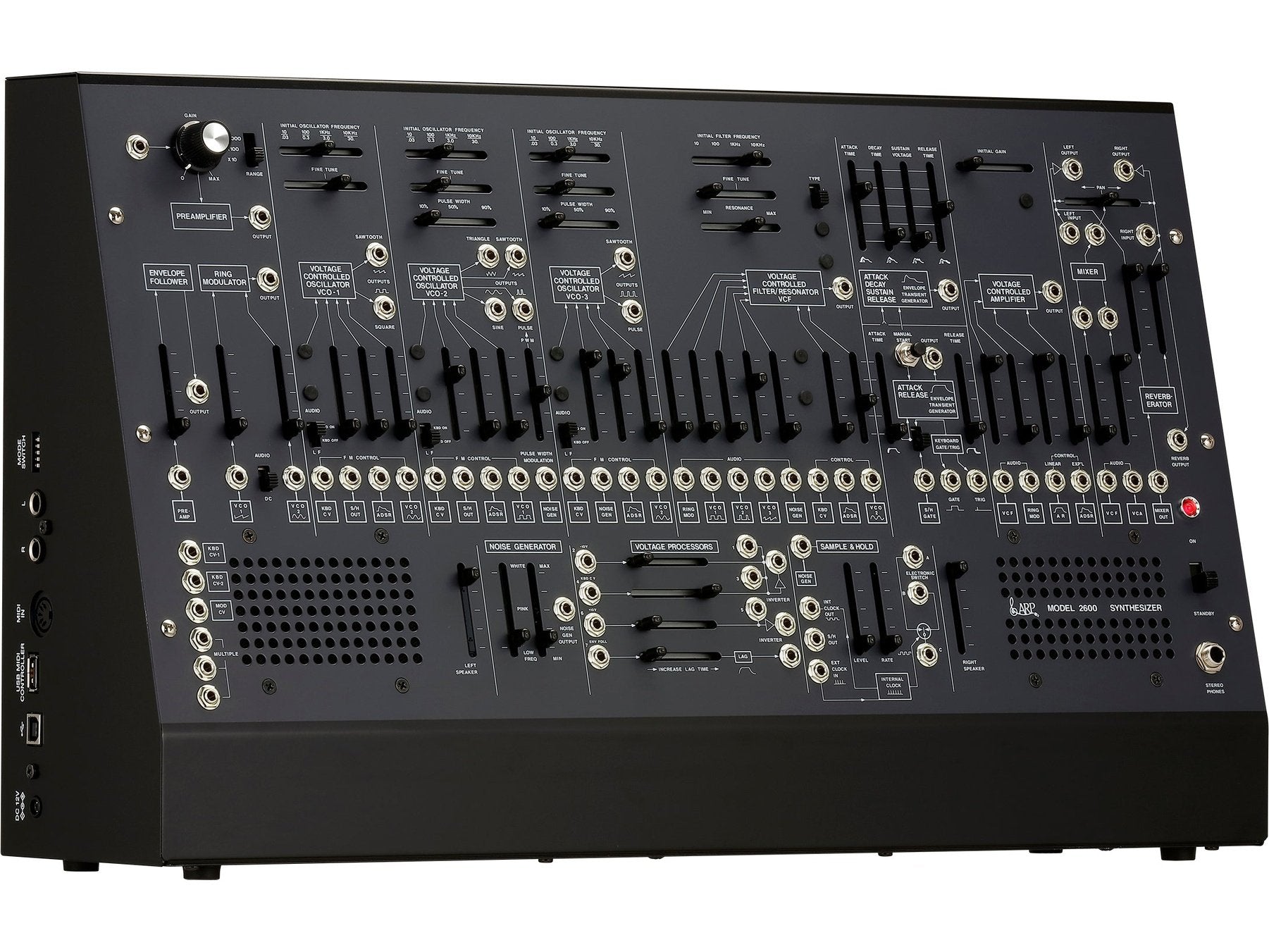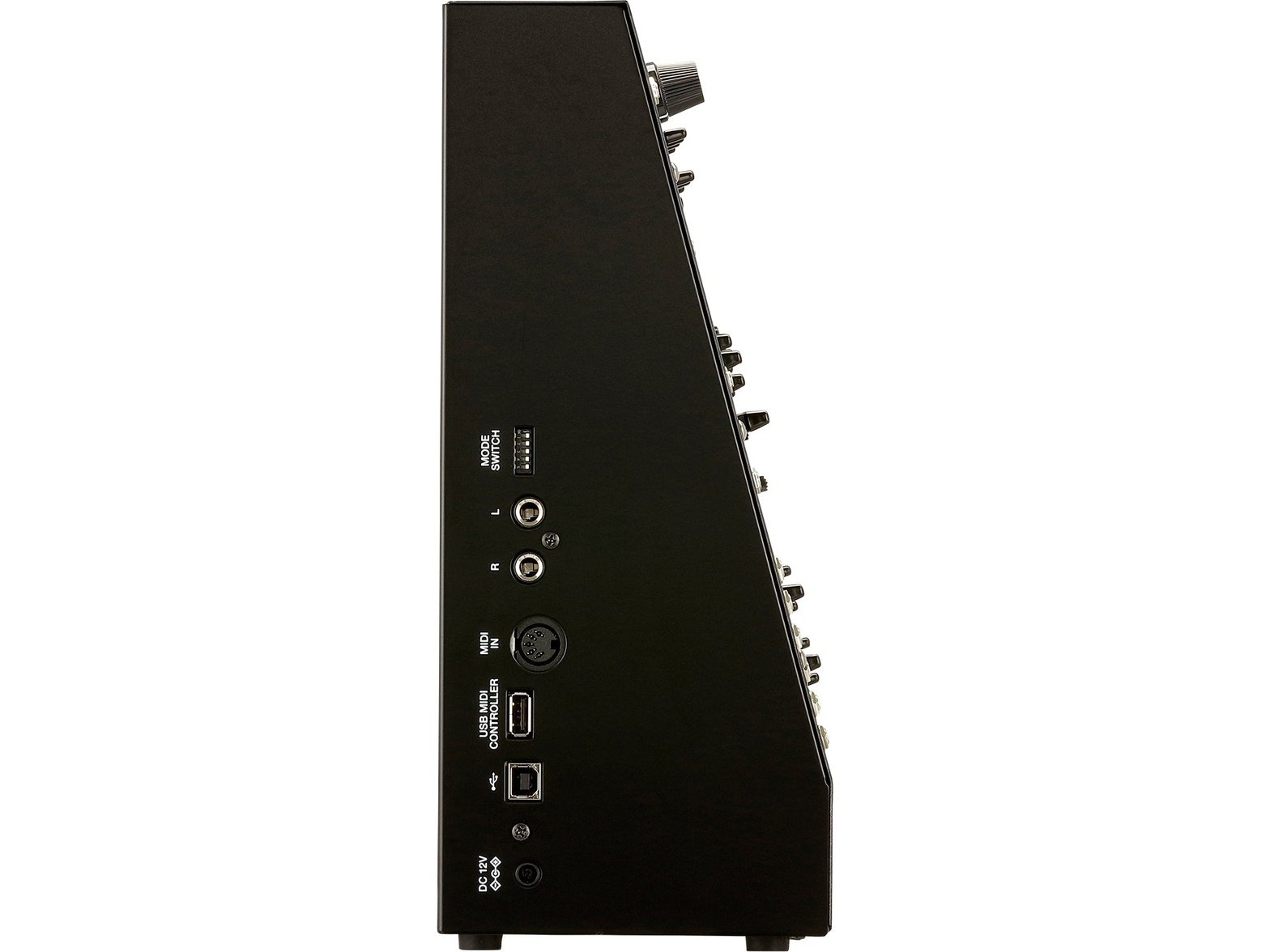 ARP 2600 M
One of the most iconic synthesizers ever built, the ARP 2600, has been reimagined in a studio-friendly format by the engineers at Korg. With the advisory assistance of David Friend, the co-founder of ARP Instruments, every detail of the original circuitry has been reproduced for musicians looking to recreate classic sounds and explore new ones.
ARP 2600M comes with a free case!
Extend your warranty for free when buying direct from Korg UK.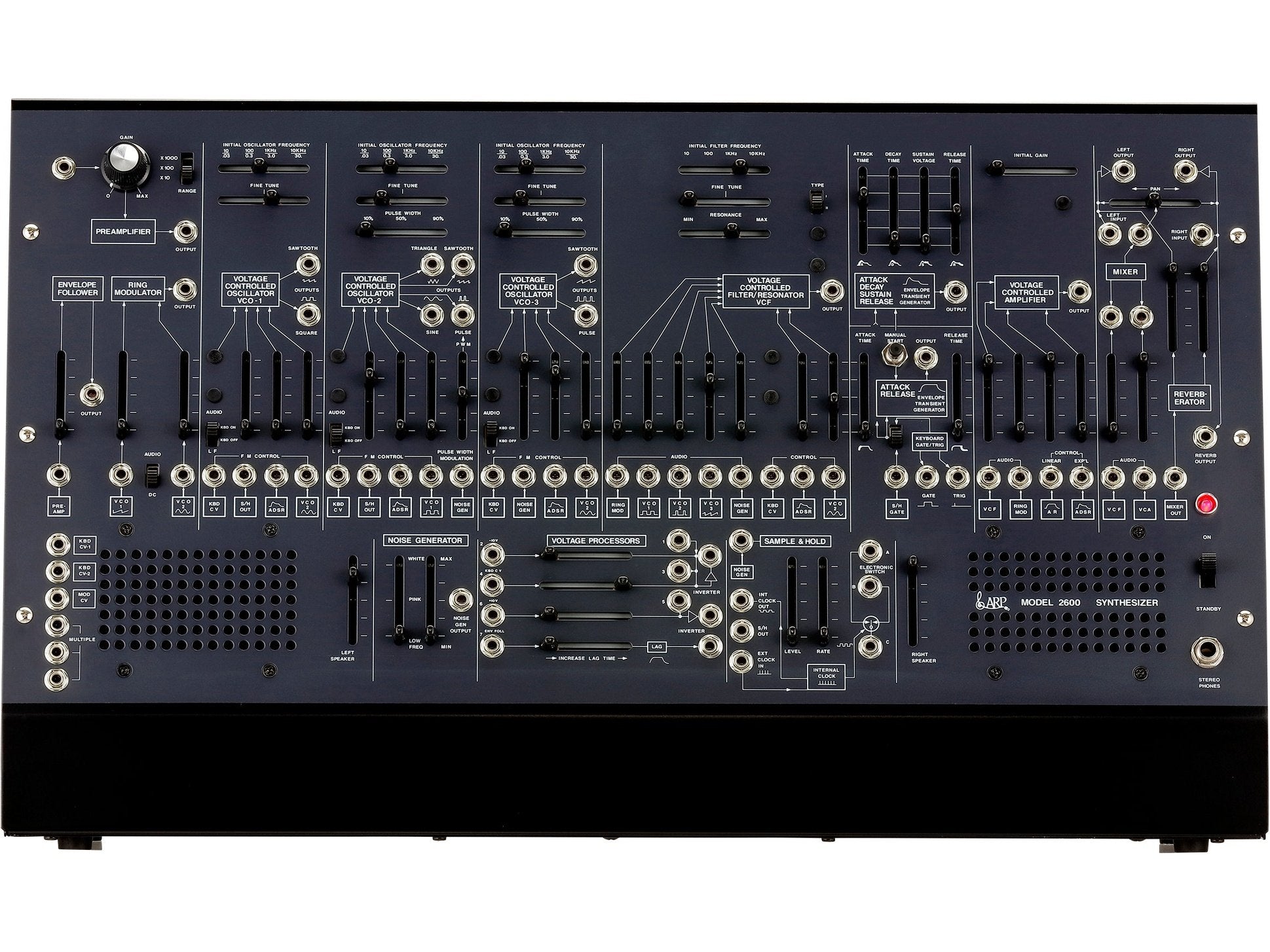 The most iconic synth for the Modern musician
The genuine ARP 2600 in a more convenient size.
The ARP 2600 is arguably the most iconic and recognisable synthesizer of all time. Having been used in countless records, film scores, TV shows and game soundtracks since its appearance from the 70's through to today, the ARP 2600's sound remains an essential part of the music world.
The new ARP 2600 M delivers the sound admired around the world , in a more compact and portable format and including added features that make it the ideal incarnation of this historic synth.
A legend, reborn
When the ARP 2600 FS was announced in January 2020, it quickly became a phenomenal success with musicians all over the world recognising the faithfulness to the original ARP 2600.
The ARP 2600 M is around 60% the original size, making it lighter, more portable and easier to place and use in a studio. It integrates the same analogue circuitry and components as the ARP 2600 FS, thus faithfully reproducing the characteristic ARP sound.
David Friend

Co-founder of ARP Instruments, Inc. together with the founder Alan Robert Pearlman. In addition to designing the ARP 2600 and Odyssey, he was involved with the development of numerous products, and subsequently entered management, eventually becoming president of the company. His achievements as an entrepreneur have also been acclaimed, and in 2010 he received the "Entrepreneur of the Year" (Emerging Technology category) award from Ernst & Young. Mr. Friend has been a founder and CEO of six companies, including ARP. He is currently CEO of Wasabi Technologies, a cloud data storage company. He was a lecturer at MIT, and is a Trustee Emeritus of Berklee College of Music and the New England Conservatory. He philanthropy supports many music organisations in his home town of Boston.
"When we designed the original 2600 back in the 1970s, we never realised what an important instrument it was to become. But in the hands of Stevie Wonder, Pete Townsend, Jimmy Page, Herbie Hancock, and countless other great musicians, it became one of the most influential instruments of its day. I always thought it was a little big and heavy, though, so I was delighted to see Korg's 2600 M which sounds exactly the same but is much better suited to a home studio. And the digital interfaces (which obviously didn't exist on the original) are a huge step forward. With the fist full of patch cords that are included, you can create thousands of patches and an enormous range of sounds. I've spent hours remembering all the things I did with the 2600 almost 50 years ago. Very cool! "
David Mash

Recently retired from his position as Senior Vice President for Innovation, Strategy, and Technology at Berklee College of Music, where he served for 41 years, David is an internationally known expert in music technology, and synthesizers in particular. David was the founding chair of the Electronic Production and Design major at Berklee, and has consulted for many musical instrument manufacturers including Korg and was involved as an advisor on the re-release of the ARP2600 FS and the new ARP2600 M. David began his work with synthesizers on the ARP2500, and he purchased his first synthesizer, an ARP2600 and 1601 sequencer in 1977. He became friends with Alan R Pearlman and David Friend, and provided advice and feedback to ARP on instruments beginning in 1978. He is currently Board Chair for the Alan R. Pearlman Foundation.
"With the release of the full size replica of the ARP 2600, Korg made a great gift to the world of electronic music by reissuing a classic synth that so many musicians never had the chance to experience. But with the release of the ARP 2600 M, the 2600 enters into the modern age as a new incarnation - modern looking and feeling, yet with the benefit of that original ARP sound! You have all the power of that big synthesizer in a form factor that is more portable, more contemporary looking, and better fits within a larger Eurorack system, but with the human scale most Eurorack systems lack. This module looks, feels and sounds great."
Proudly Designed and Made in Japan
The ARP 2600 M is built in Japan with the same care and extraordinary quality standard as the ARP 2600 FS, and uses the same analogue components to accurately reproduce the sound and feel of the original. The Spring Reverb has been re-engineered and adapted to the new size body to the same lush effect.
The ARP 2600 M comes with a dedicated Carry Case that not only protects your instrument, but also makes it easier to transport, thanks to its custom casters with special anti-shock damping technology. There is also enough space to carry other gear together, like your favourite Volca, SQ-64 or MIDI controller!
A must-have in the studio
It is not by chance that the ARP 2600 has been so extremely popular to this day.
More than a synthesizer, the ARP 2600 M is a complete sound design studio. Even today, the ARP 2600 stands as a bridge between the individual elements of modular synthesis and the immediacy of a production / performance instrument.
Included are an ample supply of oscillators, envelopes, a filter and amplifier – all of the building blocks of analogue synthesis. But the ARP 2600 M goes even further, with a spring reverb tank and even a pair of built in monitor speakers. Also present is much of the versatility of a vintage modular system, including a ring modulation, lag and voltage processors, an envelope follower, audio preamp, a clock-able switch, noise source, a sample-and-hold module, signal inverters, an auxiliary mixer, and even a set of parallel-wired/multi jacks.
Added features and functionality
The new ARP 2600 M is not only faithful to the original, it also includes an array of added features that will make it even easier to use:
- Plug and play: Connect any class compliant MIDI controller such as a Korg microKeys, nanokeys or SQ-64 to one of the ARP 2600 M's USB ports (USB-A and USB-B) and automatically get full control of your instrument!

- Resized: The new size makes it easier to visualise your patch and also allows you to use shorter patch cables

- Two types of filters from two versions of the original ARP 2600(4012 type, 4072 type DIN MIDI IN added

- Pitch-bend, Modulation and Portamento ON/OFF can be controlled through MIDI CC messages (USB/DIN MIDI)

- Normalised voltage: The threshold of the trigger signal required to activate the ADSR through the S/H GATE JACK has become 5V, making it much easier to use in combination with other gear such as Volcas or Eurorack modules

- Improved Attack and Release time ratios

- L/R Stereo Output Jack (instead of XLR)

- Speakers turn automatically off when using headphones

- Improved, smoother sliders
Free bundle of music software
The ARP 2600 M comes with a diverse variety of music software from Izotope including "Ozone Elements" which lets you not only create songs but also master them using AI, "Skoove" which will help you improve your keyboard playing skills, "Reason Lite" DAW software, as well as software synths from Korg and other brands.
In other words, the moment you get your hands on this synthesizer you'll have a variety of tools to help you take your music to the next level.
About the Alan R. Pearlman Foundation
Alan R. Pearlman was nicknamed "ARP" as a kid growing up in New York City, so it seemed the perfect name for a company he co-founded when he was later designing electronic musical instruments. After leaving NASA, Pearlman Established ARP as an outlet for the creation of instruments known for their sound quality. Pearlman created the ARP 2500 in 1970 and then the classic ARP Odyssey and ARP 2600. One of Pearlman's key skills was that he was able to build oscillators that stayed in tune and even developed a cordless patching technique using a matrix of switches. Arp Instruments built a legacy as a great leader in the growth and development of the electronic musical market.
Founded in 2019, the Alan R. Pearlman Foundation was created by Dina Pearlman, Alan Pearlman's daughter, to honor the legacy of her father. The mission of the ARP Foundation is to celebrate Pearlman by making his inventions publicly accessible, and inspiring future generations to imagine and create.
Operating temperature range

0 – +40 °C (non‐condensing)

Maximum Polyphony

2 voices for duo phonic; normally monophonic

VCO-1 (Voltage Controlled Oscilator 1)

Waveforms

Sawtooth, square

Frequency range

Approx. 0.03 Hz – 30 Hz (low freq. mode)
Approx. 10 Hz - 10 kHz (audio mode)

Voltage controlled response

1V/oct.

VCO-2 (Voltage Controlled Oscillator 2)

Waveforms

Sawtooth, pulse (dynamic pulse), triangle, sine

Frequency range

Approx. 0.03 Hz – 30 Hz (low freq. mode)
Approx. 10 Hz - 10 kHz (audio mode)

Pulse width

10% – 90%

Voltage controlled response

1V/oct.

VCO-3 (Voltage Controlled Oscilator 3)

Waveforms

Sawtooth, pulse (dynamic pulse)

Frequency range

Approx. 0.03 Hz - 30 Hz (low freq. mode)
Approx. 10 Hz - 10 kHz (audio mode)

Pulse width

10% – 90%

Voltage controlled response

1V/oct.

VCF (Voltage Controlled Filter)

Type

Low-pass (TYPE I : early 24 dB/oct., TYPE II: late 24 dB/oct.)

Frequency range

Approx. 10 Hz - 10 kHz

Resonance

1/2 - self oscillate

VCA (Voltage Controlled Amplifier)

Control voltage

AR type (internally connected)
ADSR type (internally connected)

Noise generator

Noise spectrum types (white and pink)

RING MODULATOR

Type

Analog multiplier

Input signal (Internally connected)

VCO-1 sawtooth wave, VCO-2 sine wave

SAMPLE & HOLD

Sampled signal

Noise (internally connected)

AUDIO OUTPUT JACKS
Front Panel (LEFT, RIGHT OUTPUT jacks

Connector

φ3.5 mm monaural phone jack

Maximum output level

+9 dBu @ 10 kΩ load

Output impedance

1.2 kΩ

Side Panel

Connector

φ6.3 mm monaural phone jack

Maximum output level

+4 dBu @ 600 kΩ load

Output Impedance

1.2 kΩ

HEADPHONES JACK

Connector

φ6.3 mm stereo phone jack

Maximum output level

50 mW + 50 mW @ 33Ω load

Output impedance

20Ω

EXTERNAL AUDIO INPUT (PREAMPLIFIER INPUT) JACK

Connector

φ3.5 mm monaural phone jack

Maximum input level

+2dBu *RANGE x10, GAIN knob Max(

Input impedance

100kΩ

MIDI connector

IN

USB port

Type A, Type B

General

Power supply

AC power supply terminal (KA320)

Power consumption

13W

Dimensions

(W × D × H)

520 × 129 × 311 mm / 20.5 x 5 x 12.2 inches,

Weight

5.9 kg / 13 lbs.

Included Items

Road case, AC power cord (KA320), patch cables, Owner's manual, ARP sticker

Accessories (Sold separately)

microKEY2 series, SQ-64 amongst others

| | |
| --- | --- |
| * | All products names and specification names are trademarks or registered trademarks of their respective owners. |
| * | Appearance and specifications of products are subject to change without notice. |
All new products are sold with a 2-year manufacturer warranty which is upgraded to 3 years when bought direct from Korg UK.

Certified Refurbished products also come with a one year warranty. 
We offer a 30-day returns period on all products purchased directly from Korg UK.