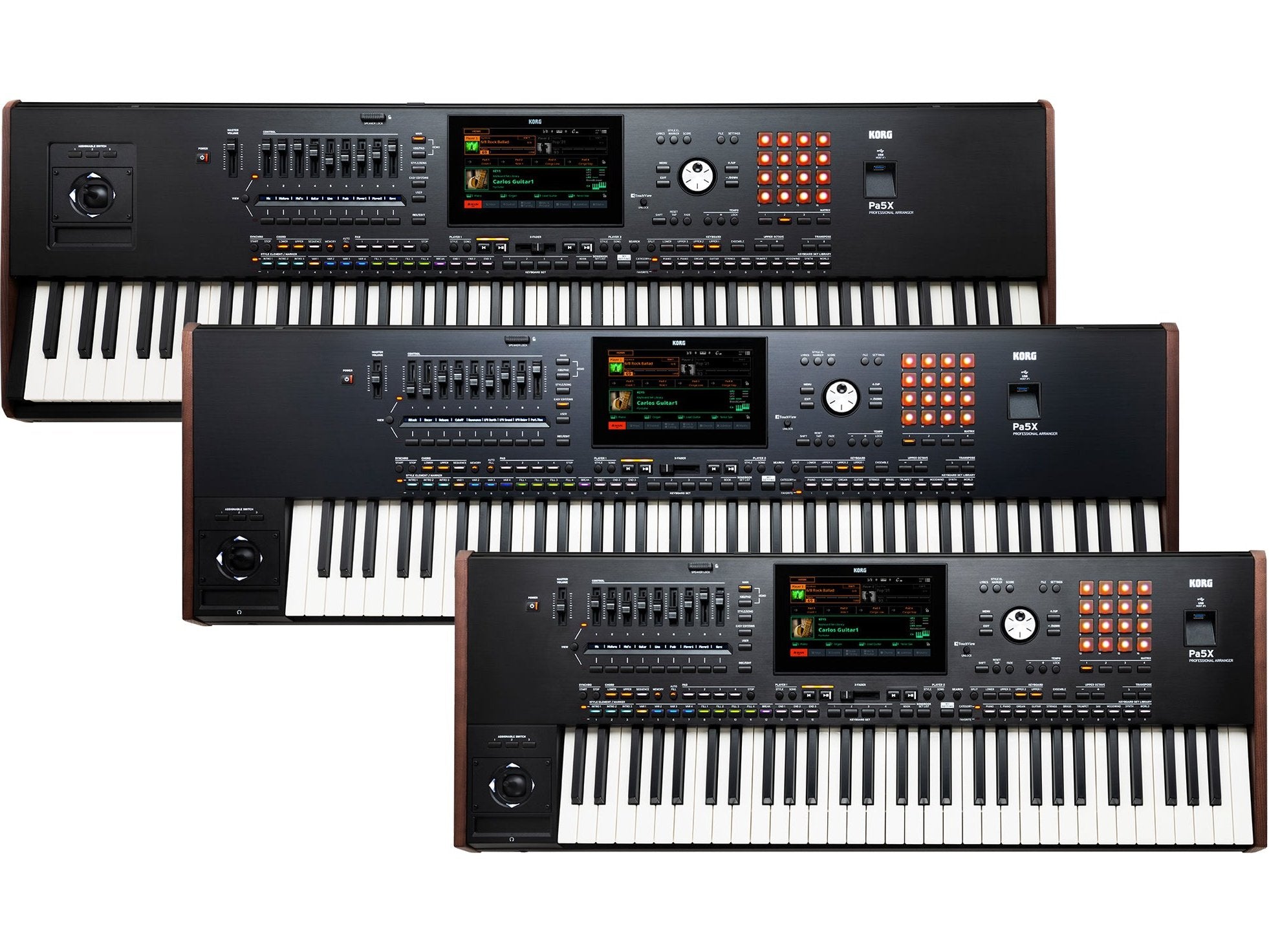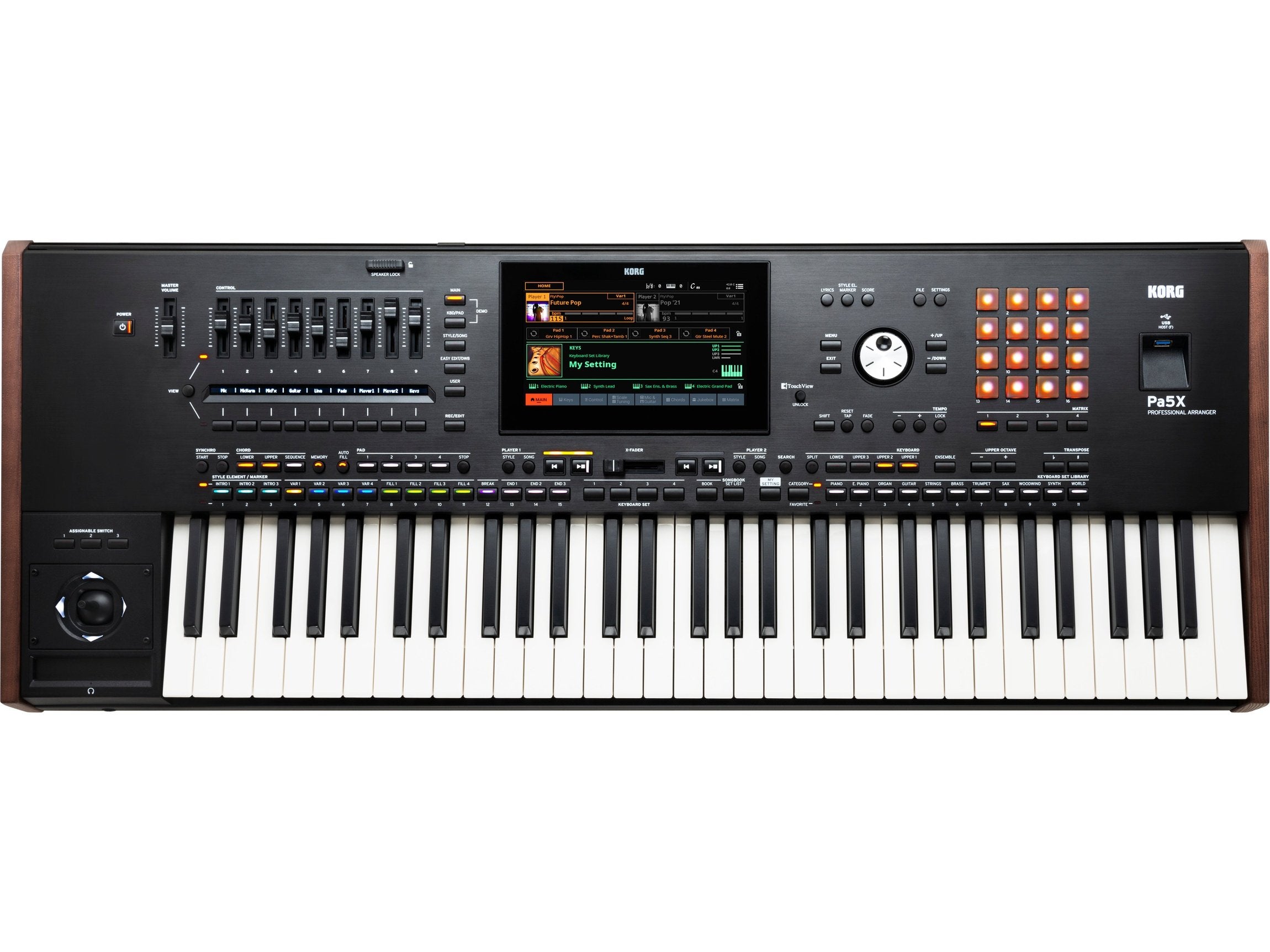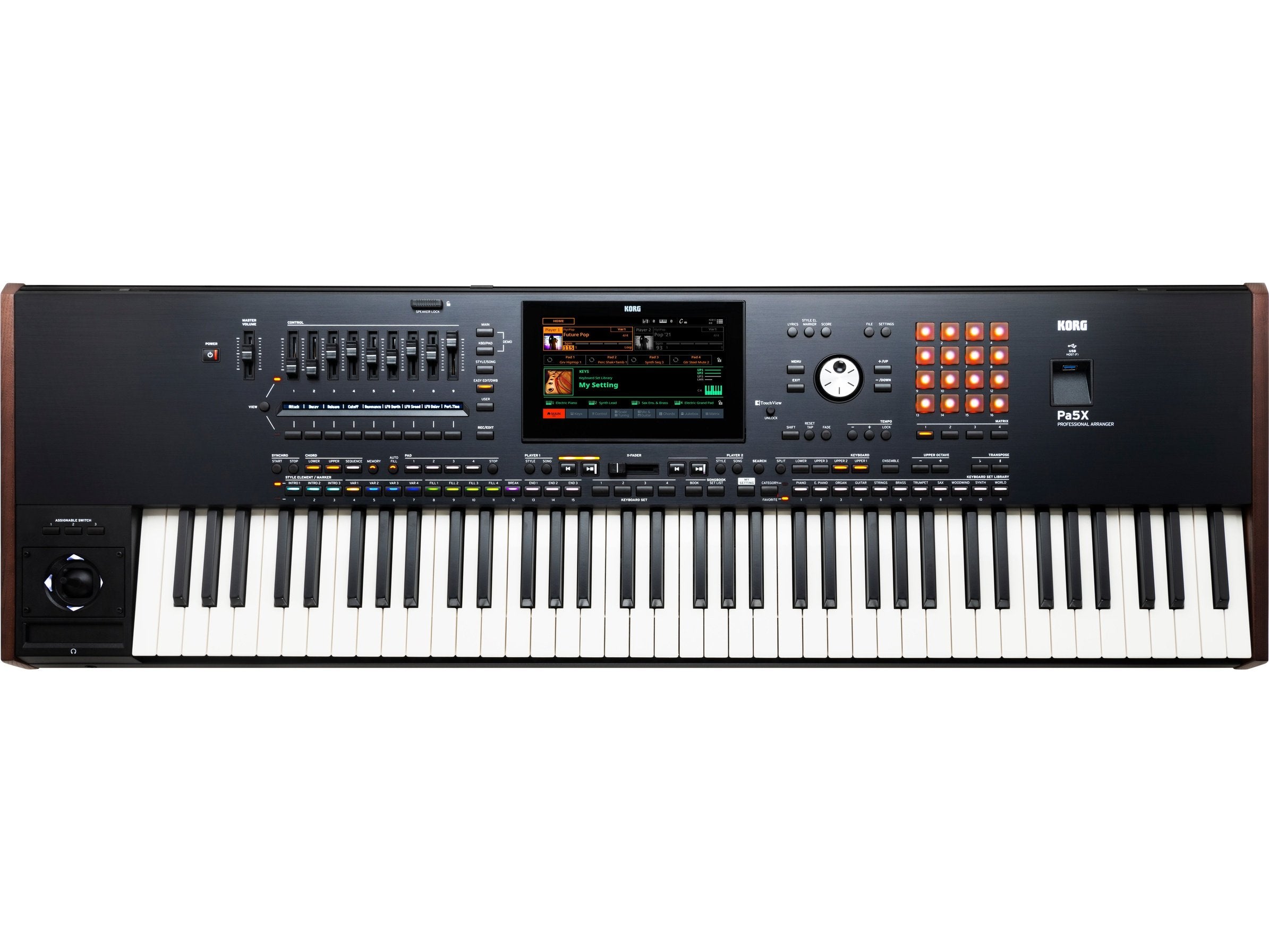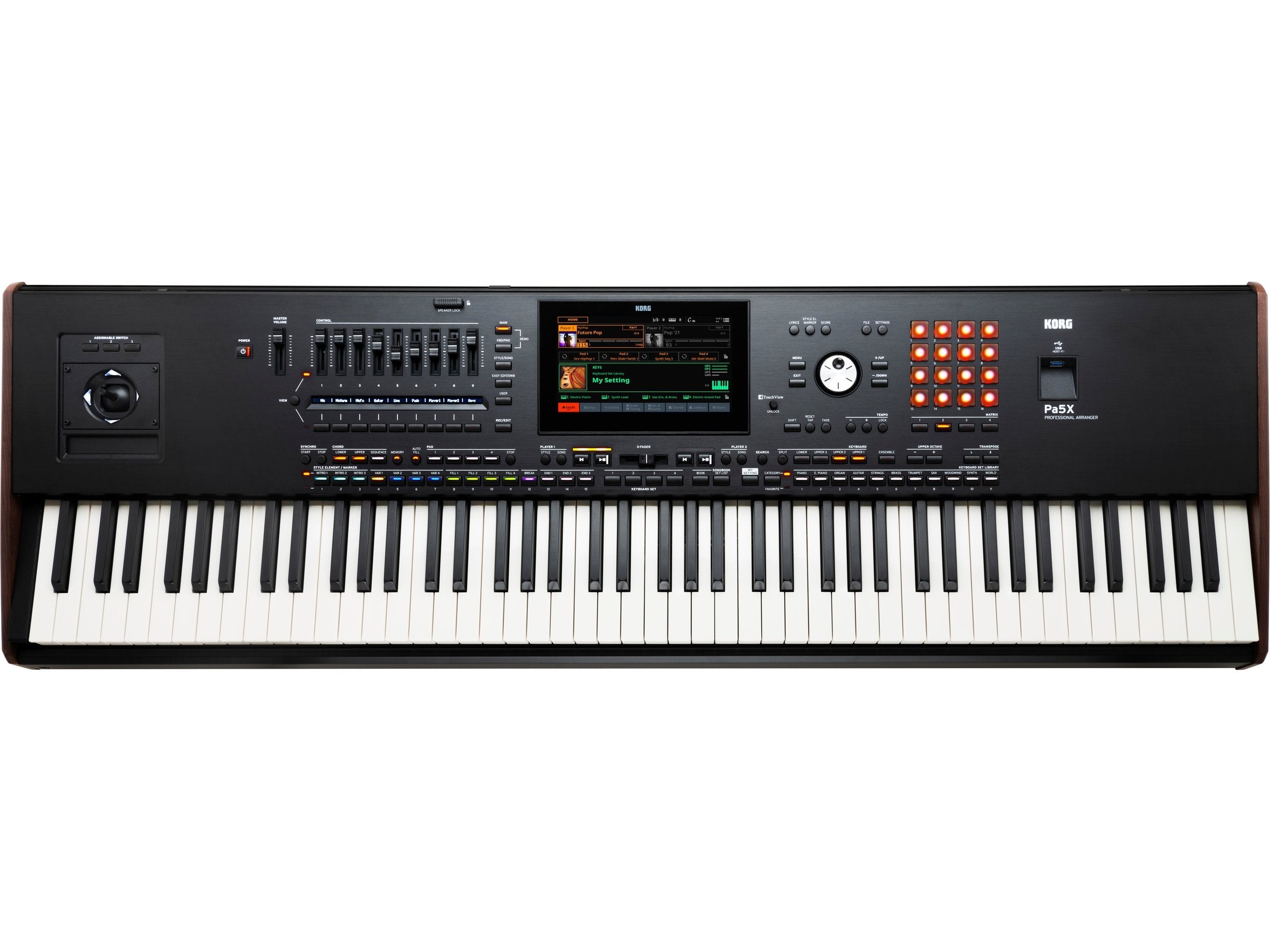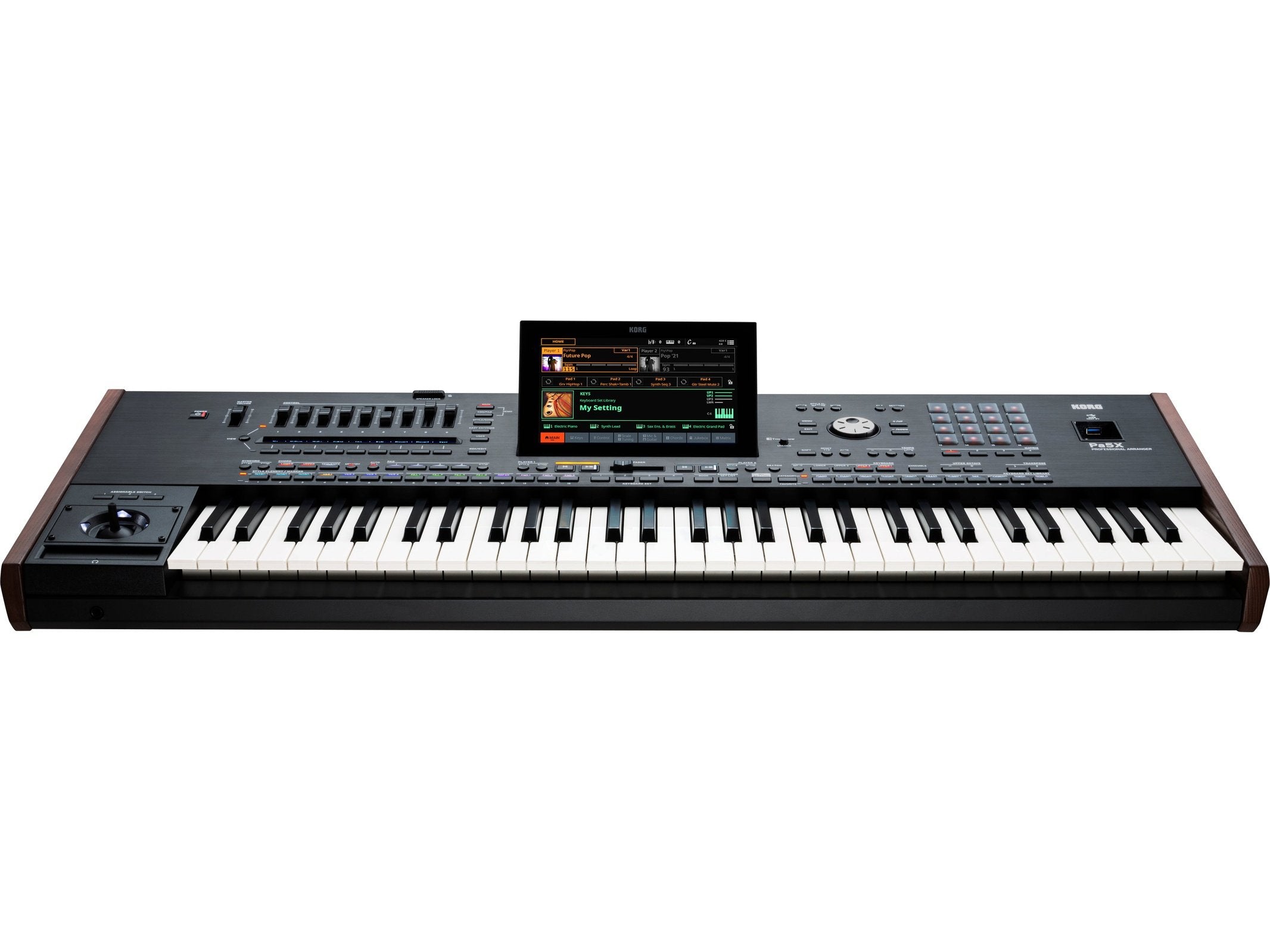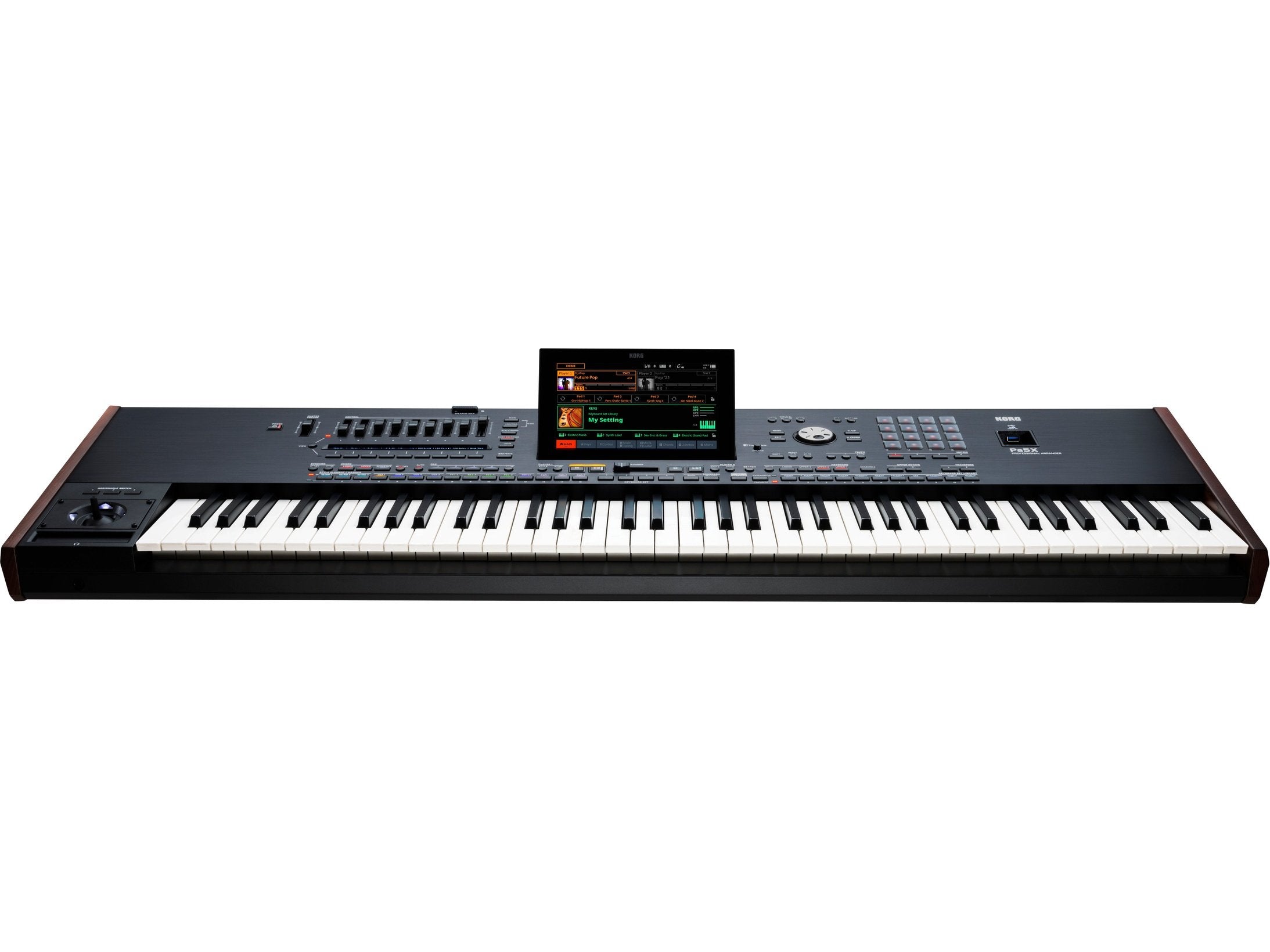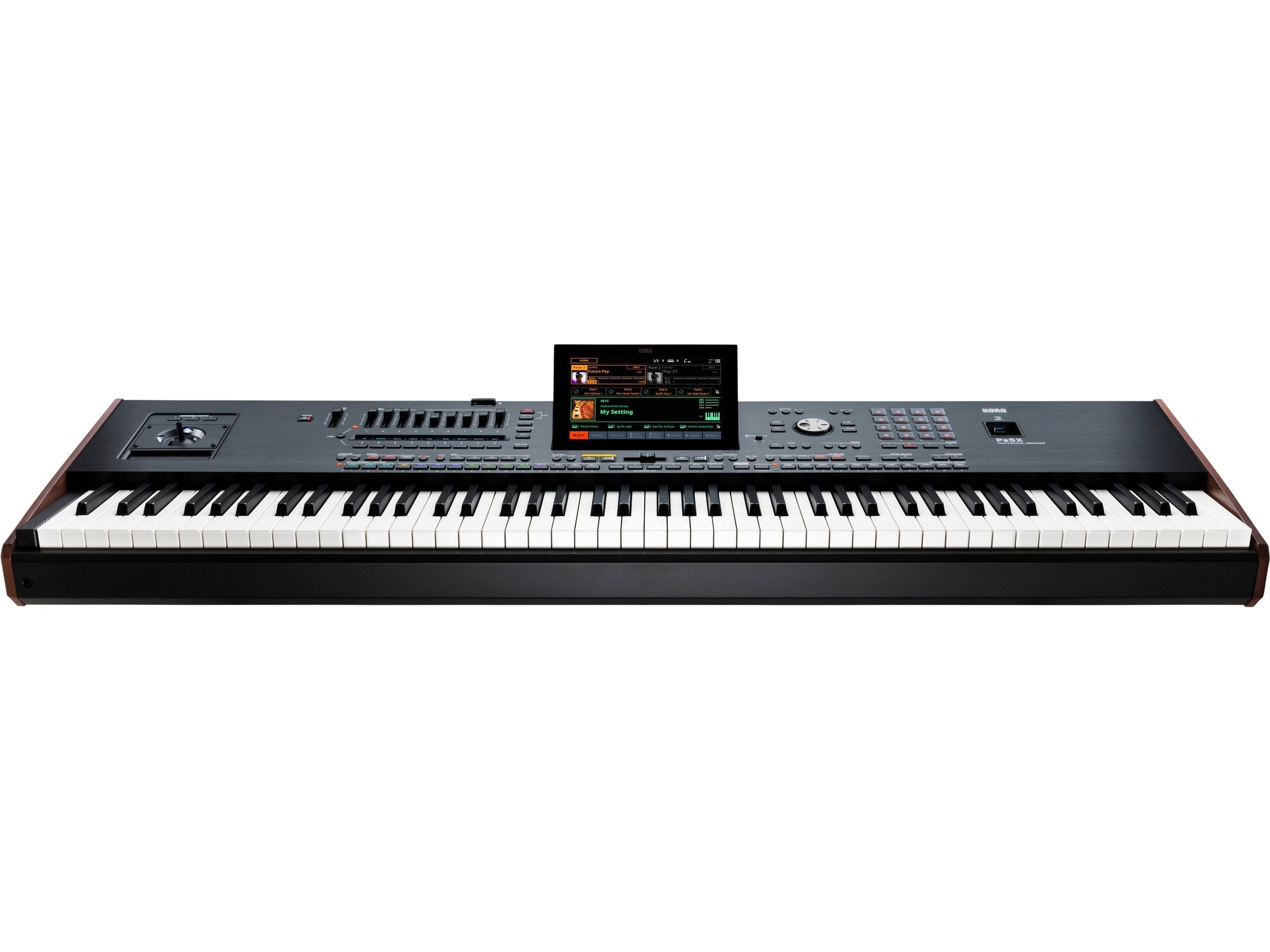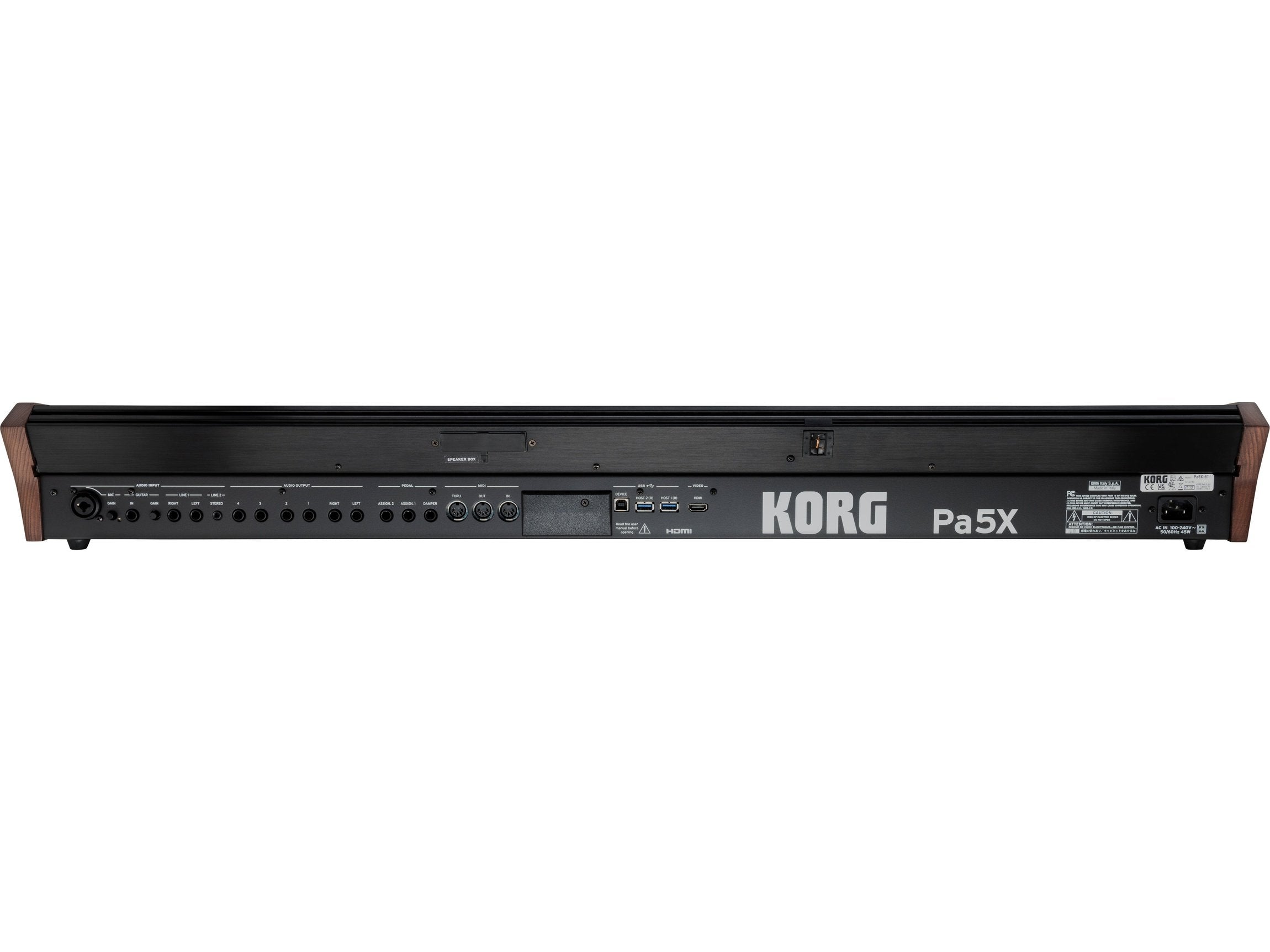 Pa5X Professional Arranger
Pa5X represents a redefinition of professional arranger keyboards. The flagship of the Korg Pa series, Pa5X boasts thousands of high-quality sounds, hundreds of meticulously crafted backing styles, and entirely new features that solidify its place as the professional arranger.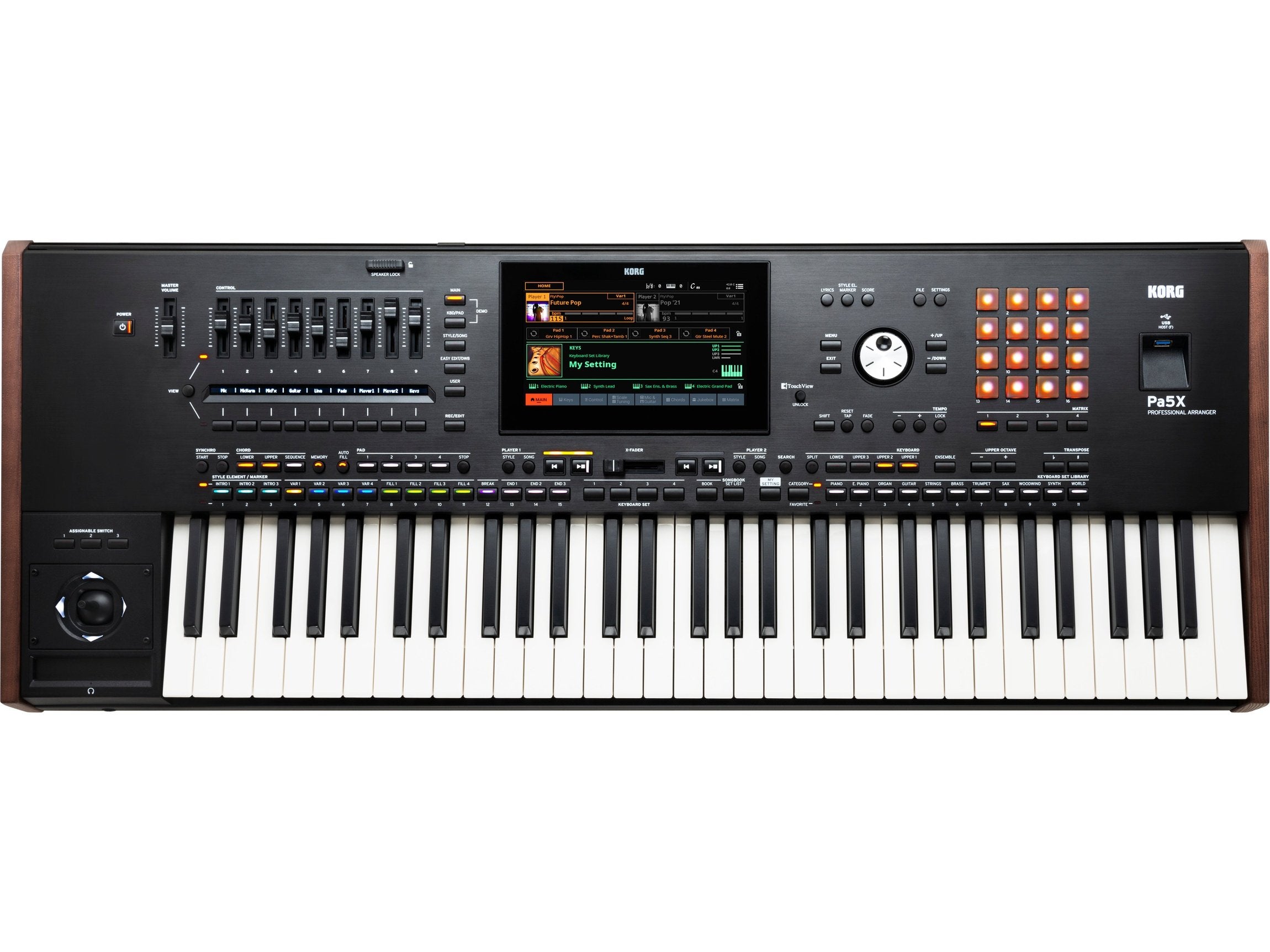 Featuring a brushed aluminium body with wooden side panels, Pa5X boasts a detailed and immersive adjustable colour touch screen, supported by an array of intuitive hands-on controls. More than 2,200 professionally crafted sounds are powered by an expanded EDS-XP sound engine; these sit alongside more than 600 dynamic backing styles covering a huge array of musical genres.
Whether at home, in a studio, or on stage, an unprecedented selection of advanced features sets Pa5X apart as it marks the beginning of a new generation of professional arranger keyboards.
Design & versatility
Pa5X looks incredible in the home, while also being ready for the road. A beautiful aluminium body with luxurious wooden side panels ensures Pa5X not only has a premium feel but is also sturdy to support countless live performance situations.
From the effortlessly compact 61-key model to the versatile 76-key, and piano-weighted 88-key versions, Pa5X provides the player with a responsive feel, with aftertouch for added expressivity.
Sounds
Thanks to a newly-developed EDS-XP sound engine (Enhanced Definition Synthesis – Expanded), the sounds in Pa5X need to be heard to be believed. This powerful technology, alongside 24 stereo oscillators and 160 note polyphony, delivers the detailed nuances of instrument performance like never before.
Drawing on Kronos, Nautilus and SV2, Pa5X has massive sound libraries across every genre, from pianos to EPs, orchestral, synthesized sounds and more. A new drawbar organ section even offers realistic controls and a sound which benefits from the stunning effects found within Pa5X. Smooth Sound Transition ensures seamless changes of sound and style, while Sound Controller 3 helps give an unprecedented level of sonic realism.
In addition to more than 2,200 factory sounds, Pa5X features a sampler and can be expanded through compatibility with Wav, AIFF and SF2 samples. Detailed onboard editing functionality gives the possibility of fine-tuning your sounds, even offering the capability to transform an audio loop into a percussive kit.
Styles
Pa5X features more than 600 backing styles, each with three introductions, four variations, four fills, a break, and three endings. Covering a breath-taking array of musical genres, from pop, classic pop and ballads, to jazz, big band and movie soundtracks, Pa5X provides countless hours of musical inspiration and performance.
New drum and percussion sounds benefit from the use of technology based on round-robin sampling, meaning that no two drum hits are equal. This, combined with the ability to edit each part of the drum kit individually, gives new and recreated styles a fresh sound that you can make your own.
Pa5X's chord recognition system can be as simple or advanced as you want it to be; from a single finger, to an Expert mode able to recognise some of the most complex harmonies. With a chord sequencer and hundreds of pre-made chord progressions, you'll never be short of inspiration.
Dual players
Thanks to two players and exclusive XDS crossfade control, Pa5X can play two styles, MIDI files, or MP3 files simultaneously and in any combination! These two players can be mixed or can be used to play a song while another one is waiting to start. All while the Pa5X's sound engine ensures transitions happen seamlessly.
Lyrics, chords, score and markers
Key performance information is displayed on an immersive colour touch screen and can also be outputted to an external display thanks to a standard HDMI output. A wide variety of lyric formats are supported, and scores are automatically generated from MIDI song files. Markers allow for quick navigation through songs, while the currently playing chord is displayed – including during automatic introductions and endings.
Real-time controls
Faders, switches, real and virtual matrices of real-time controls, the joystick, and the ribbon controller can all be assigned to modulate any parameter of your sound. This provides precise control of the most subtle nuances and articulation.
Pa5X features a fully programmable control section with nine faders and nine buttons. Freely assignable, the current function is shown on an auxiliary strip display so that you always know what you have under your fingertips – even if you are on a different page on the main display.
Songbook
Songs, styles and sounds can be saved in the Songbook. This database-like system can then be organised into setlists for specific performances, types of music, or any other situation where quick recall of settings is needed. It is even possible to synchronise the songbook with external score readers on tablets, allowing you to recall settings from a digital music book.
Mixer and effects
Pa5X houses a vast array of studio-level effects, with 10 insert effects, 3 master effects and one finalising stage for each of the two players! Furthermore, keyboard sets can use up to 3 insert and 3 master effects. Thanks to an ongoing collaboration with Waves Audio®, Pa5X benefits from best-in-class mastering at the last stage in the audio output, resulting in a polished and high-production quality sound.
Microphone and guitar inputs
A microphone and guitar can be connected simultaneously to the Pa5X, where both inputs have dedicated onboard effects. Vocal processing in Pa5X is provided by Shift Audio, industry leaders in vocal algorithms. The result is incredibly lifelike four-voice harmonies that recreate the feel of real backing vocals, alongside a new Auto Pitch feature.
The separate guitar input has its own gain control and stack of four insert effects. A huge library of guitar effects is available, including legendary Vox amps, vintage pedals and amp sims.
Settings for both microphone and guitar inputs can be saved within a Songbook entry for quick recall.
Find a dealer
Pa5X is available to customers in the UK and Ireland through the following authorised retailers.
If you wish to confirm you are buying from an officially supported retailer, please check the map below or contact us.
Please check with the retailer directly before travelling.